Motzei Shabbat (After Shabbat)
A peaceful Shabbat and I was not expecting to post again until after Prime Minister Netanyahu speaks tomorrow night. But I logged on to my computer tonight and took a look at the news -- which is what motivated me to do this posting, which I hope will be brief.
"Unreal!" is a term used metaphorically to ask "How can this be??" That's what I'm asking. But the rub is that what I'm reading is not fiction, it's real -- no matter how incredible it may seem.
Decide for yourselves if you can reconcile these various news items, or if they seem "unreal!" to you, as well, even as they are happening:
~~~~~~~~~~
Netanyahu gave an NBC an interview on Wednesday, in which he said that:
"Iran is developing intercontinental ballistic missiles that could reach the U.S., whose 'purpose is to arm them with a nuclear payload.'
"Netanyahu stressed that Iran is not governed by Rouhani, but by its Supreme Leader Ayatollah Khamenei. During the interview he said Khamenei head[ed] a 'messianic, apocalyptic, radical regime' and therefore cannot be trusted.'"
http://www.haaretz.com/news/diplomacy-defense/1.550303
Good deal, and nothing "unreal" here. (See more on Khamenei below.)
~~~~~~~~~~
But wait. In his first statement on the subject since Netanyahu spoke at the UN, on Thursday, Secretary of State Kerry, speaking in Tokyo, said it would be "diplomatic malpractice" not to test Iran's sincerity with regard to negotiations on its nuclear development. (same source cited above)
But what happens if - while Kerry is "testing" Iran's sincerity so as to avoid "diplomatic malpractice" - Iran develops the bomb?
There is the possibility that the real "diplomatic malpractice" here was appointing Kerry to his current position, but never mind...
Credit: AP
~~~~~~~~~~
Then we have President Obama -- who's as "unreal" as you can get. He gave an interview to AP, released today, in which he indicated that:
"Our assessment [about the length of time until Iran can build a bomb] continues to be a year or more away. And in fact, actually, our estimate is probably more conservative than the estimates of Israeli intelligence services."
http://www.ynetnews.com/articles/0,7340,L-4436807,00.html
There's no "probably" about it, my friends, and the president undoubtedly knows it. This is what Netanyahu said in his UN speech (emphasis added):
"Last year when I spoke here at the UN I drew a red line. Now, Iran has been very careful not to cross that line but Iran is positioning itself to race across that line in the future at a time of its choosing. Iran wants to be in a position to rush forward to build nuclear bombs before the international community can detect it and much less prevent it."
http://www.timesofisrael.com/full-text-netanyahus-2013-speech-to-the-un-general-assembly/
There has been a running disagreement between the US and Israel regarding whether it would be possible to determine when Iran was actually constructing a bomb, with Israel maintaining that it would not, and that Iran had to be stopped prior to that point.
Yet Obama would have us believe that he can sail on for another year or more without putting the world at risk in this matter.
~~~~~~~~~~
But we're not done yet. YNet tonight cited an unnamed diplomat involved in the negotiations with Iran, who said:
"Israel will not be in the room if and when a deal is done. We take Israeli concerns very seriously. But I have a feeling that Netanyahu is slightly out of step with other nations at the moment."
Israel didn't have "veto" power, he indicated. And were Israel in the room when negotiations were done, it would be unlikely to get everything Netanyahu was demanding.
While Gary Samore - until recently the top nuclear proliferation expert on Obama's national security staff - explained to YNet that (emphasis added):
"Negotiating means there will have to be some give on both sides.
"I think it's unlikely that we are in a position to dictate to the Iranians that they have to meet all of our demands."
http://www.ynetnews.com/articles/0,7340,L-4436755,00.html
I've used many adjectives as I've written these posts,describing this situation: deplorable, despicable, dangerous. None suffice here. This statement so totally, willfully misses the point Netanyahu was making that it's impossible not to read malice of intent - that is, ultimately a gleeful willingness to allow Iran to go nuclear.
We all knew it, that Obama's "the military option has not been taken off the table" was not sincere. After the Syrian fiasco it was a farce. But this statement boldly puts the lie to it.
The whole point of having a military option on the table is so that Iran CAN be dictated to. This is not a question of two equal parties sitting down to give a little and take a little.
You sit across from the representatives of the state that is the biggest promoter of terrorism in the world today, and which has a history of deception and which has said it wants to take Israel off the face of the earth, and which terrifies Saudis and other Sunni Arab states, and which is aiming to send nuclear missiles to the eastern coast of the US, and you say, "Look guys, either do what we say, or we're going to hit you so hard that your heads will spin off of your necks. We don't advise you to test us on this."
Say it diplomatically, if you will, but say it.
The world has not learned...
~~~~~~~~~~
Keep communicating to your elected representatives in Congress the need for a tough stance on Iran. They get it and Congress is looking to increase sanctions.
But the State Department is saying it would be "helpful" if the Senate held off on this:
On Thursday, Under Secretary of State for Political Affairs Wendy Sherman told the Senate Foreign Relations Committee, "We will be looking for specific steps by Iran that address core issues....
"The Iranians in return will doubtless be seeking some relief from comprehensive international sanctions that are now in place."
http://freebeacon.com/state-dept-to-congress-dont-sanction-iran/
~~~~~~~~~~
Iran's Supreme Leader Ayatollah Ali Khamenei said today that 'some" aspects of President Hassan Rouhani's trip to the United Nations General Assembly in New York last month were "not proper." It was believed he was referring to Rouhani's phone conversation with Obama.
"We are pessimistic towards the Americans and do not put any trust in them. The American government is untrustworthy, supercilious and unreasonable, and breaks its promises."
http://www.timesofisrael.com/khamenei-some-of-rouhanis-un-trip-inappropriate/
Will Obama work overtime now to show the Iranians how much they can trust him? The answer is self-evident.
~~~~~~~~~~
I end with an exceedingly real by statement by Avigdor Lieberman, head of Yisrael Beitenu, and chair of the Knesset Foreign Relations and Defense Committee (emphasis added):
There is not even "a quarter" of a sign that Iran is slowing its nuclear development, he said. "All international intelligence agencies are aware that nothing has changed.
"Israel is prepared to deal with the Iranian problem. Even if we stand alone. It's better to be alone and stay alive rather than toe the line and go up in flames."
http://www.timesofisrael.com/liberman-on-iran-better-to-be-alone-and-stay-alive/
Amen on this!
Lieberman recalled the world opposition to our bombing the Iraqi reactor in 1981. Now, he said, the world recognizes that "we were right… The whole world would have paid the price" if Israel had not intervened.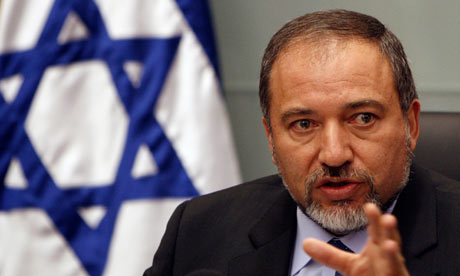 Credit: theguardian
~~~~~~~~~~
An October 2 Israel Hayom-New Wave Research poll shows that 65.6% Israeli Jews would support a unilateral Israeli strike even without international support, with only 21.8% opposed.
http://www.israelhayom.com/site/newsletter_article.php?id=12347
We get it.
~~~~~~~~~~
© Arlene Kushner. This material is produced by Arlene Kushner, functioning as an independent journalist. Permission is granted for it to be reproduced only with proper attribution.
If it is reproduced and emphasis is added, the fact that it has been added must be noted.
http://arlenefromisrael.squarespace.com/current-postings/2013/10/5/october-5-2013-unreal.html
Posted
on Saturday, October 5, 2013 at 06:53PM
by
Arlene
in Avigdor Lieberman, Iran, Kerry, Netanyahu, Obama
|
Post a Comment
|
Email
|
Print
Prime Minister Netanyahu approached the podium at the UN this week with courage and determination. He spoke with impeccable logic and eloquence.
(If you would like to see a video of his talk: http://www.youtube.com/watch?v=CCDcdnEjJHA )
Following his talk, he remained in the US an additional day in order to give numerous media interviews on the subject of the dangers of Iran and the necessity of fully dismantling its nuclear capability.
In other words, he is putting out that maximum effort to alert the world to a critical danger.
~~~~~~~~~~
In many quarters here in Israel his words were received with high praise (all emphasis below added).
Wrote Boaz Bismuth in "The speech the world needed to hear":
"Prime Minister Benjamin Netanyahu did not go the United Nations with a set of gimmicks. The prime minister chose a serious, tough and disillusioned speech; almost extraordinary during a time when the world seems to be more interested in fantasy...Netanyahu took it upon himself on Tuesday to do the unpleasant thing and show us the harsh reality that is the Iranian nuclear program.
"It was not the speech the world wanted to hear, but it was the speech it needed to hear. Netanyahu was not looking to make friends in his speech Tuesday. He was looking to give the world the truth -- and the truth sometimes hurts. Clearly, the world would rather live in the Iranian bubble, which Netanyahu came to burst Tuesday."
http://www.israelhayom.com/site/newsletter_opinion.php?id=5849
~~~~~~~~~~
While it is the opinion of Dr. Haim Shine, in "Historical insight" that:
Netanyahu's words are in no need of interpretation. His statements were clear and decisive. Their purpose was to make it clear to the Iranians that the State of Israel has the ability to deal with their nuclear program on its own, and will not hesitate to use the full extent of its power...
"In my view, Netanyahu is emerging as perhaps the only prime minister since the late Menachem Begin, who, in addition to pragmatism, has historical insight. He possesses a basic and fundamental understanding of the meaning of the return to Zion in the modern era."
http://www.israelhayom.com/site/newsletter_opinion.php?id=5843
~~~~~~~~~~
But it's here in Israel that he's been most highly praised. We understand where he is coming from. And even here there were pockets of criticism on the left - e.g., from Shelly Yachimovich, head of the Labor party.
Yes, there has been praise in other places. I was surprised to see that Alan Dershowitz had exceedingly good words for him -- calling his speech one of the important ever delivered at the UN.
http://www.unitedjerusalem.org/index2.asp?id=1724311
~~~~~~~~~~
The NY Times - unsurprisingly, considering its recent positions on Netanyahu - referred to his "aggressive speech" replete with "combative words."
"...it could be disastrous if Mr. Netanyahu and his supporters in Congress were so blinded by distrust of Iran that they exaggerate the threat, block President Obama from taking advantage of new diplomatic openings and sabotage the best chance to establish a new relationship since the 1979 Iranian revolution sent American-Iranian relations into the deep freeze."
http://www.americanthinker.com/blog/2013/10/netanyahus_un_speech_sticks_in_nyts_craw.html#ixzz2gfGTCY6S
What disturbs me the most here is that the Times is often a mouthpiece for Obama.
The president himself is attempting to play it "cool" and not take a combative stance against Netanyahu's position. Jay Carney, White House press secretary said on Tuesday:
Netanyahu's skepticism of Rouhani was "entirely justified...This is a country whose leadership, until recently, was pledging to annihilate Israel."
http://www.jpost.com/Diplomacy-and-Politics/Netanyahu-backs-UN-speech-with-media-blitz-327721
Sounds gracious, doesn't it? But it isn't. Implied here is that Iranian leadership, now with Rouhani in the president's seat, is no longer threatening Israel. But, gee, it will take Netanyahu some time to catch on to this new state of affairs.
But there is no new state of affairs. Not in terms of attitudes demonstrated beneath Rouhani's charming words. Just before Rouhani came to the UN to deliver his conciliatory words, in his country a military parade was held:
On the lead vehicle of a line of trucks transporting Shahab-3 missiles, there appeared a banner that reads: 'Esraail baayad az beyn beravad' - "Israel Should Cease to Exist"...
http://jcpa.org/article/charm-offensive-hostile-iranian-messages-eve-rouhanis-un-visit/

~~~~~~~~~~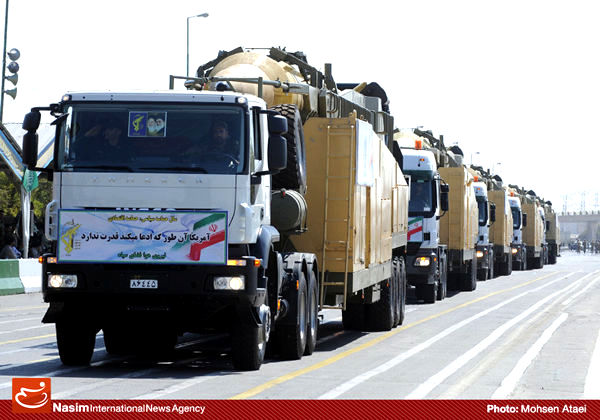 Darn right, Netanyahu's skepticism is entirely justified. But there's no way that Obama is on board for this realism.
~~~~~~~~~~
Of great concern, in addition to this, is the position the European community seems to be taking. First EU foreign affairs head Catherine Ashton made a pathetic, appeasing statement about wanting to project a positive attitude in negotiations with Iran. Tough talk - carrying that big stick - simply is not politically correct in this new world order. Heaven help us.
And now Lithuanian Foreign Minister Linas Linkevicius, who currently holds the rotating position of EU president, has announced that Western governments are thinking of reaching a deal with Tehran that would allow some enrichment of uranium to continue (ostensibly for peaceful purposes).
http://www.jewsnews.co.il/2013/10/02/senior-eu-minister-west-may-drop-demand-for-iran-to-halt-all-nuclear-work/
This is precisely what Netanyahu warned against, saying if the Iranians have access to some enriched uranium they will have the ability to parlay this into development of nuclear weaponry. And so it's clear that many national leaders have no desire to heed our prime minister's words. .
This is of a piece with Kerry's position, that I last wrote about. Confronting Iran is just too tough, too uncomfortable - better to make believe.
It's like blowing in the wind...
~~~~~~~~~~
We cannot fix all of this. That repair lies with Heaven. But there are some things we can do, and I believe each of us must put out our own maximum effort at this time. This is especially so with readers in the US.
We delude ourselves if we imagine we can affect the Obama administration directly. The goal is to reach the public and elected representative in Congress.
~~~~~~~~~~
Familiarize yourselves with Netanyahu's major points. The full text of his speech is here:.
http://www.timesofisrael.com/full-text-netanyahus-2013-speech-to-the-un-general-assembly/
Keep it for your reference and to share as appropriate.
~~~~~~~~~~
1) Let your elected representatives in Congress know that you are demanding a US position that requires full dismantling of Iran's nuclear capacity - that you consider anything less to be foolish and dangerous.
For your Congresspersons:
http://www.house.gov/representatives/find/
For your Senators:
http://www.senate.gov/general/contact_information/senators_cfm.cfm
~~~~~~~~~~
Additionally, represent this position wherever you can. Write letters to the editor. Do op-eds in local papers. Talk about this with associates. Do talkbacks on the Internet.
And share this posting broadly.
~~~~~~~~~~
Very shortly I will be switching gears, because Prime Minister Netanyahu will be delivering his Bar Ilan talk on Sunday. This one addresses the situation with the Palestinian Arabs and not Iran. And the prospects have many people uneasy.
Violence on the part of the Arabs in this area (both Israel citizens and those coming out of PA-controlled areas) has already increased and the Arabs are predicting a third intifada if there is no agreement reached (which is going to be the case).
As I have already indicated, there is considerable talk about an "interim" agreement. But Tzipi Livni, negotiator for Israel, says she's working towards a final agreement and has nothing regarding an interim understanding on the table.
In his UN talk, Netanyahu devoted about two minutes to this subject. He says he is prepared for concessions for true peace, but will not compromise Israel's safety. If he is serious on this, there will be no compromises, because he knows very well that the Palestinian Arabs are not serious. Reports are that - much to the frustration of the PA - Israel is refusing to discuss borders and is focusing on security.
But just tonight I heard from someone who has contacts inside the government, that the prime minister does not want to appear too negative, too much of a naysayer, on this issue after how strong he was on Iran.
Which means? Stay tuned...
~~~~~~~~

© Arlene Kushner. This material is produced by Arlene Kushner, functioning as an independent journalist. Permission is granted for it to be reproduced only with proper attribution.
If it is reproduced and emphasis is added, the fact that it has been added must be noted.
http://arlenefromisrael.squarespace.com/current-postings/2013/10/3/october-3-2013-maximum-effort.html
Posted
on Thursday, October 3, 2013 at 06:29PM
by
Arlene
|
Post a Comment
|
Email
|
Print
What had me close to speechless earlier today was a quote by the venerable (sic) US secretary of state, John Kerry. (With thanks to IMRA for putting it up.)
The source here is Al-Arabiya, but there are other sources as well (e.g., AFP), because the quotes are taken from a "60 Minutes" broadcast. Said Mr. Kerry (emphasis added):
"...a deal with Iran could be reached within months if Tehran proves that its nuclear program was not being used to build atomic weapons...
"We need to have a good deal here. And a good deal means that it is absolutely accountable, failsafe in its measures to make certain this is a peaceful program.
"If it is a peaceful program, and we can all see that - the whole world sees that - the relationship with Iran can change dramatically for the better and it can change fast...
"[the U.S. could consider lifting sanctions] by setting up a process that shows them how they can have this peaceful program without disturbing our efforts to make sure that no country is now going to build nuclear weapons."
http://imra.org.il/story.php3?id=61998
~~~~~~~~~~
Now, we all know that Kerry cannot be counted as one of the brightest secretaries of state the US has ever had. But even Kerry cannot be this dumb -- to really, truly imagine that Iran's nuclear development is for peaceful purposes as they claim.
~~~~~~~~~~
And that's precisely what is so mind-blowing here: this is pretend. Now we can understand why Kerry keeps talking about Iran "taking some enriched material out of the country," etc. He's not trying to totally dismantle their nuclear effort. (Which fact I have repeatedly pointed out.) He's looking for a way to give them a free pass so that no confrontation is necessary. Heaven forbid there should be confrontation. Even an "unbelievable small" confrontation. (I assume the allusion is obvious.)
Iran would not voluntarily permit the total dismantlement of its nuclear program, and achieving that goal would require confrontation. (Or at the very least a military threat that the nation would have to be prepared to stand behind.)
~~~~~~~~~~
And just in case Iran might not arrange things properly, to provide cover, Kerry is offering US help in setting up a peaceful program.
Consider: IF the Iranians really had a peaceful nuclear program, would they require US help in setting up a peaceful nuclear program????
Only one response is appropriate here: AGHH!
~~~~~~~~~~
IF Iran's nuclear plan is not peaceful (you think?), and if the Iranians lie and practice subterfuge (wow!), it might be fair to say that leaving them with enough nuclear material for what they refer to as peaceful purposes might result in its being otherwise diverted and misused.
No????
~~~~~~~~~~
There is one world leader, and only one, who is telling it like it is - refusing to put up with this nonsense. And thus my great pride: For I am speaking of Israeli Prime Minister Binyamin Netanyahu.
Credit: Reuters
Today, standing at the podium of the UN General Assembly, he responded to the approach advanced by Kerry, described in vivid terms what the world was dealing with, and declared unequivocally that Israel will not tolerate a nuclear Iran.
He did this with conviction, and clarity, providing hard facts that should be grasped by all. Some excerpts (emphasis added):
"...the Jewish people's odyssey through time has taught us two things: Never give up hope, always remain vigilant. Hope charts the future. Vigilance protects it.
"Today our hope for the future is challenged by a nuclear-armed Iran that seeks our destruction...
"...in 1979 a radical regime in Tehran tried to stamp out that [ancient Persian-Jewish] friendship. As it was busy crushing the Iranian people's hope for democracy, it always led wild chants of 'death of the Jews.'
"Now, since that time, presidents of Iran have come and gone...they've all served that same unforgiving creed, that same unforgiving regime, that creed that is espoused and enforced by the real power in Iran, the dictator known as the supreme leader, first Ayatollah Khomeini and now Ayatollah Khamenei.
"President Rouhani, like the presidents who came before him, is a loyal servant of the regime. He was one of only six candidates the regime permitted to run for office...
"So what made him acceptable? Well, Rouhani headed Iran's Supreme National Security Council from 1989 through 2003. During that time Iran's henchmen gunned down opposition leaders in a Berlin restaurant. They murdered 85 people at the Jewish community center in Buenos Aires. They killed 19 American soldiers by blowing up the Khobar Towers in Saudi Arabia...
"Rouhani was also Iran's chief nuclear negotiator between 2003 and 2005. He masterminded the...strategy which enabled Iran to advance its nuclear weapons program behind a smoke screen of diplomatic engagement and very soothing rhetoric.
"Now I know: Rouhani doesn't sound like Ahmadinejad. But when it comes to Iran's nuclear weapons program, the only difference between them is this: Ahmadinejad was a wolf in wolf's clothing. Rouhani is a wolf in sheep's clothing, a wolf who thinks he can pull the...wool over the eyes of the international community.
"Well, like everyone else, I wish we could believe Rouhani's words, but we must focus on Iran's actions. And it's the brazen contrast, this extraordinary contradiction, between Rouhani's words and Iran's actions that is so startling...
[Following...a series of contrast between Rouhani's words and Iranian actions.]
"Rouhani tells us not to worry. He assures us that all of this is not intended for nuclear weapons. Any of you believe that? If you believe that, here's a few questions you might want to ask. Why would a country that claims to only want peaceful nuclear energy, why would such a country build hidden underground enrichment facilities?
"Why would a country with vast natural energy reserves invest billions in developing nuclear energy? Why would a country intent on merely civilian nuclear programs continue to defy multiple Security Council resolutions and incur the tremendous cost of crippling sanctions on its economy?
"And why would a country with a peaceful nuclear program develop intercontinental ballistic missiles, whose sole purpose is to deliver nuclear warheads? You don't build ICBMs to carry TNT thousands of miles away; you build them for one purpose, to carry nuclear warheads. And Iran is building now ICBMs that the United States says could reach this city in three or four years.
"Why would they do all this? The answer is simple. Iran is not building a peaceful nuclear program; Iran is developing nuclear weapons. Last year alone, Iran enriched three tons of uranium to 3 1/2 percent, doubled it stockpile of 20 percent enriched uranium and added thousands of new centrifuges, including advanced centrifuges. It also continued work on the heavy water reactor in Iraq; that's in order to have another route to the bomb, a plutonium path. And since Rouhani's election — and I stress this — this vast and feverish effort has continued unabated.
"Last year when I spoke here at the U.N. I drew a red line. Now, Iran has been very careful not to cross that line but Iran is positioning itself to race across that line in the future at a time of its choosing. Iran wants to be in a position to rush forward to build nuclear bombs before the international community can detect it and much less prevent it.
"Yet Iran faces one big problem, and that problem can be summed up in one word: sanctions. I have argued for many years, including on this podium, that the only way to peacefully prevent Iran from developing nuclear weapons is to combine tough sanctions with a credible military threat.
"...the regime is under intense pressure from the Iranian people to get the sanctions relieved or removed.
"That's why Rouhani got elected in the first place. That's why he launched his charm offensive. He definitely wants to get the sanctions lifted; I guarantee you that. But he doesn't want to give up...Iran's nuclear weapons program in return.
"Now here's a strategy to achieve this. First, smile a lot...Second, pay lip service to peace, democracy and tolerance. Third, offer meaningless concessions in exchange for lifting sanctions. And fourth, and the most important, ensure that Iran retains sufficient nuclear material and sufficient nuclear infrastructure to race to the bomb at a time it chooses to do so.
"You know why Rouhani thinks he can get away with this? I mean, this is a ruse. It's a ploy. Why does Rouhani think he...can get away with it? Because...he's gotten away with it before, because his strategy of talking a lot and doing little has worked for him in the past.
"He even brags about this. Here's what he said in his 2011 book about his time as Iran's chief nuclear negotiator, and I quote: 'While we were talking to the Europeans in Tehran, we were installing equipment in Isfahan.'
"Now, for those of you who don't know, the Isfahan facility is an indispensable part of Iran's nuclear weapons program. That's where uranium ore called yellowcake is converted into an enrichable form. Rouhani boasted, and I quote, 'By creating a calm environment — a calm environment — we were able to complete the work in Isfahan.' He fooled the world once. Now he thinks he can fool it again...
"Now, I know that some in the international community think I'm exaggerating this threat. Sure, they know that Iran's regime leads these chants, 'death to America, death to Israel,' that it pledges to wipe Israel off the map. But they think that this wild rhetoric is just bluster for domestic consumption. Have these people learned nothing from history? The last century has taught us that when a radical regime with global ambitions gets awesome power, sooner or later its appetite for aggression knows no bounds.
"That's the central lesson of the 20th century. And we cannot forget it. The world may have forgotten this lesson. The Jewish people have not.
"Iran's fanaticism is not bluster. It's real. The fanatic regime must never be allowed to arm itself with nuclear weapons. I know that the world is weary of war. We in Israel, we know all too well the cost of war. But history has taught us that to prevent war tomorrow, we must be firm today.
"And this raises the question, can diplomacy stop this threat? Well, the only diplomatic solution that would work is one that fully dismantles Iran's nuclear weapons program and prevents it from having one in the future.
"...And to be meaningful, a diplomatic solution would require Iran to do four things. First, cease all uranium enrichment...Second, remove from Iran's territory the stockpiles of enriched uranium. Third, dismantle the infrastructure for nuclear breakout capability, including the underground facility at Qom and the advanced centrifuges in Natanz.
"And, four, stop all work at the heavy water reactor in Iraq aimed at the production of plutonium. These steps would put an end to Iran's nuclear weapons program and eliminate its breakout capability.
"There are those who would readily agree to leave Iran with a residual capability to enrich uranium. I advise them to pay close attention to what Rouhani said in his speech to Iran's...Supreme Cultural Revolutionary Council. This was published in 2005. I quote. This is what he said:
"'A county that could enrich uranium to about 3.5 percent will also have the capability to enrich it to about 90 percent. Having fuel cycle capability virtually means that a country that possesses this capability is able to produce nuclear weapons.' Precisely. This is why Iran's nuclear weapons program must be fully and verifiably dismantled. And this is why the pressure on Iran must continue.
"So here is what the international community must do: First, keep up the sanctions...
"Second, don't agree to a partial deal. A partial deal would lift international sanctions that have taken years to put in place in exchange for cosmetic concessions that will take only weeks for Iran to reverse.
"Third, lift the sanctions only when Iran fully dismantles its nuclear weapons program. My friends, the international community has Iran on the ropes. If you want to knock out Iran's nuclear weapons program peacefully, don't let up the pressure. Keep it up...
"Ladies and gentlemen, Israel will never acquiesce to nuclear arms in the hands of a rogue regime that repeatedly promises to wipe us off the map. Against such a threat, Israel will have no choice but to defend itself.
"I want there to be no confusion on this point. Israel will not allow Iran to get nuclear weapons. If Israel is forced to stand alone, Israel will stand alone. Yet, in standing alone, Israel will know that we will be defending many, many others.
http://www.timesofisrael.com/full-text-netanyahus-2013-speech-to-the-un-general-assembly/
~~~~~~~~~~
I have received a good deal of mail from my readers in recent days. Some believe Netanyahu has already caved to Obama, and that he has no intention of hitting Iran in any event. I wonder how many will have changed their minds in response to this UN speech.
I myself accept his absolute conviction on this issue and his determination to keep Iran from going nuclear. He plays a good many games, and sometimes offers concessions that I would far prefer he did not. He sometimes is more conciliatory than seems wise (although he apparently sees the conciliation as wise, or at least necessary).
But this? This is different. His observations were so directly a response to the Obama administration policy, that there is no way to say he has caved on that score. (You will notice, perhaps, that his tone here was decidedly different from the platitudes he offered in the Oval Office. He had said his speech at the UN would be determined by what he heard from Obama.)
And when he says Israel will not allow Iran to go nuclear, he means it. Binyamin Netanyahu did not assume his position as head of government in order to stand back and watch Israel face existential attack.
~~~~~~~~~~
I believe that to date Israel has kept Iran from going nuclear. It is only Israel in all the world that makes Iran sit back and take notice - lest, indeed, we attack. And it is because of Netanyahu's red line of a year ago, that Iran has tempered its progress so as to not (yet) cross it.
There is a prophetic quality to the prime minister's warnings to the world. The danger is real, he knows whereof he speaks. But to a considerable degree, the world has preferred not to listen.
I cannot say what response there will be to this speech, and how it might affect US policy (via Congressional and electoral opinion, in spite of Obama). But I am mighty glad he gave it.
As to Israel attacking, it is still my best understanding that, while we cannot totally take out their nuclear development capability (because it has gone underground and the US will not sell us those monster bunker busters), we can do damage that will set Iran back some years. Obama might make it more difficult for us, but I don't believe he can prevent our action.
Obviously, Netanyahu would prefer that the world heeded his advice so that no attack would be necessary. That depends upon the world...
~~~~~~~~~~
There is one other approach in this speech that particularly pleased me: He didn't tie Israel to the Holocaust, or even to the Mandate for Palestine or the Balfour Declaration (as valuable as these things are). He looked back to our beginnings and made it clear that we are the aboriginal people here - that this land is ours, truly from time immemorial. He began thus:
"We are an ancient people. We date back nearly 4,000 years to Abraham, Isaac and Jacob. We have journeyed through time. We've overcome the greatest of adversities.
"And we re-established our sovereign state in our ancestral homeland, the land of Israel."
This is fantastic stuff.
~~~~~~~~~~
Then, in ending, he tied our presence here to the Bible:
"In our time the Biblical prophecies are being realized. As the prophet Amos said, 'They shall rebuild ruined cities and inhabit them. They shall plant vineyards and drink their wine. They shall till gardens and eat their fruit. And I will plant them upon their soil never to be uprooted again.'
(In Hebrew.)
"Ladies and gentlemen, the people of Israel have come home never to be uprooted again."
And I say, "Amen." And thank you, Mr. Prime Minister.
~~~~~~~~~~
© Arlene Kushner. This material is produced by Arlene Kushner, functioning as an independent journalist. Permission is granted for it to be reproduced only with proper attribution.
If it is reproduced and emphasis is added, the fact that it has been added must be noted.
http://arlenefromisrael.squarespace.com/current-postings/2013/10/1/october-1-2013-the-shock-and-the-pride.html

Posted
on Tuesday, October 1, 2013 at 06:55PM
by
Arlene
in Iran, Kerry, Netanyahu speed UN
|
Post a Comment
|
Email
|
Print
But of course! How could the situation be anything but?
This morning's lead story in the JPost included this (emphasis added):
"Prime Minister Binyamin Netanyahu will go into his meeting with US President Barack Obama on Monday aiming not only to reveal the 'true face' of the Iranian regime, but also wanting to hear a reaffirmation from Obama of Israel's right to defend itself.
"One of Israel's main concerns presently is that Iranian President Hasan Rouhani's 'charm offensive' has chipped away at Israel's legitimacy for military action if Tehran crosses the red line Netanyahu established at the General Assembly last year."
http://www.jpost.com/Diplomacy-and-Politics/At-meeting-with-Obama-Netanyahu-seeking-reaffirmation-of-Israels-right-to-defend-itself-327425
Reaffirmation?
My immediate response to this was enormous indignation. Of course we have the right to defend ourselves. We need no one's permission to do so. Every sovereign state has the right of self-defense.
This article reflects a very different tone from what I reported yesterday: "Netanyahu will tell US President Barack Obama that Israel will abandon the diplomatic path on Iran's nuclear program [i.e., take unilateral military action] if it is not completely dismantled."
Was it Netanyahu's intention to tell Obama what we might need to do? Or to ask permission?
~~~~~~~~~~
This circles back on the discussion I had in my last post about how there are times that Netanyahu has difficulty in bucking what Obama demands. In this case he might demand that there be no military action because this would interfere with his "diplomatic" outreach to Iran. Hey! He and Rouhani are practically best friends already.
If Obama were to make this demand, does this mean Netanyahu would have to listen? On the contrary, this is one of those occasions on which he MUST do what is right for Israel. But it is also one of those occasions that might require enormous strength and fortitude from him. And I can see the possibility of his stalling - whatever the bravery of his words - when it is past time for stalling.
Far better to clear matters away first, if it is possible. Otherwise there might be not only penalties of various sorts, but interference with our attempts to defend ourselves.
~~~~~~~~~~
The on-going theme being put out by Kerry remains unsettling, as well. He is going to make demands - real demands - of Iran, he keeps telling us. But then he provides examples of some of the things he'd like to see now for Iran to show its seriousness, and they fall short of what is truly needed:
"They could immediately open for inspection the Fordo facility, they could immediately sign the protocol of the international community regarding inspections, they could offer to cease voluntarily to take enrichment above a certain level."
http://www.ynetnews.com/articles/0,7340,L-4434654,00.html
Once again: they need to close Fordo, and stop enriching all together. Will the US accept half-way measures and call it victory? This is precisely what I fear, and this would be a situation that makes it doubly difficult for Netanyahu.
~~~~~~~~~~
Netanyahu, we've been told, brought with him into his meeting with Obama information on an Iranian agent who was captured here in Israel. A Belgian citizen of Iranian origins, Ali Mansouri is suspected by the Shin Bet of having been recruited by the Quds Force of Iran, which is a unit of the Revolutionary Guards that oversees "special operations, terrorism and subversion" outside of Iran. A businessman, he was in Israel to attempt to set up a business network that would provide "a covert base of operations for the Iranian regime to act against Israel and Western interests."
Mansouri, who was reportedly paid $1 million for his activities, answered to the Quds Force, which in turn answers to the notorious Qassem Suleimani.
http://www.jpost.com/Defense/Shin-Bet-arrests-Iranian-spy-sent-to-Israel-by-Revolutionary-Guard-327362
Netanyahu was eager to provide information to the president on precisely how Iran is operating even as its leaders profess eagerness for warm relations. Mansouri, when arrested, was carrying photographs of Ben Gurion Airport and the US Embassy. The latter should make Obama sit upright: the US is not exempt from Iranian machinations and it's imperative for him to realize it.
~~~~~~~~~~
The scuttlebutt, across the board, has been that this is going to be a time of greatly heightened tensions between Netanyahu and Obama - with a reappearance of the personal animosities we had seen earlier, and which had been, at least superficially, smoothed over. The goals of the two leaders were seen to be simply at odds, with frictions in the personalities as well.
But none of this was apparent on the surface today, with regard to the meeting between Netanyahu and Obama. The prime minister was well prepared going in, as he was prepped by a team that included some very good people, e.g., Ya'akov Amidror, outgoing head of the National Security Council and Ron Dermer, new incoming Israeli Ambassador to Israel.

Credit: Majalla
~~~~~~~~~~
A close look at their words would certainly reveal gaps between the two. And we must remember that what was of import - especially with regard to differences - was said behind closed doors. But public words were all cordial and I do not believe the atmosphere was negatively charged. Matters seemed smoother than might have been expected.
Obama said that he would not be taking Iranian leaders at their words and would demand action: "specifically a reduction in the level of uranium enrichment as demanded by the international community, and that can be verified." (Yup, that again, still.)
http://www.israelnationalnews.com/News/News.aspx/172360
Netanyahu said, after the meeting, that he appreciated Obama's position on Iran. He does? Well, Obama did say he wasn't ruling out the military option. Anyone believe that? Netanyahu is no one's fool.
~~~~~~~~~~
Perhaps, however, what is serious is that Obama did concur that Israel needed to keep that military option on the table.
This is the conclusion that we must draw from the fact that, while still sitting next to Obama, Netanyahu declared for the press that if serious action isn't forthcoming from Iran, Israel reserves the right to wage a unilateral military campaign against Iran's nuclear facilities. I am not hearing that Obama offered a recognition of Israel's right of self-defense, but that does not matter. What matters is that our own prime minister made that right clear.
http://www.jpost.com/Diplomacy-and-Politics/Netanyahu-urges-Obama-to-keep-up-sanctions-on-Iran-in-light-of-new-detente-327496
Netanyahu's position remains that Iran must fully dismantle its nuclear program. Half-way measures will not cut it for him.
~~~~~~~~~~
We do not know exactly how much Netanyahu impressed Obama with his evidence of Iranian intransigence. But we can speculate.
According to Israel National News (above), "Netanyahu also presented Obama with the key points he intends to make in his speech to the UN General Assembly on Tuesday. Among other things, Netanyahu is expected to say that he does not rule out diplomatic dialogue with the new Iranian President, provided that the talks will establish real results."
This is a concession to Obama. Netanyahu knows full well that diplomatic dialogue with Iran will never establish real results.
~~~~~~~~~~
There is one other significant point in the follow-up to the leaders' meeting: Obama praised Netanyahu's willingness to engage in the negotiations with the PA.
Uh oh.
Here's more scuttlebutt: In reality, there is no connection between the threat of a nuclear Iran and our negotiations with the PA. But Obama keeps finding ways to draw connections. There is fear in some quarters that Netanyahu may give on what he is willing to concede to the PA, in return for Obama taking a stronger stance on Iran.
I keep picking up rumors about something coming down the road - some proposal from the prime minister regarding an interim state. There is an enormous amount of action going on, under the surface, in government and Knesset circles, in order to prevent this from happening.
Yesterday, Deputy Defense Minister Danny Danon convened a meeting with heads of nationalist groups inside the Likud Central Committee to strategize on this issue. Danon made the point that this was not "anti-Netanyahu," but rather was intended to apply counter-pressure to the great pressure Netanyahu was undoubtedly encountering in the US. The group focused on a critique of Tzipi Livni, head of the negotiating team, who just spoke at a J-Street conference. Deplorable.
http://www.jpost.com/Diplomacy-and-Politics/Right-leaning-Likud-members-aim-to-block-any-agreement-Netanyahu-makes-with-PA-327446

Credit: JPost
~~~~~~~~~~
© Arlene Kushner. This material is produced by Arlene Kushner, functioning as an independent journalist. Permission is granted for it to be reproduced only with proper attribution.
If it is reproduced and emphasis is added, the fact that it has been added must be noted.
http://arlenefromisrael.squarespace.com/current-postings/2013/9/30/september-30-2013-troubling-unsettling.html
Posted
on Monday, September 30, 2013 at 04:24PM
by
Arlene
in Danon, Iran, Israel, Netanyahu, Obama, interim agreement, nuclear development, self-defense
|
Post a Comment
|
Email
|
Print
Before I discuss those tough times, I want to recommend that you read my Front Page Magazine article critiquing Abbas's speech at the UN. Just about everything he says is a distortion or outright misrepresentation; calling him on his positions is important. So, after you've read it, please share the URL widely. This is no time for reticence; people must be provided with facts:
http://frontpagemag.com/2013/arlene-kushner/abbas-at-the-un-decoding-the-babble/
~~~~~~~~~~
And then, please, prayers for little Zakkai, the almost three year old who has had multiple surgeries on his spine because of a recurring (benign but very aggressive) tumor.
Very recently he had a less invasive technique applied for freezing a tumor nodule that had been discovered. It is not yet known if this technique was fully successful -- more will be known when a scan is done. But what is known is that three other small nodules were discovered -- that have not been treated yet. (It never seems done, which is the horror of this situation!). What is more, his spine is so damaged by all of the efforts to eradicate the tumors that he's probably facing spine surgery in a matter of months.
Rephael Zakkai Avraham ben Yakira Avigael
~~~~~~~~~~
Now, as to those tough times...
Toughest of all the problems we face is the very real threat presented by Iran, which is a huge promoter of terrorism, and on the verge of going nuclear.
Iranian president Hasan Rouhani is currently engaged in a new technique - popularly known as the "charm offensive" - for forestalling interference with his nation's goals.
That offensive rose to a new level on Friday, when, for the first time since 1979, the leaders of the US and Iran spoke with each other by phone (via interpreters). As I am reading it, some feelers were put out by Iran, but the phone call was actually placed by the US. The Iranians are saying the call was strictly the initiative of the US.
Whatever the case, the call is being hailed at the White House as an historic diplomatic breakthrough, with Obama enthusing, after the call, that "I believe we can reach a comprehensive agreement."
Credit: scmp
But the president is best advised to hold his horses and not yet speak about the "deeper relations" with Iran if a nuclear breakthrough can be achieved. For the cold, hard reality is that while Rouhani is behaving ever so graciously -- and ever so differently from his predecessor -- there is absolutely no indication of a change in Iranian policy with regard to nuclear development.
~~~~~~~~~~
Enter Prime Minister Netanyahu, who left for the US last night.
Credit: Irishexaminer
Convinced that the Iranian outreach is a "fraud," he's coming with a message that Obama is not going to want to hear; he will be delivering it to the president tomorrow, and then to the UN General Assembly on Tuesday.
On his departure he said:
"I will represent the citizens of Israel, our national interests, our rights as a people, our determination to defend ourselves and our hope for peace.
"I will tell the truth in the face of sweet-talk and the onslaught of smiles.
"One must talk facts and one must tell the truth. Telling the truth is vital for the security and peace of the world and of course for the security of Israel."
~~~~~~~~~~
To put it simply, my friends, what he is doing takes integrity and guts. He is not going to be well received in New York or Washington, and he knows it. But he's acting as he believes he must.
Obama is not likely to be very appreciative of someone who is attempting to block his easy way out with Iran (no matter the cost to the world). But one Israeli official commented that Netanyahu is used to playing the role of "spoil-sport": as he did when he gave warnings about the "Arab Spring."
According to the Sunday Times (London), Netanyahu plans to tell the General Assembly that Iran already has 219 kilograms (482 pounds) of enriched uranium, which is enough to produce a nuclear weapon. What is more, that "Iran has made significant progress in its nuclear program since the new president Hassan Rouhani was elected."
The Times further said that Netanyahu is carrying an intelligence dossier for Obama, providing evidence that Iran is stepping up its nuclear program.
http://www.israelnationalnews.com/News/News.aspx/172274
~~~~~~~~~~
Oh, to be a fly on the wall, during the closed door session between Netanyahu and Obama.
Netanyahu has instructed all Israeli ministers and representatives to refrain from speaking on the subject of Iran, as he moves into his difficult diplomatic situation.
His position, about which we will hear more in the next couple of days, is that four criteria must be met by Iran in order for the world to know that it has genuinely abandoned its nuclear development:
Halting all uranium enrichment; removing all enriched uranium from the country; closing the Fordo underground uranium enrichment facility near Qom; and stopping the plutonium track.
~~~~~~~~~~
Last week, Iranian foreign minister Mohammad Jarad Zarif met with P5 + 1 (Britain, France, Russia, China, and the US, plus Germany), and then Zarif met separately with his counterpart, John Kerry. There was a whole lot of talk about the encouraging change of tone and the work to be done. But statements made at this meeting give us a clue as to where all of this is heading:
Kerry, in a statement to CBS, spoke about the possibility of Iran demonstrating good faith by opening Fordo for inspection. But wait! that's a long way from closing down the plant.
While, after the meeting, Zarif addressed Iran's need for speedy relief from sanctions:
"Of course as we move forward, there has to be removal of sanctions and in the end game there has to be a total lifting of all sanctions and both bilateral sanctions, unilateral sanctions as well as multilateral sanctions and U.N. sanctions and we hope to be able to move in that direction within a short span of time."
http://www.israelhayom.com/site/newsletter_article.php?id=12211
What would be the minimum Iran would have to do before Obama would be motivated to begin prematurely reducing American sanctions?
~~~~~~~~~~
Evidence of US gullibility (or, perhaps, readiness to be "had") abounds. There is, for example, this report by MEMRI (Middle East Media Research Institute):
September 29, 2013 Special Dispatch No.5461
The Success Of The New Iranian Strategy (I) – The U.S. Administration Swallows The Lie About Khamenei's 'Fatwa' Against Nuclear Arms
http://www.memri.org/report/en/0/0/0/0/0/0/7432.htm
"In his address to the U.N. General Assembly (September 24, 2013), U.S. President Barack Obama stated: 'The Supreme Leader has issued a fatwa [religious ruling] against the development of nuclear weapons.' In fact, such a fatwa was never issued by Supreme Leader Khamenei and does not exist; neither the Iranian regime nor anybody else can present it.
"The deception regarding 'Khamenei's fatwa' has been promoted by the Iranian regime and its spokesmen for several years. Each time it was mentioned, the 'fatwa' was given a different year of issue – for example, 2005, 2007, or
2012 – but the text of the 'fatwa' was never presented.
"MEMRI has conducted in-depth research with regard to this 'fatwa' and has published reports demonstrating that it is a fiction. The Iranian regime apparently believe that their frequent repetition of the 'fatwa' lie will make it accepted as truth. To date, the Europeans refuse to accept it. According to unofficial sources, the legal advisors of the EU3 made an official request to the Iranian regime in 2005 to provide a copy of the 'fatwa,' but in vain.
~~~~~~~~~~
What hangs over all of us, here, is the question of whether Israel will in the end act unilaterally against Iran. Time is truly running out.
YNet now reports that:
"Prime Minister Benjamin Netanyahu will tell Washington that Iran's nuclear program must be dismantled and not merely supervised when he visits the White House on Monday, Israeli media reported.
"According to the diplomatic correspondent of Israel's Channel One television network, Netanyahu will tell US President Barack Obama that Israel will abandon the diplomatic path on Iran's nuclear program [i.e., take unilateral military action] if it is not completely dismantled." (Emphasis added)
Genuine intent, or empty threat?
http://www.ynetnews.com/articles/0,7340,L-4434596,00.html
~~~~~~~~~~
The second biggest headache we face is the nonsense regarding "negotiations" with the PA. The negotiations that are farcical in light of the behavior of the Palestinian Arabs, and, even more significantly, in light of Israeli rights -- too rarely enunciated -- to the land.
The first encouraging news in this regard I've seen comes via a report from Maariv, cited by Israel National News:
"Negotiations between Israel and the Palestinian Authority have arrived at an impasse, according to an evaluation by a senior foreign diplomat who is aiding in the brokering of an agreement between the two, as reported this morning (Sunday) by the Israeli daily, Maariv.
"According to the report, the subject of borders was first raised during the seventh round of talks, which were held before the Jewish holidays. During the discussions, Minister of Justice Tzipi Livni and Prime Minister Benyamin Netanyahu's representative, Yitzhak Molcho, refused to consider the exchange of territory in exchange for keeping existing Israeli settlements in their places. Molcho also is reported to have made it very clear to the PA that Israel intends to maintain her territories and communities therein..." (emphasis added)
http://www.israelnationalnews.com/News/Flash.aspx/277115
If this is true (have no clue who the "senior foreign diplomat" is), then it is very good news, and negates a host of rumors regarding all that Israel was said to be surrendering. Although I will confess that some of those "rumors" have come from pretty reliable sources.
But in any event the news is hardly all good. Is it ever?
The unnamed official commented that, "Until either the U.S. intervenes, or Netanyahu meets with Abbas – negotiations are futile."
I'm uncertain what would change if the two met -- assuming that their representatives are speaking in their names -- and far more uncertain that they would be willing to do so.
What rings bells is the suggestion of US intervention.
~~~~~~~~~~
What I want to do here is consider the possibilities of what we may be looking at down the road with regard to this situation.
Caroline Glick, in her most recent column, addresses the issue of a president of the US who is overtly hostile and pressures Netanyahu unremittingly. She says that both the ten-month freeze on building that Netanyahu instituted and his Bar Ilan speech embracing a "two state solution" came as a result of Obama's pressure (which includes such threats as a readiness to refuse to veto Security Council resolutions hostile to Israel).
http://www.jpost.com/LandedPages/PrintArticle.aspx?id=327188
I'm not sure if this is good news or bad news. On the one hand, it suggests that - contrary to the belief of many - it appears that Netanyahu is not really ideologically committed to a "Palestinian state."
But on the other hand, it also suggests that Netanyahu does not have the capacity to buck Obama's demands.
Glick says Israel cannot always refuse what the Obama wants, and that sometimes it's wise to give in to him. But, she says, Obama has limits to his power because the American people are solidly pro-American. Israel, she maintains, has to make her case with the American people:
"Netanyahu can set out the international legal basis for Israeli sovereignty over Judea and Samaria and explain why Israel's rights are stronger than the Palestinians'.
"The government can expose the fact that the demographic doomsday scenario that forms the basis of support for the two-state formula is grounded on falsified data concocted by the PLO.
"Demography, like international law, is actually one of Israel's strategic assets."
Well, it's now or never, it seems to me. And there is more to Israel's case than even the factors she mentions here. We cannot and must not cave to "US intervention" aimed at pushing us out of the land that is ours.
~~~~~~~~~~
I've been engaged in dialogue with associates these past few days on the issues raised by Glick - primarily the issue of how much latitude Israel has to say "no." I've never know Caroline Glick to be a shrinking violet and yet she believes that sometimes our prime minister is caught.
It's important for us to recognize how much goes on behind the scenes and what extraordinary pressure is placed upon Netanyahu - no one should imagine that he makes his decisions lightly.
But it's equally important for us to have the expectation that our prime minister is there to refuse the American president when he makes demands that are not in our best interest - and for us to communicate that to Netanyahu strongly now: Bravo on your strength in telling the truth on Iran. Now please, also tell the world the whole truth about Israel's ancient and historical rights in Judea and Samaria and the impossibility of considering the PA a "negotiating partner."
Glick herself comments on the way in which Menachem Begin, as prime minister, bucked the whole world when attacking the Iraqi nuclear reactor. There are multiple similar examples.
See http://www.israelhayom.com/site/newsletter_opinion.php?id=1689 for examples provided by Yoram Ettinger. "Just say NO" is one of Ettinger's recurring themes.
~~~~~~~~~~
Netanyahu is likely to touch on the subject of "negotiations" in his UN talk. More significantly, he is giving a second Bar Ilan talk in a week, at which he will be announcing new policy.
Rumor has it that he will be saying that a final deal is impossible now and that he will opt for an "interim" Palestinian state without final borders set. That would be very bad news -- and I'm aware of persons in the government already alarmed by this possibility. (Deputy Defense Minister Danny Danon spoke out against this at a Likud meeting - saying anyone who was for an interim state did not belong in Likud - and was subsequently chastised by the prime minister.)
An "interim" state would create the legality of a Palestinian state, with the leverage that sovereignty would imply for the Palestinian Arabs, without also including "end of conflict" and giving us any assurance about issues of borders or settlements or Jerusalem having been resolved. How could they sign on "end of conflict" when they would not know what their final borders would be? And so, we would have given them a legal reality while we would still be confronting "resistance" of the not so peaceful sort, as well as increased diplomatic pressure. On top of all of this, I would assume that there would be a core region within that "interim" sovereignty that would be off-base for the IDF, and thus permit a breeding ground for terrorism.
We don't want to see anything of the sort offered, but I do note here that Abbas has categorically said he will not accept such a deal. It is my opinion that he could not go back to his people with this and survive, not when so many are radicalized and disapprove of any negotiations with Israel.
~~~~~~~~~~
And then, I end here with one very tentative, but potentially positive, thought: In essence, Netanyahu is saying "no" to Obama now, by refusing to sign on to the charm offensive. He refuses to do this because he sees it as the primary existential issue for Israel - his back has apparently been stiffened by this reality (although the true and final test comes with his readiness to act militarily).
It could yet be - and in truth we do not yet know - that at the end of the day, our prime minister will find he has the courage to refuse a Palestinian state, as well, because of the deprivation of rights and security threat it would represent for Israel. A thought that does not, I confess readily enough, negate the niggling unease I feel. But it is a thought to be considered. And worked for.
~~~~~~~~~~
© Arlene Kushner. This material is produced by Arlene Kushner, functioning as an independent journalist. Permission is granted for it to be reproduced only with proper attribution.
If it is reproduced and emphasis is added, the fact that it has been added must be noted.
http://arlenefromisrael.squarespace.com/current-postings/2013/9/29/september-29-2013-facing-down-tough-times.html

Posted
on Sunday, September 29, 2013 at 07:33PM
by
Arlene
in Iran, Netanyahu, Obama, UN, peace negotiations
|
Post a Comment
|
Email
|
Print
Tonight begins Simchat Torah here in Israel -- outside of Israel, it is Shemini Atzeret with Simchat Torah on Friday.

Simchat Torah -- as its name suggests -- is a holiday of celebration of/rejoicing in Torah. We dance with the Torah in the course of seven rounds, or processions, around the synagogue. And we complete the annual cycle of reading of the Torah, and begin it again.

With this holiday, we end the holiday season, and return to "normal," however this may be defined.

To all celebrating, I wish a Chag Sameach.
Credit: judaism.about

~~~~~~~~~~

I had said I would return to Obama's speech to review what he says about Iran, and I will begin with that.

The picture of Obama here, at the UN podium, reflects a typical pose:
Credit: AP/Andrew Burton

While the position espoused by him exemplifies typical Obama "nether-netherland" thinking. See for yourself (with emphasis added):

"I don't believe this difficult history [between the US and Iran] can be overcome overnight – the suspicion runs too deep. But I do believe that if we can resolve the issue of Iran's nuclear program, that can serve as a major step down a long road towards a different relationship – one based on mutual interests and mutual respect.
"Since I took office, I have made it clear – in letters to the Supreme Leader in Iran and more recently to President Rouhani – that America prefers to resolve our concerns over Iran's nuclear program peacefully, but that we are determined to prevent them from developing a nuclear weapon. We are not seeking regime change, and we respect the right of the Iranian people to access peaceful nuclear energy...
"We are encouraged that President Rouhani received from the Iranian people a mandate to pursue a more moderate course. Given President Rouhani's stated commitment to reach an agreement, I am directing John Kerry to pursue this effort with the Iranian government..."
That he posits the possibility of a relationship developing between Iran -- a renegade state that fosters terrorism world-wide and makes the killing in Syria possible -- and the US that is based on "mutual interests and mutual respect" is an indication of how high in the atmosphere he is floating and how little his words have genuine diplomatic import.
He tiptoes. Of course he doesn't mention "military option." Heaven forbid -- that wouldn't be friendly. But neither does he refer to sanctions. He remains "positive," promising the Iranian leaders that they won't be replaced and that they have the right to "access peaceful nuclear energy" -- which is precisely what they claim they are doing.

All in all, this is worthless as a serious, genuinely constructive position. Declaring himself ready to pursue dialogue, he is too quick to substitute semblance for reality. Who says that the Iranian people gave Rouhani a mandate to pursue a more moderate course? Rouhani is not a moderate -- he is simply very skilled at acting like one.

~~~~~~~~~~

However, in spite of this upbeat outreach to Iran by Obama, the president ended up with egg on his face. Big time.

First Rouhani gave his talk at the UN. It made Obama's speech sound like an exercise in logic and reasonableness. Consider (emphasis added):

"The recent elections in Iran represent a clear, living example of the wise choice of hope, rationality and moderation by the great people of Iran. The realization of democracy consistent with religion and the peaceful transfer of executive power manifested that Iran is the anchor of stability in an otherwise ocean of regional instabilities. The firm belief of our people and government in enduring peace, stability, tranquility, peaceful resolution of disputes and reliance on the ballot box as the basis of power, public acceptance and legitimacy, has indeed played a key role in creating such a safe environment...

"...there are new hopes; the hope of universal acceptance by the people and the elite all across the globe of 'yes to peace and no to war;' and the hope of preference of dialogue over conflict, and moderation over extremism."

Yea, yea, yea...Anyone who chooses to interpret this as a sign of genuine moderation in Iran is seriously deluded.

In a nutshell:

Military threats to Iran just won't do: "Militarism and the recourse to violent and military means to subjugate others are failed examples of the perpetuation of old ways in new circumstances."

Neither will sanctions, which he is ever so keen to have lifted, do: "Coercive economic...policies and practices geared to the maintenance and preservation of old superiorities and dominations..."

"Fanning fear and phobia around the emergence of new actors on the world scene" is also unacceptable state behavior.

"the strategic violence, which is manifested in the efforts to deprive regional players from their natural domain of action, containment policies, regime change from outside, and the efforts towards redrawing of political borders and frontiers, is extremely dangerous and provocative." Translation: you have no right to try to affect who we are or what we do.

And, of course, Israel, which practices "structural violence against the people of Palestinian," is evil: "Apartheid as a concept can hardly describe the crimes and the institutionalized aggression against the innocent Palestinian people."

Nu? What else would we expect?

But there is also another manifestation of "structural violence" seen in "Unjust sanctions...[which] are intrinsically inhumane and against peace.."

Iran is a peaceful nation: "Iran's nuclear program...must pursue exclusively peaceful purposes. I declare here, openly and unambiguously, that, notwithstanding the positions of others, this has been, and will always be, the objective of the Islamic Republic of Iran...

"I listened carefully to the statement made by President Obama today at the General Assembly. Commensurate with the political will of the leadership in the United States and hoping that they will refrain from following the short-sighted interest of warmongering pressure groups, we can arrive at a framework to manage our differences. To this end, equality, mutual respect, and the recognized principles of international law should govern the interactions. Of course, we expect to hear a consistent voice from Washington.

"...in the name of the Islamic Republic of Iran I propose, as a starting step, the consideration by the United Nations of the project: "the World Against Violence and Extremism. (WAVE)"

http://www.timesofisrael.com/full-text-of-hasan-rouhanis-speech-at-the-un/

~~~~~~~~~~

So, this is what Obama got from Rouhani: a demand that the US back off and change her ways, that she start acting "peacefully" and with respect towards an Iran that has rights.

Nowhere with nothing, of course. Let us hope that Obama doesn't rush to seek a reduction in sanctions and otherwise attempt to mollify Rouhani, in the belief that this will lead to good dialogue.

~~~~~~~~~~

Perhaps he will not. Because already his hope for informal dialogue has been dashed. What has been revealed is that the US had offered a one-on-one meeting between Obama and Rouhani in New York, and Rouhani had "spurned it."

http://www.timesofisrael.com/obama-stands-up-too-long-at-speech-stood-up-by-iran-at-lunch/

"One opportunity previously considered likely for such a meeting went by unfulfilled Tuesday afternoon when a number of heads of state gathered for the traditional lunch hosted by UN Secretary General Ban Ki-Moon. Obama milled around for a number of minutes before sitting at his table, but the Iranian delegation, including Rouhani, proved to be no-shows for the event."

~~~~~~~~~~

Prime Minister Netanyahu had instructed the Israeli delegation at the UN to absent itself from Rouhani's speech because "As the Prime Minister of Israel, the state of the Jewish people, I could not allow the Israeli delegation to be part of a cynical public relations ploy by a regime that denies the Holocaust and calls for our destruction."

You might want to see his comments on Rouhani's speech (emphasis added):
"Any rational person understands that Iran, one of the most oil-rich nations, is not investing capital in ballistic missiles and underground nuclear facilities in order to produce electricity.
"As expected, this was a cynical speech that was full of hypocrisy...
"This is exactly Iran's strategy – to talk and play for time in order to advance its ability to achieve nuclear weapons.
http://imra.org.il/story.php3?id=61963
Earlier, on the opening of the UN session, the Prime Minister's office had also put this out:
"Iran thinks that soothing words and token actions will enable it to continue on its path to the bomb. Like North Korea before it, Iran will try to remove sanctions by offering cosmetic concessions, while preserving its ability to rapidly build a nuclear weapon at a time of its choosing."
"Israel would welcome a genuine diplomatic solution that truly dismantles Iran's capacity to develop nuclear weapons. But we will not be fooled by half-measures that merely provide a smokescreen for Iran's continual pursuit of nuclear weapons. And the world should not be fooled either."
http://www.pmo.gov.il/English/MediaCenter/Spokesman/Pages/spokeGenUN240913.aspx
Netanyahu is right, is right, is right. The question is, who will listen? We still have his own speech at the UN coming...
~~~~~~~~~~
Please note Netanyahu's reference to dismantling of Iran's capacity to develop nuclear weapons. Simply getting Iran to stop, when the capacity to start again still exists, would be sorely insufficient.
This is something I will want to return to, and monitor. It is a vastly complex subject -- the question of what has to be dismantled -- or removed from the country -- in order to render Iran unable to pursue nuclear capacity.
As Ilan Berman, vice president of the American Foreign Policy Council, points out:
"...the potential for compromise is decidedly murky. Mr. Rouhani, via intermediaries, may have floated the idea of a meaningful step forward (in the form of the closure of one of its uranium enrichment facilities, the pilot enrichment plant at Fordo). But, experts point out that this is hardly decisive, insofar as the regime already has sufficient quantities of low- and medium-enriched uranium and working centrifuges to make possible the development of weapons-grade fissile material."
http://www.ilanberman.com/13784/iran-charm-offensive-and-why-we-should-be
In addition, Iran is developing an alternate means of going nuclear via the heavy water facility it is building at Arak.
~~~~~~~~~~
We are reminded again, by the Jerusalem Center of Public Affairs, that anything less than a very big stick brandished at Iran is going to be useless or counterproductive:
On September 23, immediately prior to Rouhani's speech at the UN, Iran held its annual military parade, attended by Rouhani. Various messages were featured in that parade:
"While in English the Iranians wrote 'Down with America,' in Persian and Arabic, the Iranians wrote, 'Death to America'...
"The parade included a line of missile transports carrying Shahab-3 missiles, which have a 1,300 kilometer range that can reach both Israel and American bases in the Persian Gulf...
Finally, under Rouhani's presidency, Iran's military parade contained a blatant statement calling for Israel's destruction. On the lead vehicle of a line of trucks transporting Shahab-3 missiles, there appears a banner that reads: 'Esraail baayad az beyn beravad' - "Israel Should Cease to Exist"...
"Reports by the International Atomic Energy Agency last year, especially in May 2012, contained information that Iran was seeking to remove the conventional warhead from a Shahab-3 missile and replace it with a spherical nuclear device."
http://jcpa.org/article/charm-offensive-hostile-iranian-messages-eve-rouhanis-un-visit/
~~~~~~~~~~
© Arlene Kushner. This material is produced by Arlene Kushner, functioning as an independent journalist. Permission is granted for it to be reproduced only with proper attribution.

If it is reproduced and emphasis is added, the fact that it has been added must be noted.
http://arlenefromisrael.squarespace.com/current-postings/2013/9/28/september-25-2013-obama-iran-and-un.html
No emotional dissonance for me on the situation with the PA/PLO. The emotions I feel are anything but positive, but I am unconflicted.

Deputy Minister of Defense Danny Danon (Likud) has been calling it straight.
Credit: Haaretz

And that certainly applies to this particular situation:

"We have to freeze the negotiations until [Abbas]...and the Palestinian leadership condemn the terrorist incidents of the last few days. I told the prime minister that he cannot negotiate with those who support terror." (Emphasis added.)

http://www.jpost.com/Diplomacy-and-Politics/Israelis-Palestinians-trade-barbs-but-peace-talks-are-not-derailed-326897

That we can not -- and should not -- negotiate with the Palestinian Authority in its current formulation seems to me a no-brainer.

~~~~~~~~~~

To gain a more complete picture of what the PA leadership is like, consider the following. It is far worse than their refusing to condemn those Palestinian Arabs who committed the terrorist attacks of the last few days (more on this below):

Abbas Zaki, a member of the Fatah Central Committee (Fatah, remember, being the political mainstay of the Palestinian Authority), has charged that what the sniper in Hevron did is the fault of the Israeli government:

"The soldier was not on a picnic in Hebron."

Darn right he wasn't. Sgt. Kobi was stationed in Hevron, along with other members of the IDF, to protect the thousands of Jews who came for Sukkot.

And of course, the Palestinian Arabs who were throwing rocks and Molotov cocktails not far from where Kobi was standing were doing so for peaceful reasons.

The core issue here -- and the reason for the rioting -- is the presence of Jews in large numbers in Hevron.

~~~~~~~~~~

Then there is Abbas spokesman Nabil Abu Rudaineh, who said that Israel is continuing to "kill Palestinians in Kalandiya, Jenin and Gaza."

(All quotes are from the JPost article above.)

This is surreal. Not only does the PA leadership lie and misrepresent on a regular basis, they are totally without shame as they turn the truth on its head.

Let us look just very briefly at how Israel is treating the Palestinian Arabs in Gaza:

Since the takeover of Gaza by Hamas, Israel had limited building materials going from Israel to Gaza via crossing points because they are "double use" items -- for example, concrete could be used for building schools but could also be used for making bunkers for rockets, metal bars could be used in reinforcing those school buildings or could be melted down for rocket construction.

Most of the building material brought into Gaza was via the tunnels from the Sinai. But now the Sinai connection has been cut off by the Egyptian military. And just one week ago, Israel lifted the restriction on importing building materials into Gaza: Now 350 truckloads of materials will be allowed into Gaza weekly -- an increase of 250 truckloads -- in order "to increase employment and strengthen the private sector in the Gaza Strip."

http://www.timesofisrael.com/israel-removes-last-significant-ban-on-gaza-import/

What is more, last week Ministry of Defense spokesman Guy Inbar announced that Israel will be selling more water to the PA for use in Gaza. Actually, Israel will be building a pipeline that allows double the current amount of water to be piped from Israel into Gaza.

http://www.bloomberg.com/news/2013-09-17/israel-to-double-supply-of-water-to-thirsty-gaza-strip.html

Reports indicated that Israel made these moves after "consultation with the international community," which means under duress from the US and the EU. Tony Blair, Quartet envoy, said that these steps would create "a more positive atmosphere."

These are some more of those "gestures of good will" made in an attempt to generate constructive negotiations.

One could probably make a very good case that we are certifiable for doing this. But if we're nuts, it's benignly so, with regard to how we are treating the Palestinian Arabs. Not so benign, perhaps, with regard to how we protect ourselves. We give altogether too much, with no return.

Now to have a spokesman for Abbas accusing us of "killing Palestinians" -- as if we routinely go around taking Palestinian Arabs out -- is insufferable. Israel should have a Red Line here, in terms of what is tolerated. It is time for Netanyahu to stand up and say: "ENOUGH! You are not a partner for peace and we are withdrawing from negotiations."

~~~~~~~~~~

I wrote recently about a Hamas prediction that a new intifada was coming. Now hear from Khaled Abu Toameh on this subject, in "A New Intifada?" (emphasis added):
"The resumption of the U.S.-sponsored negotiations has been accompanied by increased calls from Palestinians to launch a new intifada against Israel.
"Calls have been coming not only from Hamas and other extremist groups, but also from Palestinians representing various PLO groups in the West Bank, including Palestinian President Mahmoud Abbas's own Fatah faction.
"Earlier this week, representatives of several Palestinian groups met in Ramallah and launched a public campaign to stop the negotiations and wage an intifada against Israel.
"That the meeting was held a few hundred meters away from Abbas's headquarters is significant. It shows that opposition to the peace talks is not only coming from the Hamas-controlled Gaza Strip, but also from the largely secular and relatively moderate city of Ramallah.
"A few days earlier, a group of masked men marched in the city calling for a third intifada against Israel. The Palestinian Authority police did not intervene to stop them because, Palestinians say, they were Abbas loyalists from Fatah.
"Calls for a new uprising against Israel are also being issued by senior officials of Fatah in the West Bank. These officials argue that stepping up the 'popular resistance' against Israel is possible even as the peace talks continue.
"'Popular resistance will increase pressure on the Israeli government and draw the world's attention to the conflict,' explained a top Fatah official.
"By supporting a new intifada against Israel, Fatah is seeking to send a message to its critics that, despite Abbas's decision to resume the peace talks with Israel, its members have not abandoned the option of violence as a way of extracting concessions from the Israeli government.
"That is perhaps why Fatah's armed wing, Aqsa Martyrs Brigades, rushed to claim responsibility for the killing of the two IDF soldiers in Kalkiliya and Hebron.
"After the killing of the soldier in Hebron by a sniper, Fatah published a photo of one of its sharpshooters with the caption, 'When Fatah says, it does. When Fatah promises, it fulfills.'
"It is worth noting that the Fatah leadership has refrained from distancing itself from the claims of its armed wing.
"Moreover, the Palestinian Authority has stopped short of issuing any form of condemnation for the killing of the soldiers.
"Instead, the Palestinian Authority itself has been involved in a massive campaign of incitement against Israel.
"While some Palestinian Authority officials have come out in public in support of escalating 'popular resistance' against Israel, others have been telling Palestinians that 'extremist Jewish gangs are storming and contaminating the Aqsa Mosque' -- a reference to routine visits by Jews to the Temple Mount.
"These are the kind of statements that prompt young Palestinians to take to the streets and throw stones and petrol bombs at Jewish settlers and IDF soldiers.
"Although Abbas and some of his aides have been telling Israelis, Americans and Europeans that they are opposed to violence and terror attacks against Israel, they continue to incite Palestinians against Israel on a daily basis."
http://www.gatestoneinstitute.org/3989/new-intifada

~~~~~~~~~~

While Fatah officials think it's possible to encourage "popular resistance" and continue negotiations at the same time, Israeli officials must make it clear that this is not an option. That Israel has "protested" to the US about continued PA violence and incitement is worthless. ENOUGH!
We need to hold our heads up and respect our national dignity. Not be taken for fools.

~~~~~~~~~~

As to charges by Abu Rudaineh that we are killing Palestinians in places such as Kalandiya, I backup to refer to incidents from last month:
In late August, IDF soldiers from an Artillery Corps battalion and elite border police officers entered the Kalandiya UNRWA refugee camp, located between Jerusalem and Ramallah, at 5 AM, to arrest a security suspect -- a member of Tanzim identified as a senior terrorist figure who dealt in weapons. Twice before he had escaped attempts to arrest him.
This time the Israeli security forces gave chase when he bolted from his home, and then found themselves surrounded by some 300 Palestinian Arabs. A riot broke out and the mob began throwing concrete slabs at the soldiers. Non-lethal means of dispersing the rioters was unsuccessful. The mob grew in size and the violence increased: According to an Israeli security source, Israeli forces were being showered with life-threatening objects from rooftops, including washing machines, bathtubs, refrigerators, blocks and carpets set on fire "that landed on jeeps and could have set them ablaze." Some in the crowd also opened fire on the jeeps.
In the end, the soldiers, feeling that their lives were endangered, opened fire. Three in the rioting mob were killed.
http://www.jpost.com/Defense/Report-2-Palestinians-killed-by-Israeli-security-forces-in-Kalandya-324261
The IDF investigated and found that the soldiers had followed rules of engagement and acted properly.
Abbas called this an "assassination."

~~~~~~~~~~
Also in late August, a similar incident occurred in the city of Jenin, when Israeli security forces carried out a pre-dawn raid to arrest terror suspects. Here, too, they were set upon by a Palestinian Arab mob that threw rocks and empty bottles. The Israeli forces responded with rubber bullets and tear gas. Ultimately, there was an exchange of gunfire, with the Palestinian Arabs also throwing explosives. One Palestinian Arab was killed.
http://www.jpost.com/Defense/IDF-kills-Palestinian-in-Jenin-during-clashes-323654

~~~~~~~~~~

I reported with pleasure on the announcement by Netanyahu that Jews would now be able to move into Beit Hamachpela. Seems there has now been a backtrack.
A lawyer for a number of Arab families has petitioned the Court to stop Jews from moving in, claiming that there was still a period of time permitted for challenging ownership of the building by Jews. It's beyond me, folks, as I understood that a court had determined that papers held by the Jews were legitimate.
Today the State [the Netanyahu administration] told the Court that "no decision has been made to give
possession of the building anyone" and no decision would be made until a review process on the matter was completed. Ouch!
See Aaron Lerner, director of IMRA, on this: http://imra.org.il/story.php3?id=61954. If I learn more in due course that makes any sense, I will report on it.
~~~~~~~~~~
As to Abbas apologizing, I have this to report, also from IMRA:
According to Benny Avni reporting on Israel Radio, in a meeting Abbas had with Jewish leaders in New York on Monday night, he said -- addressing the issue of the slain soldiers for the first time:
"I condemn this act and all other acts against civilians."
Aaron Lerner points out that, if the report, in Hebrew, was correct, then Abbas's statement contained an internal contradiction -- for those murdered were not civilians.
http://imra.org.il/story.php3?id=61953
I would carry this further: A statement to a selective audience of Jewish leaders, made in New York City, does not properly qualify as a condemnation. Such a condemnation would have to be made in this region at a press conference or via press release. Properly, it should be made in Arabic, so that his own people would know that he condemned the murders (which, of course, he does not).
Then, setting up an artificial moral equivalency, he said he expected Israel to condemn the recent killings of Palestinian Arabs by Israeli security forces. Israel should condemn the fact that her soldiers, when faced with slabs of concrete and even washing machines being thrown at them from rooftops, fired at their attackers to protect their lives.
~~~~~~~~~~
I began this post by citing Danny Danon, and I cite him again here, with regard to the statement he made following President Obama's speech at the UN today:
"If this is the way the wind is blowing at present from Obama, an enormous amount of pressure will be certain to follow."
Indeed!
And then:
"I'm sure that the Prime Minister will present Israel's position in the spirit of Jabotinsky's Iron Wall - a powerful combination of determination and stability will ensure the strength of the State of Israel,"
Let us pray so.

~~~~~~~~~~

Obama's speech was filled with platitudes and undeserved back-patting. Consider (emphasis added): "Next year, an international coalition will end its war in Afghanistan, having achieved its mission of dismantling the core of al Qaeda that attacked us on 9/11." Really now? So, as long as al Qaeda has moved on to other places, that's OK?

I'm going to skip over that part of his talk. His major topics, both of which require a careful look, are Iran and Israeli-Palestinian Arab relations. In the main, I want to table the Iranian topic for now -- with intention to pick it up in my next post -- and focus on what he says about Israel/negotiations/a Palestinian state. (All emphasis is added.)

Danon's comment about pressure was surely a response to this:

"We are also determined to resolve a conflict that goes back even further than our differences with Iran, and that is the conflict between Palestinians and Israelis."

What happened to Obama's position that "we cannot want it more than the parties themselves do." Just precisely how do "they" intend to resolve a conflict between other parties? This sets off loud alarms regarding implied coercion.

~~~~~~~~~~

And how does he come to this: "I believe there's a growing recognition within Israel that the occupation of the West Bank is tearing at the democratic fabric of the Jewish state."

First, that word, "occupation," used pointedly, and erroneously, here and elsewhere in his talk. There is no occupation. Just today I had a discussion with a reader regarding my intention to provide further information on Israeli rights. There is no way to do full justice to this here and now, with the length of this posting. But it is coming -- and soon.

What Obama calls "the West Bank," which is Judea and Samaria (Yehuda v'Shomron), represents the ancient heritage of the Jewish people -- the core of what we are as a people. How can we "occupy" this? We are talking about Hevron, with the Machpela, which cave our father Avraham purchased. And Shilo, where the Tabernacle rested. And Jerusalem, where two Temples stood. And more and more and more...

~~~~~~~~~~

There is also our historical/legal right in modern times -- the San Remo Conference and the Palestinian Mandate, conferred on Britain by the League of Nations, so that a homeland for the Jewish people could be established in all of Palestine (with human rights but not national rights accorded other groups). Legally binding in international law, this has not been superseded.

There is the fact that Israel acquired Judea and Samaria in a defensive war, and that there was no legal sovereignty in that area prior to Israel's liberation of it. There is UN Security Council Resolution 242, which does not require Israel to return to the '49 armistice line (i.e., the Green Line).

What is clear here is that Obama adheres, still, to the Palestinian Arab position: that everything beyond the Green Line is part of a "Palestinian state." And that spells trouble.

~~~~~~~~~~

He also has it wrong regarding "growing recognition within Israel" regarding "the occupation" being destructive. He likes to do this -- to set what he claims is the "Israeli view" against the view of an Netanyahu administration represented as being obstinate and out of touch. Fact is that more and more Israelis see that a Palestinian state is not in Israel's best interest.

~~~~~~~~~~

"...the United States remains committed to the belief that the Palestinian people have a right to live with security and dignity in their own sovereign state."

Aaron Lerner's comment here: President Obama juxtaposed America's commitment to Israel's security with the requirement of Palestinian "dignity.' Israel has many critical security requirements that the Palestinians assert do not jibe with Palestinian 'dignity.'
"This raises another interesting question: what of Jewish 'dignity'? Do we Jews also have the right to 'dignity' or is our 'dignity' something that can be forfeited?"
~~~~~~~~~~
"So the time is now ripe for the entire international community to get behind the pursuit of peace."
More loud alarm bells. Translation: folks, come help me apply the pressure.
"Already, Israeli and Palestinian leaders have demonstrated a willingness to take significant political risks." Give me a break! I've amply demonstrated just how willing Abbas is.
~~~~~~~~~~
"All of us must recognize that peace will be a powerful tool to defeat extremists throughout the region..."
This man is a clown! Hamas is waiting, with ill-disguised eagerness, to take over a Palestinian state. The ONLY thing that keeps terrorists at bay now is the conduct of Israeli security forces in Judea and Samaria. Above, I gave two examples of Israeli security raids to capture suspected terrorists. My friends, this goes on nightly. If there is a sovereign Palestinian state (Heaven forbid!) and the IDF cannot move in, those extremists will have a field day.

In Gaza right now, Hamas is the most moderate of the Islamic movements -- much worse (including al Qaeda) is present. The same would adhere in a Palestinian state: It would be a headquarters, a training ground for radicalism.

Short-sighted, biased fools in the world, some of whom head governments, refuse to acknowledge that it is Israel that keeps the peace.

~~~~~~~~~~

Lastly for now, this:

"Real breakthroughs on these two issues -- Iran's nuclear program, and Israeli-Palestinian peace -- would have a profound and positive impact on the entire Middle East and North Africa."

How dare he? How dare he juxtapose these two issues, implying that they are of the same import and that each is equally a threat to the Middle East?

The entire speech can be found http://www.timesofisrael.com/full-text-of-obamas-2013-speech-at-un-general-assembly/

~~~~~~~~~~

© Arlene Kushner. This material is produced by Arlene Kushner, functioning as an independent journalist. Permission is granted for it to be reproduced only with proper attribution.

If it is reproduced and emphasis is added, the fact that it has been added must be noted.
http://arlenefromisrael.squarespace.com/current-postings/2013/9/24/september-24-2013-seeing-it-clear.html
Posted
on Tuesday, September 24, 2013 at 07:02PM
by
Arlene
in Danny Danon, Iran, Israel, Obama, Palestinian Authority, UN
|
Post a Comment
|
Email
|
Print
"Moadim L'Simcha" (times of joy) is the traditional greeting for the intermediate days of Sukkot. And, yes, I've heard it many time these past few days. Personally, I have been finding it to be an especially lovely Sukkot -- with family gathered in the sukkah amidst laughter and singing. And not one, but two visits to the Kotel.
But each time within the last week that I have turned away from the holiday celebrations to familiarize myself with the latest news, all joy has fled, replaced by a sense of horror and immeasurable weariness.
Emotional dissonance: To balance the disparate emotional responses (somehow) requires the skill of an emotional gymnast -- a skill I seem to be lacking.
~~~~~~~~~~
During this Sukkot, we have lost two soldiers to terrorism within as many days.
First, Sgt. Tomer Hazan, age 20, who was serving in the Air Force.

Credit: moralowground
The terrorist, Nedal Amar, a Palestinian Arab who worked in Israel without papers, was someone Hazan knew; they held jobs in the same Bat Yam restaurant and reportedly had become friendly.
On Friday, Amar lured an unsuspecting Hazan into Samaria, to an open area not far from his village of Saniria, killed him with a blunt weapon, and hid his body in a well.
After Hazan was reported missing, a team consisting of Shin Bet, IDF and police began a search. Ultimately this brought them to Amar. He confessed -- citing as his motivation the intention of trading Hazan (whose death would not yet have been revealed) or, alternately, Hazan's body, for the release of his brother, Nur al-Din Amar, a member of the terrorist group Tazanim (Fatah). Nur al-Din Amar has been in Israeli prison for some years for a variety of terror-related offenses.
~~~~~~~~~~
This particular attack, on Hazan, has touched many nerves in our nation, and raises a host of significant issues.
The most pertinent involves the propriety of releasing terrorists from Israeli prison for political reasons before their sentences are complete. It's been done to free Israelis held hostage, and to allow Israeli bodies to be brought home. And it's being done now as a "good will" gesture, in a very questionable and widely opposed deal that the Israeli government agreed to under duress in order to bring the Palestinian Arabs to the negotiating table.
What this does is foster a Palestinian Arab mindset that sees it as possible to secure the release of additional prisoners by taking Israel soldiers as hostages. The number of such attempts has doubled in the past few months. Hey! It can be done: they see that Israel is willing to strike such deals.
What is more, potential terrorists are emboldened by the hope and expectation that if they are caught and sentenced to Israeli imprisonment, there will be some deal that will get them out.
All of this works to the detriment of Israeli security goals and Israeli deterrence.
~~~~~~~~~~
The deal for bringing our "negotiating partners" to the table was the release, in four stages, of some 104 prisoners. (I am still a tad dubious about the final number.) The first group of 26 was let go last month, and the second group is scheduled to be released soon; according to Arab reports, it will be 250 prisoners this time.
According to Israeli sources, when this deal was struck, the release of additional prisoners beyond the first 26 would depend upon good progress in the talks (however that is defined), while the Arabs have been saying that release would follow no matter the progress of talks.
Now, with the abduction and murder of Hazan, there has been an outcry and protest that no further prisoners should be released. Key among those in the government taking a vociferous stand against further releases is Economy and Trade Minister Naftali Bennett (head of Habayit Hayehudi).

Credit: indynewsisrael
He has joined with six other ministers in sending a letter to Prime Minister Netanyahu asking that he reconsider the release of additional prisoners as part of the "peace process."
Yesterday, he said (at the funeral of the second soldier to be killed -- see below) that:
"We must stop giving our enemies the impression that Jewish blood has become the cheapest commodity in the Middle East. Make no mistake about us. We will not lay down our weapons. We will not blink."
http://www.jpost.com/Diplomacy-and-Politics/Bennett-challenges-release-of-Palestinian-prisoners-in-eulogy-for-slain-soldier-326868
"The answer to terror must be a war on the murderers, and not dialogue with those who encourage them." (Emphasis added)
~~~~~~~~~~
Another issue that evokes heightened Jewish emotions here is the matter of whether one can trust Arabs. I would never say -- as a blanket statement -- that Arabs cannot be trusted. Certainly there are those who can be. (If you disagree with me and would like to see me make a blanket statement, please save your time and energy, for I will not.)
The problem is that those who are trustworthy cannot be readily identified because of a readiness the Arabs have to be deceptive for what they consider their larger goals.
The fact that Hazan knew Amar and considered him a friend served him nothing in the end. And this is hardly an isolated instance -- other Arabs who were employed by or accepted as the friends or business associates of Jews have then killed those same Jews.
In particular, it is necessary for Israeli soldiers to be on guard, as there are Arabs plotting to abduct them and murder them.
~~~~~~~~~~
But let me turn to the second soldier we have lost this week: Gavriel Kobi, 20.

Credit: TimesofIsrael
Just yesterday, he was stationed at a post near the Machpela (the Cave of the Patriarchs) in Hevron, when he was hit by a sniper shooting from a distance. He was brought to a hospital, where he was pronounced dead. The sniper is still being sought.
He will be found. The IDF presence in Hevron has been reinforced, and the search for the sniper is concentrated in the Jabal Johar neighborhood.
Kobi and many other soldiers were stationed on duty in Hevron to protect the tens of thousands of visitors who come during the Sukkot holiday.
Just prior to the shooting of Kobi, there was a riot of Palestinian Arabs at a location near where he was stationed. The Arabs had thrown stones and Molotov cocktails at the IDF personnel stationed there. As I write, I am aware of no direct link that has been identified between this riot and the sniper.
~~~~~~~~~~
Just hours after Kobi was killed, Prime Minister Netanyahu made a decision about permitting Jews to move into a building practically adjacent to where the soldier was shot.
Last year, the Jewish community of Hevron purchased a building just across the street from the Machpela -- they called it Beit Machpela and, in March, they moved in. It's a modest, three-story structure, as you can see:

Credit: YNet
Within weeks they were evicted because of questions about the authenticity of their documents. By July of this year, an appeals court had validated the purchase, but the Jews were still not permitted to move in because the signature of the Defense Minister was missing.
Now Netanyahu has said:
"Those who attempt to uproot us from the city of our forefathers will achieve the opposite effect. We will continue on one hand to fight terror and to harm terrorists and on the other hand to strengthen settlements."
http://www.jpost.com/Diplomacy-and-Politics/Netanyahu-Jews-can-move-into-Hebron-building-near-where-IDF-soldier-killed-326815
It is understood that, as his boss has spoken, the Defense Minister will now be signing...
~~~~~~~~~~
The Jewish community of Hevron was rightfully pleased with this decision. And yet I am unsettled. Yes, I know that building, or settlement, is considered the Zionist approach to terrorism. But Jews had legally purchased this building prior to the terror attack on Kobi. They should have been allowed entry as soon as the court determination had been made. Instead, word did not come down from the boss, and so they could not use the building.
I think it's imperative to note the dynamic here: Jews prevented from exercising their proper legal rights in Judea and Samaria because of political considerations -- with the Arab position frequently the default. This is not an isolated case. Beit Hamachpela is on the periphery of the part of Hevron controlled by the PA, and Jewish residence there would have expanded -- now will expand -- Jewish presence in the city. Netanyahu apparently did not see this as a "politically correct" move. Until now.
~~~~~~~~~~
It should be noted that ostensible PA president Mahmoud Abbas has not condemned the killing of Kobi, nor of Hazan. Our "peace partner."
It should also be noted that deputy political bureau chief Moussa Abu Marzouk has written on his Facebook page that:
"We are facing a political failure for the Palestinian Authority and the beginning of a new popular intifada against Israel."
~~~~~~~~~~
The question that has to be asked is, How crazy are we?
In my next posting I want to take a closer look, with some concerns about what's coming down the road regarding the "peace negotiations" and Netanyahu's second Bar Ilan speech, scheduled for October 6th. That's when it is being said he will set new policy.
No, he has not shared with me what he expects to say, and I would be less than honest if I failed to admit to a certain unease -- although rumors are not facts and we don't have the facts.
~~~~~~~~~~
But wait! Before October 6th, on the last day of this month, Netanyahu is going to Washington to confer with President Obama. I ask myself what our prime minister has to say to this man after Syria, and I don't like the answers.
Reportedly, the main topic of conversation will be Iran. But... but... Obama is buying the Iranian "charm offensive." There are thoughts circulating about what Obama might demand of Netanyahu with regard to the negotiations, in return for a somewhat tough stand on Iran (somewhat tough, as in, no reduction in the sanctions, not a military threat).
~~~~~~~~~~
But wait again! Netanyahu is also going to the UN to warn the world about Iran. But Bibi, you've been there, done that. They didn't listen then, and now with the Iranian charm offensive they're surely not going to listen. The world is very eager to be deceived, and I fear that anyone who tries to unsettle the complacency that accompanies this mindset will be seen as a nag who always harps on the same issue.
The fact that Netanyahu is correct to warn about Iran is irrelevant. Golly gee, the permanent members of the UN Security Council are going to meet with representatives of Iran -- who are hinting about a reduction in sanctions in order to create a new environment. Is Netanyahu going to make this more difficult?
It boggles the mind to recognize that in all the world we see the situation the most clearly, refusing to be taken in by Iranian game-playing. Or perhaps there are others (such as the Saudis) who also see it clearly but remain mum. What occurs to me is that if we do hit Iran, the world will tell us that we've stirred up matters just when there was diplomatic achievement on the horizon. There will certainly be no thanks for what we will have done for the world.
~~~~~~~~~~
So many concerns to select from -- so many issues to make the stomach knot.
Thank Heaven for Moadim l'Simcha.
~~~~~~~~~~
© Arlene Kushner. This material is produced by Arlene Kushner, functioning as an independent journalist. Permission is granted for it to be reproduced only with proper attribution.
If it is reproduced and emphasis is added, the fact that it has been added must be noted.
http://arlenefromisrael.squarespace.com/current-postings/2013/9/23/september-23-2013-emotional-dissonance.html
Posted
on Monday, September 23, 2013 at 07:15PM
by
Arlene
in Hebron, Naftali Bennett, Netanyahu, Sukkot, terror
|
Post a Comment
|
Email
|
Print
There is much to follow through on, but first the joy:
Wednesday night begins the week-long holiday of Sukkot, the season of our joy. It's my favorite holiday. We build and decorate sukkot, temporary structures in which we are supposed to live, depending on the protection of Heaven

Credit: lightofzion
And we daily do blessings (except for Shabbat), waving a lulav -- (from the left in the picture) willow, palm, and myrtle, held with an etrog -- citron.

Credit: jewishjournal
A time of celebration and gratitude and faith. A time of family and fun. It is because this is a time of joy that we sing Hallel -- a collection of psalms of praise.
Hey! I feel easier already, anticipating this.
Perhaps I'll post again tomorrow (and perhaps not); there will then be a hiatus of some days, although I may post in the middle of the Sukkot week.
Here I wish all celebrating Sukkot a Chag Sameach.
~~~~~~~~~~
I have no desire to repeat the major points made yesterday with regard to Obama, Russia and Syria. But there will need to be regular follow up on-going. Here I share some additional insights and new information. This material makes the situation look worse and worse...
An editorial in the Wall Street Journal points out that (emphasis added):
"...already the Russians are disputing U.S. information about where and how much poison gas Assad holds. There are a hundred ways to cheat on this agreement, starting with the declaration.
"Meanwhile, Russia got Mr. Obama to concede that all of this will go to the United Nations for approval without any mention of enforcement. If Assad does cheat, the U.S. would have to go back to the Security Council again for another resolution to use force, which the Russians will veto."
The WSJ points out that now Obama says his goal was to make sure this doesn't happen again, which is not what he said previously -- there was supposed to be price paid for what Assad did...."Assad will have violated what Mr. Obama repeatedly called 'international norms'—killing at least 1,400 people including 400 children—and then get a pass for promising not to do again what he claims he didn't do but Mr. Kerry says he did at least 14 times."
http://online.wsj.com/article/SB10001424127887323846504579075850763373532.html
~~~~~~~~~~
Then this, from ABC:
"Despite Russia's close relationship and influence with Syria, there is not yet any indication that the Assad government will sign off on the details of the agreement. It contains requirements that are above and beyond the normal criteria for countries bound by the Chemical Weapons Convention, which Syria agreed to join earlier this week under pressure from Moscow.
"Although Russia has accepted the U.S. intelligence estimate that Syria has about 1,000 metric tons of chemical weapons and precursors, the two sides have not agreed on the number of sites where they are manufactured and stored.
"U.S. officials say they believe Syria maintains roughly 45 sites associated with chemical weapons, about half of which have 'exploitable quantities' of chemicals. The Russian estimate is considerably lower, but U.S. officials would not say by how much. This could be an issue in determining where the inspectors are to work.
"Details about the composition of the inspection teams and their security must still be determined. The Organization for the Prohibition of Chemical Weapons, which technically is in charge of the inspections, has never mounted an operation as complex as this and will require assistance from outside parties to conduct the work. Nationalities of inspectors as well as the guards who will provide security for them must still be determined."
http://abcnews.go.com/International/wireStory/glance-us-russia-agreement-syria-weapons-20256500
~~~~~~~~~~
Jeffrey Goldberg says:
"1. So long as he [Assad] doesn't use chemical weapons on his people, he'll be safe from armed Western intervention. Roughly 98 percent of the people who have died in the Syrian civil war so far have not been killed with chemical weapons, so obviously Assad and his regime have figured out ways to cause mass death in conventional ways. It's safe to assume that he'll increase the tempo of attacks on rebels and civilians, knowing now that he can do so with impunity. Obama won't be outlining any further 'red lines,' it would seem.
"2. By partnering with Russia and the West on the disarmament process, a process that is meant to last into 2014 (and most likely won't be finished for years, even if it is carried out in good faith, which is a big 'if'), Assad has made himself indispensable. A post-Assad regime wouldn't necessarily be party to this agreement, and might not even go through the motions. Syria, post-Assad, might very well be more fractured and chaotic than it is now, which is to say, even less of an environment in which United Nations weapons inspectors could safely go about their work. The U.S. now needs Assad in place for the duration. He's the guy, after all, whose lieutenants know where the chemical weapons are.
http://www.bloomberg.com/news/2013-09-15/everyone-wins-with-new-syria-agreement-except-syrians-.htm
~~~~~~~~~~
As to Assad safely stepping up attacks, this is already happening. See, for example from the Washington Post (emphasis added):
"As negotiations to avert a U.S. strike against Syria ramped up last week, so, too, did the action on the ground. Warplanes dropped bombs over far-flung Syrian towns that hadn't seen airstrikes in weeks, government forces went on the attack in the hotly contested suburbs of Damascus, rebels launched an offensive in the south, and a historic Christian town changed hands at least four times.
"At the close of a week hailed in Moscow and Washington as a triumph of diplomacy over war, more than 1,000 people died in the fighting in Syria."
http://www.washingtonpost.com/world/during-talks-on-syrias-chemical-weapons-fighting-on-the-ground-escalated/2013/09/15/8f055736-1e3a-11e3-8459-657e0c72fec8_story.html
I've long understood that the world is insane, but here is your proof positive.
~~~~~~~~~~
And to make matters more obscene yet:
"At a base near Tehran, Iranian forces are training Shiite militiamen from across the Arab world to do battle in Syria—showing the widening role of Iran's elite Revolutionary Guard Corps in Syria's bloody war.
"The busloads of Shiite militiamen from Iraq, Syria and other Arab states have been arriving at the Iranian base in recent weeks, under cover of darkness, for instruction in urban warfare and the teachings of Iran's clerics, according to Iranian military figures and residents in the area. The fighters' mission: Fortify the Syrian regime of President Bashar al-Assad against Sunni rebels, the U.S. and Israel.
"The fighters 'are told that the war in Syria is akin to [an] epic battle for Shiite Islam, and if they die they will be martyrs of the highest rank,' says an Iranian military officer briefed on the training camp, which is 15 miles outside Tehran and called Amir Al-Momenin, or Commander of the Faithful...
"Just over a year ago, U.S. officials publicly described Mr. Assad's fall as imminent. That would have been a major blow for Iran: Syria is Iran's most important Arab ally and serves as a land bridge for Iranian arms and cash to Lebanese and Palestinian militias fighting Israel. Last summer, after Syrian rebels captured large sections of the important northern city of Aleppo, the senior command of the Revolutionary Guards sprang into action, according to U.S. officials and Guards members in Iran. Under its overseas commander, Gen. Qasem Soleimani, the military unit established 'operation rooms' to control cooperation between Tehran, Syrian forces and fighters from Hezbollah...
"Qasem Soleimani is now running Syria," says Col. Ahmed Hamada, an officer with the rebel Free Syrian Army, based in its command near the northern city of Aleppo. "Bashar is just his mayor."
http://online.wsj.com/article/SB10001424127887323864604579067382861808984.html
This is perhaps the most frightening information of all. It points very very clearly to what Netanyahu is always warning about, with regard to the connection of the situation in Syria to Iran.
And it makes the case solid for why Netanyahu wants to see the Assad regime come down, with rebels victorious. Have Obama's concessions to Russia now given a boost to Iran? Rhetorical question. The answer is, obviously!
Just for the record, this is the same Iran with whom Obama hopes to have diplomatic dialogue.
~~~~~~~~~~
But I'm not finished yet (emphasis added):
"Syrian President Bashar Assad has two biological weapons bases, developing anthrax and other devastating biological agents, and yet the US-Russia deal aimed at stripping his regime of chemical weapons makes no provisions for his biological weapons capability, Israeli TV reported Sunday night.
"There is 'not a word' about biological weapons in the agreement that US Secretary of State John Kerry discussed with Israel's Prime Minister Benjamin Netanyahu in Jerusalem on Sunday, Channel 10 news said.
Assad has two biological weapons bases, one of them subterranean and a second in a coastal location, producing anthrax and other agents, the report said.
"In an unclassified report in April, US Director of National Intelligence James Clapper assessed that Syria could be capable of producing limited biological weapons...
"The Cordesman report noted that 'using advanced agents – such as the most lethal forms of anthrax – can have the effectiveness of small theater nuclear weapons.'
"On Friday, Sen. John Cornyn (R., Texas) wrote to President Barack Obama to warn that 'omitting Assad's bioweapons from any agreement would represent a gaping hole in the plan.' Such weaponry, in the hands of Assad or his allies, wrote Cornyn, 'represent a direct security threat' to the US and its allies. If Hezbollah and other terror groups got hold of this materiel, he warned, "this would be a direct threat to the United States and our allies, particularly Israel.'"
http://www.timesofisrael.com/assads-biological-weapons-absent-from-us-russia-deal/
~~~~~~~~~~
Here I sit in Jerusalem, citing information (directly above) coming from an Israeli source. And I wonder how the Americans who read this will respond.
This, in particular, should be publicized broadly in the US. Obama must be held accountable. It is not as if the issue of biological weapons slipped by -- reportedly he was warned. But to attempt to interject this into the "agreement" in Geneva might have upset matters, and, after all, Obama had his own rear end to consider. No?
Are Americans ready to be incensed yet? Are they enraged and disgusted by the man in the White House?
~~~~~~~~~~
There is another take on Syria I wanted to share, but I'm going to save it: This is with regard to a break-up of Syria into areas for the Alawites (40% of the country), the Sunnis (40%) and the Kurds (20%). Barry Rubin has just written about this possibility, and Jonathan Spyer has addressed it.
I do not know if there is validity to Goldberg's thesis (above) that Assad will be protected now because only he knows where the chemical weapons are stored But a division of the country may ultimately be inevitable, if the war cannot be won by any faction.
There is much to consider with regard to the break up of various states in the region, and we will be returning to this.
~~~~~~~~~~
Now, very briefly: I had mentioned yesterday that Kerry's focus in his meeting with Netanyahu was the Syria deal. But we shouldn't imagine that he didn't mention the "peace process" at all. Certainly he did -- with all the usual pap about how it's more important than ever now, and how he is getting positive messages from the Palestinian Arabs, etc. etc.
Wearisome is hardly the word for this nonsense. But this is something we will have to continue to monitor.
What is encouraging is the increased strength of the right wing of the coalition, which is sending strong messages to Netanyahu about not relinquishing land to the Arabs (Heaven forbid!):
"A group of 16 coalition MKs, many from the Likud, on Sunday pleaded with Prime Minister Benjamin Netanyahu not to give up territory to the Palestinians. In a letter sent to the prime minister during his meeting with U.S. Secretary of State John Kerry, the MKs called on Netanyahu "not to return to the Oslo Accord template or cede any more parts of the homeland to the Palestinian Authority."

"The letter was drafted by Coalition Chairman MK Yariv Levin (Likud-Beitenu) and MK Orit Struck (Habayit Hayehudi), and was signed by deputy ministers Zeev Elkin, Tzipi Hotovely, Ofir Akunis, Eli Ben-Dahan and Avraham Wortzman.

"'I will remain coalition chairman so long as we go down the right path of construction and settling throughout all of Israel,' Levin said."
http://www.israelhayom.com/site/newsletter_article.php?id=12011.
What I'm actually reading is that the PA's demands continue to increase. In their dreams!
It's a new year. A year of growing strength and standing up for Israel's rights.
~~~~~~~~~~
Coming full circle: When we sleep in the sukkah, indeed we are reminded of our own vulnerability and our need to depend upon Heaven. The lesson could not be more apt this year! For only Heaven can extricate us from this political morass. Incredibly, it is little Israel that sees clearly, and little Israel that other nations of the world now look to (with the Saudis practically begging us to hit Iran). Little Israel must look to Heaven.
What is remarkable is that Israelis are ranked as the 11th happiest people in the world (well ahead of Americans). In spite of everything. We're doing something right!
http://www.timesofisrael.com/israelis-ranked-11th-happiest-people-in-the-world/
Perhaps it's faith, perhaps knowing what matters, perhaps a sense of closeness. Or hope.
~~~~~~~~~~
Speaking of hope...
I included this for my posting before Rosh Hashana, but its upbeat message of new beginnings is very appropriate here, and so I repeat it:
The Fountainheads: Dip Your Apple in the Honey
http://www.youtube.com/watch?v=FlcxEDy-lr0
~~~~~~~~~~
A nod to the Daily Alert, which provided several sources for this posting.
~~~~~~~~~~
© Arlene Kushner. This material is produced by Arlene Kushner, functioning as an independent journalist. Permission is granted for it to be reproduced only with proper attribution.
If it is reproduced and emphasis is added, the fact that it has been added must be noted.
http://arlenefromisrael.squarespace.com/current-postings/2013/9/16/september-16-2013-more-always-more.html

I knew before going into Yom Kippur that a US-Russian deal for disarming Syria would be reached in Geneva while I and fellow Jews were observing Yom Kippur. And so the news I picked up last night did not take me by surprise. But it did sadden me immeasurably.
Thus do I ask: Does ANYONE really believe this deal is serious?
~~~~~~~~~~
Clearly, Obama likes the deal because it gets him off the hook with regard to having to bomb Syria. Which says nothing about a genuine commitment on his part to make the world safer.
The fact that he was able to say yesterday that the international community expects Syria to "live up to its public commitments" to hand over its chemical weapons shows how unserious he is.
http://www.foxnews.com/politics/2013/09/15/obama-praises-deal-with-russia-on-syria-but-cautions-that-work-remains/#ixzz2exp7XzfY
~~~~~~~~~~
There is less than zero reason to believe that Assad will live up to any commitment regarding his stockpile of weapons of mass destruction. Anyone who is familiar with Assad's MO -- his utter ruthlessness and his disregard for truth -- understands this. But there is, as well, concrete evidence as to how Assad is already playing it:
Last Thursday the Wall Street Journal reported that an "elite" Syrian unit -- "Unit 450-a branch of the Syrian Scientific Studies and Research Center that manages the regime's overall chemical weapons program" has been moving the stock of weapons around for months now, with material located in as many as 50 different sites.
Until a year ago, the chemicals were stored in a few major sites in western Syria. But then Unit 450 began dispersing them to a couple dozen major sites and many smaller ones in all part of the country. The US tracks Unit 450 vehicles by satellite, but tracking is imperfect. Acknowledged one US official, "We know a lot less than we did six months ago about where the chemical weapons are." (Emphasis added)
This unit, "from janitor to commander" is composed of Alawites and is absolutely loyal to Assad, to whom it reports directly. The members of the unit are responsible not only for manufacturing and deploying the weapons, they also guard the sites where they are stored. Their devotion to Assad's purposes makes it close to impossible to compromise them.
http://online.wsj.com/article/SB10001424127887324755104579071330713553794?mg=reno64-wsj.html?dsk=y
~~~~~~~~~~
It would be difficult not to ponder whether there might have been a correlation between Obama's red line on Syrian use of chemical weapons and Assad's order to disperse those weapons more extensively -- timing seems to dovetail. And then, there is the question of why the US -- tracking this dispersal -- didn't act at that very moment, when it was obvious that Assad's intentions were, shall we say, less then peaceful and forthright.
But that's all water under the bridge...
~~~~~~~~~~
I have picked up reports that some of Assad's weapons have been moved into Iraq, and some possibly into Lebanon, for Hezbollah:
"The Syrian regime has begun transferring its chemical weapons to neighboring countries to deceive U.N. inspectors, the anti-Syrian Lebanese daily al-Mustaqbal claimed on Sunday, a day after Russia and the U.S. announced a new agreement aimed at destroying Syria's chemical weapon arsenal.
"According to the paper, some 200 Syrian trucks were loaded with chemical-warfare-related equipment and were then sent to Iraq. The paper reported that the trucks arrived in Iraq on Thursday and Friday and were not inspected by border guards as they entered."
http://www.israelhayom.com/site/newsletter_article.php?id=11987
~~~~~~~~~~
According to Chair of the Knesset Foreign Affairs and Defense Committee Avigdor Lieberman, speaking to Voice of Israel radio today, Israel has no information to confirm Syrian rebel claims that the Assad regime has sent chemical weapons to Iraq.
http://www.jewishpress.com/news/breaking-news/liberman-no-confirmation-that-assad-sent-poison-gas-to-iraq/2013/09/15/
What especially fascinates me is that Free Syrian Army (FSA) spokesman Luai Al-Mekdad told Asharq Al-Awsat news (London) that Assad still plans to send such weapons to Iraq: he is "returning the Iraqi chemical arsenal, which Saddam Hussein had sent to Syria before the 2003 Iraq War." (Emphasis added)
This would be a confirmation of what I have always been convinced of: It was not true that the Bush administration was mistaken with regard to Saddam Hussein's possession of WMD -- they weren't found because he sent them to Syria.
How obvious, then, that Assad would follow Saddam's example, and move his weapons, or some part of his stockpiles, where they cannot be accessed by inspectors.
Al-Mekdad says Hezbollah also will be receiving WMD from Assad soon, and will be storing them in the Bekka Valley, near Syria.
~~~~~~~~~~
The charge regarding movement of weaponry to Lebanon -- on which I have no confirmation as I write -- would be the most disconcerting and is something to be watched with exceeding care.
The concern is two fold: First, putting such weapons into the terrorist hands of Hezbollah means they might be used anywhere in the world. Hezbollah is an world-wide terrorist operative.
And then, this would be crossing Israel's very clear and oft-stated red line. Either this information is incorrect or Israel must hit. That is something Obama would not want to see happen now, as he's "solving" the problem without military action. And so it would require Netanyahu to order that attack in the face of American objections.
~~~~~~~~~~
Putin clearly likes the agreement because it puts him in charge, makes a fool of his rival/adversary Obama, and protects his client Assad. A fantastic situation for him.
And that Assad is happy because he will not be attacked and expects to get away with a great deal is a given.
But what of the people? The people of Syria who have been hit with these weapons, and of surrounding regions that might yet be hit? What of the wider Western world and the implications of pretending that all is well when it is not?
~~~~~~~~~~
The deal was announced yesterday in Geneva by US Secretary of State John Kerry and Russian Foreign Minister Sergey Lavrov.

Credit: Reuters
The first stage of the "deal" requires Assad to make declaration within a week to the Organization for the Prohibition of Chemical Weapons (OPCW) of all of his WMD and their location. The OPCW will (as necessary) then report to the UN.
A note of explanation: the OPCW is the international organization, located in the Hague, that monitors compliance on the Chemical Weapons Convention. At Russian urging, Syria has signed the Convention and will become a member of the OPCW in 30 days. If Assad must make declaration within a week, this is before Syria's membership in OPCW has become operative.
~~~~~~~~~~
The Obama administration is claiming the declaration of his chemical weapon arsenal is a first "litmus test" of Assad's willingness to cooperate.
But wait just a second. The US is saying Assad has "about" or "at least" 1,000 tons of chemical weapons. Suppose they have 1,005 tons of such weaponry and account for 1,000 tons. Five tons of chemical weapons can do a whole lot of human damage. But how will the US or the OPCW know what is being held back -- especially as the material is so far scattered and intelligence is imprecise?
~~~~~~~~~~
By November, all sites that have been declared by Assad are to be inspected, and all production equipment destroyed. By the middle of 2014, all chemical weapons are to be destroyed.
Kerry calls this "ambitious." I call it impossible. A joke.
All responsible experts whose opinions I've encountered say this operation, even if successful, would take years. There is a huge (humungous) amount of chemical material and equipment to contend with -- some of which would be moved out of Syria before being destroyed.
And I would remind my readers that the civil war has not stopped and inspectors and other officials from OPCW would have to work in a dangerous environment that requires considerable security back up at some 50 different sites.
According to the agreement:
"The Russian Federation and the United States will work together closely, including with the OPCW, the UN and Syrian parties to arrange for the security of the monitoring and destruction mission, noting the primary responsibility of the Syrian government in this regard." (Emphasis added)
Understand: they are counting on Assad to provide security for the crews that will inspect and destroy his chemical weapons, while he continues to fight the rebels. And, the underlying assumption here is that he will willing cooperate in this regard and that his 450 unit forces will stand back.
~~~~~~~~~~
There will be UN Security Council involvement at some level, but this seems amorphous in the agreement, with Russia still resisting anything in the way of major enforcement or punitive measures. Russia is going to watch out for Assad to the best of its ability.
You can see the text of the agreement here: http://imra.org.il/story.php3?id=61890
~~~~~~~~~~
Obama is still claiming that the US will hit Syria if this falls apart. Count me as exceedingly dubious. Russia is resisting this, and did from the very beginning, saying that success depends upon no threats. Last week, Assad told Russian state television that he will only cooperate if the US stopped threatening him. (See the NY Sun article below for more on this.)
Today Syrian Minister Ali Haidar told Moscow's RIA news agency: "These agreements ... are a victory for Syria, achieved thanks to our Russian friends."
http://news.yahoo.com/u-russia-agree-syria-weapons-obama-says-force-053226538.html
~~~~~~~~~~
The New York Sun is comparing what Obama has done with the 1938 appeasement at Munich (emphasis added):
The agreement between Secretary of State Kerry and the Russian Federation makes the Obama administration a partner of not only President Putin but also of President Al-Assad of Syria. The idea is that the Syrian will destroy his chemical weapons, which the Kremlin helped him acquire, and accede to the Chemical Weapons Convention. In return - according to the Washington Post - the Obama administration may have agreed not only lay off a military attack but to forbear from bringing Mr. Al-Assad before the World Court."
http://www.nysun.com/editorials/imbeciles/88412/
~~~~~~~~~~
Faoud Ajami, a senior fellow at Stanford's Hoover Institution, is a savvy observer of the political scene. I want to share with you what he has to say -- with astuteness and considerable insight -- about Obama's conduct, in "Obama Is Lost in the Mideast Bazaar" (emphasis added):
"There is a trick in the great labyrinthine bazaars of the Middle East: petty hucksters luring the vacationing franjis into the market maze and then getting paid to lead them out. As dusk looms, the unnerved outsider is always glad to be steered to familiar surroundings. In the matter of Syria, and America's staggeringly inept diplomacy, Vladimir Putin is the clever trickster who has seized upon an unsuspecting prey...
"The survival of the Syrian regime was a 'red line' for the Russian ruler—a true red line. The dictatorship in Damascus had been forged four decades ago, when Soviet power was on the rise. Syrian armies and factories, the intelligence services and the architecture, were all in the Soviet mold. The sun may have set on the old Soviet empire, but on the shores of the Mediterranean, with a derelict naval base in Tartus waiting to be revived, Syria offered Russia the consolation that it could still play the game of the great powers. In the Syrian mirror, Mr. Putin sees a version of his own battle with Chechen insurgents.
"Now it is dusk, and the hapless Barack Obama has lost his old swagger. He had feigned intimacy with 'the East,' he had thought he was at ease with that big Islamic world. Instead, he was befuddled by what awaited him, and now he finds himself at the mercy of a Russian skilled in the ruses of the bazaar...
"Mr. Putin has an eye for the fecklessness of the democracies. He knew that the Obama administration, seized with panic, would take the bait he offered: custody of Syria's chemical weapons in return for giving the Damascus regime a new lease on life.
"We are war-weary, Mr. Obama intones repeatedly. He was elected to end wars, not to start them, the president reminds us. But none of our leaders—certainly not the ones who mattered, who answered the call of history—was elected to start wars.
"We anoint our leaders to rid us of our weariness when resolve is called for, to draw for us the connection between our security and menaces at a seeming far remove. The leaders of the past two decades who sent American forces to Bosnia, to Kosovo, to Afghanistan, to Iraq, were not thirsting for foreign wars. These leaders located America, and its interests, in the world. Pity the Syrians, they rose up in the time of Barack Obama."
http://online.wsj.com/article/SB10001424127887324549004579070802007714622.html?mod=wsj_share_tweet
~~~~~~~~~~
And then, a biting Mark Steyn, also astute but with a very different tone, on "American Ineffectualism" (emphasis added):
Steyn begins his piece by writing about an op-ed Vladimir Putin did in the NY Times, in which he "warned against chest-thumping about 'American exceptionalism'"...
"Charles Crawford, Britain's former ambassador in Serbia and Poland, called last Monday 'the worst day for U.S. and wider Western diplomacy since records began.' Obama set it in motion at a press conference last year by drawing his famous 'red line'...Obama doesn't interact enough with the press for it to become normal or real. So at this rare press conference he was, as usual, playing a leader who's giving a press conference. The 'red line' line sounds like the sort of thing a guy playing a president in a movie would say. It never occurred to him that out there in the world beyond the Republic of Cool he'd set an actual red line and some dime-store dictator would cross it with impunity...
"...In the Obama era, to modify Teddy Roosevelt, America chatters unceasingly and carries an unbelievably small stick. In this, the wily Putin saw an opening, and offered a 'plan' so absurd that even Obama's court eunuchs in the media had difficulty swallowing it. A month ago, Assad was a reviled war criminal and Putin his arms dealer. Now, Putin is the honest broker and Obama's partner for peace, and the war criminal is at the negotiating table with his chances of survival better than they've looked in a year.
"Putin has pulled off something incredible: He's gotten Washington to anoint him as the international community's official peacemaker, even as he assists Iran in going nuclear and keeping their blood-soaked Syrian client in his presidential palace. Already, under the 'peace process,' Putin and Assad are running rings around the dull-witted Kerry, whose Botoxicated visage embodies all too well the expensively embalmed state of the superpower...
"As for Putin's American-exceptionalism crack, he was attacking less the concept than Obama's opportunist invocation of it as justification for military action in Syria. Nevertheless, Democrats and Republicans alike took the bait...Marco Rubio insisted...at National Review Online that America was still, like, totally exceptional.
"Sorry, this doesn't pass muster even as leaden, staffer-written codswallop. It's not the time — not when you're a global joke, not when every American ally is cringing with embarrassment at the amateurishness of the last month. Nobody, friend or foe, wants to hear about American exceptionalism when the issue is American ineffectualism..."
http://m.nationalreview.com/article/358480/american-ineffectualism-mark-steyn (With thanks to Barbara O.)
~~~~~~~~~~
At a memorial for the Yom Kippur War on Friday, Prime Minister Netanyahu said that what mattered with regard to Syria were not words but deeds. If Syria can actually be stripped of its WMD, then that would be wonderful.
http://www.israelnationalnews.com/News/News.aspx/171916
Very quickly, Netanyahu drew the parallel with Iran. Today Kerry paid a quick visit, which was devoted primarily to briefing the prime minister on the situation with Syria. At the press conference that followed their meeting, Netanyahu said (emphasis added):
"The world needs to ensure that radical regimes don't have weapons of mass destruction because, as we've learned once again in Syria, if rogue regimes have weapons of mass destruction they will use them...
"If diplomacy has any chance to work it must be coupled with a credible military threat. What is true of... Syria is true of Iran."
http://www.ynetnews.com/articles/0,7340,L-4429942,00.html
~~~~~~~~~~
Kerry's visit, which had been scheduled some days ago, was supposed to provide an opportunity to "discuss" the "peace negotiations," but Syria seems to have trumped this as the main focus of discussion. We must be grateful for small favors.
Anticipation had been that Kerry was coming to pressure Netanyahu in order to achieve the semblance of a diplomatic success -- but now he's touting the agreement with Russia as a success. He made all sorts of tough noises about the fact that the US means it and might still attack. Which is, in essence what Netanyahu was responding to with a "show me, don't tell me," sort of message.
~~~~~~~~~~
And what do you know: In an interview today on ABC. Obama said that the US threat to Syria, which transitioned to a diplomatic solution, signaled to Iran a possible solution.
He believed, he said, that the situation with Syria increased US deterrence power.
This is amazing poppycock. How does he have the nerve to say this?
The world knew he was looking for a way to back out of attacking, and knew that he could have attacked without Congressional approval and did not. That, as I've described above, he grabbed the Russian deal out of panic. Iran watched all of this.
"They shouldn't draw a lesson ... to think we won't strike Iran [but] there is the potential of resolving these issues diplomatically."
Translation: See Iran, I'm talking tough. Be afraid. And then let's resolve things without military action.
For the first time, in this interview, the president confirmed that he had corresponded with Iranian President Hassan Rohani. So he's into the "diplomatic track" now.
http://www.ynetnews.com/articles/0,7340,L-4429959,00.html
~~~~~~~~~~
And sure enough, the Iranians, seeing their opening have lost no time in responding:
Iranian Foreign Minister Mohammad Javad Zarif said today in an interview with Lebanese channel Al-Mayadeen, which is Hezbollah-affiliated: "We are suffering from lack of mutual trust with the US," but we are willing to "build trust with the United States" on the issue of the Iranian nuclear program, which was "established for peaceful purposes."

Zarif wants the US to "present a genuine desire for peace and stop using the language of threats."
http://www.ynetnews.com/articles/0,7340,L-4430042,00.html
This is nauseating. But how will Obama respond? Will he promote some picture of Iran turning more conciliatory because he talked tough?
~~~~~~~~~~
© Arlene Kushner. This material is produced by Arlene Kushner, functioning as an independent journalist. Permission is granted for it to be reproduced only with proper attribution.
If it is reproduced and emphasis is added, the fact that it has been added must be noted.
http://arlenefromisrael.squarespace.com/current-postings/2013/9/15/september-15-2013-who-are-they-kidding.html