I am referring to the grief that is leveled at us, here in Israel, on a regular basis. I don't really mean "never ending." This is hyperbole; some day it will end. But I don't know when; I only recognize that we must be strong in all respects as we face down the situation.

~~~~~~~~~~

But before I get to our difficulties, I want to say "Baruch Hashem." I awoke with great gladness this morning to the news that the Republicans had taken Congress. May the Almighty grant the Republican majority wisdom and strength as they work to stop Obama in his tracks and turn around a great deal of the bad that has been done. With the finest of intentions, the results will be far less than ideal, I know. Obama still sits in the White House. But there is much that CAN be done. We have at least hope now for a better America, an America that reflects traditional values and loyalties.


Credit: aoc.gov

And...if the Republicans bring about a marked improvement in America's situation, we have hope, as well, that Hillary, or whoever runs in the presidential campaign as the Democratic contender, can be defeated at the polls.

It falls to each of you, my friends, to remain vigilant: to watch how matters proceed and to remind the Republicans of why they were elected and what they are being called upon to do.

~~~~~~~~~~

A shame that this delight at good news has been so deeply marred by goings-on here.

First, with regard to the Temple Mount. I had written yesterday that we are engaged in a war, and that is what we saw today.

Israeli intelligence picked up information that young Muslims had turned their "beloved" mosque, Al Aksa, into a building of war. Having stored weaponry – rocks, fire crackers, fire bombs – inside the structure, they remained overnight, in order to be ready for attack on Israeli police in the morning. They had even set up barricades at the doors of the mosque in an attempt to prevent the police from shutting them in.
Credit: nauterre

~~~~~~~~~~

Sure enough, when the Mount opened this morning, masked terrorists attacked police with fireworks, rocks and iron bars at the gate to the Mount where they entered. Jews were told by the police that they could not come up until the situation was taken care of. But, with police fortitude it was taken care of; some police officers were injured in the course of handling the situation. The attacking Muslims were driven back into the mosque, barricades were removed, and they were locked in. Jews were then told they could come up.

Once again, it pleases me that police handled the riot in a way that made it possible for Jews to be on the Mount.

~~~~~~~~~~

The physical battle ended there (for now), but the diplomatic battle continues as Arab leadership attempts to make the trouble the fault of the Israelis. There were threats of going to the Security Council (the ultimate panacea for the PA) with complaints that Israel (Israel!) is trying to escalate the situation on the Mount and "isolate" the Al Aksa mosque. King Abdullah is playing it to the hilt, saying that he is working to prevent "unilateral" actions by Israel; Jordan is recalling its ambassador to Israel.

When the police drove the rioters into the mosque, some of the officers stepped in, going a few meters at most (which enabled them and to see for themselves the stockpiled weapons). Now much is being made of the outrage of Israeli police violating Muslim holy space. You can see how sacred this space is to them.

~~~~~~~~~~

Unfortunately, this has been a day when one terrorist action followed another:

We have had a repeat terrorist attack involving a vehicle riding into passengers at a Light Rail station. This station is located in the Shimon HaZadik neighborhood, at the corner of Bar Lev and Shimon HaZadik streets, which is next to the Arab area of Sheikh Jarrah and not far from border police headquarters.

Even now I'm getting conflicting reports on how many were injured – somewhere between 10 and 14, some seriously, one critically. Some police officers were hit.

Israeli security personnel at the site where an Arab man from the East Jerusalem drove his car into a crowd of people waiting at a light rail station in Jerusalem, November 05, 2014.

Credit: Yonatan Sindel/FLASH90

One person has died: a Border Police officer, Jedan Assad, 38, from Beit Jann, a Druze village. He leaves behind a three year old son, and a wife who is five months pregnant. Assad's father said he loved Jerusalem and loved his work.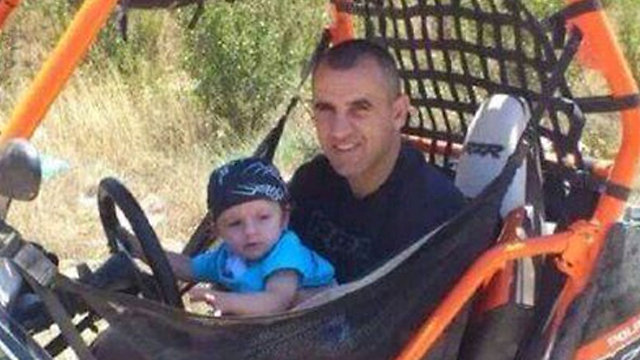 Credit: Shahar Ali

The attacker, Ibrahim al-Akari of the neighborhood of Shuafat, didn't just run his vehicle into one group; he hit some people and then kept going to target others. Then he got out of his van and began attacking people with an iron bar. Security forces shot him dead.

http://www.timesofisrael.com/driver-plows-into-jerusalem-crowd-in-suspected-terror-attack/

Internal Security Minister Yitzhak Aharonovitch called for the demolition of the terrorist's home.
~~~~~~~~~~

Hamas has taken credit for this attack, praising the terrorist as a "martyr" of course, and saying that what he did was "the natural response to the crimes of the occupation."

http://www.israelnationalnews.com/News/News.aspx/187078#.VFpLn5txnIU

This business of it being a "natural response to the occupation" is a refrain I've heard before. It seems to be their new tack, an attempt to justify before the world what cannot be justified in any terms.

The terrorist has been identified as a Hamas operative. His brother, according to reports also Hamas-connected, had been in prison for a terrorist conviction but was in the prisoner exchange for Shalit.

~~~~~~~~~~

There has got to be some way to protect Light Rail stations that are in or near Arab neighborhoods. It is being worked on: the first concrete barriers are scheduled to go up around the French Hill station tonight.

~~~~~~~~~~

Netanyahu said today that, "We are in an ongoing struggle for Jerusalem, and I have no doubt we will win."



Credit: Flash 90

I have no doubt either. We are very strong and very committed.

The prime minister, along with other members of the government, today pointed a finger directly at Abbas, whose extreme incitement over the last several days has set the climate for violence.

This too I agree with – Abbas must be held accountable.

But I feel the need to make an additional point: We are not looking at lone actors, individual terrorists, who, inspired by the inciteful words of Abbas, decide to take it upon themselves to commit a terrorist act. What is going on in our city now is far more calculated and organized than this. Just as this latest terrorist had Hamas associations, from what I am learning, the attacks in general are choreographed by terrorist groups. In fact, Hamas is choreographing the agitation on the Temple Mount. (I've heard that the Muslim women who carry on like hysterical banshees up on the Mount – you saw them in the video of Shuli Moalem yesterday – are paid to intimidate Jews.)

Clearly, Abbas is aware of all of this, and doing everything in his power to aid and abet the terrorist climate. This makes him even more culpable, as he is in bed with Hamas.

It also means that I am not exaggerating when I call this a war. It is the war for Jerusalem. Which must be won.

~~~~~~~~~~

I will leave off writing here, until the next posting.

~~~~~~~~~~

© Arlene Kushner. This material is produced by Arlene Kushner, functioning as an independent journalist. Permission is granted for it to be reproduced only with proper attribution.

If it is reproduced and emphasis is added, the fact that it has been added must be noted.
http://arlenefromisrael.squarespace.com/current-postings/2014/11/5/november-5-2014-never-ending.html
Posted
on Wednesday, November 5, 2014 at 01:45PM
by
Arlene
in Abbas, Hamas, Jerusalem, Light Rail station, Netanyahu, Temple Mount, terror
|
Post a Comment
|
Email
|
Print
I do not delude myself. The international scene is not as bad as it could possibly get. Please Heaven, may we never go there. But as I sit down to write I see that it is bloody awful, with escalating ugliness.

This summer we had a war of one sort. Now we are enduring a war of another sort. It is a dangerous business that calls on us all to be directed and strong – determined in what we stand for. The focus is Har Habayit (The Temple Mount) and Israeli control of the eastern part of Jerusalem.

~~~~~~~~~~

If I have any prayer today, it is that by the time I post again I will be able to celebrate a fully Republican Congress. And then, which is the absolutely essential follow through, that the Republican members of Congress will also be directed and strong – determined to buck Obama to the maximum and return some sanity to US policies.

~~~~~~~~~~

In a nutshell: Obama has come totally out of the closet as an enemy of Israel. While the signs were always there, he only had one foot and one shoulder out of the closet, as he continued to insist that he was Israel's friend forever. That many – including many American Jews! - believed him is a source of considerable grief.

But now? Now it's blatantly obvious. For it matters not what Abbas and his cohorts do or say, there is no word from the US. While there is always plenty of criticism for Israel emanating from the White House and State Department.

~~~~~~~~~~

What have we done to merit criticism? The usual: We want to build some apartments in a neighborhood – Ramat Shlomo - that is bursting at the seams, and which would, in any event, even if there were an agreement with the Palestinian Arabs, remain in Jewish hands. The Jerusalem District Planning and Building Committee yesterday approved 500 new housing units there.

Is this not shocking? Houses where Jews can live, being built over the 1949 armistice line – which much of the world considers the "1967 border. I am sooo tired of hearing about this, and the claim that everything beyond this line, which was only a temporary line, "belongs" to the Palestinian Arabs.

~~~~~~~~~~

At any rate, we have this from a State Department spokesman:

"It is unfortunate that after the unequivocal and unanimous position last week of the international community opposing construction in Jerusalem at this sensitive time, authorities chose to move forward.

"We continue to engage at the highest levels with the Israeli government to make our position absolutely clear that we view settlement activity as illegitimate and unequivocally oppose unilateral steps that prejudge the future of Jerusalem."

~~~~~~~~~~

And how about Abbas? It's hard to know where to begin...

He's inciting at vile levels. Vile even for him. On Sunday it was revealed that he had sent a condolence letter to the family of the man who had attempted to kill Yehuda Glick (who was later shot by police when he resisted arrest):

"With anger, we have received the news of the vicious assassination crime committed by the terrorists of the Israeli occupation army against [your] son Mu'taz Ibrahim Khalil Hijazi, who will go to heaven as a martyr defending the rights of our people and its holy places."

He spoke as well in the letter about Palestinian Arab rights to the land.

http://www.timesofisrael.com/abbas-says-glick-shooter-will-go-to-heaven-as-martyr/

This came from Gal Berger of Israel radio, who said an Abbas aide had confirmed the authenticity of the letter and posted a picture of it.

~~~~~~~~~~
The letter was sent on Saturday. Yesterday, he voiced further objections to Jewish presence on the Temple Mount. His spokesman, Nabil Abu Rudeineh, warned against the escalation of "break-ins by the settlers and Jewish extremists" to the Al-Aksa mosque.

You know what the problem is? Jewish presence on the Mount is a "violation of Muslim feelings." Muslim feelings. That's a new one.

http://www.israelnationalnews.com/News/News.aspx/186993#.VFkLlptxnIV

Put simply, he thought he could get away with pushing the concept of the Mount as being for Muslims only, but Jews keep coming. He's warning Jews to stay away.

~~~~~~~~~~

Netanyahu was furious about the silence of the international community with regard to the fact that Abbas had written a letter praising the man who attempted to murder Rabbi Glick. Silence.

The Obama administration is not interested even in a pro forma statement regarding such behavior not being "constructive" for peace.

On the flip side, Yitz Glick, the brother of Yehuda Glick, who is a US citizen, has expressed the Glick family's shock that there was no word of concern from the State Department, the US Ambassador to Israel, Dan Shapiro, or any representative of the US government: "my father is one of only 5 Americans residing in Israel to be appointed to the US National Academy of Science! No outrage, no wishes of speedy recovery not a single word from any US official..."

http://www.israelnationalnews.com/News/News.aspx/187020#.VFkuc5txnIV

When Caroline Glick (no relation) wrote about this, Ambassador Shapiro responded that the US Consul General in Jerusalem had tried for several days to reach the Glick family, but wasn't able to make contact until today.

Yea, right... And even if this were true, it does not address the issue of there having been no public statement on the shooting from US officials.

As I said, Obama is out of the closet.

~~~~~~~~~~

Today, this information broke:

A call has gone out via posters to Jews to come to the Temple Mount in a state of ritual purity on Wednesday "for the sake and the health of Rabbi Yehuda Glick...We will not succumb to terror, we will not let terror win."

And so Fatah has put out a message to Palestinian Arabs to "all Jerusalem residents [Arabs with Jerusalem residency cards] and "Arab Israelis" to block Jews attempting to go up on the Mount tomorrow. It was identified as a "call to arms."

~~~~~~~~~~

The good news in all of this is that Jews are standing strong, refusing, as the poster said, to succumb to terror. The intention is not to directly confront Muslims. Not all all. Rather, it is to demonstrate our rights. The point is made repeatedly that everyone – Jewish, Christian, Muslim – has a right to be on the Mount.

Yesterday MK Shuli Moalem-Refaeli (Habayit Hayehudi) went up on the Mount, with police protection.


Credit: Flash 90/Miriam Alster

You can see her here, walking with quiet dignity in the face of screaming Arab women (one of whom was arrested for pushing her).

http://www.jpost.com/Arab-Israeli-Conflict/WATCH-Police-arrest-woman-for-pushing-Bayit-Yehudi-MK-Moalem-at-Temple-Mount-380624

Today MK Tzipi Hotovely (Likud) went up.

Credit: BBC

http://www.jpost.com/Arab-Israeli-Conflict/Hotovely-Response-to-Glick-shooting-must-be-Jewish-prayer-on-Temple-Mount-380729

Both MKs spoke of the obligation to go up as often as possible and to work to change the status quo, so that there will be Jewish prayer on the Mount.

~~~~~~~~~~

There have been other responses from nationalist and right wing MKs, as well. Not all will be successful now, but we can be encouraged by a trend in certain directions.

One proposal would be to apply Israeli law to all Jews living in Judea and Samaria. This would not change the status of Judea and Samaria. It is not an annexation, but would rather be application of laws to people. Within 45 days after the Knesset passed a law, the IDF administration in Judea and Samaria would be required to put out an identical law for those Jews living in Judea and Samaria.

The legislation was proposed by Land of Israel Caucus chairs Yariv Levin (Likud) and Orit Struck (Habayit Hayehudi), and was cosponsored by coalition chairman Ze'ev Elkin (Likud), Bayit Yehudi faction chairwoman Ayelet Shaked, Shas faction chairman Avraham Michaeli, Knesset Law, Constitution and Justice Committee chairman David Rotem (Yisrael Beytenu) and UTJ faction chairman Menachem Eliezer Moses.

~~~~~~~~~~

Another law, which has passed, gives judges the latitude in serious cases such as terrorist attacks to stipulate on sentencing that the murderer cannot be released as part of diplomatic negotiations. This applies to the future, and is not retroactive to those already in prison. It however, delivers an important message. As Naftali Bennett said:
it "brings back sanity and morality to Israeli policy about releasing terrorists, after years of losing the moral path."

~~~~~~~~~~

Legislation is in process – an amendment to criminal law, actually – that would give maximum sentences of 20 years to those who throw rocks at moving vehicles.

Because so many of the trouble-makers and rock-throwers who must be dealt with are underage, there is another proposal that has been advanced as well: If underage youngsters are convicted of "nationalistic" crimes, their parents will have child allowances cut. The goal here is to get the parents to pay attention to what their kids are doing and assume responsibility. Don't know that this will pass, but it does indicate a new seriousness about addressing the problem.

~~~~~~~~~~

There had been rumors that Kerry was about to unveil a "peace plan," but Kerry now says this is not the case. Even he, with his inability to grasp realities here, must see that there is nothing he could propose that would have even a snowball's chance in hell of succeeding. Count this as good news, as well. Were a "plan" to be unveiled, incredible pressure would follow.

~~~~~~~~~~

What still looms before us is the diplomatic specter of various UN – and most notably Security Council – actions with regard to a "Palestinian state." While this is seriously troublesome, it is not as ominous as it sounds. For the UN cannot "declare" a state, no matter what the PA claims. I will return to this in more detail when and as necessary.

The major question here is whether Obama is prepared to so totally throw Israel under the bus that he would not veto such an effort. No one knows the answer right now.

PLO official Saeb Erekat has asked Kerry to support "Palestine" in the UN. What he is seeking is "a state based on the 1967 borders with East Jerusalem as its capital." But by definition a state must be in control of the territory that it is claiming, which makes this fairly nonsensical. It would require a process far more complicated than simply having the UNSC "recognize" a state within these parameters.

~~~~~~~~~~

Speaking of the UN:

A plan for reconstruction of Gaza was announced some several weeks ago, with donor states subsequently pledging $5.4 billion. The plan was called the "Serry" plan, after UN Special Coordinator for the Middle East Peace Process Robert Serry. Needless to say, the plan called for the UN to be a partner in the process.

Now Abu Marzouk, deputy head of the Hamas politburo, claims that Hamas was never shown the Serry plan. Hamas wants reconstruction to be handled exclusively the Palestinian Arabs. Guess Hamas figures it can get a bigger piece of that $5.4 billion this way.

However...Robert Turner, head of UNRWA operations in Gaza, says that the "Palestinian unity government" is not organized and effectively in control in Gaza. (No surprise there.) So-called "unity government" or not, Hamas and the PA are still at odds.

And so?

~~~~~~~~~~

© Arlene Kushner. This material is produced by Arlene Kushner, functioning as an independent journalist. Permission is granted for it to be reproduced only with proper attribution.

If it is reproduced and emphasis is added, the fact that it has been added must be noted.
Posted
on Wednesday, November 5, 2014 at 04:12AM
by
Arlene
in Obama, Palestinians, Shuli Moalem; Temple Mount; Abbas, Tzipi Hotovely, Yehuda Glick
|
Post a Comment
|
Email
|
Print
Our presence here in the land goes back more than 3,000 years. We prayed for millennia, while separated from the land, to be able to return. Once we did return, our people sacrificed in order to build and protect the land.
And now, insanely, the Jew who is passionate about our rights to the land and our attachment to the land is viewed as a "radical right winger," a troublemaker.
Come again?
~~~~~~~~~~
The world certainly sees nationalist Jews this way: If only these Jews would relent already, then Israel could reach an agreement with the Palestinian Arabs and there could be peace. But the fanatic and troublesome right-wingers keep getting in the way.
Far worse, there are Jews who think the same way. A good percentage of those who don't live in Israel certainly do. Most painfully, and shamefully, there are Israeli Jews who have forgotten who they are. (I will come back to this at some point, hopefully.)
~~~~~~~~~~
The reason that Jews who seek Jewish rights are seen as troublemakers is because the Arabs tend to negotiate via violence and threats. (You don't give me what I want, this is what I'm going to do.)
A tendency towards violence is inherent in the Arab Muslim culture. We are not looking at a modern phenomenon, but at a situation that has persisted for centuries. We see it in the way children are treated in this society, and the fact that it is considered permissible if not necessary sometimes to kill women for the sake of family honor. (Not enough to disown them or send them away. Such women are killed by close relatives.) It is well known among those who deal with these issues that terrorists who kill Jews then mutilate their bodies. Relief and satisfaction derive from gruesome expressions of violence?
Facing this is not politically correct, but is essential. The true roots of deep Muslim Arab anger, expressed via overt violence, are not not "the occupation" or the lack of a Palestinian state. Social scientists find it in such things as sexual abuse of young boys (also common in the culture); this perpetuates violence as the boys grow up angry.
~~~~~~~~~~
But now the situation is being exacerbated by Palestinian Arab leaders, so-called, who use this tendency towards violence for political gain, inciting their people rather than seeking to reduce tensions in the street. They are manipulating the crowds. For the Muslim Arab culture that is so prone to violence is also an honor/shame culture. The perception that they have been "dissed," treated with disrespect, foments anger and then violence. And the messages being delivered by the likes of Mahmoud Abbas to the Palestinian Arabs is precisely this: that they are being treated with disrespect by Israel.
I will add here that this culture is not big on compromise, either. To compromise is to forgo part of what you are entitled to, and this diminishes your honor. The essential underlying ideology of Islam is that it is meant to supersede the earlier monotheistic religions, not live cooperatively with them.
~~~~~~~~~~
What happens then – because so many fail to understand what is going on - is that the Jew who seeks his or her rights is seen as "causing" Arab riots and attacks. How much more peaceful it would be, if only these Jews would stop insisting on things that irritate the Palestinian Arabs.
Sounds crazy/unreasonable/simplistic, but that indeed is what is happening. Palestinian Arabs, who are collectively bullies, are being broadly embraced anyway. Either their violence is perceived as justified, or it is simply deemed wise to give them what they want to keep them quiet.
~~~~~~~~~~
I write this now because Rabbi Yehuda Glick – who, thank Heaven, has been given a good prognosis for almost full recovery, but still faces more surgery – has been referred to again and again in the media since he was shot as "far right," "radical" and more. No one says, "Well, he deserved it." But implicit is the notion that if only he, and others like him, were less passionate about the Temple Mount there would be less Palestinian Arab anger. People like Rav Yehuda are seen as stirring the unrest.
Credit: Getty Images
~~~~~~~~~~
Here I would like to show you who Yehuda Glick really is, and share his words about his beliefs and the obstacles he confronts.
I said it before and reiterate it here: he is a gentle, non-confrontational soul, who would be delighted for good relations with Muslims.
He calls the Temple the House of Prayer for All Nations. This concept is built into Jewish tradition and Jewish prayer. In the days to come, all monotheistic religions are to have a share in the Temple. Isaiah 56:7: "Even them will I bring to My holy mountain, and make them joyful in My house of prayer; their burnt-offerings and their sacrifices shall be acceptable upon Mine altar; for My house shall be called a house of prayer for all peoples."
While he doesn't back down from Jewish rights – indeed is passionate about our connection to the Mount - he explains this vision here, describing the possibility that the Muslim Dome of the Rock could be retained as part of the Temple, if the Muslims would be peaceful and share in an effort to cooperate:
And here he is joining in a prayer session with Arabs at the Mount:
https://www.youtube.com/watch?v=0lHbxbDN8V4&feature=youtu.be
Some radical extremist!
(With thanks to Bennett R.)
~~~~~~~~~~

Listen here to a segment of an interview that Yishai Fleisher did with Rabbi Glick with regard to the difficulty Jews have getting on the Temple Mount:
https://soundcloud.com/voiceofisrael/hl-4-yishai-oct30-2014
~~~~~~~~~~
Allow me to explore a bit of background, a picture of the situation for Jews on the Temple Mount today, and where we are going. Or should be going.
When Israel liberated the Old City and the Temple Mount in 1967, Defense Minister Moshe Dayan made a very foolish – a very bad - decision. He turned to the Muslims on the Mount – the Wakf or Muslim Trust - and told them that they would continue to manage day to day affairs there.
What he said was:
"We have returned to the holiest of our places, never to be parted from them again….We did not come to conquer the sacred sites of others or to restrict their religious rights, but rather to ensure the integrity of the city and to live in it with others in fraternity."

http://jcpa.org/al-aksa-is-in-danger-libel-temple-mount/
The worst of what he did was to rule that there would be no Jewish praying on the Mount, so as to not upset the status quo there.
I am not at all certain that Dayan's motivation in doing this was proper, and it is clear that, as he was not a religious Jew himself, he saw the Mount more as a site of historical interest than one of on-going religious concern. But I give him the benefit of the doubt in this respect: he didn't understand Muslim Arab mentality or how matters would likely evolve. This seems to be the case, as he refers to living with others in fraternity.
~~~~~~~~~~
Over the years Jews have petitioned for the right to pray on the Mount. This issue was last brought before the High Court in 2006, at which point it was said that only if "there is concrete information about actual danger to life" should Jewish praying be forbidden. But ultimately, the matter was left in the hands of the police, who prefer to prevent Jewish prayer so that it is not necessary to send in reinforcements to contend with Arab rioting.

This is what Yehuda Glick was referring to.
But how outrageous that in our land, where we protect the rights of all religious groups, it should be impossible for Jews to pray in the place that is holiest to Jews.
~~~~~~~~~~
Over the last few years, there has been movement by Muslim groups to libel Israel, in order to arouse the people: The totally fallacious claim that Jews are about to destroy the Al Aksa Mosque on the Mount is put out regularly.
But now it has gotten much worse. Instead of saying that the Jews are attempting to pray where they shouldn't or co-opt the Mount, there is a battle cry that the Mount is totally the heritage of the Muslims and that Jews have no place setting foot on it. Declared Abbas:
"It is our sacred place, al-Aqsa [mosque] is ours, this Noble Sanctuary [as Muslims refer to the Temple Mount] is ours. They have no right to go there and desecrate it."
http://www.timesofisrael.com/abbas-settlers-have-no-right-to-defile-temple-mount/

Abbas put out calls to "protect" the Mount from Jews. And then, when it was closed to everyone for a day, after the attempted assassination of Yehuda Glick, he called for a "day of rage," because Muslims may never be prevented from entering the Mount for any reason. This unleashed additional violence – with the throwing of pipe-bombs at police and much more in eastern Jerusalem Arab neighborhoods on Friday night and Saturday.

And last week, before the conference on the Temple Mount, at which Yehuda Glick spoke right before he was shot, Palestinian Media Watch says:

"...former PA Prime Minister and PLO Executive Committee member Ahmed Qurei (Abu Alaa) issued a press release in which he condemned 'the danger' of the conference organized by Glick and warned of 'extremist biblical plans encouraging settlers and extremist Jews to carry out large-scale invasions of the Al-Aqsa Mosque and calling on the entire Jewish nation to invade the Mosque.' He also stated that Jerusalem and the Al-Aqsa Mosque are 'undergoing one of the most dangerous periods since the beginning of the Israeli occupation' and that it necessitates 'immediate intervention in order to protect [Jerusalem] and rescue it from the threat of Judaization.'"

http://www.palwatch.org/main.aspx?fi=157&doc_id=12937

Talk about inciting violence and exacerbating the situation!

~~~~~~~~~~

At the same time, there has been a growing sense of outrage among religious Jews that prayer on the Mount is not permitted. Members of Habayit Hayehudi have been advancing legislation that would allocate different periods of time and different areas for Jewish and Muslim prayer on the Mount. This proposal, which is altogether fair and equitable, is modeled after the pattern of shared praying time for the Machpela [Cave of the Patriarchs] in Hevron.
It will not succeed at this point, however, because our prime minister will block it. His rallying cry has been one of calling for "restraint" and maintaining "the status quo" on the Temple Mount.
"The status quo" position can be interpreted in two respects: To Israelis, he is saying that he will not permit the advancement of legislation for praying on the Mount, and to Arabs, that he will not permit the co-opting of the Mount by Muslims in a way that excludes Jews.
Today in his statement to the Cabinet, he made this quite clear:
"I have ordered that massive reinforcements be brought in and that additional means be used in order to ensure law and order in Israel's capital. It could be that we are in a lengthy struggle; however, we are determined to be successful.
"We will certainly oppose all systematic and continuing attempts by Islamic extremist elements to stir up unrest. They would like to set a religious fire in Jerusalem and thereby ignite the entire Middle East. The place they are most determined on is the Temple Mount.

"We will not allow this to happen; neither will we alter the worship arrangements and the access to the Temple Mount that has been customary for decades. We are committed to the status quo for Jews, Muslims and Christians.

"Since the time of our patriarch Abraham, the Temple Mount has been the holiest site for our people. (Traditionally the Sacrifice of Isaac was said to have taken place on Mount Moriyah, where the Temples were later built.) The Temple Mount is the most sensitive kilometer on earth. Alongside a strong insistence on our rights, we are determined to maintain the status quo. It is easy to start a religious fire, but much more difficult to extinguish it."

http://imra.org.il/story.php3?id=65321

~~~~~~~~~~

What we are seeing, as clear as day, is a determination by the Muslim Arabs to use the Mount to undermine Israel. I understand Netanyahu's unease at the moment. Now even the Arab League has weighed in with threats. Arab League deputy chief Ahmed Ben Hilli has called on Arabs and the international community "to put a stop to these practices by the Israeli occupation authorities in Jerusalem. Touching Jerusalem will lead to results with untold consequences." But these are only threats. Words. The Arab states have enough on their plates to contend with, without throwing their weight around on this issue.

And come on! We must be honest and recognize that the time of the "status quo" has already come to an end. Rabbi Yisrael Ariel, Director of the Temple Institute, says the Mount "has become a stronghold of Islam. The Arabs get tons of money just to have a presence there and intimidate Jews who dare to ascend the Mount." (Emphasis added)

http://www.israelnationalnews.com/News/News.aspx/186922#.VFZitZtxnIV

Unless we get a lot stronger on the Mount, our influence will continue to diminish, with consequences that are unthinkable.

If there is one thing the Arabs understand, it is power. If we have to break heads, we must break heads. But we must remain in control of all areas of Jerusalem, and most especially the Temple Mount. And we must go up there in ever greater numbers. Hopefully, there will be an allocation of a time and place for Jewish prayer before too much time has elapsed.

MK Moshe Feiglin (Likud) went up on the Mount this morning, as he does very frequently, despite calls from Netanyahu to cool matters. I salute him for this.

Credit: Flash 90

~~~~~~~~~~

Today Mahmoud Abbas praised Netanyahu for saying he would not allow Jewish prayer on the Mount, saying it was "a step in the right direction."

http://www.timesofisrael.com/abbas-shows-rare-support-for-netanyahus-call-for-calm-in-jerusalem/

From my perspective, this means it was the wrong decision. What "step" will Abbas expect Netanyahu to take next to quell violence? There is never enough with these fighting Muslim Arabs. There will always be something else.

~~~~~~~~~~

One other issue remains in this discussion: the role of Jordan. It is the Muslim Wakf that is in control on the Mount, at least theoretically. In 1967, that was a Jordanian Wakf. After Oslo, the PA established a competing Wakf, but today it is solidly Jordanian. That is, the Jordanians have a role in what is going on.

Their peace treaty with Israel not withstanding, they are big on threats as well, and have done everything in their power to diminish Israel influence on the Mount and surrounding area (as with the bridge leading to the Mughrabi gate).

King Abdullah has just declared that he will work against "Israeli unilateralism" in Jerusalem and there have been mumblings about Jordan breaking its peace treaty with Israel over these events.

He declared a "victory" when Israel opened the Mount on Friday, pleased to take public credit for this.

What is clear is that King Abdullah is shaky on his throne. He is contending with a host of radical forces at his border, thousands of Syrian refugees inside of his border, and pressure from Palestinian Arabs. He plays it in a manner that he believes will best protect him. Consequently, Netanyahu has always done a very careful balancing act with Jordan. It is in our interest that the king should not fall. Under the façade of multiple challenges by the king, there is a good deal of cooperation. The irony is that Jordan absolutely does not want a Palestinian state at its border, even as it calls loudly for one.

~~~~~~~~~~

However, what I did last night was go to the text of the 1994 Peace Treaty Agreement between Israel and Jordan. With regard to this issue, it says (emphasis added):
ARTICLE 9
PLACES OF HISTORICAL AND RELIGIOUS SIGNIFICANCE
1. Each party will provide freedom of access to places of religious and historical significance.

2. In this regard, in accordance with the Washington Declaration, Israel respects the present special role of the Hashemite Kingdom of Jordan in Muslim Holy shrines in Jerusalem. When negotiations on the permanent status will take place, Israel will give high priority to the Jordanian historic role in these shrines. (This has to do with Israel not giving the PA priority on the Mount.)

3. The Parties will act together to promote interfaith relations among the three monotheistic religions, with the aim of working towards religious understanding, moral commitment, freedom of religious worship, and tolerance and peace.

http://mfa.gov.il/mfa/foreignpolicy/peace/guide/pages/israel-jordan%20peace%20treaty.aspx

Not only does this not give Jordan great power on the Mount, it would seem that Jordan has been severely remiss in meeting its responsibilities. Freedom of access to places of religious significance? Freedom of religious worship? Well, now.

~~~~~~~~~~

I would say Netanyahu needs to take another look at how he responds to Jordan.

Housing Minister Uri Ariel (Habayit Hayehudi) has it right (emphasis added):

"I hear the Jordanians are threatening the peace agreement and [I] wonder if they have forgotten the Six Day War and the years in which King Hussein leaned on Israel. The Temple Mount and Jerusalem are under Israeli sovereignty just as Amman is under the absolute rule of Jordan. They should internalize this fact."

http://www.israelnationalnews.com/News/News.aspx/186867#.VFZz8ZtxnIV


Credit: Flash 90

THIS is the sort of talk we need to hear more of from our government.

~~~~~~~~~~

© Arlene Kushner. This material is produced by Arlene Kushner, functioning as an independent journalist. Permission is granted for it to be reproduced only with proper attribution.

If it is reproduced and emphasis is added, the fact that it has been added must be noted.
http://arlenefromisrael.squarespace.com/current-postings/2014/11/2/november-2-2014-how-did-we-get-to-this-place.html
Posted
on Sunday, November 2, 2014 at 02:51PM
by
Arlene
in Abbas, Jerusalem, Moshe Feiglin, Netanyahu, Temple Mount, Uri Ariel. Yehuda Glick
|
Post a Comment
|
Email
|
Print
On Tuesday, my co-chair of the Legal Grounds Campaign, Jeff Daube, and I participated in a Voice of Israel radio broadcast hosted by Jeremy Gimpel and Ari Abramowitz. Lior Amihai of Peace Now was invited to join our conversation by phone. It was a lively discussion and I invite you to listen:

https://soundcloud.com/voiceofisrael/inspired-oct28-2014?utm_source=Copy+of+Copy+of+Shabbat+around+the+world&utm_campaign=voice+of+israel+1&utm_medium=email

~~~~~~~~~~

As it is before Shabbat, and Shabbat comes in very early now that our clocks have been turned back, I am going to make this exceedingly brief, touching on some issues that I will revisit in greater detail after Shabbat.

My first focus is Yehuda Glick. I am delighted that slowly, slowly he seems to be improving. Baruch Hashem! Please, do not stop praying for him until he is completely recovered.

With regard to Glick, one of the things that has disturbed me greatly is the way in which he continues to be portrayed in various media sources as a "radical right winger." Because he is fervently committed to the importance of Jews having access to and regularly visiting the Temple Mount, he is viewed as a trouble maker. It is not so, and indeed I will bring evidence after Shabbat. For Yehuda is an extremely gentle, non-confrontational man who interacts positively with Arabs when it is possible.

The fact that he is represented this way has to do with more than Yehuda himself: Across the board, Jews who stand up as proud Jews are as seen as trouble, or extreme far right. A very worrisome state of affairs that must change.

~~~~~~~~~~

I am exceedingly concerned about the potential for continued and even increased violence in Jerusalem, with a focus on the Temple Mount. This is being fomented directly by Abbas and his Fatah party. Yesterday, Abbas called for a "day of rage" here in Jerusalem today.

http://www.palwatch.org/main.aspx?fi=157&doc_id=12929

Along with this great concern comes a sense of enormous anger and injustice (I expected justice on this matter?) because the world closes its eyes and ears to the Palestinian Arab incitement and provocation. This is as Bibi said yesterday: Abbas is not criticized or held accountable. Abbas and Fatah are never fingered as the reason why peace here is not possible.

Much depends now on the strength of our government in putting down this violence, no matter how the world protests.

~~~~~~~~~~

I will add that there were celebrations among Palestinian Arabs in eastern Jerusalem after Yehuda was shot – a sure giveaway to the fact that they cannot be trusted no how. And the attempted assassin was referred to on the Fatah Facebook page as a hero and a martyr. Killing Jews – or attempting to do so - is to be praised, always and ever.

http://www.palwatch.org/main.aspx?fi=157&doc_id=12928

My friends, it is important that you know about these things, but, beyond this, that you use this information to make the case for Israel and to inform others who persist in seeing the Palestinian Arabs as a beleaguered people entitled to a state. If everyone reading this would write a letter to the editor (it must be very short, factual, non-polemic, and to the point) sharing this information, it would make an impact.

~~~~~~~~~~

Kerry is presumably making amends for the outrageous slurs leveled at our prime minister. He criticized those slurs in a forum run by the Atlantic. But, in the very next breath
he spoke about his determination to work "quietly and effectively" to restart the failed "peace process." Said he, it is "doable, but it takes courage and strength. Both sides have to be prepared to compromise in order to do it." (Emphasis added)

http://www.israelnationalnews.com/News/News.aspx/186823#.VFND7JtxnIV

Unreal, in face what I've just written about the Palestinian Arab call for a day of rage. Peace process? Here we are, no call to the Palestinian Arabs to stop the violence already and work for a better situation. This man has less than zero credibility.

How do I read his statement? He is saying to our prime minister, look the unnamed official should not have used that term chickenshit, but it was used because you are lacking courage. And now I invite you to demonstrate the courage you have been lacking to date, and make peace.

~~~~~~~~~~

Interestingly, I just picked up a citation from the NYTimes indicating that Obama may be thinking of replacing Kerry. I will not say that this is a good thing. Kerry is vastly ineffective, which frustrates Obama, undoubtedly. But we do not want him replaced by someone who is sharper and handles him or herself better – as this individual would still be pushing us to move in directions that are totally unacceptable.

We shall see...

~~~~~~~~~~

Shabbat Shalom!

~~~~~~~~~~

© Arlene Kushner. This material is produced by Arlene Kushner, functioning as an independent journalist. Permission is granted for it to be reproduced only with proper attribution.

If it is reproduced and emphasis is added, the fact that it has been added must be noted.
http://arlenefromisrael.squarespace.com/current-postings/2014/11/1/october-31-2014-before-shabbat.html
Posted
on Saturday, November 1, 2014 at 03:53PM
by
Arlene
in Temple Mount, Voice of Israel, Yehuda Glick
|
Post a Comment
|
Email
|
Print
Last night there was a conference, "Israel Returns to the Temple Mount," at the Menachem Begin Center in Jerusalem – this is an annual event of the Temple Mount Faithful. It was neither a large nor a raucous event.
Rabbi Yehuda Glick, Temple Mount activist, was a key presenter: He showed a video filmed on the Mount that morning that offered evidence of Palestinian Arabs trying to frighten Jewish visitors away. Deeply devoted to Har Habayit, he gives tours on the Mount and educates on the ancient and on-going Jewish connection to it. One would not always get that impression from the media, but he is a gentle man, and from what I know of him, a very special human being.
Credit: Sharon Altshul/YeshivaWorldNews
~~~~~~~~~~
When Rabbi Glick left the Center, he was approached by an Arab dressed in black garb. The Arab asked him – in Arabic-accented Hebrew - if he was Yehuda Glick; on receiving an affirmative answer, he pulled out a gun, shot him three times point blank in the chest, and rode away on a motor cycle.
Rabbi Glick was still conscious when taken to Sha'arei Tzedek hospital. His condition was designated as critical, unstable and he was rushed into surgery. This morning he is serious, but stable. Yet doctors say his situation is still precarious. My understanding is that he has been placed in an induced coma, to allow his body to rest and heal. Please God, let him live.
Please pray for him: Yehuda Yehoshua ben Ita Breina.
~~~~~~~~~~
A suspect, Mu'taz Hijazi of the neighborhood of Abu Tor, was identified rather quickly. This is a Palestinian Arab who had been sentenced to Israeli prison for terror activity during the second intifada; he was on a security watch because of suspicions that he has been involved in other terrorist activity since his 2012 release. When he got out of prison, he had declared in an interview:
"I am happy to return to Jerusalem. I wish to be a thorn in the throat of the Zionist plan to Judaize Jerusalem." (Emphasis added)
What I had assumed when I first learned that he was identified was that information about him was out on the Jerusalem streets in Arab areas and was picked up very promptly by Israeli intelligence. That might be, but I've since learned something else that is fairly incredible:
Mu'taz Hijazi worked for the Terasa restaurant that is located inside of the Begin Center. He actually had on his work uniform when he accosted the rabbi. Apparently he had spoken to fellow workers about his irritation with Yehuda Glick, and it is apparent that he had specifically sought him out.
I must assume that he misrepresented his background when applying for the job, but he clearly was not given a sufficient background check. (If indeed he was given a background check at all.) This should not have happened, plain and simple. It is all the more astonishing because the Begin Center regularly hosts conferences and seminars, which largely represent a nationalist position.
There are some very huge lessons to be learned here.
~~~~~~~~~~
A special anti-terrorism unit went to Hijazi's home in the Abu Tor neighborhood of Jerusalem, to arrest him. When he resisted arrest and instead shot at the officers from inside the house, they returned fire and killed him.
http://www.ynetnews.com/articles/0,7340,L-4586020,00.html
~~~~~~~~~~
Hijazi apparently had Islamic Jihad connections, as this morning, Islamic Jihad took credit for the attack.
"The assassination attempt on Glick is an act of Palestinian vengeance, in response to what is happening in Jerusalem," declared a spokesman.
http://www.israelnationalnews.com/News/News.aspx/186794#.VFIl15txnIV
~~~~~~~~~~
As I write, the Temple Mount is closed. To everyone. Until further notice. This is the way Israeli security is handling what is clearly a highly volatile situation. The city is on high alert, with an additional bolstering of security forces ordered by the prime minister.
Netanyahu continues to say that the status quo on the Mount will be sustained. I will want to come back to this for further examination of the issues.
~~~~~~~~~~
Mahmoud Abbas's response to the closure (which, you will observe, applied equally to all), was the usual hostile and inciteful blather. It was delivered by his spokesman Abu Redeina:
"This dangerous Israeli escalation is a declaration of war on the Palestinian people and its sacred places and on the Arab and Islamic nation.
"We hold the Israel government responsible for this dangerous escalation in Jerusalem that has reached its peak through the closure of the Al-Aqsa mosque [Temple Mount] this morning.
"This decision is a dangerous act and a blatant challenge that will lead to more tension and instability and will create a negative and dangerous atmosphere.
"The state of Palestine will take all legal measures to hold Israel accountable and to stop these ongoing attacks."
http://www.israelnationalnews.com/News/News.aspx/186802#.VFI8OJtxnIU
~~~~~~~~~~
In his statement today, Netanyahu singled out the international community for criticism, and very properly so:
."A few days ago, I said that we were facing a wave of incitement by radical Islamic elements and by [Mahmoud Abbas] who said that Jews must be prevented from going up to the Temple Mount by any means possible.
"I still have not heard from the international community so much as one word of condemnation for these inflammatory remarks. The international community needs to stop its hypocrisy and take action against inciters..."
http://www.israelnationalnews.com/News/News.aspx/186806#.VFI6zJtxnIU
~~~~~~~~~~
Let me return briefly here to the insults leveled at Bibi Netanyahu by one or more unnamed high level US officials who were cited in an article by Jeffrey Goldberg.
The response of the US government, in my opinion, has been sorely inadequate. There was backpedaling but no apology. No notice that the official who spoke about our prime minister in grossly insulting terms would be relieved of his responsibilities. And certainly no denial of what was reportedly said. It was, rather, more of a "gee, we didn't give him permission to say this and he wasn't speaking for us." The terms that had been used are being referred to as "inappropriate" and "counterproductive."
State Department spokeswoman Jen Psaki said, "If this issue comes up we will make sure it is clear it's not reflective of the secretary's views."
And precisely what does that mean: "if this issue comes up"? It was in print and widely quoted.
Kerry reportedly is going to "explain" the administration viewpoint to Netanyahu.
~~~~~~~~~~
The very best commentary I've seen with regard to this situation has been from Commentary editor, Jonathan Tobin.
In "Obama, Not Bibi, created U.S.-Israel Crisis," he wrote (all emphasis added):
"Since Barack Obama became president, The Atlantic's Jeffrey Goldberg has been a reliable indicator of administration opinion about foreign-policy issues. Like some other journalists who can be counted on to support the president, he has been the recipient of some juicy leaks, especially when the White House wants to trash Israel's government. But Goldberg and his 'senior administration sources' reached a new low today when he published a piece in which those anonymous figures labeled Israeli Prime Minister Netanyahu a 'chickenshit' and a 'coward'... the story is, as Goldberg rightly characterizes it, a genuine crisis in the relationship. That much is plain but where Goldberg and the talkative administration members are wrong is their belief that this is all Netanyahu's fault. Their attacks on him are not only plainly false but are motivated by a desire to find an excuse that will be used to justify a drastic turn in U.S. foreign policy against Israel.
"The administration critique of Netanyahu as a coward stems from its disgust with his failure to make peace with the Palestinians as well as their impatience with his criticisms of their zeal for a deal with Iran even if it means allowing the Islamist regime to become a threshold nuclear power...But President Obama and his foreign-policy team aren't just annoyed by the prime minister. They've come to view him as public enemy No. 1, using language about him and giving assessments of his policies that are far harsher than they have ever used against even avowed enemies of the United States, let alone one of its closest allies.
"So rather than merely chide him for caution they call him a coward and taunt him for being reluctant to make war on Hamas and even to launch a strike on Iran. They don't merely castigate him as a small-time politician without vision; they accuse him of putting his political survival above the interests of his nation.
"It's quite an indictment but once you get beyond the personal dislike of the individual on the part of the president, Secretary of State Kerry, and any other 'senior officials' that speak without attribution on the subject of Israel's prime minister, all you have is a thin veil of invective covering up six years of Obama administration failures in the Middle East that have the region more dangerous for both Israel and the United States. For all of his personal failings, it is not Netanyahu—a man who actually served as a combat soldier under fire in his country's most elite commando unit—who is a coward or a small-minded failure. It is Obama and Kerry who have fecklessly sabotaged a special relationship, an act whose consequences have already led to disaster and bloodshed and may yet bring worse in their final two years of power...
"So why is the administration so angry with Netanyahu? It can't be because Netanyahu is preventing peace with the Palestinians. After the failure of Kerry's fool's errand negotiations and the Hamas missile war on Israel, not even Obama can think peace is at hand. Nor does he really think Netanyahu can stop him from appeasing Iran if Tehran is willing to sign even a weak deal...
"The real reason to target Netanyahu is that it is easier to scapegoat the Israelis than to own up to the administration's mistakes.
"Despite the administration's insults, it is not Netanyahu who is weak. He has shown great courage and good judgment in defending his country's interests even as Obama has encouraged the Palestinians to believe they can hold out for even more unrealistic terms while denying Israel the ammunition it needed to fight Hamas terrorists. While we don't know whether, as Goldberg believes, it is too late for Israel to strike Iran's nuclear facilities, it is Obama that Iran considers weak as it plays U.S. negotiators for suckers in the firm belief that the U.S. is a paper tiger that is not to be feared any longer.
"If there is a crisis, it is one that was created by Obama's failures and inability to grasp that his ideological prejudices were out of touch with Middle East realities.
"The next two years may well see, as Goldberg ominously predicts, even more actions by the administration to downgrade the alliance with Israel. But the blame for this will belong to a president who has never been comfortable with Israel and who has, at every conceivable opportunity, sought conflict with it even though doing so did not advance U.S. interests or the cause of peace. No insult directed at Netanyahu, no matter how crude or pointless, can cover up the president's record of failure."
http://www.commentarymagazine.com/2014/10/28/obama-not-bibi-created-the-u-s-israel-crisis-chickenshit/
(Thanks, Barbara S.)
~~~~~~~~~~
© Arlene Kushner. This material is produced by Arlene Kushner, functioning as an independent journalist. Permission is granted for it to be reproduced only with proper attribution.

If it is reproduced and emphasis is added, the fact that it has been added must be noted.
http://arlenefromisrael.squarespace.com/current-postings/2014/10/30/october-30-2014-is-there-no-end.html
Posted
on Thursday, October 30, 2014 at 11:22AM
by
Arlene
in Abbas, Begin Center, Kerry, Netanyahu, Obama, Temple Mount, Yehuda Glick
|
Post a Comment
|
Email
|
Print
The media here in recent days has been full of observations about the growing rift between Israel and the US, or, more accurately, between the Netanyahu and Obama administrations.
There have been, incredibly, some Israeli politicians and commentators centrist-left who point a finger at Netanyahu, saying that he is provoking Obama and that Israel-US tensions are his fault. They point out that we need America and cannot afford to alienate its chief executive.
Me? I say, Right on, Bibi! And I am hardly alone in this response.
Time to cut the umbilical cord with the US – which makes some afraid to alienate a source of "nurturing" – and to do what is best for Israel, unapologetically.
~~~~~~~~~~
There are several points to be made with regard to the perceived need for Israel to behave in a conciliatory fashion towards the US.
[] We can begin with the fact that some of these attitudes smack of a sort of diplomatic appeasement, a galut mentality that makes certain Jews think it is always important to do everything possible to keep "others" happy.
[] If we were to continue to diminish ourselves to please others, we would end up...diminished. Weak. We would be serving ourselves and our own national interests and rights poorly. Because our own national interests and rights, and what others want of us frequently do not coincide.
[] Where Obama is concerned, in any event, there is no way to make him "happy." He and his flunkies are not with us, and it is foolish indeed to assume they are – that they can be "mollified." I have reported over time on a whole series of actions that makes it clear he supports our enemies more than he does us – there is everything from his growing relationship with the Muslim Brotherhood supporter Qatar to his blocking of weaponry to be shipped to us during our recent war with Hamas. There are even the State Department press statements of the last few days that showed greater concern for the Palestinian Arab boy who was shot when about to throw a Molotov cocktail than for the baby killed by the terrorist who ran a car into her stroller.
[] At the very same time, we must keep in mind that America is with us. That means the American people, the Congress and the Pentagon. Military people in the US tend to "get it."
[] We must respect ourselves enough to know our own value. It is not just that we "need" America, it is that America needs us. We sell ourselves short when we imagine otherwise. We are a bulwark of freedom in a part of the world that is over-run by tyranny and chaos. We provide valuable intelligence information, cutting edge research, a model for battling radical Islam, and a whole lot more.
Credit: FreeRepublic
~~~~~~~~~~
I would say that at present there are two main sources to the tension.
The first has to do with an announcement from the government on Monday that development will be advanced for over 1,000 new apartments in two solidly Jewish neighborhoods in Jerusalem past the Green Line. There will be 660 new housing units in Ramat Shlomo and 400 in Har Homa.
Shock! Horrors! This destroys all chances for a "two-state solution," right? It must be the case, if we choose to believe the response of the US government. Jen Psaki, State Department spokeswoman, for example, delivered this statement:
"If Israel wants to live in a peaceful society, they need to take steps that will reduce tensions. Moving forward with this sort of action would be incompatible with the pursuit of peace." (Emphasis added)
"This sort of action" means providing homes for Jews in Jewish neighborhoods that are never going to be relinquished.
Please note, there has been no parallel statement from the State Department or the White House regarding recent blatant incitement by Mahmoud Abbas regarding the need for Muslims to block "settlers" from going on the Temple Mount. This, you see, is perfectly compatible with the pursuit of peace.
~~~~~~~~~~
It was a ludicrous state of affairs. And Bibi Netanyahu was not backing down one iota. Speaking at the opening of the winter session of the Knesset, also on Monday, he said (emphasis added):
"...in defending Israel, there is no replacement for the soldiers of the IDF. This is a simple fact and it is joined by another fact: Over the past 20 years, since the rise of radical Islam, any territory we vacated was seized by these forces who attack us from the territories we left. Therefore, when faced with radical Islamist forces that repeatedly knock on our door from all sides, when faced with Abu Mazen's [Abbas's] incitement and his cooperation with Hamas, there is no alternative to taking a strong stand in our demands...
"...A peace agreement is possible when the following formula is present - a demilitarized Palestinian state that recognizes the Jewish state. To that end, the Palestinians must recognize our basic need for a nation-state of our own. They need to accept mutual recognition and genuine security...
"...What I just said is not popular in several world capitals, but we must stand up for the truth because peace cannot be built on a foundation of lies and illusion. The truth is that the root of this conflict was and remains the refusal to recognize a Jewish state in any borders...
"We are maintaining the status quo and allowing everyone access to the holy places, and we will continue to do so. There is broad consensus in the public that Israel has the full right to build in Jewish neighborhoods in Jerusalem and the settlement blocs...
"The French build in Paris; the English build in London; the Israelis build in Jerusalem. To say to the Jews not to live in Jerusalem - Why? Because it will ignite the situation? For some people there is no convenient time to build houses for Jews in Jerusalem or in other part of our country, and if it were up to them we would not have built a single house over the past 65 years because it was never the right time.
"Let me tell you something: In the eyes of certain parties in the area, our existence is what is igniting the situation. So do we stop existing? For thousands of years, the Jews have been praying 'Next year in Jerusalem.' And you are telling us not to build? Not now? If not now, then when? And the answer will be 'never.' Well, we are building as we have built from the very establishment of the state and even before then - as we built Har Homa, as we build today, and we are building today as governments of Israel have built before and there should be broad consensus about this.
"There is one misconception that must be uprooted: Violence is not the result of building in Jerusalem. The cruel terror that struck at a three-month-old baby for whom her parents had waited for so long, a baby in her stroller on the way back from the Western Wall with her parents who wanted to pray and thank God that she was born - this terror is not the result of building in this or that section of Jerusalem. It is the result of our enemy's desire that we not be here at all - nowhere, in no part of Jerusalem and not in Tel Aviv either, not in Haifa, not in Beer Sheba, nowhere.
"For this reason, since the birth of Zionism, building has been the natural and decisive answer to those who plot against our existence and want to uproot us from our land. They seek death while we build lives here. There must be a desire for peace on the Palestinian side as well. Unfortunately, at this time I do not see this desire and I also do not see any pressure on the Palestinian side. On the contrary. I only see pressure on Israel to make more and more concessions without receiving anything in return and without any assurances. Let me be clear: No pressure from without or from within will do any good..."
http://mfa.gov.il/MFA/PressRoom/2014/Pages/PM-Netanyahu's-remarks-at-the-opening-of-the-Knesset-winter-session-27-October-2014.aspx
~~~~~~~~~~
I will resist the impulse to quibble. I will not focus on the fact that I wish he would stop talking about a Palestinian state – for says he knows it's not possible now. And I will not belabor my fervent desire for him to speak about our rights in the land, and not just about our security. Hopefully the time for this will come.
What I will do is say BRAVO! Because he didn't back down and told it true.
"And you are telling us not to build? Not now? If not now, then when? And the answer will be 'never.'...I only see pressure on Israel to make more and more concessions without receiving anything in return and without any assurances. Let me be clear: No pressure from without or from within will do any good..."
Our prime minister's strong answer to Obama.
~~~~~~~~~~
Then there is another issue of dissension between Netanyahu and Obama: Iran.
Netanyahu has been making his position very clear:
"Beating ISIS and leaving Iran as a threshold state is winning the battle and losing the war. I hope that the international community will not make a historic mistake by easing the sanctions imposed on Iran and leaving it with the ability to enrich uranium for a nuclear bomb in a short period of time."

But this is exactly the approach that Obama is taking. He seems determined to strike a deal with Iran, even at great risk to the world because he would leave Iran as a threshold nuclear state. Netanyahu is the most prominent, if not the sole, voice casting aspersions on the coming deal.

~~~~~~~~~~

See this, from Israel Hayom today (emphasis added):
"The U.S. and Iran have 'moved into an effective state of detente over the past year,' The Wall Street Journal reported on Wednesday.
"The report, citing senior U.S. and Arab officials, said: 'Recent months have ushered in a change as the two countries have grown into alignment on a spectrum of causes, chief among them promoting peaceful political transitions in Baghdad and Kabul and pursuing military operations against Islamic State fighters in Iraq and Syria.'
"The report noted that the change 'could drastically alter the balance of power in the region, and risks alienating key U.S. allies,' such as Saudi Arabia and the United Arab Emirates, as well as Israel.
"According to the report, the Obama administration has also 'markedly softened its confrontational stance toward Iran's most important non-state allies' -- the Hamas and Hezbollah terrorist groups..."
http://www.israelhayom.com/site/newsletter_article.php?id=21069
This, my friends, is the stuff of nightmares and trumps all other concerns.
Netanyahu has spoken out forcefully on this issue. It remains to be seen whether he will take the appropriate action (presumably after the US and Iran are done dealing).
~~~~~~~~~~
Now, with the publication of an article in the Atlantic by Jeffrey Goldberg - who frequently presents positions of the Obama administration - matters have fallen to a new low, unexpected even in terms of what has transpired until now.
According to the Goldberg article, the Obama administration has a "red-hot anger" at Netanyahu for his construction policies in Judea and Samaria and Jerusalem. The administration believes these policies "fatally undermined Secretary of State John Kerry's peace process."

http://www.israelhayom.com/site/newsletter_article.php?id=21071
If true, this is astonishing in what it reveals about the failure of the Obama administration to grasp what is going on here.

Goldberg cites a "senior US official," who said, "The thing about Bibi is, he's a chickenshit."
EXCUSE ME?
Officials here in Israel are now demanding an apology.
~~~~~~~~~~
Said Minister Naftali Bennett (emphasis added):
"Israel is stronger than all of its defamers. The prime minister of Israel is not a private person. He is the leader of the Jewish state and the entire Jewish people. Cursing the prime minister and calling him names is an insult not just to him but to the millions of Israeli citizens and Jews across the globe.
"The leader of Syria who slaughtered 150,000 people was not awarded the name 'chickenshit.' Neither was the leader of Saudi Arabia who stones women and homosexuals or the leader of Iran who murders freedom protesters.
"If what appears in the press is true, then it seems that the current U.S. administration is throwing Israel under the bus.
"Israel is the only democratic state in the Middle East and has been fighting 66 years to survive. Israel is at the forefront of the free world's fight against the Islamic terror of ISIS, Hezbollah, Hamas and Iran. Instead of attacking Israel and putting it at risk, the world should be strengthening and supporting it."
~~~~~~~~~~
Netanyahu's response: "I am attacked just because I defend the State of Israel..." From his office came the statement: "Prime Minister Benjamin Netanyahu will continue to stand for the security interests of the citizens of Israel and the historic rights of the Jewish people in Jerusalem, and no pressure will change that."

I end for today with this observation from a highly reliable source: A close contact of mine was present at a meeting with the prime minister today, and shared with me his surprise at how cool the prime minster's demeanor was, how devoid of inner tensions, in the face of the Goldberg article. It is as if, concluded this source, Netanyahu has now made his peace with the reality of who Obama is, and is prepared to respond accordingly.

Time will tell. Midterm elections will be held next week, and we can only expect worse from the president thereafter.

~~~~~~~~~~
You might like to contact Prime Minister Netanyahu with words of support. Please! no long messages and no preaching or history lessons. Tell him simply that you support his strong stance and are with him.
E-mail: Memshala@pmo.gov.il and also pm_eng2@it.pmo.gov.il (underscore after pm) use both addresses
~~~~~~~~~~

© Arlene Kushner. This material is produced by Arlene Kushner, functioning as an independent journalist. Permission is granted for it to be reproduced only with proper attribution.

If it is reproduced and emphasis is added, the fact that it has been added must be noted.
http://arlenefromisrael.squarespace.com/current-postings/2014/10/29/october-29-2014-standing-tall.html
The word "tough" has different meanings, and I am actually using it in more than one sense in this posting. The first meaning – difficult to deal with – applies to the video directly below. From "Jewish Voices on Campus," it is exceedingly important and I ask you all to take the time to see it:
https://www.youtube.com/watch?v=gAyFlByb64M
~~~~~~~~~~
The second meaning I want to apply is slang, as in "You don't like it? Tough."
Orwa Abd El-Wahab Hammad, from the village of Silwad near Ramallah, was killed by the IDF on Friday. Arab sources said he was 14, the IDF says he was 17. Born in America, he has lived in Arab villages in Samaria since he was a small boy. He was shot because he was about to throw a Molotov cocktail into on-coming traffic on Highway 60. A Molotov cocktail is a home-made incendiary device, serving as a fire bomb, that can set its target on fire. Thrown at a car, it could be lethal and might cause multiple deaths.
Explained an IDF spokesman: "The forces fired immediately to neutralize the danger...."
Now, partly because of this, we've got rioting by Arabs in certain parts of eastern Jerusalem for the third consecutive day. These riots have been encouraged by Hamas
official Mahmoud Al-Zahar, who has told Palestinian Arabs in eastern Jerusalem to rise up against Israel and continue "resisting."
"The escalation [of violence] in the city is the solution to 'Israeli aggression.'"
http://www.timesofisrael.com/palestinians-hurl-stones-firebombs-at-police-in-east-jerusalem/
Credit: AFP / Ahmad Gharabli
See critical information below about Hamas involvement in this situation.
~~~~~~~~~~
Now, it's not Israeli officials saying "tough," it's me. They are too diplomatic. But I am expressing a forthright and honest sentiment. Not a single iota of regret. No way. The Arabs don't like it that one of their youth was shot? If he had not been attempting to create chaos and danger for Jews driving in nearby cars, he would still be alive.

~~~~~~~~~~

As it happens, the death of this boy is not the only reason for the rioting. The crowds are also "agitated" about the death of Abdel Rahman Al-Shaludi, the terrorist who killed baby Chaya Zissel Braun when he ran his car into a crowd at the Light Rail station.

He was shot by a security officer at the scene and died some hours later. There are – I would say "incredibly," except that this seems par for the course – claims by Arab sources that what happened was merely a "traffic accident" and that there was no reason to shoot him.

His funeral was supposed to be today, and when a terrorist is being buried that always stirs up the crowds. As I write I am not sure whether he was buried, or will be in the remaining hours of the day. Israeli officials sought to delay the funeral, and then to limit the size of the crowd.

~~~~~~~~~~

I call your attention here to a critically important piece, written by Pinchas Inbari – who is an Arabic speaking Israeli journalist and exceedingly knowledgeable – for the Jerusalem Center for Public Affairs. "The Role of Hamas and Fatah in the Jerusalem Disturbances."

What is going on here in Jerusalem is not simply a matter of local Arabs expressing "distress." What we have on our hands is a war with radical Islamists, who are now focused on Jerusalem. And so, we are back to my first definition of "tough,' as something difficult to deal with. But something that must be dealt with, as Naftali Bennett put it, "with an iron fist" (all emphasis added):

"The deterioration of the security situation in Jerusalem cannot be understood only on the Israeli-Palestinian level; it is umbillically connected to the chaos in the Middle East and to the great struggle between the moderate Sunni regimes and the Muslim Brotherhood, which seeks to make the Jerusalem issue a rallying cry of the 'Arab Storm.' The Brotherhood's strategy hopes to unite all of the regions Islamic movements around the idea of the Muslim Caliphate with the Al-Aqsa Mosque [on the Temple Mount in Jerusalem] as its hub."

Inbari documents the "call of the Muslim faithful" to liberate the Mosque in a variety of contexts, both with regard to Hamas and Fatah. He says:

"On the issue of funding Fatah activity in Jerusalem, eyes are turned to Qatar, the great financier of all the movements that are undermining regional stability, including in Israel. The large sums evidently being used by the websites of Hamas and the Muslim Brotherhood to wage the Jerusalem campaign indicate that much Qatari money has already flowed their way, and Fatah is now waiting in line.

"Fatah's very weak standing in the Al-Aqsa compound was apparent in the attack – wild to the point of life-endangering – on Palestinian religious affairs minister Mahmoud al-Habash when he visited the Al-Aqsa Mosque at the end of June this year. His attackers were Hamas and Hizbat-ut-Tahrir men, and the Palestinian Authority's security forces had a very hard time rescuing him. The joint attack also conveyed a message that these two movement, which have struggled over hegemony on the Mount, have reconciled and are now acting in unison.

"Yet everyone is competing for Qatar money – a fact that only spurs local groups towards greater levels of violence. Fatah's joining of the Al-Aqsa campaign as a wagon hitched to fundamentalist Qatar may well herald a take-over of Ramallah by the radical Islamic movements – unless the Palestinian Authority regains its bearings in time."

http://jcpa.org/article/hamas-fatah-jerusalem-disturbances/

~~~~~~~~~~

Scary as hell, my friends, and I will continue to report on this.

Today it was not only police that were out in large numbers to quell the violence, but other security forces as well. Whatever it takes.



Credit: AFP / Ahmad Gharabli

~~~~~~~~~~

Please do know that, as horrific as it is, all of Jerusalem is not in turmoil. I live in the city, in a western neighborhood, and everything is entirely peaceful. The violence is occurring in certain Arab neighborhoods in eastern Jerusalem and in certain parts of Jewish neighborhoods past the Green Line that abut Arab neighborhoods, and at key points such at the Mount of Olives and the Temple Mount.

~~~~~~~~~~

A major point here:

The US is on the wrong side with regard to this entire matter. Not surprising, but exceedingly distressing.

There is, first, the growing relationship of the Obama administration with Qatar, the major funder of the Muslim Brotherhood.

Then there is what we are seeing in terms of State Department positions in response to what is going on here. Last week I expressed great anger at the statement, after the Al-Shaludi attack, that, "We urge all sides to maintain calm and avoid escalating tensions in the wake of this incident." Instead of expressing concern for the Israeli populace and standing with Israeli attempts to protect those citizens. "Morally blind by design," I wrote. And indeed this is true.

Now we have the latest press statement from Jen Psaki:

"The United States expresses its deepest condolences to the family of a U.S. citizen minor who was killed by the Israeli Defense Forces during clashes in Silwad on October 24. Officials from the U.S. Consulate General in Jerusalem are in contact with the family and are providing all appropriate consular assistance. We call for a speedy and transparent investigation, and will remain closely engaged with the local authorities, who have the lead on this investigation. We continue to urge all parties to help restore calm and avoid escalating tensions in the wake of the tragic recent incidents in Jerusalem and the West Bank."

http://www.state.gov/r/pa/prs/ps/2014/10/233356.htm

As commentator Yisrael Medad has pointed out, the term "clashes" is severely misleading. There were no clashes. There was an Arab youth threatening Jews, who had to be stopped.

Aaron Lerner, director of IMRA, minced no words in his description of the State Department statement, beginning with his title, "US declines to indicate if opposes murdering drivers with Molotov cocktails in State Department statement":

Question: Why wasn't State Department Spokesperson Jen Psaki able to come up with a formula in the wording of the statement...to indicate that the United States of America does not condone, under any circumstances, the throwing of firebombs?"


http://imra.org.il/story.php3?id=65236


Indeed! It is apparent to me, and I am reasonably certain Lerner intends to suggest the same, that it is not that Psaki was unable to come up with the wording, but chose not to.

~~~~~~~~~~


I will mention here – and return to this – that when Defense Minister Moshe Ya'alon was in the US recently, it has now been revealed, he was denied access to certain key officials with whom he wished to speak.


~~~~~~~~~~

© Arlene Kushner. This material is produced by Arlene Kushner, functioning as an independent journalist. Permission is granted for it to be reproduced only with proper attribution.

If it is reproduced and emphasis is added, the fact that it has been added must be noted.
http://arlenefromisrael.squarespace.com/current-postings/2014/10/26/october-26-2014-tough.html
Posted
on Sunday, October 26, 2014 at 05:20PM
by
Arlene
in Fatah, Hamas, Israel, Jerusalem riots, Pinchas Inbari
|
Post a Comment
|
Email
|
Print
Chaya Zissel Braun the three-month old baby girl killed by a terrorist using his car as a weapon, was laid to rest at midnight last night. Her death came about after the terrorist's car slammed into her stroller, sending her flying some ten meters into the air. She landed on her head, and fractured her skull; doctors could not save her because of internal hemorrhaging.

President Ruby Rivlin, who attended the funeral said (emphasis added):

"We are standing before a tiny, silent body, before a small grave, standing against haters and murderers who hands slaughter without distinction, without mercy. An innocent baby was butchered by burning hatred and darkness."

http://www.timesofisrael.com/funeral-begins-for-baby-killed-in-suspected-terror-attack/

~~~~~~~~~~

Her parents - who had waited years to have a child, and had just returned from bringing her to the Kotel (the Western Wall) for the first time – are traumatized and in shock. This picture – courtesy of the family - was taken at the Kotel, shortly before she was killed.




At the funeral, her weeping father said, "You made us happy from the moment you [arrived]... You were pure. I want you to look down at me and smile. Tomorrow is your three-month birthday. It's all now in God's hands."

Her maternal grandfather, Rabbi Shimshon Halpern, spoke of her holy soul.

http://www.israelnationalnews.com/News/News.aspx/186515#.VEkJjZtxnIU

~~~~~~~~~~

The Arab terrorist Abdel Rahman Al-Shaludi (Al Shaludi is an alternate spelling of his name) died at the hospital last night of wounds inflicted upon him by Israeli security at the site of the attack.

He possessed a Jerusalem residency card, and was a staunch Hamas supporter. These two factors should, in the best of circumstances, be mutually exclusive; but of course this is not the case. We've got a whole lot of Hamas-associated Arabs with Jerusalem residency cards running around the city. Not only did he support Hamas, his uncle - who was assassinated 14 years ago, reportedly in the course of inter-militia tensions - was a master bomb-maker for Hamas. Hamas allegiance is very often a family affair.

Al-Shaludi was also into social media communication. Less than two weeks ago, he posted on his Facebook page a picture of Al Aksa mosque on the Temple Mount, with a caption "Al Aksa is in danger." Just two days ago, he posted: "now is the time to defend your home, Muslims – go out on a crusade to protect the Al-Aksa mosque."

http://www.israelnationalnews.com/News/News.aspx/186492#.VEj4xZtxnIV

Yesterday I reported that he had been in Israeli prison. I do not believe he was released in the course of a prisoner trade; rather, he was released after he completed a 16-month sentence.

~~~~~~~~~~

That Hamas would praise this despicable attack is a given. But what we are seeing is the same from Fatah, the party of our "peace partner" Abbas:

As described and translated by the Palestinian Media Watch, Fatah posted on its official Facebook page an obituary for Al-Shaludi that used the words "heroic Martyr." His death was portrayed as "'his wedding' - a reference to the Islamic belief that Martyrs for Allah are wedded to 72 virgins in Paradise."

"Rest in peace! We are loyal to you," it said. (Emphasis added)

http://www.palwatch.org/main.aspx?fi=157&doc_id=12911

According to The Elder of Ziyon, the poster of Al-Shaludi that went up on the Fatah FB page is even more explicit (emphasis added):

"The martyr hero Abd al-Rahman al-Shaludi performs a sacred act of running over the settlers in occupied Jerusalem."

http://elderofziyon.blogspot.co.il/2014/10/fatah-praises-murder-of-baby.html#.VEj702dxnIV

Sultan Abu Al-Einein, Abbas advisor and a member of Fatah's Central Committee, also posted praise for the terrorist on his FB page.

~~~~~~~~~~

Prime Minister Netanyahu pointed a finger directly at Abbas with regard to this terror attack. And he is absolutely correct. Just days ago Abbas called upon Arabs to protect the Temple Mount from Jews.

What is more, he expressed anger at the international community for its failure to criticize Abbas in this regard. At a security briefing at police headquarters, he said:

"[Abbas] glorifies the murderers and also embraces the organization to which the terrorists belong, Hamas. And faced with these actions of the Authority chairman, we find only a flaccid [response] internationally. [World leaders] are unwilling to say two words, even one word of criticism of him [Abbas]. We do not share this weakness. We will stand firmly for our rights and obligations to defend our capitol."

http://www.timesofisrael.com/netanyahu-decries-worlds-flaccid-response-to-abbas/

~~~~~~~~~~

Highly relevant to this issue is a piece by Michael Freund, "Mahmoud Abbas, enemy of Israel":

"For the past decade, ever since Mahmoud Abbas took the reins of the Palestinian Authority in January 2005, the international community has gone out of its way to portray him as a moderate.
"Ignoring his long record of anti-Israel incitement and Holocaust denial, American presidents, European prime ministers and even various Israeli leaders often spoke of Abbas in glowing terms, describing him as a man of peace and a visionary.
"Indeed, earlier this year, when Abbas visited the White House on March 17, US President Barack Obama told reporters, 'I have to commend President Abbas. He has been somebody who has consistently renounced violence, has consistently sought a diplomatic and peaceful solution that allows for two states, side by side, in peace and security.'

"...Calling him a moderate is simply dishonest and deceptive. Abbas is not a friend of peace, he is an enemy of Israel, one who has refused to end the conflict and has incited to violence against the Jewish state.
"He may not don the keffiyeh that was worn by Yasser Arafat, nor wave a gun in the halls of the United Nations. But even if the packaging is slightly different, the contents remain the same.
"Abbas, like his predecessor, stands in the way of peace and aims to do Israel harm.
"The time has come to treat him accordingly."

http://www.jpost.com/Opinion/Fundamentally-Freund-Mahmoud-Abbas-enemy-of-Israel-379545

~~~~~~~~~~

Today Jerusalem Mayor Nir Barakat called for a tightening of security in order to quell the violence Jerusalem is experiencing.

After the police security meeting, the Prime Minister's Office issued a statement indicating that Netanyahu had "instructed that sovereignty be enforced in all parts of the city by positioning additional forces throughout the capital...united Jerusalem was, and will remain, the capital of Israel forever ... Every attempt to harm its residents will be met with the harshest of responses – we will restore quiet and security to Jerusalem." (Emphasis added)

A good and appropriate statement. Particularly with regard to sovereignty being enforced. There has been a horrifying tendency for police to let sovereignty slip in certain eastern areas of Jerusalem. It is my distinct impression that our prime minister means it when he speaks about a united Jerusalem, Israel's capital forever.

But...but...

I want to tell him, enough words. We've heard them before. Don't tell us. Show us. I want to learn about arrests being made, with prosecutions following. No more policy of containment. I want to know about the police out on the street in large numbers and a major reduction in the amount of Arab violence the city is enduring. I want these Arab bums who are seeking to terrorize innocent Jews in Jerusalem to be genuinely afraid of the police.

~~~~~~~~~~

"A Border Patrol officer serving in eastern Jerusalem has for the first time revealed the police helplessness in dealing with the 'silent intifada' that has been gripping the capital in recent months...

"Speaking on Channel 2...TV Thursday...the officer admitted the Border Patrol warriors are forced to 'stand like dolls' against the Arab terror.

"We feel like our hands are tied,' the combat officer revealed, placing the blame squarely on the shoulders of Interior Security Minister Yitzhak Aharonovich for the collapse of security.

"According to the officer, senior captains as well as Aharonovich are trying to calm things down and hush up the 'silent intifada' rather than fight Arab terror to the end."

http://www.israelnationalnews.com/News/News.aspx/186525#.VElesptxnIU

~~~~~~~~~~

In the last day or so, the terror attack that killed the baby girl, while the worst of the violence by far, has not been the only incident of violence. We're seeing incidents of Arab harassment and violence in the neighborhoods of Armon Hanatziv, Har Homa, and Gilo in southern Jerusalem, through the Mount of Olives area, Issawiya and Silwan, northward to Shuafat and Beit Hanina.

In the Mount of Olives area, there is the small Jewish community of Ma'aleh HaZeitim. This morning, not for the first time, the nursery building was stoned. Masked Arab men, pelting rocks, with the children huddled in one area of the building for safety. What sort of scum are they, throwing stones at a nursery?

http://www.ynetnews.com/articles/0,7340,L-4583337,00.html

~~~~~~~~~~

Minister Naftali Bennett had severe words for the current situation. The anger he expressed was appropriate. As was his called for an "iron fist."

http://www.jpost.com/Arab-Israeli-Conflict/Bennetts-proposed-response-to-Jerusalem-terror-attack-more-construction-and-an-iron-fist-379594

Then he called for additional construction in Jerusalem as a response to terror, to show that we are here to stay when they are trying to drive us out. But linking terrorism and building always unsettles me. It gives the wrong message.

Jewish building in Jerusalem isn't a response to violence or some sort of revenge. It is our right. The world must know that we build because we claim that right. Period.

~~~~~~~~~~

What really enraged me was this statement by Jen Psaki, spokeswoman for the State Department:
"The United States condemns in the strongest possible terms today's terrorist attack in Jerusalem. We express our deepest condolences to the family of the baby, reportedly an American citizen, who was killed in this despicable attack, and extend our prayers for a full recovery to those injured. We urge all sides to maintain calm and avoid escalating tensions in the wake of this incident." (Emphasis added)
http://www.state.gov/r/pa/prs/ps/2014/10/233279.htm

How morally obtuse can they be? They sound like parents, speaking to two squabbling boys, "Now, now, play nice."

This was a terror attack, as I made quite clear above, the worst incident of terror amidst a rash of terror incidents. Escalation of Israeli police response is precisely what is needed. If it makes Palestinian Arabs in eastern Jerusalem tense, that's quite fine.

The US has no vision of justice or Israeli right in this matter at all. American officials, by design, are morally blind.

~~~~~~~~~~

© Arlene Kushner. This material is produced by Arlene Kushner, functioning as an independent journalist. Permission is granted for it to be reproduced only with proper attribution.

If it is reproduced and emphasis is added, the fact that it has been added must be noted.
http://arlenefromisrael.squarespace.com/current-postings/2014/10/24/october-23-2014-burning-hatred-and-darkness.html?SSScrollPosition=0
Posted
on Friday, October 24, 2014 at 07:05AM
by
Arlene
in Jerusalem Arabs, Jerusalem violence, terror attack
|
Post a Comment
|
Email
|
Print
Late this afternoon, there was a terror attack in Jerusalem. An Arab from eastern Jerusalem ran his car into a group of people who were waiting at the Ammunition Hill station of the light rail. Eight people were injured.


Credit: Flash 90

A three-month old baby girl, badly hurt at the scene, died shortly thereafter in the hospital.

A heartbreaker: Apparently the parents had been trying for years to have a baby. They were on the way from praying at the Kotel (Western Wall) when they were attacked. The baby's grandparents had just come in from the US to meet their new grandchild. They had only hours with her before she was taken from them.

Is there no end??

~~~~~~~~~~

The terrorist tried to flee the scene on foot and was shot; he was badly wounded but is not dead. Identified as Abdur Rahman Slodi of Silwan, he had previously served in Israeli prison for terrorist activities - according to press reports.

Frankly, I hope he is in a lot of pain.

~~~~~~~~~~

It is news past due: Public Security Minister Yitzhak Aharonovitch has announced the formation of a new police unit dedicated to dealing with the "unrest" in Jerusalem.

Today we saw a full-blown terrorist attack, but for the most part the "unrest" refers to Arabs throwing stones and Molotov Cocktails, and firecrackers and even, on at least one occasion that I am aware of, fireworks. They function at a level that tends to be less than lethal, but feels unsafe (IS unsafe) and vastly uncomfortable. This is the "silent intifada" designed to drive out Jews from certain areas of Jerusalem.

Along with the new police unit are plans for adjustment in the law that makes it easier to cope with minors, who are major participants of that "silent intifada."

~~~~~~~~~~

Meanwhile, in Berlin, Kerry, in a joint press conference with German Foreign Minister Frank-Walter Steinmeier, declared current relations between Israel and the Palestinian Arabs "unsustainable."
Saying that United States was aware of the urgency of the situation, he indicated that it was necessary to find a way to negotiate.
http://www.reuters.com/article/2014/10/22/us-mideast-israel-kerry-idUSKCN0IB11X20141022?feedType=RSS&feedName=worldNews
I would call him a clown. but nothing seems very funny right now.
Actually, I rather agree that the current situation is "unsustainable." But what I have in mind is not precisely what he is referring to.
~~~~~~~~~~
Hamas spokesman Hossam Badran, in a statement for official Hamas television, declared: "This is a natural response to the crimes of the occupation and invasion of our land by the Jews, particularly on the [Temple Mount]."

http://www.israelnationalnews.com/News/News.aspx/186472#.VEgOyptxnIU

~~~~~~~~~~

There a connection between the attitude reflected by this Hamas statement and Kerry's assessment that the current situation cannot be sustained. He is caught up in the distorted vision of Israel as "occupier." Poor suffering "Palestinians," whose situation must be remedied. No matter the cost to Israel.

~~~~~~~~~~

© Arlene Kushner. This material is produced by Arlene Kushner, functioning as an independent journalist. Permission is granted for it to be reproduced only with proper attribution.

If it is reproduced and emphasis is added, the fact that it has been added must be noted.
http://arlenefromisrael.squarespace.com/current-postings/2014/10/24/october-22-2014-is-there-no-end.html
Posted
on Friday, October 24, 2014 at 07:00AM
by
Arlene
in Arab terror, Jerusalem
|
Post a Comment
|
Email
|
Print
Last night I went to the premiere showing, here in Jerusalem at the Begin Center, of a very special new film by Gloria Greenfield: "Body and Soul – the State of the Jewish Nation."
The showing was sponsored by Doc Emet Productions (Greenfield's company), The Menachem Begin Heritage Center, the Vidal Sasson International Center for the Study of Anti-Semitism, and the Zionist Organization of America.
As its website explains, the film:
"presents a comprehensive examination of the broad and deep connections between the Jewish People and the Land of Israel. World-renowned historians, archaeologists, political scientists, religious leaders, and international law and media experts trace the evocative evolution of the relationship between the Jewish People and their homeland that is over 3,000 years old.

"'Jewish identity is born in a journey to the Land of Israel', declares Rabbi Lord Jonathan Sacks of the United Kingdom. That journey moves through the First and Second Temple periods and the Middle Ages, then to modernity, where the development of political Zionism catalyzed the blossoming of a new Jewish spirit. That renewal of Jewish spirit resulted in the rebirth of Jewish sovereignty in the Land, an event that Harvard University Professor Ruth Wisse declares 'a miracle of truly Biblical proportions.'"

I urge you to visit the website: http://www.bodyandsoulthemovie.com/.
View the trailer, which will give you a good sense of what it is all about.
See the impressive list of commentators featured in the film: http://www.bodyandsoulthemovie.com/about-us/featured-commentators.html

Then, if you are in N. America, search the list of screenings that are already scheduled: http://www.bodyandsoulthemovie.com/screenings-and-media/index.html . If the film is scheduled to show near you, then please go and see it, and – most important – encourage others to do the same.
If it is not scheduled to show near you, you might get in touch with Gloria Greenfield directly - ggreenfield@docemetproductions.com – regarding arrangements for a showing in your area. Or order the DVD, see the video yourself and then arrange private showings so others can see it.
~~~~~~~~~~
Many of my readers in N. America lament the ignorance about Israel exhibited by many people. They have a lack of understanding of the ancient and intrinsic Jewish connection to the Land, and are unaware of the extent of Jewish legal rights to the Land.
Gloria has done a magnificent job in presenting this case.
Here is an opportunity for you to pick up on this and run with it, to further understanding about Israel.
~~~~~~~~~~
After the premiere showing last night, there was a marvelous panel discussion. Participants were:
Yoram Hazony, an Israeli philosopher and political theorist, and currently president of The Herzl Institute in Jerusalem.
Credit: YoramHazoni

Robert Wistrich, Professor of European and Jewish history at the Hebrew University of Jerusalem, and the head of the University's Vidal Sassoon International Center for the Study of Anti-Semitism
Credit: Manhattan College

Eugene Kontorovich, professor at Northwestern University School of Law, and an expert in constitutional and international law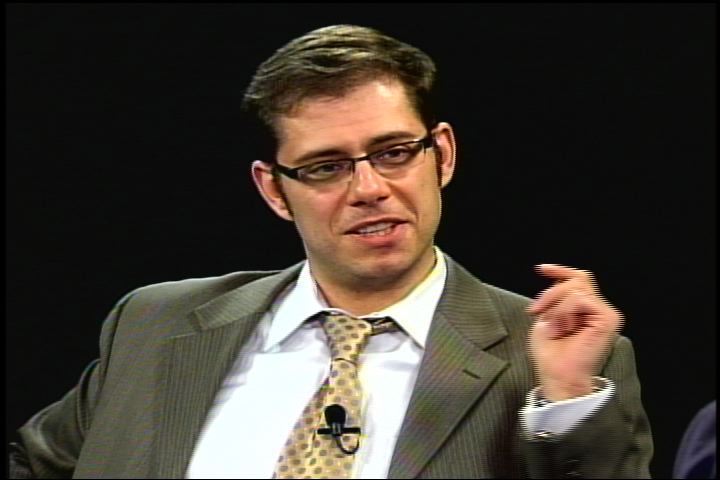 Credit: TribuneJuive

~~~~~~~~~~
The primary message of this session was that we must pull back to basics and be sure of who we are as Jews. Jewish self respect is the cornerstone of Zionism.

There was a time when the Bible (the Tanach – Torah, Prophets and Writings) was seen as a major pillar of Western civilization. It is a national, historical and philosophical document.
Unfortunately, it has been delegitimized. With the enlightenment came intellectual attacks on the Bible, which was reduced to the status of mythical nonsense. German academics, way before Hitler, founded their universities on the basis of eliminating the Bible as a document to be respected and studied. Post-modern ideology has the same approach.
Thus Jews are hesitant to refer to the Bible when making the case for Jewish connection to the Land. This is true of such organizations as AIPAC, Birthright and a host of others. Yet the Bible is absolutely intrinsic to this connection. There is a triad of the People, the Bible and the Land that cannot be divided. Ben Gurion understood this when he said that "The Bible is our Mandate."
Traditionally observant Jews see the Torah as having come from God. But this perspective is not essential to making the broader case that it has moral and historical significance that speaks to the world. Once this position is promoted with pride by Jews, the historical case for the Jewish connection to the Land becomes obvious.
~~~~~~~~~~
Yoram Hazony explained that there is one strand of Christianity that has stayed connected to the Jewish Bible - believes Christianity is founded on the Hebrew Bible. Adherents of this position are eager to learn its lessons. This is not true of progressive denominations of Christianity, which tend to embrace replacement theology and focus on New Testament. He suggests that Jews may have a role to play in working with Christians who have a deep interest in the Jewish Bible.
~~~~~~~~~~
Among the many points made by Kantorovich is that it is more effective to focus on other parallel situations, rather than on Israel, when making a case regarding international law.
When it comes to Israel, people tend to lose perspective that they often retain when considering less volatile situations. Last night he used as example the fact that the Crimea, which has been seized by Russia, remains part of the Ukraine according to international law. This illustrates a principle known as "the persistence of borders" – a principle that applies as well to Judea and Samaria, which were encompassed within the Mandate borders. Recently he had written about this:
http://www.commentarymagazine.com/article/crimea-international-law-and-the-west-bank/
~~~~~~~~~~
© Arlene Kushner. This material is produced by Arlene Kushner, functioning as an independent journalist. Permission is granted for it to be reproduced only with proper attribution.

If it is reproduced and emphasis is added, the fact that it has been added must be noted.
http://arlenefromisrael.squarespace.com/current-postings/2014/10/21/october-21-2014-body-and-soul.html
Posted
on Tuesday, October 21, 2014 at 03:49PM
by
Arlene
in Bible, Hazony, Israel, Kontorovich, Wishtrich
|
Post a Comment
|
Email
|
Print