A brief correction first -- one more lesson that we cannot believe all that comes to us on the Internet. Several people have forwarded me an e-mail about the last 819 Jews leaving Norway because of anti-Semitism. I was a bit dubious about this and did a bit of checking.

Found a statement from the ADL at http://www.adl.org/combating-hate/cyber-safety/c/internet-rumors/alarmist-e-mail-norway-Judenrein.html:
"Much of the information in this e-mail message [about the 819 Jews leaving] is alarmist and outright false.
"ADL is in close contact with the leadership of the Norwegian Jewish community. The community has assured us there is absolutely no truth to the claim that all 819 Norwegian Jews have left. The Jewish population of Norway is approximately 1,700 and there has not been any significant emigration."
~~~~~~~~~~

And then... a follow-up on my notice yesterday that Jimmy Carter is about to be presented on Wednesday with the "International Advocate for Peace" award at Cardozo Law School at Yeshiva University. This is what I call shameful.

I advised people to see a site set up by concerned alumni, who advised protesting to the school. The official school response, however, is that this is a decision of the students -- with the award to be presented by the school's "Journal of Conflict Resolution."

That there is no official sanction of this event by the school administration is being seriously questioned, however. See: http://www.jewishpress.com/news/yus-law-school-to-honor-jimmy-carter-for-conflict-resolution/2013/04/08/

At any rate, there seems next to no chance that the event will be cancelled. Professor Alan Dershowitz offered to come to Cardozo tomorrow and debate Carter on human rights, but he seems to have made this offer via the press and not directly to the school. And I have no expectation that his offer will be accepted in any event.

~~~~~~~~~~

What I can do here is provide some salient information about Carter, which I ask you to share with others. If Carter is being honored, his record must be very public as well.

We can begin with a photo of Carter, with his arms open wide to embrace Hamas chief Ismail Haniyeh, in Gaza City, after the two had been discussing ways to eliminate the blockade of Gaza.
Credit: Hamas via The Jewish Press

~~~~~~~~~~

You can see links to several positions Carter has taken with regard to terrorist organizations and Israel (all from Elder of Ziyon) here:

http://shameoncardozo.com/jimmy-carter-defamer-of-israel/

~~~~~~~~~~

Where Israel is concerned, some of his most outrageous statements can be found in his book, Peace: Not Apartheid. The fact that he employs the term "apartheid," which is a libelous buzz word the Palestinian Arabs use with regard to Israel, provides a major clue as to where he's coming from.

You can see many issues regarding the book, including some of his outright fabrications, addressed here: http://www.camera.org/index.asp?x_article=1246&x_context=2&x_outlet=118.

I would like to look at just once prime example -- shameless in its blatant distortion of truth. This is from the CAMERA link above:

"Carter claims Israel has been the primary obstacle to peace, that Arab leaders have long sought peace while Israel preferred holding on to 'Palestinian land' over peace, and that if only Israel would '[withdraw] to the 1967 border as specified in the U.N. Resolution 242...', there would be peace.
"...Carter is factually wrong when he asserts that U.N. Resolution 242 requires Israel to withdraw to the 1949 armistice line that was in place until 1967. He has repeated this serious falsehood in many interviews... (Emphasis added)
"'The demand [wrote Carter] is for them to give back all [his emphasis] the land. The United Nations resolutions that apply, the agreements that have been made at Camp David under me and later at Oslo for which the Israeli leaders received the Nobel Peace Prizes, was [sic] based on Israel's withdrawal from occupied territories.'
"He mischaracterizes UN resolutions and apparently has forgotten what he himself signed as a witness to the 1978 Camp David Accords between Israel and Egypt, which states in Section A1c: 'The negotiations [concerning the West Bank and Gaza] shall be based on all the provisions and principles of UN Security Council Resolution 242. The negotiations will resolve, among other matters, the location of the boundaries...'
"To claim now that the very agreement he witnessed and signed specifies withdrawal to the 1949 armistice lines is outrageous...
"UN Resolution 242 does not require Israel to withdraw from all the land to the '1967 border,' since there is no such border. The 'green line' is merely the 1949 armistice line and the drafters of 242 explicitly stated that this line was not a 'secure border' -- which 242 calls for.
"The British UN Ambassador at the time, Lord Caradon, who introduced the resolution to the Council, has stated that, 'It would have been wrong to demand that Israel return to its positions of June 4, 1967, because those positions were undesirable and artificial.'" (Emphasis in original)
~~~~~~~~~~
Beyond exposing Carter, I cited this example -- which shows how blatantly he lied -- for another reason as well. What Carter says here is a reflection of the Palestinian Arab "narrative," and you're likely to encounter it in many places (including in what I am writing below about Kerry's efforts). I welcome the opportunity to set this record straight once again.
~~~~~~~~~~
Lastly here, see what Alan Dershowitz wrote in 2007, regarding "Ex-president for sale":
"Recent disclosures prove that it is Carter who has been bought and paid for by anti-Israel Arab and Islamic money."
"Journalist Jacob Laksin has documented the tens of millions of dollars that the Carter Center has accepted from Saudi Arabian royalty and assorted other Middle Eastern sultans, who, in return, Carter dutifully praised as peaceful and tolerant (no matter how despotic the regime). And these are only the confirmed, public donations.

"Carter has also accepted half a million dollars and an award from Sheik Zayed bin Sultan al-Nahyan, saying in 2001: 'This award has special significance for me because it is named for my personal friend, Sheik Zayed bin Sultan al-Nahyan.' This is the same Zayed, the long-time ruler of the United Arab Emirates, whose $2.5 million gift to the Harvard Divinity School was returned in 2004 due to Zayed's rampant Jew-hatred. Zayed's personal foundation, the Zayed Center, claims that it was Zionists, rather than Nazis, who 'were the people who killed the Jews in Europe' during the Holocaust. It has held lectures on the blood libel and conspiracy theories about Jews and America perpetrating Sept. 11.

"Another journalist, Rachel Ehrenfeld, in a thorough and devastating article on 'Carter's Arab Financiers,' meticulously catalogues Carter's ties to Arab moneymen, from a Saudi bailout of his peanut farm in 1976, to funding for Carter's presidential library, to continued support for all manner of Carter's post-presidential activities. For instance, it was the Bank of Credit and Commerce International (BCCI), founded in Pakistan and fronted by a Saudi billionaire, Gaith Pharaon, that helped Carter start up his beloved Carter Center."
http://www.alandershowitz.com/publications/docs/Ex.htm
There's more -- much more. But this is sufficient. A sad day, indeed, that Cardozo Law School should honor this man.
~~~~~~~~~~
As to the "peace process," Secretary of State Kerry met with Prime Minister Netanyahu last night, and again this morning.
Kerry referred to the talks as "very productive," but this indicates nothing specific of consequence, and -- thank Heaven -- I think there IS nothing of consequence that has transpired. It is always possible that something is going on totally behind closed doors with regard to Israeli concessions -- especially as Kerry is insisting that what is discussed in the meetings not be made public as there is nothing official yet -- but the tenor of the press conference between the two did not suggest this.
Alluding to progress on the economic front, he said it "could be critical to changing perceptions and realities on the ground, all of which can contribute to forward momentum." Here, he certainly means Israeli's release of PA tax monies and probably some economic initiatives as well. But if he thinks this is going to mollify Abbas or bring him to the table he can think again. What was good was that Kerry stated upfront that these economic initiatives do not substitute for political progress, which is at the heart of the matter.
~~~~~~~~~~
Netanyahu, for his part, provided a very politically correct statement:
"I'm determined not only to resume the peace process with the Palestinians, but to make a serious effort to end this conflict once and for all."
But he knows very well that it is not possible to "end this conflict once and for all" now (or even in the foreseeable future). If he wants the world to see what a good guy he is -- and this is his style -- OK. If he prefers not to say publicly, "Look, you know the PA is hostile and uncooperative and nothing is going to happen," let it be. As long as he doesn't make concessions as part of that "serious effort."
Kerry made a statement about appreciating Netanyahu's "good faith effort;" this may simply be a response to Netanyahu's eager words. Hopefully.
~~~~~~~~~~
There are unconfirmed reports that Kerry wants to get Israel and the PA to Amman for four-way talks with the US and Jordan involved. Jordan is exceedingly eager for this, and for the international prestige that would accrue.
In the meantime, Kerry says each of them will "do some homework" over the next few weeks "with a view to seeing how we can really pull all of the pieces together."
So this is wait-and-see until he's back again.
~~~~~~~~~~
There have been multiple reports floating about a revival of the Arab League Peace Initiative. It was originally a plan advanced by King Abdullah of Saudi Arabia and then endorsed by the 22 members of the Arab League in 2002 and reintroduced in 2007.
A great deal was made of it at the time, because for the first time there was talk about "comprehensive peace." But this plan was dead at its inception.
The Arab League intended to dictate to Israel: No negotiations. Take it or leave it. Move back totally behind the pre-'67 lines and receive normative relations (however that was to be defined) with the Arab state in return.
Israel wasn't having it.
~~~~~~~~~~
Now apparently, according to the Times of Israel, Kerry has reintroduced this possibility to Abbas as a way to break the stalemate.
And here I comment: The Arabs had expressed hope that Kerry would bring "new ideas" for negotiations. Well, folks, there ain't no new ideas. There is just a recycling of the same old ideas over and again. That is, as long as the "two state solution" is the final goal. It's time to start thinking out of the box -- something the US government is not remotely prepared to consider yet. I'll come back to this. Here, I will simply say how ludicrous that Kerry would think he could use this old plan to invigorate the "peace process."
Kerry knew, going in, that Israel would again reject the plan. So he suggested a few changes to the Palestinian Arabs: a mutually agreed upon modification the 1967 line, and stronger security guarantees for Israel, which is so concerned with security.
PLO Chief Negotiator Saeb Erekat told Voice of Palestine radio that: "Kerry asked us to change few words in the Arab Peace Initiative but we refused." (Emphasis added)
What has to happen before the Obama administration gets it?
~~~~~~~~~~
In the meantime, according to YNet, later this month a delegation from the Arab League's Peace Initiative Committee -- which will include the head of the Committee, Secretary General of the Arab League, and the foreign ministers of Egypt, Saudi Arabia, Jordan, Morocco, Qatar and the Palestinian Authority -- will be going to Washington to discuss this.
Are we having fun yet?
~~~~~~~~~~
I considered it important to write today about Carter. And so I will table the important subject of Iran until my next posting.
~~~~~~~~~~
© Arlene Kushner. This material is produced by Arlene Kushner, functioning as an independent journalist. Permission is granted for it to be reproduced only with proper attribution.

If it is reproduced and emphasis is added, the fact that it has been added must be noted.
http://arlenefromisrael.squarespace.com/current-postings/2013/4/9/april-9-2013-shameful.html
Posted
on Tuesday, April 9, 2013 at 04:27PM
by
Arlene
|
Post a Comment
|
Email
|
Print
A miracle.
I am writing on Yom HaShoah. And what I see, as clear as clear can be -- juxtaposed against the pain beyond imaging of the various stories of survivors -- is that the resilience of the Jewish people is a miracle. Our people, decimated, embraced life and rose up again to great heights. Not just to survive. But to better the world via medicine and technology and culture. Out of the horror -- the inhumanity and obscenity -- blessing upon blessing.
Beyond a shadow of a doubt, the State of Israel is a nes.
~~~~~~~~~~
But the world does not receive Jewish miracles kindly.
Which is why today there are existential threats to our nation, and our legitimacy is questioned.
In 2012 there was a 30% increase in world-wide anti-Semitic incidents over the year before. Hungary is considered particularly problematic, with Greece and the Ukraine not far behind. All are seeing the rise of far-right and neo-Nazi parties.
http://www.jpost.com/Jewish-World/Jewish-News/Study-Global-anti-Semitism-rises-by-30-percent-308970
And France? It had a 58% increase, in the wake of the Toulouse terror attack. Imagine this. School children and their teacher were shot down, just because they were Jews. But this horrendous incident, instead of promoting remorse and reactions against overt anti-Semitism, seems to have "inspired" other incidents, somehow validating the permissibility of further hatred.
~~~~~~~~~~
During the Yom HaShoah ceremonies at Yad VeShem, which I watched on TV last night, there was an IDF honor guard that presented arms. (Picture below is of a previous year's ceremony.)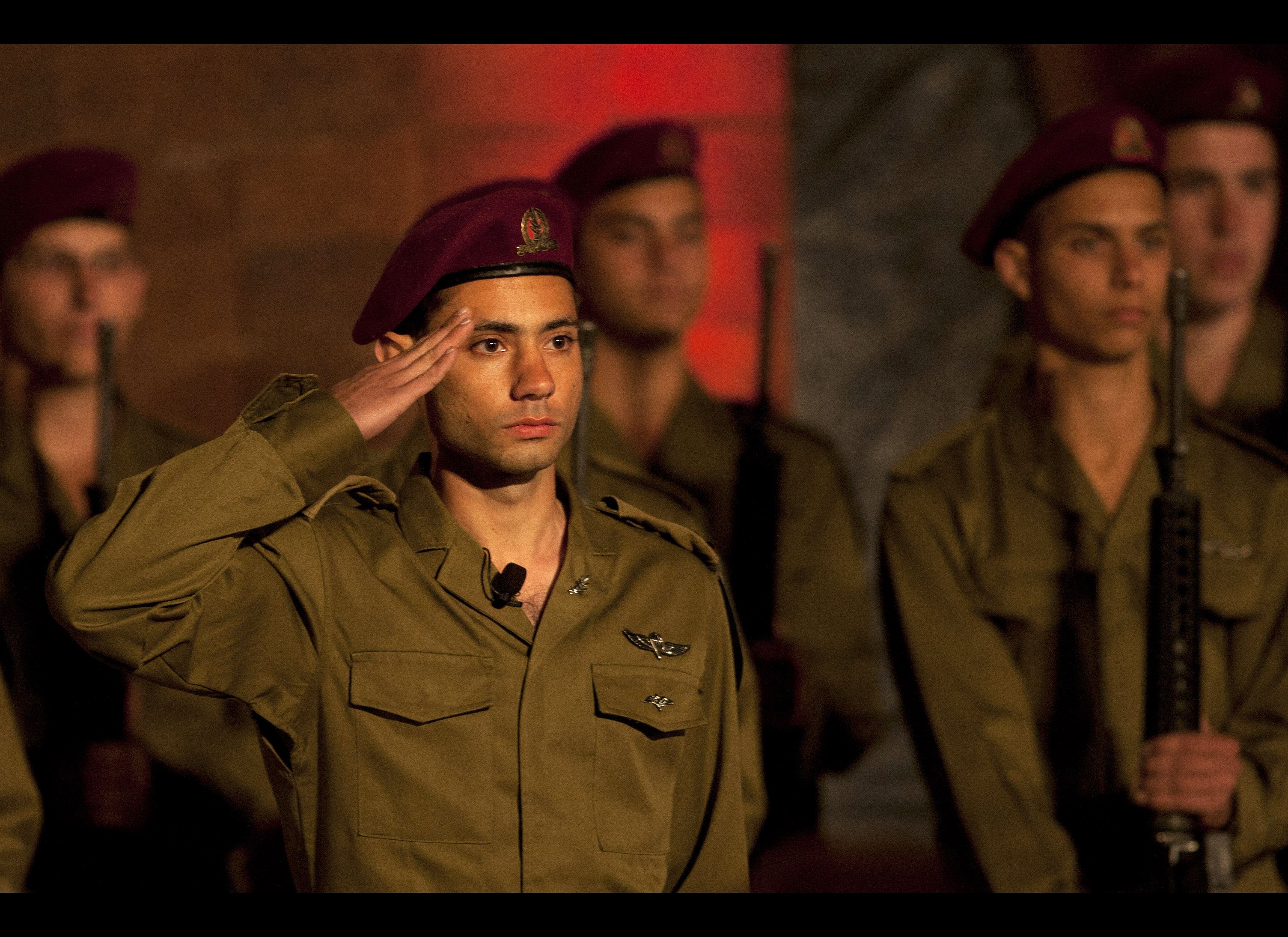 Credit: Huffingtonpost
"Be strong," I whispered to them. "Be strong, be strong, be strong." So much depends on this.
~~~~~~~~~~
Prime Minister Netanyahu, during his address at the ceremony, said:
"In each generation they rise up to destroy us...
"Iran declares its intentions to destroy Israel and operates in many channels to accomplish this. We will never place our security in the hands of anyone else – not even in the hands of our best friends. The deepest meaning of the state of Israel is clear: We will never allow a situation to develop where it is 'too late.' We will never again stand helpless before those who seek to destroy us. At this time and place, I make you this promise: There will never again be another Holocaust." (Emphasis added)
http://www.israelnationalnews.com/News/News.aspx/166854
Credit: Flash90
~~~~~~~~~~
And so, we are faced with incredible challenges.
There are matters far more challenging to deal with -- Iran, Syria, etc. -- but right now we've got Secretary of State John Kerry here. Kerry subscribes to the "pretend it's so and people will believe it is" school of thought.
He started in Turkey yesterday, and his statements during a press conference with Turkish Foreign Minister Ahmet Davutoglu had Israeli jaws dropping. For he praised Turkey for its "sensitivity" in responding to the Israeli apology: "They have taken steps to try to prevent any sense of triumphalism."
But Turkish Prime Minister Erdogan has done nothing but gloat. Billboards were even put up by the Ankara municipality that had the words, "Israel apologized to Turkey. Dear prime minister, we are grateful that you let our country experience this pride," superimposed over a picture of Erdogan, looking forward with confidence.
~~~~~~~~~~
Kerry suggested to the Turks that good relations with Israel should be speedily restored: "We would like to see this relationship that is...critical to the peace process ... get back on track in its full measure."
Replied Davutoglu:."There is an offense that has been committed and there needs to be accountability," Thus Turkey would proceed with a "careful" advance.
"All of the embargos (read, naval blockade of Gaza) should be eliminated once and for all," he said.
I have no idea what Kerry promised them privately, but publicly Turkish officials let it be known that they were seeking a role in "the peace process." This possibility has been soundly rejected by Israel. And, as it happens, the PA is not particularly keen about it either: Erdogan has been too chummy with Hamas to suit them.
~~~~~~~~~~
From that rousing success, Kerry flew into Israel late yesterday and went directly to Ramallah to encourage Abbas to come back to the negotiating table.
Abbas made the demands we've already heard: Before he will come to the table, he wants a freeze on all building in Judea and Samaria and eastern Jerusalem, and release of all prisoners.
But there were some new demands as well.
According to the independent Palestinian Arab news agency, Maan, Abbas' political advisor, Nimr Hammad, says Abbas "wants to know, through a map to be presented by Benjamin Netanyahu to Kerry, what the prime minister's view of a two-state solution would be, especially the borders."
http://www.maannews.net/eng/ViewDetails.aspx?ID=583294
~~~~~~~~~~
According to Khaled Abu Toameh and Herb Keinon writing in the JPost, Abbas also wants Israel to hand over parts of Area C to the PA.
http://www.jpost.com/Diplomacy-and-Politics/Abbas-demands-Israel-hand-over-parts-of-Area-C-309021
The Oslo Accords divided Judea and Samaria into Area A, fully administered by the PA; Area B, which has PA civil administration and Israeli security administration; and Area C, fully administered by Israel.
~~~~~~~~~~
Cute set of demands, is it not? But Abbas knows what he's about. He does not expect Israel to make these concessions as part of that on-going, US-promoted effort to bring him to the negotiating table. Rather, he anticipates that Israel will not be forthcoming and expects to use Israel's refusal as an excuse to not come to the table.
Abbas is not about to negotiate in good faith with Israel. There is no way he could -- even IF he wanted to -- and remain viable.
If Kerry had half a brain in his head, and some readiness to grapple with reality, he'd pack his bags, and go home to tell Obama, "Boss, it's not gonna fly, let's concentrate on other things." But, this does not seem likely to happen.
~~~~~~~~~~
A note here: Two other sources I've encountered (and which you may see as well) are saying that it was Kerry's suggestion that part of Area C be transferred to the PA. But I have checked it out and believe that the JPost version is correct. This information came via a top PA official.
I can imagine that once Abbas made this demand, Kerry may well have run with it, with enthusiasm.
~~~~~~~~~~
A Ma'ariv report, cited by Israel National News, says that:
"Justice Minister Tzipi Livni, who is also in charge of negotiations with the Palestinian Authority, is going behind Prime Minister Netanyahu's back and expressing positions that undermine his conditions for negotiations...
"Livni has shown willingness to retreat from Netanyahu's position, that in order for negotiations to begin, the Palestinian Authority (PA) must accept that Israel has a right to exist as the Jewish state.
"The newspaper quoted a Western source who is well-versed in the diplomatic contacts as saying that Livni 'has become convinced that Israel's insistence on this condition could prevent the resumption of negotiations, and did not rule out the position presented to her, according to which the most Israel can receive from Abu Mazen is a recognition of the solution of two states for two peoples.'"
http://www.israelnationalnews.com/News/News.aspx/166874
~~~~~~~~~~
I share this here, but the report is not verified and remains hearsay. While I do not have any trouble believing Livni would take this position, it's important to keep in mind that, as negotiator, she does not function unilaterally, and still answers to the prime minister and a negotiating committee that includes Moshe Ya'alon and Naftali Bennett.
Israel National News says that Livni would not be permitted to negotiate without Netanyahu representative Attorney Yitzchak Molcho present; I had understood, even more, that as part of coalition negotiations it was agreed that Bennett and a representative of Yair Lapid would also be present.
Of course Abbas finds the concept of Israel as a Jewish state unacceptable. In fact, the inability to accept a Jewish state on what had been "Muslim" land has been the major stumbling block to genuine progress in negotiations. The Palestinian Arabs could have had their state, over and over again -- and yet shy away from it.
That we are a Jewish state is an issue of major importance. We are not a bi-national democracy, which can be swallowed up by Arab Muslims.
~~~~~~~~~~
The good news is that Israeli diplomats are saying that Israel is not going to give Kerry a list of Israeli concessions to the PA.
According to Times of Israel: "The gaps between the sides are too big, sources close to Netanyahu were quoted as saying by the Hebrew daily [Yediot Ahronot]. Any concession Israel makes now would only harm it in the future"
http://www.timesofisrael.com/jerusalem-wont-hand-kerry-list-of-concessions/
May this be an accurate report and may Netanyahu's spine stay strong.
~~~~~~~~~~
Because silence is unacceptable, I share this (with thanks to Dan. F.): Cardozo Law School will be honoring Jimmy Carter on Wednesday. To protest and demand the cancellation of the event, see this site put up by concerned Cardozo alumni:
~~~~~~~~~~
As Yom HaShoah winds down, here in Israel, I will close this posting with some photographs. They are from a collection of 20 photos found on http://popchassid.com/photos-holocaust-narrative/ and I discovered them via Janglo.
What makes them special is that they carry forward my theme, above, of the resilience of the Jewish people. Magnificent, they document the sprit of life, and the miracle.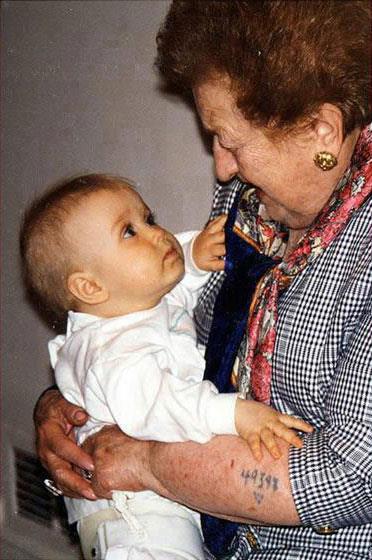 A survivor and her granddaughter.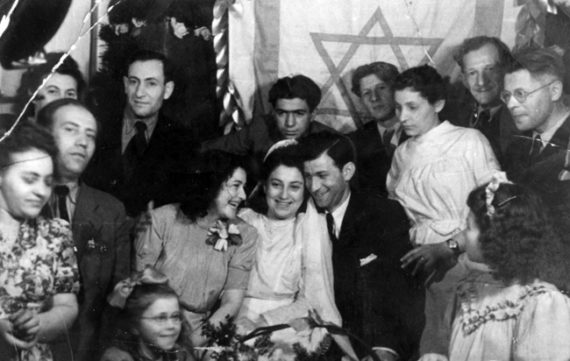 Two Holocaust survivors at their wedding in Rishon LeZion. The bride had
survived a 800 km (500 mile) death march.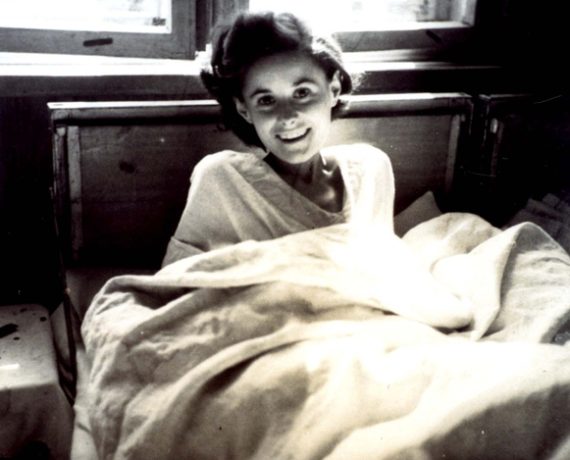 A young woman at the moment of her liberation.
Never to forget, but oh! rejoice that we live.
~~~~~~~~~~

© Arlene Kushner. This material is produced by Arlene Kushner, functioning as an independent journalist. Permission is granted for it to be reproduced only with proper attribution.
If it is reproduced and emphasis is added, the fact that it has been added must be noted.
http://arlenefromisrael.squarespace.com/current-postings/2013/4/8/april-8-2013-a-nes.html

Posted
on Monday, April 8, 2013 at 12:00PM
by
Arlene
|
Post a Comment
|
Email
|
Print
It was suggested by my rabbi yesterday that in a way silence is sometimes the most appropriate response to the Holocaust, because human words are inadequate to grapple with the horror of that time. Thus the title of this posting:
Tonight and Monday are Holocaust Memorial Day. (In Hebrew it's Yom HaZikaron leShoah v'leGvurah -- Day of Remembrance of the Holocaust and of the Heroism -- and this year especially Yad V'Shem will be focusing on the Resistance).

Credit: beachhillel
But in fact, even in the face of the pain, the horror, we need words, if people are to know what went on (never, to understand it).
And if we are to say "Never Again!" and mean it. It was Rabbi Sacks, whose talk I shared recently, who said, that today, "'Never again' is beginning to sound like 'always again.'"
Those living in the New York City area, please take note:
Today at noon, there will be a Holocaust Memorial event in front of the Iranian UN Mission, 622 Third Avenue (at E. 4th Street) Manhattan.
~~~~~~~~~~
This past week, the New York-based Israel Policy Forum -- which "promotes active U.S. engagement to achieve a two-state solution" -- sent a letter to Prime Minister Netanyahu, signed by 100 "prominent" Americans, urging him to:
"work closely with Secretary of State John Kerry to devise pragmatic initiatives, consistent with Israel's security needs, which would represent Israel's readiness to make painful territorial sacrifices for the sake of peace."
Unmitigated gall is what this is. "Painful territorial sacrifices for the sake of peace"? In the first place, such territorial sacrifices, as they so elegantly put it, would not bring peace, but rather put all Israelis at risk, AND engender the loss of what is rightfully our heritage. But in any event, it is not the place of Americans to call for Israelis to make "painful sacrifices."
And they want our prime minister -- who has called for the only thing that remotely makes sense: negotiations without pre-conditions -- to start by giving Abbas something to bring him to the table. This is the same Mahmoud Abbas who has just engendered major riots of Arabs against Israel by making libelous charges against Israel.
~~~~~~~~~~
In order to respond to this, dear readers, I ask your cooperation. This is a bit more complicated than what I usually ask, but the situation requires it: I am looking for the participation of other "prominent" Americans who are offended by what this letter says and want to see Netanyahu stand strong against Kerry's inevitable demands.
If you are a "prominent" American -- a rabbi, a philanthropist, an academic, a doctor, a writer, a major executive of a Jewish NGO or a corporation, etc. -- I ask you to write to Prime Minister Netanyahu and tell him that you have learned of the Israel Policy Forum letter and are deeply offended by it. Tell him you are also a prominent American -- state your position -- and implore him to stand strong and not make concessions. Please don't copy these words exactly -- put this sentiment in your own words. Keep it short and direct.
Send to:
E-mail: Memshala@pmo.gov.il and also pm_eng2@it.pmo.gov.il (underscore after pm) use both addresses.
~~~~~~~~~~
If you know "prominent" Americans -- the more prominent the better -- and believe they might participate, please enlist their assistance.
Thank you.
And, dear readers, if you are not "prominent," do not for a moment imagine that you are any less valued. It is simply that the nonsense of the Israel Security Policy letter must be countered in kind.
You can see the letter and the signatures here:
http://blog.peaceworks.net/2013/04/dear-prime-minister-netanyahu/
The Emergency Israel Committee, founded by William Kristol, editor of the Weekly Standard, has sent its own letter to PM Netanyahu, asking him to ignore the advice of the Israel Security Policy letter.
http://www.algemeiner.com/2013/04/05/letter-to-netanyahu-from-u-s-jewish-activists-challenged/
~~~~~~~~~~
Now I want to renew my request for prayers for little Zakkai, who has had surgery four times in his two years of life, because of tumors on and around the spine. His last surgery went well, and I thought that, while he needed physical therapy, he was in the clear. This turns out to not be the case, as his parents write:
"Zakkai is scheduled for his next MRI scans on Friday, May 31. If microscopic cells (note: this is not a malignancy but a rare benign yet very invasive tumor) were left behind, they could begin to rear their ugly head by then, which would most likely mean another intervention. And, even if the scans show nothing, we're nowhere near in the clear. ...slow-growing tumors...recur over a much longer period of time (3-5 years...). To nip any tumor problems in the bud, Zakkai will be watched very closely – he'll be MRI scanned every 3 months or so for the next few years. He will also be going to physical therapy 1-2 times a week for many years to strengthen his core in order to slow or even reverse abnormal curvature of his spine.
"...we are guardedly optimistic – we hope and pray that things will get better but fear that they won't."
And so, please, keep praying for this little boy: Rephael Zakkai Avraham ben Yakira Avigael
Thank you.
~~~~~~~~~~
Well, the talks with Iran have been called a failure. What a surprise. The "cautiously optimistic" Catherine Ashton, yesterday said, "The two sides remain far apart on substance."
A senior US official, who spoke anonymously, pointed to what he intended to be the bright side: "There was no breakthrough but also no breakdown." Far better had there been a breakdown, so this charade would end. But no, this official says the major powers intend to continue to utilize diplomacy to resolve the issue.
http://www.ynetnews.com/articles/0,7340,L-4364580,00.html
This would be laughable if it were not so serious. As it is, we should be weeping.
For his part, Iran's chief negotiator, Saeed Jalili, said that Iran had proposed a plan (which, says the NYTimes, is not anything new) and now it was up to the powers to demonstrate a willingness to offer confidence-building measures.
What is this, with these "confidence building measures"? Yes, weep.
Jalili is speaking about "the inalienable rights" (another buzz term) of Iran to enrich uranium for peaceful purposes.
~~~~~~~~~~
The question hanging in the air is whether the crisis with North Korea is going to affect what's going on here. On the one hand, the Iranians have the North Koreans as a role model. They're watching closely and see that North Korea beat sanctions and skirted past dialogue to achieve their nuclear weapon. It gives them "hope," as they proceed -- motivates them to hang in there for the final goal.
On the other, it just might, and this is a very tentative "might," dawn on Obama at last that this is where he's headed with Iran as well. Surely the threats from a petty Korean tyrant with weapons he should not possess have been unsettling. But so far there's no evidence that Obama is extrapolating from Korea to Iran. He still seems more unsettled by the prospect of having to hit Iran militarily than by a nuclear Iran.
That he's willing to risk the same behavior from another quarter is a frightening prospect.
~~~~~~~~~~
According to Israel National News, the White House will be hosting leaders from Arab states that are considered US allies -- Jordan, Turkey, Qatar and the United Arab Emirates -- in the coming weeks, in order to discuss issues of shared concern.
First will be King Abdullah of Jordan, on the 26th of this month, followed by Erdogan of Turkey next month.
~~~~~~~~~~
It should be noted that King Abdullah and putative PA president Mahmoud Abbas last week signed an agreement in Amman to stop the "Judaization" of Jerusalem. (My readers know what a joke I consider this to be: Jerusalem IS Jewish.)
What was interesting here is that Jordan was recognized as the authority that would head the Wakf, the Islamic trust, that oversees Muslim territory. This gives Jordan and not the PA authority for administering and "protecting" Islamic sites such as the Dome of the Rock and Al-Aksa Mosque on the Temple Mount. De facto this has been the case for a while -- and I have no doubt but that it was Jordan to which Netanyahu accorded deference last year when he declined to rebuild the Mughrabi bridge to the Mount after Abdullah objected.
(See: http://arlenefromisrael.squarespace.com/current-postings/2011/12/14/december-14-2011-what-are-they-thinking.html)
And it was certainly the case before Oslo.
But over the last 20 years there have been struggles between the two, with regard to which Wakf is official. There are undoubtedly implications here, that Abbas has surrendered the PA's right to be in charge.
~~~~~~~~~~
Please note that during March, Netanyahu had gone very quietly to Amman for a meeting with the king. At that time Abdullah spoke about his "very strong" relationship with Netanyahu: "Our discussions have really improved." He indicated that Netanyahu would have to choose between "apartheid and democracy," but thought it might be "too late" for a "two state solution." An interesting -- non-politically correct-- position as well.
Abdullah, it should be noted, has Islamists breathing down his neck, and this must be remembered as his various positions are considered.
~~~~~~~~~~

© Arlene Kushner. This material is produced by Arlene Kushner, functioning as an independent journalist. Permission is granted for it to be reproduced only with proper attribution.
If it is reproduced and emphasis is added, the fact that it has been added must be noted.
http://arlenefromisrael.squarespace.com/current-postings/2013/4/7/april-7-2013-silence.html
Posted
on Sunday, April 7, 2013 at 03:42AM
by
Arlene
|
Post a Comment
|
Email
|
Print
Not unexpected -- what we're dealing with now, but our Defense Minister, Moshe (Bogie) Ya'alon, is going to need all the strength he can muster. Just as the government more broadly -- and certainly the Security Cabinet -- will require stiff backbones and clear-eyed determination.
There is the situation in Syria. I had written in my last post about shooting over the border from Syria (presumed in that case. at least, not to be accidental), to which the IDF responded. Well, it happened again, twice on Tuesday, with light fire aimed at an IDF patrol and then a mortar that landed in the Golan. The IDF responded with tank shells aimed near Tel Hazeka, which were said to have "accurately targeted the source" of the fire.

Credit: yourmiddleast
This is Israeli policy. The situation is likely to continue and who knows what may come next.
~~~~~~~~~~
Then there's the situation in Gaza. Again. Yesterday two rockets were launched at Sderot, just at the time parents were bringing their young children to schools and kindergartens. There is little more contemptible than this.
Last night, the Israeli Air Force hit two targets in Gaza -- the first time since the end of Pillar of Defense. Ya'alon declared that Israel "won't allow any routine involving a drizzle of rockets at our civilians and forces."
A drizzle of rockets. That is precisely what has been tolerated in the past. Well, it's probably not Hamas, it's just a renegade group. Well, it's just one time, not necessarily wise to respond to that. Etc. Etc. If he means what he is saying and sticks to it -- conveying a no-tolerance-for-rockets policy -- it would change the situation. If.
PM Netanyahu echoed this sentiment, saying, "If the quiet is violated, we will respond strongly." But then, if memory serves me correctly, he has said this before.
It was appropriate that Ya'alon indicated that Hamas would be held responsible, no matter who launches the rockets -- cutting Hamas no slack.
And yet...wouldn't you know, UN envoy Robert Serry (be sure: no friend to Israel) issued a condemnation of the firing of rockets on civilians, but "calls on Israel to act with restraint." Translation: Be sitting ducks, because if the situation heats up we'll say it was your fault.
~~~~~~~~~~
In addition to all of this...there's the situation with the Palestinian Arabs.
Maissara Abu Hamdiyeh, 63, was serving a life sentence in prison in Israel because of his part in an attempted 2002 terror attack on the Caffit restaurant in Jerusalem's German Colony. Maissara had esophageal cancer and, two days ago, died in Soroka Hospital -- not, you will note, in a clinic in the prison where he had been held. .
But, since the Palestinian Arabs -- our "peace partners" -- never miss a chance to cause a furor, they began to riot over the "wrongful death" of this "hero" and "martyr." Shameless that they can call him this -- it tells us a lot about who they are. People DO die of cancer, But no, as they would have it, it was Israel's fault that he died. The charge -- adamantly refuted by Israel -- is that he was denied proper treatment
According to a statement from the Prime Minister's Office on Tuesday:
"Palestinians who are imprisoned in Israel have access to excellent medical care, and are allowed visits by International Committee of the Red Cross officials. Prisoners in Palestinian Authority prisons do not enjoy such conditions."
~~~~~~~~~~
The rioting started in the prisons and spread. Last night, Molotov cocktails were thrown at IDF soldiers at a guard station near Tulkarem; 200 Arabs rioted in Hevron, where they threw stones and large numbers of Molotov cocktails; stones were thrown at security forces near the communities of Migdal Oz and Efrat; Arabs clashed with the IDF near Nablus, at the Hawara checkpoint (a hot spot).
Today, the funeral of Abu Hamdiyeh was held in Hevron, and, as might be expected, the rioting increased.
In addition, two young men were killed by the IDF in the course of the rioting near Tulkarem. The IDF says that the soldiers involved followed the rules of engagement properly: they felt their lives were threatened by firebombs thrown at them, and then responded with live fire. The funerals of the two were held today in Tulkarem. More opportunity for rioting with thousands in the streets. Firebombing, clashes with IDF soldiers, tires burning.

Credit: nytimes
~~~~~~~~~~
See Khaled Abu Toameh on "PA grandstanding on prisoners self-defeating" (emphasis added):
"Once again, the Palestinian Authority is using the issue of Palestinian prisoners to unleash a wave of strong condemnations against Israel.
"For the PA, the death of a Palestinian in an Israeli prison is a golden opportunity to bring the case of Palestinian prisoners to the world's attention.
"Over the past few years, the PA leadership has placed the issue of the prisoners at the top of its list of priorities.
"The release of Palestinian prisoners has even become one of PA President Mahmoud Abbas's conditions for resuming peace talks with Israel.
"...Abbas has been forced to move the issue of the prisoners to the top of his list of priorities mainly due to increased pressure and criticism from the Palestinian public.
"...Many Palestinians have also been criticizing Abbas and his aides for failing to do more to end the 'plight' of the inmates, whom they consider 'prisoners of war.'
"In a bid to prove to Palestinians that it is taking the issue seriously, the PA leadership has set up a ministry for prisoners affairs headed by Issa Qaraqi, who in the past few years has been waging a relentless campaign against Israel on the issue of the prisoners.
"Qaraqi has consistently accused Israel of mistreating and torturing Palestinian prisoners.
"He has also accused Israel of conducting experiments on some prisoners and denying them proper medical care, as well as stealing their organs.
"...The strong attacks on Israel are primarily aimed at showing the Palestinian public that the PA leadership does care about the prisoners.
"But these attacks are also intensifying tensions between Israel and the Palestinians and paving the way for violence.
"By making serious allegations against Israel, the PA is further radicalizing Palestinians and even driving some of them into the open arms of Hamas and Islamic Jihad."
http://www.jpost.com/DiplomacyAndPolitics/Article.aspx?id=308492
~~~~~~~~~~
Norwegian Foreign Minister Espen Barth Eide was here in Israel yesterday, and expressing his anger against the PA because it had lied to the Norwegian foreign ministry regarding how it was using donations from Norway. Seems some of that money has gone to pay the "salaries" of convicted terrorists in Israeli prisons. A clarification is now being sought. See the story here:
http://www.israelhayom.com/site/newsletter_article.php?id=8403
~~~~~~~~~~
It was the Palestinian Media Watch that uncovered the story of how Norwegian funds were being used by the PA, and it has uncovered another interesting story as well:
"After the UN vote in November 2012, the PA built a monument in a central square in Bethlehem called 'The State Monument,' which shows the State of Palestine.' However, the model of 'Palestine' also includes all of Israel, thereby erasing it completely. The monument celebrates the UN vote on statehood as well as the first PLO/Fatah terror attack against Israel in 1965, which is seen as the beginning of the Palestinian 'revolution' and Fatah's anniversary date.
"It turned out that the monument was on President Obama's route in Bethlehem, so in order to prevent him from seeing it, the PA had the monument removed before he arrived, the official PA daily reported."
http://palwatch.org/main.aspx?fi=157&doc_id=8704
All of this Palestinian Arab duplicity. Note it, talk about it. It is what keeps so many supporting the PA.
~~~~~~~~~~
This week, however, there was a major legal victory with regard Arab violence against Israeli civilians
Anyone with an honest eye has been able to perceive that rock throwing can be lethal. But it has been downplayed. Kids. Throwing stones. No, not stones, but rocks and boulders and chunks of concrete. Weapons.
In September 2011, Asher Palmer was driving with his infant son in his car on a highway near his Kiryat Arba home when a large rock (a block, actually, 18 x 11 x 5 centimeters) was thrown at his windshield by Waal al-Arjeh who was in a vehicle passing in the other direction. The rock caused the windshield to shatter and knocked Asher unconscious. The car ran off the road and overturned. Asher and his son, Yonaton, were killed.

Credit: Ynetnews
Now, after a long trial, the Judea Military Court, located at the prison at Ofer, has found al-Arjeh guilty of murder. This sets a precedent. Never before has a court charged a Palestinian Arab with murder for stone-throwing, the first time that stone has been considered a lethal weapon.
There were some very specific parameters here. Al-Arjeh was part of a gang formed with intent to kill Jews and had practiced many times, without actually killing anyone before the Ashers. He was also charged with 25 counts of attempted murder because of this "practice."
I will add this in passing, which should be duly noted: At one time al-Arjeh worked for the PA security forces.
~~~~~~~~~~

And, boy, are we lucky: Secretary of State John Kerry is coming back here. First he'll stop in Turkey, presumably to get Erdogan to make nice. Then he'll come to Jerusalem, and, subsequently, Ramallah.
Said a State Department spokeswoman:
"The secretary is committed to using his strong relationships with both [Israeli and Palestinian] leaders to encourage them to be open, to be creative, to be prepared for compromises and to work hard to build trust between them."
Sigh... Trust? Trust the people I've been describing above? It is my clear understanding that Kerry will be looking for "confidence-building measures." Of Israel, of course. Like, maybe, release some prisoners.
What we should offer the PA to come to the table is zilch, zero, effes. If they sincerely want peace, let them come to the table. If not, not.
~~~~~~~~~~
With all I've discussed here today, I cannot end without a mention of Iran. And, once again, on this subject, I say without reservation that PM Netanyahu gets it right when the rest of the world has got it decidedly wrong.
For example, EU foreign policy chief Catherine Ashton (is she smoking something?) says she is "cautiously optimistic" about talks between Iran and P5 + 1 scheduled for tomorrow in Kazakhstan.
Commenting on these talks Netanyahu yesterday said:
"This model of a country talking, but at the same time developing nuclear weapons; threatening and at the same time developing nuclear weapons and threatening the use of nuclear weapons, we cannot allow this to happen in Iran. There are many issues in the Middle East, the issues between us and the Palestinians and our quest for peace, there are regional issues, but I think they will be overshadowed if Iran believes it has a license to develop atomic weapons [and continues weapons development]. We have to make sure this doesn't happen."
http://www.israelnationalnews.com/News/News.aspx/166751
So he's got it right and says it right. Whether we'll see more from him on this than words is anyone's guess at this point.
~~~~~~~~~~
The fence at the border with Sinai has been completed for a while now. And so this front is quiet. Last January, over 2,000 infiltrators crossed the border, and last February, more than 1,000. But this January and February has seen only 10 and five, respectively.
~~~~~~~~~~

© Arlene Kushner. This material is produced by Arlene Kushner, functioning as an independent journalist. Permission is granted for it to be reproduced only with proper attribution.
If it is reproduced and emphasis is added, the fact that it has been added must be noted.
http://arlenefromisrael.squarespace.com/current-postings/2013/4/4/april-4-2013-on-all-fronts.html
Posted
on Thursday, April 4, 2013 at 04:03PM
by
Arlene
|
Post a Comment
|
Email
|
Print
Pesach concluded last night here in Israel, and will end at dark tonight elsewhere. My hope is that each of you has had a joyous and meaningful holiday -- and that the joy and sense of purpose it conveyed will remain.
I'm going to go backward in this posting and look at some of what has occurred during the days that I was away from my computer. But I want to begin here with an excellent talk by Chief Rabbi of England, Rabbi Lord Jonathan Sacks, who just weeks ago addressed the AIPAC Conference in Washington DC. (With thanks to Rebecca M.) It sets an important tone for us.
Rabbi Sacks begins by addressing the state of the world, with its growing anti-Semitism, which today takes the guise of anti-Zionism. And then...then he speaks about the glories of Israel -- most specifically about Israel as the most stunning expression of the Jewish commandment to choose life. No editorial comment is necessary.
For the serious content, begin at 1:30 minutes into the talk:
http://www.israelvideonetwork.com/rabbi-lord-jonathan-sacks-speaking-about-israel-at-aipac
After you listen to what the rabbi says, you may want to share his words. It is rare indeed for people to hear the things that Rabbi Sacks is saying.
~~~~~~~~~~
The issue of the apology by Prime Minister Netanyahu to the Turkish people for mistakes in handling the Mavi Marmara incident that may have lead to the deaths that ensued continues to be a hot subject of discussion.
It is clearer now than when Netanyahu first offered that apology precisely how much pressure had been put on him. Obama's campaign to secure Israeli-Turkish "reconciliation" hardly began with his visit here, and Secretary of State Kerry was involved as well.
Of particular note is this, from Herb Keinon in the JPost:
"The timing of the apology was carefully considered...and it was done during Obama's visit to make it seem like a gesture to the US president and thereby make it easier to sell to the Israeli public." (Emphasis added)
http://www.jpost.com/Diplomacy-and-Politics/Official-Rebuilding-Turkish-ties-will-take-patience-307822
All that drama of the phone call on the tarmac. I hope the Israeli public knows by now that it's been "had."
According to Gonen Ginat:

"Every letter in that apology was calculated. Every word was debated. Prime Minister Benjamin Netanyahu and U.S. President Barack Obama personally decided what to say." (Emphasis added)
http://www.israelhayom.com/site/newsletter_opinion.php?id=3869
Isn't that great? The American president putting words into the Israeli prime minister's mouth because he, Obama, "needed" the apology. Needed it even though he knew, says Ginat, that "Erdogan's anti-Semitism will continue to burst forth."
~~~~~~~~~~
Phone calls from British Prime Minister David Cameron and German Chancellor Angela Merkel to Netanyahu in the wake of the apology leads to a plausible suspicion that the EU or some of its members were also pushing for this.
The hard truth, however, is that this attempt to "fix" matters via the apology obscures deeper problems. Minister Naftali Bennett (Habayit Hayehudi) said last week, "It seems that since [the] apology, Erdogan is doing everything to make Israel regret it. He is running a personal and vitriolic campaign..."
And it goes deeper than this. As Ely Karmon wrote in Haaretz:
"Although the diplomatic and economic relations between Israel and Turkey could be (note: "could be" not "have been") reestablished quite quickly, the sensitive military and strategic cooperation is much more difficult to achieve, in view of the deep changes in the ranks of the Turkish military and intelligence echelons..." (Emphasis added)
http://www.haaretz.com/opinion/drama-but-not-yet-a-reconciliation-israel-and-turkey-1.511951
~~~~~~~~~~
Daniel Pipes, who was adamantly opposed to the apology, concluded last Thursday that:
Perhaps after all the apology was a good thing. For a relatively inexpensive price – some words – Israelis and others have gained a better insight into the Turkish leadership's mentality. It's not that they suffer from hurt pride but that they are Islamist ideologues with an ambitious agenda. If the misguided apology makes this evident to more observers, it has its compensations and possibly could turn out to be a net plus. (Emphasis added)
http://www.danielpipes.org/blog/2013/03/on-second-thought-maybe-that-israeli-apology-to
I wish the wake-up would be that easy.
~~~~~~~~~~

The Turks have apparently agreed to stop pursuing legal persecution of Israeli military figures connected to the Mava Marmara incident, although this is not all together clear -- just as it is not clear that Erdogan really intends to reinstate full diplomatic relations with Israel. The Turks declared that they now have a significant role in the "peace process," and were disabused of this notion by Israel. They also declared that Israel will now stop the blockade of Gaza. While national security advisor Ya'akov Amidror, has made it clear that this is not the case -- and that the naval blockade is still in force, it does seem that there will be a further loosening of restrictions regarding goods allowed into Gaza via land crossings.
Negotiations are proceeding with regard to how much compensation will be paid by Israel to the Turkish families of those who were killed. Turkey is demanding one million dollars per family, while Israel is offering one-tenth of that.
To top it all off, Erdogan maintains a strong relationship with Hamas and has announced that he will be visiting Gaza later this month (something that is decidedly not to the liking of the PA).
Amos Gilad, head of the Defense Ministry's Diplomatic and Security Bureau, says, regarding Erdogan's boasts: It's important to distinguish between the "foam and the wave." True. A nice metaphor. But there's a whole lot of bombastic anti-Israel foam on top of that wave.
~~~~~~~~~~
I close on this subject by sharing what Caroline Glick had to say (emphasis added):
"On Saturday [ a week ago], the Arab League convened in Doha, Qatar and discussed Israel's apology to Turkey and its ramifications for pan-Arab policy. The Arab League member states considered the prospect of demanding similar apologies for its military operations in Lebanon, Judea, Samaria and Gaza.
The Arab League's discussions point to the true ramifications of the apology for Israel. By apologizing for responding lawfully to unlawful aggression against the State of Israel and its armed forces, Israel did two things. First, Israel humiliated itself and its soldiers, and so projected an image of profound weakness. Due to this projected image, Israel has opened itself up to further demands for it to apologize for its other responses to acts of unlawful war and aggression against the state, its territory and its citizens from other aggressors."
http://frontpagemag.com/2013/caroline-glick/the-meaning-and-consequences-of-israels-apology-to-turkey/
~~~~~~~~~~
Every time I write about Syria, I say the situation is deteriorating further. And that's all there is to say. There is no good ending in sight there.
Sometimes, as I contemplate the situation, I am astounded, that we in Israel sit here peacefully and prosperously, directly at the border of the mayhem to our northeast. I would like everyone to contemplate this.
The rebels -- a dubious and hardly moderate bunch -- are gaining in territory and in strength. Arab countries and Turkey have done airlifts of weapons to the rebels: There have been in excess of 160 military cargo flights by Jordan, Saudi Arabia and Qatar, with some CIA coordination regarding such matters of acquisition of the arms to be shipped.
http://www.nytimes.com/2013/03/25/world/middleeast/arms-airlift-to-syrian-rebels-expands-with-cia-aid.html?hp&_r=0
The CIA has also been sharing intelligence selectively with certain rebel groups.
On the other hand, Iran is still supplying Assad with weapons, with the Iraqis permitting use of their air space for their delivery.
~~~~~~~~~~
Our military is exceedingly wary of spillover into the Golan Heights that encroaches on Israeli territory. The Syrian territory across the line from the Israeli Golan is no longer controlled by Assad's forces.
OC Northern Command Maj. Gen Yair Golan, understands that Syria's disintegration "could bring Iran to our very doorstep" via terror groups along the Golan Heights border. Thus he suggests that:
"one of the defensive measures that we of course cannot rule out is creating a defensive buffer zone on the other side of the border, together with interlocutors who will have an interest in cooperating with us against other elements who threaten them too."
http://www.israelhayom.com/site/newsletter_article.php?id=8239
The IDF will also soon deploy a new intelligence and reconnaissance unit at the border with Syria.
~~~~~~~~~~
But it's not just movement of terror groups into the Golan that is of concern. There is also the "spilling over" of the conflict that involves shooting into Israeli territory. Just over a week ago, Syrian gunmen fired at Israeli military patrols in two separate incidents -- once on Saturday night when they shot at an IDF jeep on patrol near the border.
IDF spokesman Lt. Col. Peter Lerner said at that point, "Our understanding is that it wasn't stray fire."
A second incident occurred the next day, when automatic weapons were fired at an IDF patrol.
The IDF then fired a guided missile at a Syrian machine gun nest near the border, destroying it. Whether it was a rebel or a government site is unclear.
Defense Minister Moshe Ya'alon: said the Syrian fire was a "violation of Israel's sovereignty. We take the fact that Syrian shots were fired at an IDF patrol in Israeli territory last night and this morning very seriously.
"Any ... fire from the Syrian side will be answered immediately by silencing the sources of fire when we identify them."
Specifying that this was government policy, Ya'alon stated: "Israel will respond immediately to any violation of Israeli sovereignty or fire from the Syrian side,...We will not allow the Syrian army, or any other element, to violate Israeli sovereignty by firing on our territory."
Amos Gilad (identified above) further clarified that there is a response even if the shooting into Israel was unintentional.
"Israel should not be the target of any attack -- because after all, if you accept something that was unintentional, that could lead to something intentional in the end."
http://www.israelhayom.com/site/newsletter_article.php?id=8219
~~~~~~~~~~
As there have been numerous incidents of wounded Syrians coming into Israeli territory, Israel has bolstered the teams of medics who are prepared to respond to these situations. They are working out of a medical facility that has been situated in an IDF post near the border.
Very seriously injured Syrians are brought into hospitals in northern Israel for treatment. Something else people need to be made aware of.
~~~~~~~~~~
The Jobar Synagogue in Damascus, said to be built on the location where the prophet Elijah anointed his successor, Elisha, was 2,000 years old.

Credit: thegatewaypundit
It has now been looted of its priceless artifacts and burned to the ground. Each side is blaming the other.
http://www.jta.org/news/article/2013/03/31/3123291/reports-synagogue-in-damascus-looted-and-burned
~~~~~~~~~~
The PA is now saying that the US will announce a peace plan in two months. This has shown up in multiple sources. However, it essential to remember that it is the PA and not the US saying this. This comes after expressions of deep disappointment in Obama by PA officials, who had said they don't expect much to happen. All that Secretary of State Kerry has had to say is that talks have been very positive.
There are rumors, as well, regarding what the US -- i.e., Kerry -- would like Israel to do to bring the PA to the table. I'll pass on discussing these, as they are unverified.
~~~~~~~~~~
Reports continue to surface of increased Palestinian Arab violence in Judea and Samaria, and planned terrorist attacks that were thwarted.
For example, the Shin Bet and the IDF, working together in the first two months of this year, broke up an extensive Tanzim (Fatah) terror network based in the village of Beit Fajjar, not far out of Bethlehem. They were responsible for a series of shooting and firebomb attacks on Migdal Oz in the Gush Etzion area, and admitted that they intended to continue such attacks in Gush Etzion.
http://www.israelhayom.com/site/newsletter_article.php?id=8303
~~~~~~~~~~
The latest Arab illegal encampment adjacent to E1, set up to protest Obama's visit, has been taken down. Two-hundred police accomplished the eviction, which was not resisted, within 30 minutes.
~~~~~~~~~~
Egypt is falling apart. Literally. As this posting is already long, I'll come back to this in further detail at a later time. Suffice it to be said here that because of an economic crisis, and resultant hunger, the population is demonstrating actively against the Brotherhood regime. Chaos and civil war are possibilities not far down the road.
Former Israeli ambassador to Egypt, Zvi Mazel, describes the situation here:
http://www.jpost.com/Middle-East/Foundering-in-quicksand-Is-there-hope-for-Egypt-308374
I had been advised by one of my Arabic speaking sources some months ago that the Egyptian army, which preferred to avoid involvement if possible, was still a force to be reckoned with, and might reassert control at some point. Mazel suggests something similar, with the prospect of the military averting that chaos or civil war. The only potential problem is that the Morsi regime has now allowed Brotherhood people and other jihadists into the military academy, in an effort to change the political orientation of the military.
~~~~~~~~~~
Last here today is very good news as natural gas from the Tamar reservoir in the Mediterranean Sea began flowing to a terminal in the port of Ashdod on Sunday.
The gas from the Tamar field will supply 50 to 80% of Israel's natural gas needs over the next 10 years.
http://www.cnbc.com/id/100605362
After a $ 3.5 billion investment over a period of four years, during which drilling and exploration was done, the project has now come to fruition.
Tamar is thought to have reserves of up to 238 billion cubic meters (8.4 trillion cubic feet). The field, roughly 130 kilometers (81 miles) west of Haifa, is owned jointly by Noble Energy, an American company, and three Israeli firms, Delek, Isramco and Dor Alon.
The reserves are expected to save NIS 13 billion in market a year, and yield NIS 450 billion in state revenue over the next 25 years.
http://www.israelhayom.com/site/newsletter_article.php?id=8333
Credit: Albatros
~~~~~~~~~~

© Arlene Kushner. This material is produced by Arlene Kushner, functioning as an independent journalist. Permission is granted for it to be reproduced only with proper attribution.
If it is reproduced and emphasis is added, the fact that it has been added must be noted.
http://arlenefromisrael.squarespace.com/current-postings/2013/4/2/april-2013-heads-held-high.html
Posted
on Tuesday, April 2, 2013 at 03:52PM
by
Arlene
|
Post a Comment
|
Email
|
Print
Motzei Shabbat (After Shabbat)
Pesach begins with seder on Monday night and preparations for the holiday are in high gear. I am mindful -- and right now it's hard work to stay mindful -- of what comes first.
And so, I want to wish my readers a joyous and meaningful Pesach.
May the holiday uplift us and inspire us. And may the Almighty be with us now as he was then.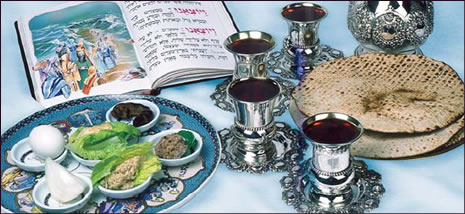 ~~~~~~~~~~
I do not know if I will post again before the holiday begins, or during the week of the holiday. I ask, please, that you hold off on communication to me for the duration.
~~~~~~~~~~
Were that I had good and uplifting things to report before the holiday begins! But I have to take it as it is.
As time elapses, what Obama did with his "talk" to university students at Binyanei Ha'uma rankles me ever more. I called it beyond manipulative. Let me here add "despicable."
But I wanted to explain, for those who asked me about this, that there was really nothing we could have done to stop it without causing a major incident. The US Embassy, on behalf of the president, arranged the parameters of the talk. We may hate it, we may find it vile. But they were permitted to hold it where they chose and to invite whomever they chose.
And, I will note here, the choices of whom to include were carefully calculated: The U.S. Embassy in Tel Aviv invited college students from around the country to submit essays on why they should be invited. Students were selected based on these essays. You can imagine whose essays were selected.
From Ruthie Blum cited here: http://www.jewishpress.com/blogs/shiloh-musings/obama-visit-strangles-israel/2013/03/20/?utm_source=rss&utm_medium=rss&utm_campaign=obama-visit-strangles-israel
This provides a picture of how well orchestrated the whole Obama spectacle was.
~~~~~~~~~~
But I move on from this bad news to worse. Obama is gone, he went to Jordan yesterday. But not before he had pushed Netanyahu to place a call to Turkish Prime Minister Recep Tayyip Erdogan, apologizing for the Mavi Marmara flotilla incident. Apologizing. After three years of properly refusing to do so. We had offered regrets, but not an apology, which implies fault.
The Mavi Marmara -- which came out of Turkey and had Turkish citizens aboard associated with a terrorist organization, the radical Islamist IHH -- was attempting to break the legal blockade of Gaza maintained by Israel to prevent armaments from being brought in by sea. When the captain refused to turn around, Israeli Navy commandos -- expecting very little protester resistance and intending to go to the bridge to get the captain to stop -- boarded the ship by helicopter and found themselves viciously attacked by those in wait for them. In the battle that ensued, Turkish citizens died. See more here: http://www.therightscoop.com/at-least-ten-die-as-israel-navy-intercepts-gaza-flotilla/
Obviously they had spoken about it earlier during Obama's visit (or shall I say, Obama did his arm-twisting earlier), but in a very bizarre scenario, the call Netanyahu actually made to Erdogan was from a trailer set up on the tarmac at the airport, very shortly before the president was due to fly out. Erdogan asked to speak to Obama first, and then he spoke with Netanyahu.
~~~~~~~~~~
An official statement from Netanyahu's office shortly thereafter said:
"In light of Israel's investigation into the incident which pointed to a number of operational mistakes, the prime minister expressed Israel's apology to the Turkish people for any mistakes that might have led to the loss of life or injury."
Mistakes??? What about the behavior of the Turks, which were clearly not mistakes? I think this shameful. Please see these two pictures. The first of someone on the Mavi Marmara swinging an iron bar at an unarmed Israeli Navy commando, and the second of an injured IDF soldier on board.

Credit: IDF

Credit: AFP
Netanyahu further said there would be Israeli compensation for lives lost, via a fund to be determined.
~~~~~~~~~~
What makes this doubly hard to swallow is that just a month ago, Erdogan had referred to Zionism as a "crime against humanity" at an Alliance of Civilizations Forum in Vienna.
http://www.ynetnews.com/articles/0,7340,L-4350791,00.html
~~~~~~~~~~
After the phone call, Erdogan and Turkish Foreign Minister Ahmet Davutoglu pronounced themselves satisfied with Netanyahu's apology, which met all their demands. They said they would proceed with normalizing relations with Israel. And they would stop legal proceedings against Israeli military leaders they held responsible for the Mavi Marmara deaths.
Obama, of course, went off as the victor who cemented this diplomatic "achievement":
"The United States deeply values our close partnerships with both Turkey and Israel, and we attach great importance to the restoration of positive relations between them in order to advance regional peace and security."
~~~~~~~~~~
Today Netanyahu, writing on his Facebook page, provided the "reason" why he did what he did:
"Syria is crumbling, and its massive stockpiles of advanced weapons are starting to fall into the hands of various elements. What we fear most is that terrorist groups will get their hands on chemical weapons."
"Before the Sabbath, I spoke to the Turkish premier. Three years after Israel-Turkey ties had been cut off I decided it was time to restore them. The changing reality around us requires that we constantly reexamine our relations with countries in the region.
"In the past three years the State of Israel has initiated several attempts to resolve the crisis with Turkey.
"It's important that Turkey and Israel, which both share a border with Syria, are able to communicate with each other and this is also relevant to other regional challenges. In addition, the visit of US President Barack Obama and Secretary of State Kerry created an opportunity to end the crisis. (Emphasis added)
"That is why towards the end of the US president's visit I decided to call the Turkish prime minister on order to solve the crisis and mend the relations between our two nations."
~~~~~~~~~~
You like the way he says, the Obama visit "created an opportunity"? And then, that he "decided" to call the Turkish premier to end the crisis. All on his own, he decided.
I'm not buying it. If it's important for the two countries to be able to communicate each other over Syria, Turkey -- which is indeed worried about Syria -- should be willing to do so for its own sake, not because of an apology.
~~~~~~~~~~
I confess disappointment that our new Secretary of Defense, Moshe Ya'alon supported his prime minister and said he did the right thing. Was it naive of me to expect Ya'alon, so soon after appointment, to cross his boss?
Former foreign minister (and foreign minister designate) MK Avigdor Lieberman, at least, got it right, as he often does:
He called Netanyahu's apology a "serious mistake."
"Anyone who has seen the pictures from the Marmara understands - without a shadow of a doubt - that the actions of the IDF soldiers were in self-defense."
~~~~~~~~~~
MK Yoni Chetboun of Habayit Hayehudi also severely criticized Netanyahu's apology:
"...Turkey is one of the more moderate countries in the Muslim world and it is proper that we have diplomatic relations with it.
"...And yet, Israel does not have the privilege to apologize for its soldiers actions, when they acted in accordance with the principles of the IDF's ethical code and its definition of 'the purity of arms.' The apology amounts to a knife-stab in the back of the IDF's combat soldiers and commanders. It sends a grave message to our soldiers, 'we don't have your backs.' As a soldier and commander in all sectors of warfare I can testify that government backing is critical for the soldier at the front.
"What is more, it constitutes a dangerous precedent that will encourage anti-Zionist organizations to continue [operating] the mechanism of delegitimizing Israel in general and the IDF in particular."
Chetboun, who was an officer in the Golani Brigade's elite Egoz reconnaissance unit and still serves in the reserves, said the apology to Turkey will cause more damage than good.
http://www.israelnationalnews.com/News/News.aspx/166501
Credit: flash90
~~~~~~~~~~
Chetboun has spoken out before and I have good hopes for him, and for his party. I'm waiting to see if Bennett also comments.
~~~~~~~~~~
In the end, the enthusiasm of Obama for this "achievement" may be short-lived. Already today according to Turkey's Hurriyet daily, cited by Times of Israel, Erdogan is saying:
"We will see what will be put into practice during the process. If [the Israelis] move forward in a promising way, we will make our contribution. Then, there would be an exchange of ambassadors." He also indicated it wasn't time yet to drop the charges against IDF military leaders. What was satisfactory one day ago, and met all demands, is no longer so.
http://www.timesofisrael.com/erdogan-too-early-to-cancel-legal-steps-against-soldiers/
~~~~~~~~~~
As I see it, Erdogan reasons that he can get even more from a weak Netanyahu, who was so obviously pressured by Obama into that apology. What more, I cannot say. But this is a dangerous situation.
In dealing with people such as Erdogan, strength is essential. What might be perceived as conciliation and reaching out is seen by the Muslims as weakness. Failure to comprehend this is a major fault of Obama's. I thought Netanyahu knew better, and perhaps at heart he does.
People on the left don't usually get this. Shelly Yachimovich, head of Labor, praised Netanyahu's apology, saying that it's best to "swallow one's pride." And I thought when she said it what a serious misperception of the situation that statement represented. The dignity of our nation is not a small matter.
~~~~~~~~~~
There are many rumors floating regarding other concessions that Obama extracted from Netanyahu. Undoubtedly there were such concessions, but their nature is not yet clear. It's being said, for example, that Netanyahu agreed to let the US know in advance if we move to attack Iran. It will take a while until we have documentation on some of these rumors. (Note: Debka is not documentation.)
~~~~~~~~~~
But one thing that's coming at us is clear. The bad cop is in town. Remember my reference to the good cop-bad cop routine. Obama did his thing marvelously well -- full of charm and good humor. Now comes Secretary of State John Kerry, who went to Jordan with Obama and has now returned here.
In Amman, Kerry met with the PA's Abbas. Now Kerry may have come with a plan -- we were told Obama would bring no peace plan but they said nothing about Kerry. This is not a plan for final peace. It's a plan to get Abbas to the table.
King Abdullah of Jordan said he would be pleased to host a meeting between the parties, and what Kerry might be promoting is a "peace summit" in Amman to be attended by officials of Israel, the PA, the US and Jordan.
Really, really bad news if true.
At this point it's rumor, with conflicting information coming through. This may be a fiction of Palestinian Arab imagination, as they see Kerry as someone more sympathetic to them. The Palestinian Arab "ambassador to Jordan" is speaking of a "US pledge to prepare a study and measures to revive a new political process between [Palestinians] and Israelis."
While "A top Jordanian official said that during his meeting with Kerry, he did not 'sense anything new in the US position towards the Israeli-Palestinian conflict.
"'Kerry did not promise anything, and did not commit to anything at all, and did not mention any expected Palestinian-Israeli talks.'"
http://www.ynetnews.com/articles/0,7340,L-4360262,00.html
From other sources I've been reading about suggestions Kerry has for concessions we should make to bring Abbas to the table. This was expected. One of the reported concessions is release of prisoners, something Abbas speaks about all of the time.
But there's yet more (which I hesitate to mention yet) that requires confirmation.
All of this to be watched very closely. I would feel more confident if our prime minister were currently demonstrating spine.
And may the Almighty be with us now as he was then.
~~~~~~~~~~
© Arlene Kushner. This material is produced by Arlene Kushner, functioning as an independent journalist. Permission is granted for it to be reproduced only with proper attribution.
If it is reproduced and emphasis is added, the fact that it has been added must be noted.
http://arlenefromisrael.squarespace.com/current-postings/2013/3/23/march-23-2013-pesach.html
Posted
on Saturday, March 23, 2013 at 08:28PM
by
Arlene
|
Post a Comment
|
Email
|
Print
If indeed there ever was a party, except in people's imaginations.
I must confess something here. I understand better today how Obama got re-elected. I'm seeing his charm up close and when he turns it on, it's considerable. Then it becomes a question of what to accept as real....
~~~~~~~~~~
I want to start with the last event of Obama's day here, because it irks me so greatly. I am referring to his talk to 600 university students at Binyanei Ha'uma -- the Jerusalem Convention Center.
Let me quote what Ruby Rivlin, former speaker of the Knesset, said about the president's decision -- which he called "worrying" -- to speak at the Convention Center rather than the Knesset:
"Three American presidents [Carter, Clinton and Bush] have spoken on the Knesset stage, as well [Egyptian President Anwar] Sadat and leaders from Europe. President Obama should speak to the people of Israel through its elected representatives."
Because of apparent concern on the part of Obama that members of the Knesset might interrupt him if he spoke in the Knesset or demonstrate on behalf of Pollard, Rivlin, at the request of Prime Minister Binyamin Netanyahu and National Security head Ya'akov Amidror reached an agreement with MKs that there would be no disruptions. And these agreements were reported to the Americans.
Said Rivlin, "Unfortunately, despite these agreements...President Obama decided not to visit the Knesset, a decision which is in bad taste....The Knesset is a symbol of Israeli sovereignty, and with all due respect to the president, it cannot be ignored." (Emphasis added)
~~~~~~~~~~
Myself, I think the concerns about being interrupted were an excuse, and nothing more, for what Obama did. Young people are more impressionable, less critical. He wanted to set a tone, deliver a message. And I consider what he did to be manipulative.
~~~~~~~~~~
So what did he say to the young people?

Credit: Algemeiner
There was the requisite amount of feel-good stuff -- more than requisite for my taste. Actually, over the top with repeated Hebrew phrases thrown in and gushing about how he really always had a good relationship with Prime Minster Netanyahu (yea, right).
And then, then he pushed his positions, and they've made me angry. No, very angry.
When he addressed the issue of Iran, he said:
"All of us have an interest in resolving this issue peacefully. Strong and principled diplomacy is the best way to ensure that the Iranian government forsakes nuclear weapons. Moreover, peace is far more preferable to war (sic), and the inevitable costs – and unintended consequences – that would come with it. Because of the cooperation between our governments, we know that there remains time to pursue a diplomatic resolution. That is what America will do – with clear eyes – working with a world that is united, and with the sense of urgency that is required." (Emphasis added)
Excuse me! These young people are Israeli citizens, and their prime minister has said, unequivocally, that he does not believe diplomacy will work unless there's a credible military option -- and one that would be exercised if necessary. How does Obama, a guest in our country, totally discount this and say that diplomacy is the best way. Not, "it is my opinion that..." or "I hold on to the hope that..." But an unequivocal statement of his own that contradicts and doesn't even give a nod to what Netanyahu thinks.
And then he speaks about what is possible with regard to timing "because of the cooperation between our governments." Dirty pool. He and Netanyahu do NOT agree on the timing, and yet he gives the impression that this agreement exists.
The "cooperation" has to do with intelligence that is shared, not with the conclusions drawn from the intelligence. It is important that this distinction be clear.
~~~~~~~~~~
On the subject of Iran, allow me to move back to what was said at the press conference yesterday. It was a positive thing, that Netanyahu made it clear that we are responsible for our own security and will cede this to no one -- and that he said Obama acknowledges this as our right.
However, there's a "but..." here. Because we don't know what was said behind closed doors, we don't know if Obama convinced Netanyahu to wait longer than he would prefer to wait before acting. My inner (intuitive) sense is that he may have. And we don't know if Obama has agreed to back us or provide logistical assistance if we move militarily. There's a great deal we don't know.
~~~~~~~~~~
And then Obama made his pitch for the "peace process."
Here he did some qualifying of the "you may not agree with me, but..." sort. But then proceeded to make a case for a "two state solution" that is unbalanced. And pie in the sky. And deceptive.
"...So I believe that the Israeli people do want peace, and you have every right to be skeptical that it can be achieved.
"But today, Israel is at a crossroads. It can be tempting to put aside the frustrations and sacrifices that come with the pursuit of peace...
"I want you to know that I speak to you as a friend who is deeply concerned and committed to your future, and I ask you to consider three points.
"First, peace is necessary. Indeed, it is the only path to true security..." (Emphasis added)
Let's stop right here for a moment. Necessary? It would be nice, if it were possible. But it's not. "The only path to true security"? Sure, if it were true peace. But what Obama envisions -- a "peace agreement" -- simply puts us at risk.
And what a crock, that he is concerned for our future. He's concerned for his political success and a host of other things.
~~~~~~~~~~
"Second, peace is just." (Emphasis added)
What glib nonsense this is -- designed to appeal to the sense of justice of an idealistic student population. The real issue is one of whether the peace agreement would be "just" in its particulars. For many of us, justice means Jews keeping the land that has been ours going back 3,000 years, and which international law ceded to us early in the 20th century -- in recognition of that ancient bond with our homeland.
For Obama it's something else entirely:
"...the Palestinian people's right to self-determination and justice must also be recognized. Put yourself in their shoes – look at the world through their eyes. It is not fair that a Palestinian child cannot grow up in a state of her own, and lives with the presence of a foreign army that controls the movements of her parents every single day. It is not just when settler violence against Palestinians goes unpunished. It is not right to prevent Palestinians from farming their lands; to restrict a student's ability to move around the West Bank; or to displace Palestinian families from their home." (Emphasis added)
This paragraph is so distorted in its representation of the reality that it is sickening. Every child has a right to "her own state"? What about a Kurdish child, for example? And it is not true that the Palestinian child's parents are controlled in their movements every single day -- not if they live in a PA city and go about their business peacefully.
And settler violence unpunished? I'd need him to clarify this, which he states as fact. What about the horrendously increased level of Palestinian violence, which he mentions not at all. And on and on...
~~~~~~~~~~
"...while I know you have had differences with the Palestinian Authority, I believe that you do have a true partner in President Abbas and Prime Minister Fayyad. Over the last few years, they have built institutions and maintained security on the West Bank in ways that few would have imagined a decade ago. So many Palestinians – including young people – have rejected violence as a means of achieving their aspirations." (Emphasis added)
Sigh... a true partner in President Abbas... Uh huh. As to maintaining security, I alluded to this myth yesterday. The IDF is maintaining security. If there are two states -- Heaven forbid -- the terrorists will flock in droves to the new Palestinian Arab state.
~~~~~~~~~~
"Which leads to my third point: peace is possible. I know it doesn't seem that way. There will always be a reason to avoid risk, and there's a cost for failure. There will always be extremists who provide an excuse to not act." (Emphasis added)
True peace with the Palestinian Arabs is NOT possible. But he would have it that anyone who recognizes this is an "extremist."
~~~~~~~~~
"...There will be many voices that say this change is not possible. But remember this: Israel is the most powerful country in this region. Israel has the unshakeable support of the most powerful country in the world. Israel has the wisdom to see the world as it is, but also the courage to see the world as it should be."
Go for it, he's telling the young students. Don't listen to the "extremists" and those who say it isn't possible. Here I am, the president of the United States, speaking directly to you and saying it is possible:
"Today, as we face the twilight of Israel's founding generation, you – the young people of Israel – must now claim the future. It falls to you to write the next chapter in the story of this great nation."
http://blogs.wsj.com/washwire/2013/03/21/text-of-obamas-speech-in-israel/
Manipulative is not even a strong enough word for how Obama conducted himself here. Take a lesson. Under no circumstances is this a man to be trusted.
~~~~~~~~~~
Now let's back up just briefly, to the visit Obama made to Ramallah this morning.
According to multiple reports, the tone was decidedly different from what it had been in Israel. No joyous flag waving. There was a large demonstration of hundreds just a short distance from the Muqata (PA headquarters in Ramallah) that could be heard when Obama arrived. The crowd -- organized by an Islamist group called Hizb ut Tahrir -- called for him to leave.
Yesterday, Khaled Abu Toameh, writing in the JPost, reports, a group of Palestinian lawyers filed a request with the PA prosecutor-general that Obama be arrested. That this was about US Army involvement in the death of a Palestinian journalist ten years ago (when Obama wasn't even on the scene) indicates a good measure of hostility to the US in segments of Palestinian Arab society.
Obama and putative PA president, Mahmoud Abbas, met for 90 minutes and then held a press conference. Both parties were largely unsmiling, although Israel National News reports Obama was noticeably warmer to PA Prime Minister Salam Fayyad (long a favorite of the West).
~~~~~~~~~~
What is clear is that during the press conference, Obama was attempting to play down the issue of "settlements," which, ironically, is the one he himself had advanced as a precondition to negotiations early in his first term. Apparently he has learned at least this from his mistakes -- for he fomented a hardening of Abbas' position.
He had told Netanyahu that "settlement" expansion was not "constructive" or "appropriate." Now at the press conference he suggested that focus in negotiations should be on "core issues": establishment of a Palestinian state and guarantees of Israeli security.
"That's not to say settlements aren't important. That's to say if we solve those two problems, the settlement issue will be resolved," he said. "If the expectation is that we can only have direct negotiations when everything is settled ahead of time, then there's no point in negotiations. It's essential to work through this process even if we have concerns on both sides. We can push through these things, not use them as excuses not to do anything.
"..."Israelis must recognize that continued settlement activity is counterproductive to the cause of peace, and that an independent Palestine must be viable, that real borders will have to be drawn.
[While] "Palestinians must recognize that Israel will be a Jewish state, and that Israelis have the right to insist upon their security."
~~~~~~~~~~
But Obama couldn't close the Pandora's box he had opened last year.
Responded Abbas:
Everybody considers settlements more than a hurdle toward a two-state solution. The [United Nations] security council issued more than 13 resolutions, not only condemning settlements but demanding ending and removing them because they're illegal. We're demanding nothing other than the implementation of international law. The issue of settlements in clear."
http://www.telegraph.co.uk/news/worldnews/barackobama/9946213/Flustered-Barack-Obama-on-the-back-foot-over-Israeli-settlements.html
~~~~~~~~~~
Well, for the record, it's not "clear" at all. The Levy Report, which examined a host of legal and historical parameters, determined that the "settlements" are not illegal.
Also for the record: Before Obama raised the "settlement" issue, a great deal of negotiating took place while building was going on. Nothing in the Oslo Accords prohibits settlements.
But if Obama wants to push "peace" forward -- which means bringing Abbas to the table -- where will he go from here? According to PressTV, Abbas political advisor Nimr Hammad quoted Abbas as having told Obama during their meeting:
"A resumption of negotiations is not possible without an Israeli settlement freeze in the West Bank and east al-Quds [Jerusalem],"
http://www.presstv.ir/detail/2013/03/21/294682/no-peace-talks-without-settlement-freeze/
~~~~~~~~~~
Has Obama already made a demand of Netanyahu that in the interests of "peace" he freeze building past the Green Line? Will Kerry be expected to deliver that message next week?
What we will need to watch for is a de facto building slowdown that is not officially announced.
~~~~~~~~~~
Obama spoke at the press conference today about "real borders" having to be drawn. This addresses another hot button issue about which little is being said publicly: Abbas demands Israel's pullback to the '67 line, and Obama has gone along with this. What was discussed between Obama and Netanyahu on this issue?
~~~~~~~~~~
Yesterday, a group of Palestinian Arabs set up a protest camp at E1, the area that runs between Ma'aleh Adumim and Jerusalem, and upon which we are supposed to build (if approval ever comes through in the face of international protests). Some 200 Arabs erected 15 tents as a message to Obama that he was favoring Israel. Last night the IDF handed out eviction notices. But you can count on it -- they will not be evicted until Obama has gone home. While there should be no delay, let's hope there's speedy action thereafter.
~~~~~~~~~~
This morning, four rockets were aimed at Israel from Gaza. One hit a home in Sderot, damaging it considerably and traumatizing the family. Another hit an open area near the Gaza border, and two others landed inside of Gaza. Hamas denied that anyone inside Gaza had shot rockets.
Israeli officials said there would be a response "at the time and place" of their choosing. It is obvious that this will not happen until Obama is gone. Somehow, regrettably, a response is considered to have the potential to create a "diplomatic incident." While it rather seems to me that a friend, visiting, and disturbed by the violence imposed on innocent Israelis, would quite understand a response. Obama did say he was our best friend, didn't he? And he did condemn the attack.
I suspect this may also be delayed until after Kerry's second visit.
~~~~~~~~~~

© Arlene Kushner. This material is produced by Arlene Kushner, functioning as an independent journalist. Permission is granted for it to be reproduced only with proper attribution.
If it is reproduced and emphasis is added, the fact that it has been added must be noted.
http://arlenefromisrael.squarespace.com/current-postings/2013/3/21/march-21-2013-the-partys-over.html

Posted
on Thursday, March 21, 2013 at 06:12PM
by
Arlene
|
Post a Comment
|
Email
|
Print
That's me.

The helicopters have been whirring overhead here in Jerusalem today, reminding me that President Obama is in town. I'm too much of a cynic -- or a realist -- to be excited about this.

Credit: Miriam Alster/Flash90

It was all sweetness and light as the president stepped from his plane. "It's good to be in Israel again," he declared (in Hebrew). My mental response was: "So what kept you from visiting during the four years of your first term?"

If you wish, you can see the first moments of the president's arrival here:

http://link.brightcove.com/services/player/bcpid1852112022001?bckey=AQ~~,AAABk9JMLWE~,0pl3uFLFPXsNLzaJagAtptvvs-PtgYlp&bclid=0&bctid=2238975510001
~~~~~~~~~~

I was going to say that nothing comes cheaper than words. Often that is true, and he certainly has been well-prepped by Jewish advisors on what to say. But sometimes there is import to words even when spoken by politicians. During his initial talk at the airport, he said:

"...I know that in stepping foot on this land, I walk with you on the historic homeland of the Jewish people.
"More than 3,000 years ago, the Jewish people lived here, tended the land here, prayed to God here. And after centuries of exile and persecution, unparalleled in the history of man, the founding of the Jewish State of Israel was a rebirth, a redemption unlike any in history.
Today, the sons of Abraham and the daughters of Sarah are fulfilling the dream of the ages — to be 'masters of their own fate' in 'their own sovereign state.'"
http://www.timesofisrael.com/full-text-of-obamas-speech-on-arrival-in-israel/
~~~~~~~~~~
Well! That is a change. When he was in Cairo for his major talk four years ago, he linked the formation of Israel to the Holocaust, raising considerable Jewish ire that he neglected our millennia-long connection to the land. And now he has corrected this: He is acknowledging this land as Jewish.
~~~~~~~~~~
This is not likely to go down well with the Palestinian Arabs, to whom he has been playing for so long, and who claim this land as their own. Could it be that he is weary of them (see more on this below)?
Don't know yet. But my gut sense is that he is not, not at bottom.
~~~~~~~~~~
Perhaps rather than saying I'm underwhelmed, I should say that I'm dubious. I do not, for a moment, believe that the president of the US has become our best friend overnight. The question, rather, is why the considerable change of tone -- which undoubtedly reflects a change in tactics -- and precisely what is it that he wants from us.
Remember that an enormous number of pleas were made -- including by prominent Americans -- for him to pardon Pollard, and perhaps bring him along on this trip. What a act that would have been, from someone who's big on "good will gestures." A gesture that would have gone well beyond words.
But no, this man, who would not even let Pollard attend his own father's funeral, either is simply without compassion or without a sense of justice in this situation. Or he's holding Pollard as a bargaining chip, in return from something he wants from us.
~~~~~~~~~~
And then there are his plans for his major talk here, tomorrow. It should have been delivered at the Knesset and his decision not to do so represents a snub to the elected members of the Knesset, who are accustomed to being addressed by visiting heads of state.
What Obama is trying to do is appeal to the Israel people directly, circumventing their elected representatives. And he's attempting this via an address to university students, yet. I've already written about the exclusion of the students of Ariel University, and so this entire gambit seems to be in poor taste.
I suspect it speaks to his lack of faith in his ability to relate positively to our elected officials. Or maybe he simply imagines he can sway the opinions of young people more readily.
~~~~~~~~~~
President Obama meet first with President Peres this afternoon, amidst a good deal of hoopla -- children singing and waving flags and such. Peres told him, "We trust you on Iran."
And then my internal question was "We do?" What does trusting him mean? That he'll act militarily before it's too late? That he'll back us if we decide we cannot wait longer? Yes, talk like this -- Heaven help us -- is cheap.
~~~~~~~~~~
Whatever substance is taking place during this "feel good" visit, of course, is occurring during Obama's talks with Netanyahu, at his residence. The first part of those talks ended just a while ago, as I write, although I understand they returned for more talk after the press conference, now completed.
The Obama statements about "enduring commitments" to our security and a friendship that is "eternal" are all very nice, as far as they take us. But the substance of those talks may yet hit us in the face. The press conference hardly reflects all of that substance. Press conferences such as these never do.
~~~~~~~~~~
I will say, however, that the press conference indicates that interaction is more positive between the two leaders this time than at any time in the past. There was a warmth in the words, more positive body language and even humor.
You can see a video of the entire press conference here (scroll down about one-fourth of the page). Stay with it through the reporters' questions, which are the most informative part:
http://www.israelnationalnews.com/News/News.aspx/166433
~~~~~~~~~~
As to Iran, it sounds as if the two have agreed to continue to disagree. Netanyahu acknowledges that Obama wants to prevent Iran from going nuclear, and Obama says he does not embrace a policy of containment but hopes that diplomacy will still work.
Netanyahu, towards the end of questioning, also acknowledges the different perceptions as to timing.
What is most important here, I think is that Netanyahu said that Israel retains the right of self defense and that Obama recognizes this. Obama has not convinced Netanyahu to simply let him handle matters. The prime minister said (emphasis added):
"Today we have both the right and the capability to defend ourselves, as you said. Today the essence of the state of Israel is the fulfillment of the age old dream of the Jewish people to be masters of our fate. This is the essence of the state, this is how I know that you appreciate we can not cede our right to defend ourselves even though you are our greatest friend and Israel has no greater friend than the US."
~~~~~~~~~~
As to Syria, there is great concern mutually, for things are deteriorating rapidly there (I've said this before -- but the deterioration continues). Now there is some evidence that Assad used chemical weapons against his own people yesterday -- but American officials are still not confirming this (or are in denial because of what it would mean). I sensed a bit of a hedge on this from Obama. And there was enormous defensiveness regarding a journalist's question as to why the US hasn't acted in Syria to stop the carnage until now.
~~~~~~~~~~
And then there are the Palestinian Arabs and the question of "peace negotiations."
Netanyahu has come forth once again -- sigh -- with his standard line about being committed to two states for two peoples, and sitting down at the table without pre-conditions. If he holds to his insistence that there be no pre-conditions, we'll be OK, because the Palestinian Arabs are demanding several concessions upfront -- a building freeze, release of all prisoners, etc.
~~~~~~~~~~
Obama said things that are simply erroneous, however, and which I cannot let pass. He spoke of a year of quiet, with no deaths to Israelis from terrorist attacks coming from Judea and Samaria. He suggested that this was because of a strong PA, cooperating with the international community. What he was referring to were the PA security forces, for which the US has spent a fortune.
The bottom line here is that those security forces have never been effective, and have been deteriorating in the last year. The PA forces have never been eager to take on terrorists, from Hamas or other groups (including those affiliated with Fatah). There are instances now of PA security officers providing information to Hamas. It is the diligence of the IDF that has kept terrorists from acting. If the IDF has to pull back, we're in trouble.
It is absolutely true that the US supports Israel's security in a host of ways, such as with funding for Iron Dome. But what Obama sees as being in Israel's best security interest, is not necessarily what IS in our best interest.
~~~~~~~~~~
It has been suggested that a chastened Obama now recognizes that no agreement between Israel and the PA is possible. Thus, goes the thinking in some quarters, he will treat it as a diplomatic victory if he simply gets the two sides to sit down together.
This, quite obviously, would mean considerable Israeli concessions. And that may be what all of this feel-good talk is about: to soften us up for the demands from Obama yet to come.
But...there are also those who see what Obama is now doing as the first part of a good cop-bad cop routine. After he's done making us feel good, he will send Secretary of State John Kerry in for the kill. This is not an implausible scenario:
Kerry is here now, actually flew in yesterday -- and will remain for the duration of Obama's visit. On Friday, when Obama leaves, he will as well -- going for meetings in Jordan. But then Saturday night he will return here to meet with Netanyahu again. That meeting will be all business -- without the fanfare, the children singing, the flags waving and all the rest.
~~~~~~~~~~
Obama goes to Ramallah tomorrow morning for talks with PA President Mahmoud Abbas and Prime Minister Salam Fayyad. Will he assure them not to worry because he'll get us to make significant concessions?
What I noticed during the press conference is that he offered praise of the PA for "cooperating with the international community."
~~~~~~~~~~
There have been Palestinian Arab groups in Ramallah and Bethlehem expressing hostility to Obama, saying he's a friend to the Zionists, etc. There have been shouts from crowds about his not being welcome. Shoes have been thrown at his picture on billboards and on one occasion in Bethlehem, his picture was burned.
And now comes the worst because of association directly with the PA:
"Just before U.S. President Barack Obama arrives to visit Israel and the Palestinian Authority, the PA-run newspaper Al-Hayat Al-Jadida chose to print anti-American and pro-Hitler comments in an opinion piece.

"'Our history is replete with lies ... [including] the lie about al-Qaida and the September 11 [2001] events, which asserted that Muslim terrorists committed it, and that it was not an internal American action by the Freemasons,' opinion writer Hassan Ouda Abu Zaher wrote in an op-ed published Monday.

"The op-ed, which was translated by Palestinian Media Watch, also suggests that Hitler was greater than both Churchill and Roosevelt."
http://www.israelhayom.com/site/newsletter_article.php?id=8109
This is what he's headed to, and, you can rest assured, a great number of demands by Abbas regarding what must be done for the PA. How I would love to be a fly on the wall for the Obama-Abbas talks.
~~~~~~~~~~
Obama then returns for his talk to our university students. We'll know more about where he stands tomorrow, after the press conference I assume he'll have in Ramallah, and then the talk in Jerusalem.
~~~~~~~~~~
© Arlene Kushner. This material is produced by Arlene Kushner, functioning as an independent journalist. Permission is granted for it to be reproduced only with proper attribution.

If it is reproduced and emphasis is added, the fact that it has been added must be noted.
http://arlenefromisrael.squarespace.com/current-postings/2013/3/20/march-20-2013-underwhelmed.html
Posted
on Wednesday, March 20, 2013 at 07:43PM
by
Arlene
|
Post a Comment
|
Email
|
Print
The 33rd government has been announced by Prime Minister Netanyahu in its final permutation. The list of ministers (22 in number) and deputies is provided at the end of this posting. You may want to save it.

After the balagan of establishing the coalition, with all of its extraordinary tensions and game-playing, I am finding that there truly are enough good people in the government so that there is some reason to be hopeful.

A handful of changes from the prior list I had shared, which was still tentative, are worthy of note here:

Yuval Steinitz (Likud), former Finance Minister, will be holding the position of Minister for International, Intelligence and Strategic Affairs -- an important position that includes handling strategic dialogue with the United States.
Credit: Reuters

I had assumed -- incorrectly -- that the responsibilities of the Ministry of Strategic Affairs, which had been headed by Moshe Ya'alon, would be subsumed under his new Defense Ministry position. As it turns out, it has been decided that strategic affairs, along with intelligence, will fall within Steinitz's new bailiwick. This new ministry was actually created for him.

Steinitz, who previously served as a chair of the Knesset Foreign Affairs and Defense Committee, will also sit on the committee overseeing negotiations, such as they may be, with the Palestinian Arabs.

~~~~~~~~~~

The left-wing Ofer Shelah (Yesh Atid) will not be Deputy Defense Minister under Ya'alon after all. Instead that position will be filled by the nationalist Danny Danon (Likud).
Credit: Emil Salman

~~~~~~~~~~

Ze'ev Elkin (Likud), former coalition head, now has a new position as Deputy Foreign Minister.


Credit: TimesofIsrael

There is question as to how much power Elkin will have in the current absence of foreign minister designate Avigdor Lieberman: will he be temporary de facto minister, or was his a political appointment? The question is all the more intriguing because Elkin, who is a nationalist, has not exactly seen eye-to-eye with Netanyahu over a period of time.

According to Israel Hayom, professionals at the Foreign Ministry, unhappy about the lack of clear definition about Elkin's role, are also smarting because they have not been assigned a place in strategic negotiations with the US or in negotiations with the PA.

What I begin to wonder is how much ministry there will be left to head, should Lieberman return to his prior post.

~~~~~~~~~~

Perhaps most surprising is that fact that Moshe Feiglin (Likud) -- who has been a persistent challenge to Netanyahu, and someone the prime minister, until now, has tried his best to sideline -- has been given a position as Deputy Speaker of the Knesset. Not the most powerful of positions -- he will on occasion run Knesset sessions when the Speaker Yuli Edelstein is unavailable -- it still marks the first time that Netanyahu has accorded Feiglin, a staunch nationalist ideologue, any recognition.

This is just one of the appointments that makes me wonder, all over again, exactly who Binyamin Netanyahu is. He is not consistent in the message he gives. (Please, do not write to share your theory about the prime minister.)

~~~~~~~~~~

The new ministers have been sworn in, and the prime minister held his first Cabinet meeting shortly thereafter. He told those gathered:

"There are excellent people here, fit people, experienced people. The only way to be successful will be to work together, which I'm sure we will do. The citizens of Israel are expecting us to work together..."

Faction heads within the coalition are making the appropriately conciliatory noises: Everyone is talking about standing behind Netanyahu and being of assistance for the sake of the nation. They should only take a hard look now at what's coming down the road and mean what they say!

~~~~~~~~~~

Tzipi Livni made her little speech about how she'll work diligently to advance "peace talks."

But Yisrael Beitenu Chair (and Foreign Minister designate) MK Avigdor Lieberman called a press conference to mark the beginning of the new government, at which he said that there would be no more progress in peace negotiations in the next four years than there has been in the past four.

He further said that Israel would "emphatically oppose any attempt to reimpose a [building] freeze."

~~~~~~~~~~~

We have been confronting increased Palestinian Arab violence of one sort and another in Judea and Samaria of late. A Shin Bet report indicates that there were a total of 139 attacks, including firebombings and the use of improvised explosives, in February, compared to 83 in January.

Of the many incidents that might be mentioned, I want to call attention to two specific ones here:

Just today, a 70 year old man was shot in the legs on a road outside Kedumim in Samaria. According to an Israel National News report, the assailant, in a car, had stopped to ask directions, and then shot him.

While last Thursday night, on a road outside of Ariel, also in Samaria, Arabs threw rocks that hit a truck, causing it to veer off course and collide with a car. The woman driving the car and her three young daughters were all injured, but it was the youngest, Adelle Biton, age two, who was hurt critically. She is still fighting for her life.

~~~~~~~~~~

It is, first of all, important that incidents such as this be widely publicized. But beyond this, there is the need to respond more forcefully to this low-grade terrorism. And it is here that I have hope.

Shortly after Adelle Biton was so seriously injured, Naftali Bennett made a statement:
"Some people take rock throwing lightly, and prevent action against them. Rock throwers are trying to murder and they need to be treated accordingly.
"Let us pray for the life of the baby girl."
http://www.israelnationalnews.com/News/News.aspx/166240
How correct he is, and how refreshing to hear someone call it as it is, advocating a new and necessarily tough stance. Many is the time I've heard rock throwing minimized -- "just kids throwing stones." Look again.
~~~~~~~~~~
Then today, after the man was shot in the legs, MK Moti Yogev, a colonel in the reserves and former commander of an elite infantry unit, called for changing the rules of engagement with terrorists:
"The event in Samaria is, in effect, a development from events where rules of engagement were changed. If we are willing to [tolerate] rock attacks, then the fire bombs follow. If we are lax on fire bombs, then we experience the gunfire. This is how it was in the past, and this is apparently what is happening now.
"...I hope that the IDF, under the new incoming defense minister...Minister Moshe Yaalon, together with the new deputy defense minister, Danny Danon, will set a policy that will make clear, first, that the Land of Israel belongs to the nation of Israel, and this policy is also what gives us quiet from terror attacks, and that he will set a clear policy regarding rules of engagement, and the all-out war against the terrorists."
http://www.israelnationalnews.com/News/News.aspx/166333
More welcome words, which must be followed by appropriate action. An all-out war against the terrorists, indeed, without fear of how it would be spun in the international press, or what other nations expect from us.
~~~~~~~~~~
MK Avigdor Lieberman expressed a very similar sentiment when he called upon Defense Minister Ya'alon to instruct soldiers to open fire at "rock-throwing terrorists....
"Rock-throwing [should] be treated like shooting using firearms, only this kind of change will stop civilians and soldiers from being targeted by Arab rioters and prevent disasters."
~~~~~~~~~~
Well, I was on King David Street today, site of the King David Hotel, where President Obama will be staying, and saw some of the security preparations being set up. For local residents, the president's visit means an inability to move about the city.
All in all, there's no way to avoid the fact that he's coming. So stay tuned...
Talk continues unabated with regard to the fact that the US Embassy, on behalf of the president, invited Israeli university students to hear his speech at the International Convention Center in Jerusalem (Binyanei Ha'uma) on Thursday, but excluded those of Ariel University in Samaria for what seem to be political reasons. Obama is trying to reach out to young people, but has set a negative tone before the event has even taken place.
Uri Reshtik, Israel Student Union Chair, has sent a letter to the Embassy in which he refers to the exclusionary invitation as "discrimination based on ulterior motives. Such discrimination is not respectable and not acceptable."
MK Nachman Shai (Labor) has gone further, calling on student's to boycott Obama's main speaking event:

"It is shocking to think that you can disqualify students just because they learn in the West Bank. I do not understand how President Obama wants to conduct a dialogue with the Israeli public when he is consciously excluding part of it."

http://www.timesofisrael.com/labor-mk-calls-on-students-to-boycott-obama-speech/

How lovely it would be if students in large numbers heeded the call of this left-wing MK.

~~~~~~~~~~

Binyamin Netanyahu (Likud) -- Prime Minister

Moshe (Bogie) Ya'alon (Likud) -- Defense Minister

Yair Lapid (Yesh Atid) -- Finance Minister

Gideon Sa'ar (Likud) -- Interior Minister

Shai Piron (Yesh Atid) –- Education Minister

Naftali Bennett (Habayit Hayehudi) –- Economy and Trade Minister

Tzipi Livni (Hatnua) -- Justice Minister

Yael German -– Health Minister

Yisrael Katz (Yisrael Beitenu) -– Transportation Minister

Gild Erdan (Likud) –- Communications and Home Front Defense Minister

Silvan Shalom (Likud) –- Regional Development, Water and Energy Resources Minister

Uri Ariel (Habayit Hayehudi) –- Housing Minister

Steinitz (Likud) –- Minister for International, Intelligence and Strategic Affairs

Uri Orbach (Habayit Hayehudi) –- Minister for Pensioners Affairs

Meir Cohen (Yesh Atid) -- Welfare Minister
Ya'akov Peri (Yesh Atid) –- Science Minister
Amir Peretz (Hatnua) –- Environmental Protection Minister

Sofa Landver (Yisrael Beiteinu) –- Immigrant Absorption Minister

Uzi Landau (Yisrael Beiteinu) -– Tourism Minister

Yair Shamir (Yisrael Beiteinu) –- Agriculture Minister

Yitzhak Aharonovitch (Yisrael Beiteinu) –- Internal Security Minister

Limor Livnat (Likud) –- Culture and Sports Minister

Eli Ben-Dahan (Habayit Hayehudi) -– Deputy Minister for Religious Affairs

Mickey Levy (Yesh Atid) –- Deputy Welfare Minister

Danny Danon (Likud) –- Deputy Defense Minister

Ze'ev Elkin (Likud) –- Deputy Foreign Minister

Avigdor Lieberman (Yisrael Beiteinu) –- Foreign Minister-designate

~~~~~~~~~~

© Arlene Kushner. This material is produced by Arlene Kushner, functioning as an independent journalist. Permission is granted for it to be reproduced only with proper attribution.

If it is reproduced and emphasis is added, the fact that it has been added must be noted.
http://arlenefromisrael.squarespace.com/current-postings/2013/3/18/march-18-2013-set-in-place-and-hopeful.html
Posted
on Monday, March 18, 2013 at 06:35PM
by
Arlene
|
Post a Comment
|
Email
|
Print
Motzei Shabbat (After Shabbat)
We have a government. I felt reasonably confident this would be the case by now -- as the deadline for Netanyahu has run out and Obama is coming this week. But it's been an insufferably long and complex road getting to that coalition.
I had actually begun a posting last Thursday, when a coalition seemed to be in place. And then I stopped, because yet another roadblock had appeared.
Now, I am less inclined to cover all the ground I would have covered two days ago. Let me simply make some more general observations.
~~~~~~~~~~
No matter how you view this just-completed process of coalition formation, Netanyahu is the loser. He has made a series of regrettable errors, beginning perhaps with the inclusion of Tzipi Livni -- if not before, with his attacks on Habayit Hayehudi. His image as a savvy individual who can turn internal political situations to his liking has been badly tarnished.
Last week, what he did was to demonstrate -- hardly for the first time -- that he caves.
This was with regard to Lapid's demands that Rabbi Shai Piron be Education Minister in place of Gideon Sa'ar. He was publicly adamant: "No no and no! Take it or leave it." Had he said, "Well, I'm not in favor, but I have to consider all ramifications and then we'll see," it would have felt different.
Yes, there was a deal that was offered, to make it more palatable for him to back down (and more on this below). I understand, for example, that Bennett and Lapid agreed to withdraw a demand that Livni's role be reduced. But the overall appearance of backing down was unfortunate.
What we were reminded of, in the course of this dispute, is that if he says, "No, I will not remove Jewish residents of Judea and Samaria from their homes," it is not necessarily something we can count on. And Obama is due in days.
~~~~~~~~~~
Then what happened is that Netanyahu had agreed that both Bennett and Lapid would have the (honorary) title of Deputy Prime Minister. But when the papers were offered for signing, it was discovered that this had been excised.
"How can I trust you?" Bennett asked, with very good reason, as he declined to sign.
This was, quite simply inexcusable. With only two days to go, it was a pathetic stunt. Perhaps vindictive, because he had been pushed into caving on something he wanted. Perhaps -- as well placed sources in Likud are rumored to have said -- he did this at his wife's bidding. It doesn't matter. The decision was his.
The coalition was finally able to come together because Bennett and Lapid agreed to relinquish their titles. And so, just under the line, Netanyahu was able to report to President Peres that he has a coalition. This happened about an hour ago, as I am now writing. If he looks happy in the picture below, it's simply because he's got himself a government. Pheww! Not that he has the government of his choice.

Credit: Times of Israel

~~~~~~~~~~
If Netanyahu has been a political loser during this process, it is quite obvious that Bennett and Lapid have been the winners. These are two men whose political stars are definitely rising -- which is discomfiting Netanyahu more than just a bit. That fourth term as prime minister, to which he aspires, is looking less and less likely.
Bennett has been hailed as a peace maker -- for it was he, doing shuttle diplomacy, who managed to arrange the deal on the education minister.
What is most remarkable here is that the bond between Bennett and Lapid has not been broken in the course of everything that has gone on -- and in spite of the fact that politically they do not always agree. This is said to be a personal bond formed out of mutual respect and jointly agreed determination to act on principle.
It should only be! And only time will tell. A political alliance built on principle and mutual respect? This would signal an incredible new day in politics, and great things for the nation. But I'm not ready to celebrate yet.
I've already written about, and continue to feel, an unease about Lapid because he is too sure of himself for a political novice, and exhibits more than a bit of arrogance. But quite frankly, in the face of how Netanyahu has behaved of late, the fact that there are new faces, new people with declared principles, seems to me very definitely a positive for our future.
There are serious questions being asked about how long this coalition, with its built in tensions, can last.
~~~~~~~~~~
The 33rd government will consist of four factions totaling 68 mandates -- Mofaz, with his Kadima party, was not included.
There are certain agreements that have been reached. The size of the government has been downscaled -- something that was necessary: A technique for handling political assignments for all coalition factions without pain has been to increase the number of ministries. Now there will be roughly 21 ministers plus some deputy ministers. Some responsibilities that would have been assigned ministry positions are being categorized otherwise. There is an agreement that next time there will be only 18 ministers.
A bill will be introduced requiring the electoral threshold to be five mandates.
I will table for now what is being proposed regarding army and national service for haredi yeshiva students -- as this highly contentious issue requires a closer look.
~~~~~~~~~~
According to the Jerusalem Post, there is still some disagreement about party assignments, even though the coalition agreements have been signed. We may not have final assignments in all instances until the swearing-in on Monday.
The new government is certainly not bad in all respects and actually has some quite promising things going for it:
Bennett will be part of the Security Cabinet, which is good, and both Bennett and Lapid will serve in the special committee overseeing the "peace process," along with Netanyahu, Ya'alon (Defense Minister) and Livni, as negotiator.
How Lapid will stand on negotiation-related issues remains to be seen, and is a matter of no small importance. He is, as far as I can determine, somewhere between Livni and Bennett in his position. Livni has already attacked Habayit Hayehudi, which she sees as an obstacle to her desire to achieve an "agreement." She says that she hopes Lapid doesn't move over to where Bennett is.
~~~~~~~~~~
Bennett will head an expanded Religious Affairs portfolio. Some very positive changes may come from this. It is my understanding that his deputy, Rabbi Eli Ben Dahan, will be given free reign in most matters.
Extremely welcome news is the fact that Uri Ariel (Habayit Hayehudi) will be Housing Minister.
It is also welcome news that Moshe Ya'alon (Likud) will be Defense Minister -- especially as rumors had Mofaz in this position. Ya'alon is a solidly good guy, but not primarily an ideologue -- he tempers his positions according to the political situation.
What is disconcerting is that his deputy will be Ofer Shelah (Yesh Atid), a leftist with anti-"settlement" leanings. We'll see in coming days how resolute and strong Ya'alon is. Ya'alon had been Minister of Security Affairs. That ministry has been cut and I would assume security affairs will be subsumed within the Defense Ministry.
Ze'ev Elkin (Likud), one of the good guys, is being replaced as Coalition Head by Yariv Levin, and it is not altogether clear as I write what role Elkin will play. Elkins co-chaired a Knesset Caucus on the Greater Land of Israel, and I'm waiting to see where he goes with that.
Yuval Steinitz (Likud), who was Finance Minister (and a good one), is being replaced by Lapid, and will be Energy and Water Minister.
Gideon Sa'ar (Likud), who is being replaced by Piron as Education Minister, will be Minister of Interior.
Yuli Edelstein (Likud), another of the good guys, is going to be Knesset Speaker, replacing Ruby Rivlin. Edelstein was Minister of Public Diplomacy and Diaspora Affairs. That ministry has been cut, and it is not clear which ministry will pick up this work.
~~~~~~~~~~
You can see a full line-up here, but keep in mind that there may still be some adjustments, and that this was drafted before Bennett and Lapid were told they would not be Deputy Prime Ministers.
http://www.timesofisrael.com/guess-whos-coming-to-the-cabinet-table/
~~~~~~~~~~
It will, undoubtedly, be necessary to return to the political issues.
But our focus now very badly needs to be on the presidential visit and a host of problems of huge proportions that we must contend with.
Whatever my comments about Netanyahu being the loser in an internal political struggle, the fact remains is that he is our prime minister and will be facing down Obama in just days.
In this, I will voice support and prayers for his strength. May he keep his eye on the principles that matter for all of us here in Israel. And may our people come together in order to contend with major problems.
~~~~~~~~~~

© Arlene Kushner. This material is produced by Arlene Kushner, functioning as an independent journalist. Permission is granted for it to be reproduced only with proper attribution.
If it is reproduced and emphasis is added, the fact that it has been added must be noted.
http://arlenefromisrael.squarespace.com/current-postings/2013/3/16/march-16-2013-lets-move-on.html
Posted
on Saturday, March 16, 2013 at 06:19PM
by
Arlene
|
Post a Comment
|
Email
|
Print