A couple of "only in Israel" stories about ordinary, yet special, people:

Yishay Montgomery has been hailed as Israel's "guitar hero."
Credit: Ben Hartman

Last Tuesday evening, Yishay was playing his acoustic guitar by the beach in southern Tel Aviv – near the Jaffa boardwalk where a terrorist had just stabbed several people in a rampage. Yishay heard screaming and took off after the terrorist, clobbering him with his guitar and momentarily stunning him. His instrument, which was damaged in the process, was featured in new photos.

The spunkiness of this young man caught people's attention. And so he has been overwhelmed by gifts of replacement guitars, as well as a sum of money raised via crowd-funding for purchase of a new guitar.

http://www.jpost.com/Israel-News/Donors-reach-out-to-Israeli-guitar-hero-who-tried-to-stop-Jaffa-terrorist-447345

~~~~~~~~~~

Last month, we had an Israeli "angel," Ofir Yitzhak.
Credit: Daniel Danino/Facebook

Ofir was on a train in the area of Lod, southeast of Tel Aviv, when a young woman soldier boarded, talking into her phone and weeping. The soldier, who subsists on her modest salary, is the only child of a disabled mother; she was on the phone pleading with the electric company – without success - not to cut off her mother's electricity in spite of an overdue bill of 1,950 shekels (about $500), before her mother's monthly disability check came in.

It didn't take Ofir, who overheard the conversation, long: he grabbed the phone from the crying soldier, gave the electric company his credit card number to clear the debt, and gave the soldier a confirmation number, as he handed her phone back to her.

Daniel Danino, another young female soldier, was sitting nearby. She witnessed the entire sequence of events and then decided to take Ofir's picture and write about him on Facebook. The story, confirmed by others in the train, went viral.

Wrote Daniel:

"I was left with my mouth hanging open, speechless, and full of a sense of pride in being part of this nation that galvanizes to help others during times of distress...." (Emphasis added)

Daniel reported that Ofir said he acted as he did to calm the young soldier down and bring bring a smile to her face.

http://www.algemeiner.com/2016/02/16/stranger-on-train-in-israel-pays-crying-idf-soldiers-utilities-bill-after-electric-company-threatens-to-shut-off-her-power/

~~~~~~~~~~

These modest stories are important because they remind us that human decency still exists in a world that is overwhelmed by the most vile indecency imaginable. As long as this is the case, there is hope for the future. My take.

~~~~~~~~~~

On Friday, the Arab League declared Hezbollah a terrorist organization.

This is a mark of growing tensions between Sunni Arab countries such as Saudi Arabia, and Shi'a powers, most notably Iran. But at the same time it serves us well:

The Saudi ambassador to Egypt, Ahmed Kattan, stated on Al-Arabiya TV that "We will deal with Hezbollah as we deal with any terrorist organization. Saudi Arabia and the Gulf countries have begun preparing measures it will take against that terrorist party..."

http://www.reuters.com/article/us-mideast-crisis-arabs-idUSKCN0WD239

Let them go at each other, distracting and possibly weakening Hezbollah.

~~~~~~~~~~

What leaves me aghast is that once again the Arab parties in the Knesset are unhappy about Arab labeling of Hezbollah as terrorist.
"Raja Zaatreh, a member of the Hadash Political Bureau, said on Friday night that 'the Arab League is a pawn in the hands of the Gulf governments, who themselves serve the policy interests of the United States.
"'Hezbollah isn't a terrorist organization; it's an opposition movement that succeeded in removing the Israeli occupation in Lebanon...'"
http://www.ynetnews.com/articles/0,7340,L-4777466,00.html

(The "Israeli occupation in Lebanon" being referred to is a Security Belt that was established in southern Lebanon by Israel in 1985, in cooperation with the South Lebanese Army, to prevent the infiltration into northern Israel of terrorists from Hezbollah and renegade Palestinian groups. It was in place for 15 years.)

~~~~~~~~~~

It is hardly surprising that, according to a survey published by Channel 2, which was completed by 350 people from the Arab sector of Israel, 56% believe that the Arab MKs do not represent them or represent them to a lesser extent.

http://www.israelnationalnews.com/News/News.aspx/209243#.VuWmQJtJnIU

~~~~~~~~~~

A spark of hope here, and I must say, unexpected:

"Student associations at the University of Vienna issued a statement on Wednesday, declaring their opposition to every form of anti-Semitism, including the BDS (Boycott, Divestment, Sanctions) movement targeting Israel...

"The rejection of BDS by continental student organizations is believed to be the first major European opposition to the hubs of anti-Israel and anti-Semitic academic initiatives in the United Kingdom and the US."

http://www.jpost.com/Diaspora/Austrian-student-groups-reject-BDS-slam-US-universities-447346
.
~~~~~~~~~~

The following counts as "sort of" good news:

Last Wednesday, when Biden was here, he went to Ramallah to meet with the PA's Abbas, touting Obama's latest push for advancing negotiations. According to the Times of Israel, citing a (Palestinian Arab) Al Quds report, Biden told Abbas he could have a "settlement" freeze and the possibility of eastern Jerusalem as the capital of a Palestinian state. All he had to do was relinquish the "right of return," and recognize Israel as the Jewish state.
Credit: Daily Mail (UK)

Abbas reportedly refused to consider it, which rather throws a wet blanket over Obama's proposal.

http://www.timesofisrael.com/abbas-said-to-reject-visiting-bidens-peace-idea/

But hey, I could have told you he would refuse. The Arabs never compromise on anything. We've been saved by them, time after time. And in this particular instance, we're looking at Palestinian policy that is close to sacrosanct. The entire principle of "right of return" - which is the faux refugee claim that is the raison d'etre of UNRWA aimed at Israel's destruction - is thoroughly entrenched as Palestinian Arab core policy. That Abbas knows it ain't never gonna happen is beside the point. He would not dare publicly renounce it, especially as he is lacking a strong power base.

The big question here is where the Americans got the idea that they might get Abbas to agree to this publicly. The mere fact that they did is indicative of how far removed from reality American policy is.

~~~~~~~~~~

I note the comments of Martin Indyk – definitely no friend of Israel - former US ambassador to Israel, and currently with the Brookings Institution, regarding the fact that (emphasis added):

"Obama and Kerry are looking at the very real likelihood that the two-state solution could die on their watch."

http://www.israelnationalnews.com/News/News.aspx/209213#.VuSm25tJnIV

To which I say a hearty Amen.

Reuters, however, cites a US official who explains that:

"People in the government are asking the question what can we do to keep the two-state solution alive, and they're generating ideas." (Emphasis added)

I try to maintain my sense of humor, no easy task these days. But to suggest that a settlement freeze and relinquishing the "right of return" represent the generation of new ideas is rather amusing.

Round and round they go, while they pretend they are getting somewhere.
Credit: clipartpanda

~~~~~~~~~~

Unfortunately, we must also deal with the intransigent French, as Pierre Vimont, special envoy "for the preparation of the international conference to renew the Middle East peace process" is taking two days to generate support for that conference in Jerusalem and Ramallah He has come from the "5th Extraordinary Islamic Summit on Palestine and Al-Quds [Jerusalem]" in Jakarta, Indonesia.

Oh joy.
Credit: lesoir

If there is any spark of good news here it is in a softening of tone at the French Foreign Ministry. Foreign Minister Jean-Marc Ayrault now says that France will not "automatically" recognize a Palestinian state if the conference does not go ahead: "There is never anything automatic...It will be the first step, there is no prerequisite."

http://www.timesofisrael.com/french-official-to-visit-israel-to-push-peace-confab/

His immediate predecessor, Laurent Fabius, had said a failure in negotiations would result in a recognition of a Palestinian state by France. Could be that it dawned on Ayrault that Netanyahu was indeed correct in observing that the French formula guaranteed failure of a conference, as the Palestinian Arabs would see they did not have to even try. Not that they will try in any event.

France hopes to hold that conference in the summer, with a planning meeting in April. Expected participants: the US, Russia, China, France, the UK, Saudi Arabia, Morocco, Jordan, Egypt, Brazil, Japan, Germany, South Africa and India. Nothing funny here at all.

I will be tracking this. Israel's position remains the same: the conflict cannot be resolved by outside groups, but only via face to face negotiations.

~~~~~~~~~~

Let me circle back to Biden's meeting with Abbas for a moment. Biden, as I last wrote, was in Jaffa with Shimon Peres, when the rampage on the Jaffa boardwalk by a terrorist caused multiple injuries and the death of one American.

When Biden subsequently held a two-hour meeting with Abbas, no follow-up meeting with journalists was held, nor was there an official statement released from the vice president - a sure sign that there was nothing the US wished to publicize about that meeting.

There was subsequently a report from the official Palestinian Arab news agency Wafa, which was cited by Times of Israel:

"Abbas expressed condolences over the American citizen who was killed yesterday, stressing at the same time that occupation authorities have killed 200 Palestinians in the last five months."

He did not condemn the violence. Informed only by Abbas's version events, one would imagine that Israelis have just been wandering around killing innocent Palestinian Arabs. Abbas, in fact, blamed "the occupation" for the violence.

http://www.timesofisrael.com/rebuffing-biden-abbas-offers-condolences-but-doesnt-condemn-attack/

Actually, the night of the attack on the Jaffa boardwalk, official PA TV referred to the terrorist Bashar Massalha as a "martyr," a "shahid."

"During the news broadcast on the official PA news station Palestine TV, which was translated to English by the Middle East Media Research Institute, the news presenter said the killer had been 'martyred' during the attack.

"Additionally, the correspondent on the scene said the attack was 'a complex operation carried out by the martyr' and referred to the victims as 'settlers.'"

http://www.timesofisrael.com/official-palestinian-tv-describes-jaffa-attacker-as-martyr/

"Settlers": the only victim who was killed was an American, and some of the wounded were also American, while others were Israeli Arabs. This term is used as a blanket description of anyone terrorists kill, as they apparently think it justifies murder and mayhem.

~~~~~~~~~~

One is tempted to ask – in the midst of last ditch efforts by Obama to keeps negotiation possibilities alive - how the US handles this total failure of the PA to accept any responsibility for violence against Jews, but instead actually seeks to justify it.

We have our answer in an Atlantic article by Jeffrey Goldberg published on-line last week:

"Prime Minister Benjamin Netanyahu 'is in his own category' when it comes to the Middle East leaders who have most deeply disappointed President Barack Obama, according to a major overview of the Obama presidency, featuring numerous interviews with the president...

"In the piece, headlined ;The Obama Doctrine,' writer Jeffrey Goldberg goes to great lengths to trace the president's growing disillusionment, over the course of his presidency, with the possibility of changing the region for the better. 'Some of his deepest disappointments concern Middle Eastern leaders themselves,' Goldberg writes. Of these, 'Benjamin Netanyahu is in his own category.'" (Emphasis added)

http://www.timesofisrael.com/obama-sees-netanyahu-as-most-disappointing-of-all-mideast-leaders-report/

Well, when you consider the type of leaders Obama has had to deal with, and the intransigence and perversity of Abbas even as tracked above, there is little left to say except that this Atlantic piece highlights Obama's antipathy for Israel.

We might also add that it demonstrates the degree to which Obama is willing to cut the Palestinian Arabs slack, demanding nothing of them. It seems he expects Israel to do his bidding at every turn, unilaterally providing him with a diplomatic victory: The only way Netanyahu might have secured approval from Obama would have been for him to announce forthwith that we were withdrawing to behind the 1949 armistice lines and immediately recognizing a "Palestinian state." And even then I'm not sure.

~~~~~~~~~~

A note about the American tourist who was killed on the Jaffa boardwalk.

Credit: Facebook

Originally hailing from Lubbock, Texas,Taylor Force, 29, had graduated from West Point and served in Iraq and Afghanistan. A graduate student at the Owen School of Management, at Vanderbilt University, he was in Israel to visit start-ups – as part of a course on global entrepreneurship. Taylor's wife was badly injured in the attack.

http://www.timesofisrael.com/vanderbilt-student-taylor-force-named-as-us-victim-of-jaffa-terror-attack/

A ceremony was held for him on Friday at Ben Gurion Airport before his body was sent home. Both Americans and Israelis participated.
Credit: Flash90

Former Knesset Member Dov Lipman (second from right above) who had organized the ceremony wrote (emphasis added):

"May Taylor's family be comforted by the collective hug from the people of Israel and may his memory be a source of blessing for all."

http://www.haaretz.com/israel-news/1.708309

Lipman began by reading a letter from Taylor's sister, Kristen, on behalf of the family (emphasis added):

"Please convey our deepest appreciation to the Israeli people and government who have been so compassionate and thoughtful during the worst moment of our lives. Taylor was our world and our lives are forever changed, but knowing Israel mourns with us is comforting."

http://www.jpost.com/International/Knowing-Israel-mourns-with-us-is-comforting-says-family-of-terror-victim-Force-447615

~~~~~~~~~~

Texas governor said, on hearing of Taylor's death, said:

"I strongly condemn that terrorist and reiterate the way that Texas will stand side by side with our friend and ally, Israel, while doing all that we can to stomp out terrorist activities like this in Israel."
http://www.kctv5.com/story/31420010/lubbock-native-killed-in-israel#ixzz42rT68p3h

~~~~~~~~~~

My friends, there is much more I want to write about. But this posting, already lengthy, would be truly too long. So I save it for my next posting.

What I do want to share here is a marvelous speech by Dennis Prager at the CUFI convention, with thanks to my friend Esther for calling it to my attention. It is enormously powerful, and goes to the heart of what is going on in this sad, and morally deficient world.

Please, do share this with everyone.

http://www.israelvideonetwork.com/dennis-pragers-blistering-reality-check-brings-cufi-crowd-to-their-feet/

~~~~~~~~~~

Kol haolam kulo, gesher tzar meod: All the world is a narrow bridge. This we know well today. And the main thing, this song tells us, is not to be afraid. An unusual version sung by children:

https://www.youtube.com/watch?v=gop2_d_Mwyw

May today's children grow up to find a better world.

~~~~~~~~~~

© Arlene Kushner. This material is produced by Arlene Kushner, functioning as an independent journalist. Permission is granted for it to be reproduced only with proper attribution.

If it is reproduced and emphasis is added, the fact that it has been added must be noted.
http://arlenefromisrael.squarespace.com/current-postings/2016/3/14/march-13-2016-with-a-smile-and-a-tear.html
Posted
on Monday, March 14, 2016 at 09:41AM
by
Arlene
|
Post a Comment
|
Email
|
Print
We here in Israel don't really ever expect things to go smoothly, but there are situations that are simply not smooth and others that are maddeningly perverse or breathtakingly ugly. But before I get to these, I begin with some good news that can provide a perspective.

As those of you who have traveled to and from Israel and used Israel's Ben Gurion Airport know, there is a long corridor – complete with a traveling walkway - at one point on the way to the gates, which feature large posters along the wall on one side.
Ben Gurion Airport Keren Hayesod Exhibit

Those posters are replaced every so often. Now, and for the next year, there will be a very special set of posters on display:

"Israeli Discoveries and Developments that Influenced the World" sponsored by the Ministry of Science, Technology and Space.

Each of over 50 posters represents an Israeli scientific innovation, discovery, or, in a couple of instances, historical connection. Below here I provide a link for seeing all of the posters. Put your pointer over a selected poster, and an identifying caption will appear. Click twice and you will be navigated to an explanation of that discovery or innovation or connection. You'll see everything from repair of heart tissue utilizing algae; to development of new citrus strains for desert climates; to a new method of recruiting immune cells to fight cancer; to development of the disk-on-key; to discovery in the Gulf of Eilat of a new invertebrate marine organism (an ascidian species).

The posters themselves (which are copyrighted) are gorgeous. And as you explore you will learn a great deal about what is going on here. Enjoy:

http://ex.most.gov.il/en/

~~~~~~~~~~

Other positive news:

At the site of an archeological excavation in the City of David (the original Jerusalem of King David):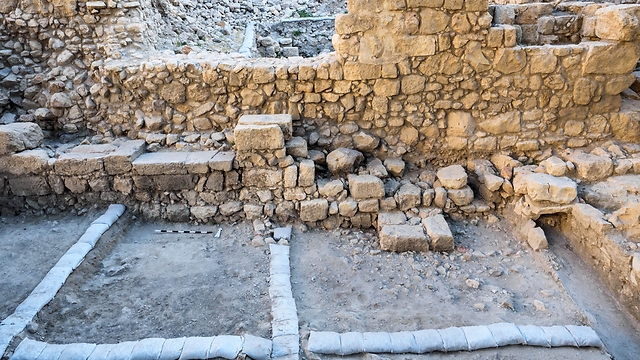 Credit:Israel Antiquities Authority (IAA)

a 2,500 year old seal, from First Temple times, has been discovered: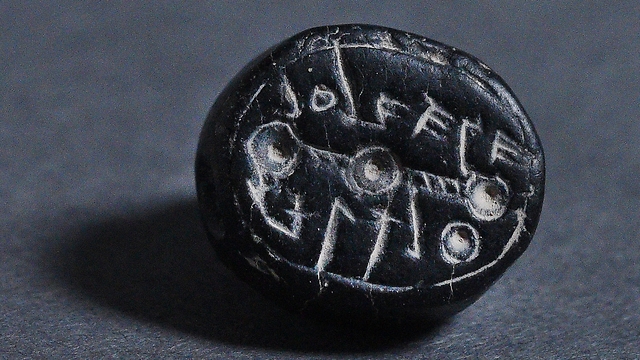 Credit: IAA

This again reinforces the fact of the Jewish presence in the Land over the millennia.

What makes this particular seal even more special is that the name written on it in ancient Hebrew is a woman's name: Elihana Bat Gael. Such seals were used for signing documents and this one belonging to a woman seems to indicate that she had the legal status to conduct business independently and to own property – a rarity in those times.

http://www.ynetnews.com/articles/0,7340,L-4775345,00.html

~~~~~~~~~~

The Kuwaiti daily Al-Jarida, citing a high level source, reported on Saturday that Putin has decided to freeze Russia's shipment of the S-300 anti-aircraft missile system to Iran.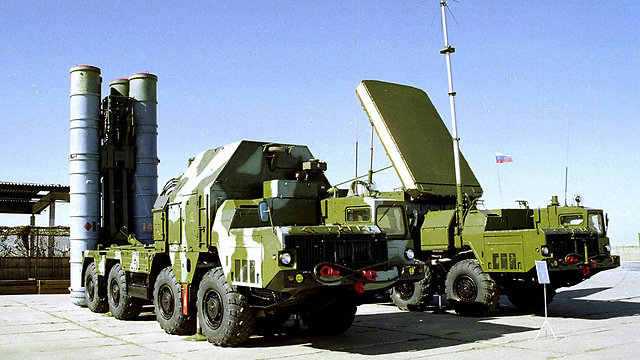 Credit: AP

According to the source, this was because Putin had evidence provided by Israel that Iran had transferred the advanced Russian-made SA-22 surface-to-air missile system to Hezbollah on repeated occasions. This was in spite of a pledge by Iran not to transfer sophisticated weaponry to Hezbollah. The intelligence from Israel was corroborated by Russian pilots flying missions over Syria and Lebanon who have reported that their radar systems detected advanced surface-to-air missile systems in Hezbollah-controlled areas.

http://www.ynetnews.com/articles/0,7340,L-4774679,00.html

~~~~~~~~~~

A week ago, the six members of the Gulf Cooperation Council - Saudi Arabia, the UAE, Bahrain, Kuwait, Oman and Qatar – named Hezbollah as a terrorist organization.

http://www.reuters.com/article/us-gulf-hezbollah-idUSKCN0W40XF

It is pretty clear that the antipathy of these states to Iran, and Iran's support of Hezbollah, are factors in this decision. But none-the-less this is a good thing for Israel; already Saudi Arabia has blacklisted some companies that have associations with Hezbollah. Our prime minister has said that the Council decision was "very important and even amazing."

~~~~~~~~~~

What was indeed exceedingly perverse, however, was the fact that two Arab parties in the Knesset – Balad and Hadash – criticized the Council move. Reasons given were because it inflames the Sunni-Shia conflict, and (I am not making this up) because it is good for Israel.

http://www.jpost.com/Arab-Israeli-Conflict/Netanyahu-pans-Israeli-Arab-MKs-condemnation-of-Gulf-terror-label-on-Hezbollah-447146

How long will such enemies of Israel be permitted to sit in the Knesset?
Credit: Marc Israel Sellem/JPost

Netanyahu, speaking at a Knesset plenum, retorted that as amazing as the decision of the Council was the response of two parties in the Knesset.

"Will you continue criticizing them when Hezbollah shoots rockets at your villages? Do they differentiate between blood and blood? [Hezbollah] wants to destroy the country, and you're in the country. Have you gone crazy? Excuse my expression." (Emphasis added)

~~~~~~~~~~

We never expected things to go easy with Barack Hussein Obama, as long as he sits in the White House. But now the rumblings are unsettling.

Later this month, AIPAC will hold its annual convention. Typically, Netanyahu travels to Washington at this time, for an address at the convention and a meeting with the president. Last year, as you will remember, the pattern was broken, when, at the time of the AIPAC convention, Netanyahu came to Washington and also addressed a joint session of Congress about Iran. An enraged Obama refused to meet with him.

Now the decision has been made by Netanyahu not to travel to the convention, to be held later this month, but to address those gathered by satellite. The decision was made, according to reports, because candidates will be at the convention and Netanyahu did not want to be embroiled in US politics during the campaign.

http://www.timesofisrael.com/unable-to-clinch-obama-meet-netanyahu-said-to-nix-us-trip/

If a lack of enthusiasm about meeting with Obama played into it as well, I would not be surprised.

In any event, the White House is generating a bit of a flap about this, declaring that the administration learned about Netanyahu's decision via the media, etc. Israeli officials say Obama had been advised that Netanyahu was not likely to come. Then there was a whole discussion about whether Obama had assured Netanyahu he would have time for him.

http://www.timesofisrael.com/white-house-surprised-netanyahu-spurning-offer-to-meet-obama/

This matter, in and of itself inconsequential, is reflective of a larger underlying tension.

~~~~~~~~~~

What is of potentially major consequence is a report from the Wall Street Journal that Obama is thinking of utilizing the UN Security Council to push "peace negotiations." This, after he had declared on numerous occasions that he knew it was not a propitious time for trying to advance negotiations. It would seem that this may be as much a last jab at Israel as an attempt to bring peace to the area:.

"US President Barack Obama's administration is considering a United Nations Security Council resolution to serve as a blueprint for Israeli-Palestinian talks, the Wall Street Journal reported on Monday. The US has repeatedly vetoed such resolutions in the past.
"That move would be just one element of a plan to receive the peace process, according to the Journal.
"The newspaper added that other elements might be a presidential speech and joint statement from the Quartet.
"The report offered one possible scenario: 'the US would push Israel to halt construction of settlements in the Palestinian territories and recognize East Jerusalem as the capital of a Palestinian state… Palestinians would in turn be asked to recognize Israel as a Jewish state and end claims on a right of return for Palestinian refugees.'" (all emphasis added)
http://www.ynetnews.com/articles/0,7340,L-4775666,00.html
This is a report of a possibility, not a definitive announcement. But it is decidedly not good news.
~~~~~~~~~~
Vice President Biden arrived here in Israel last night, and went to Jaffa for a meeting with Shimon Peres at the Peres Peace Center.
Credit: Dan Balilty/AP
While the two were meeting, all hell broke loose elsewhere in Jaffa:
An Arab terrorist from Kalkilyia ran along the boardwalk stabbing people as he went. He attacked in three different locations, killing an American tourist, wounding 10 others, including four tourists who have been critically injured. Ultimately he was shot dead by police.
http://www.israelnationalnews.com/News/News.aspx/209118#.Vt8_vJtunIV
Credit: Judah Ari Gross/Times of Israel
There is solid reason to believe that it was not a coincidence that the terror attack in Jaffa occurred just when the American vice president was there.
This was the last of a spate of attacks that took place yesterday. While police are finding no links between the attacks, it is speculated that Biden's presence here may have been an independent factor in each one:
In Jerusalem, a terrorist riding a motorbike opened fire on police near the Damascus Gate, wounding two officers, one seriously, before being killed.
But it was a Jewish man in his 30s who was stabbed several times in an attack in Petah Tikva who exhibited an exceptional response:
He pulled the knife from his own neck and stabbed the attacker to death with his own knife. Right on!
http://www.israelnationalnews.com/News/News.aspx/209115#.Vt9DSptunIU
~~~~~~~~~~
"Terror activity against innocent women and children is intolerable," Biden reportedly told Peres, when he was informed of what had happened. This lead me to wonder if he believes terror attacks on innocent men are tolerable.
The vice president then spoke of America's "absolute, total, unvarnished commitment to the security of Israel." However sincerely he may have meant this over-the-top statement, in the rush of the news about terror, this is so far from the reality as to be ridiculous – especially in the light of his expressed hope for progress on the "peace process."
http://www.ynetnews.com/articles/0,7340,L-4776018,00.html
~~~~~~~~~~
And I, along with a host of other Israelis, am so weary of/so enraged by the current situation that I am totally out of patience with dangerous diplomatic nonsense.
There is only one meaningful answer for Biden:
You want to show commitment to Israel's security? Demand that the Palestinian Authority stop the incitement that fuels the terror before you even speak about a "peace process." There should be no rewards for terror.
~~~~~~~~~~
Two of the villages that the terrorists had come from were closed off last night. The cries for stronger action to stop the terror are coming from several quarters and I will be following this closely.
This morning, one Israeli man was critically wounded outside the Old City near the New Gate, when two terrorists opened fire on him from their car. They were shot dead.
http://www.timesofisrael.com/israeli-critically-wounded-in-jerusalem-shooting-attack/
~~~~~~~~~~
I was so engrossed in writing my last posting that I forgot to end with a music video. But today I remember – oh how we need this! I want to share a magnificent version of Yehi She'amda, sung by Cantor Shimon Farkas, Cantor Dov Farkas, and Chief Cantor of the IDF Shai Abramson. Arrangement by Yonatan Razel. I will repeat this before Pesach, with explanation.
https://www.youtube.com/watch?v=f7JYhbKpR0Y
~~~~~~~~~~
© Arlene Kushner. This material is produced by Arlene Kushner, functioning as an independent journalist. Permission is granted for it to be reproduced only with proper attribution.

If it is reproduced and emphasis is added, the fact that it has been added must be noted.
http://arlenefromisrael.squarespace.com/current-postings/2016/3/9/march-9-2016-extreme-peversity-and-much-worse.html
Posted
on Wednesday, March 9, 2016 at 09:03AM
by
Arlene
|
Post a Comment
|
Email
|
Print
Eric Mandel, director of MEPIN, wrote an op-ed in the JPost on February 28, entitled, "The real strength of Israel" (emphasis added):

He begins by saying that, "Israel's long-term strength lies with its people."

In the course of this piece, he describes how he toured significant regions of Israel, and met with both leaders and ordinary people. And in his closing paragraphs he writes:

"After spending a good deal of time with olim [immigrants] from America, France, Holland, Italy and South Africa, as well as young native-born Israelis. I am indeed optimistic about the future of the Jewish state.

"Despite the high cost of housing, the income inequality and the continual security situation, Israelis are happier than most people in the Western world, including Americans. They live lives of meaning and purpose.

"...the real security strength of Israel is its people, their love of their country, and their determination to overcome all obstacles. Am Israel Chai."

http://www.jpost.com/Opinion/The-real-strength-of-Israel-446283
Credit: JPost

~~~~~~~~~~

Much of what he is saying you've heard from me, time and again. But I am so pleased to cite him now, and to provide this as the focus of our good news for the day. This goes beyond Israel's incredible technological and medical advancements. What we are looking at is the true nature of Israel, which is the best good news of all.

~~~~~~~~~~

It is important for us to celebrate Israel, in this broad regard, from time to time. And so here I provide a couple of examples of how Israel functions:

The State of Israel requires of its students in 10th and 11th grade that they do a minimum of 40 hours of what would be called, broadly, community service. I'm told that almost everyone does more than 40 hours per school year. One of my granddaughters led youth group activities for young Ethiopian girls. Another granddaughter currently works at an afternoon activity center for young people with emotional and mental disabilities. Some young people do basic training in life saving techniques and ride with MDA ambulances.

This service – with many possibilities available - is not simply encouraged: it is mandated. Israeli students take bagrut tests, which are roughly equivalent to SAT achievement tests in the US. A certificate is issued attesting to a student's completion of basic bagrut tests, but only if the requirement for community service has also been met.

Israel, you see, encourages not only academic achievement, but also a giving of one's self, a caring for others. And the young people take this requirement of service for granted.

~~~~~~~~~~

One other example here: I know a young man who was studying at a residential yeshiva high school (religious national). He told me about an annual program at the school in which mentally and emotionally disabled young people come to the school for a whole Shabbat. Counselors are present, but it is the high school students themselves who are assigned to be companions to/caretakers of these young people. I heard, for example, about one hyperactive visitor whose assigned student had to chase him all over the building.

At one point, the young man describing this program alluded to the fact that occasionally one of the visitors comes in diapers. "Diapers?" I responded, a bit astonished. "The students change their diapers?" Yes, said the young man, but in these cases there are two students assigned to one disabled visitor. Oh.

Who we are.

~~~~~~~~~~

On another front:

US News and World Report has just published a new study that ranks 60 nations of the world on a variety of parameters. With regard to the category of "power," Israel came in 8th, with only the US, Russia, China, Germany, the UK, France and Japan coming out ahead.

"Power" did not just refer to military might, but also to being a leader, economically influential, and politically influential, and having strong international alliances.

http://www.algemeiner.com/2016/01/21/new-study-ranks-israel-worlds-8th-most-powerful-country/

Credit: Israel foundation

~~~~~~~~~~

On Monday night, two soldiers from a special forces unit (Oketz K-9 –the non-combatant canine unit) inadvertently entered the refugee camp of Kalandiya (aka Qalandiya) – a hotbed of violence and terrorism - where they were immediately accosted by a mob of Arabs who pelted them with rocks and threw firebombs at them. One of the firebombs set the soldiers' car on fire and they fled the mob, while calling for rescue.

Israeli security forces in some numbers – both IDF and Border Police – quickly entered the camp, fearing that the soldiers would be killed or taken hostage, and rioting by the Arab residents – with a gun battle - ensued. The soldiers were safely recovered and the car was brought out. In the course of the rioting, at least on Arab was killed and Israeli forces sustained a number of injuries.

http://www.jpost.com/Arab-Israeli-Conflict/IDF-soldiers-escape-mob-attack-after-accidentally-entering-Palestinian-refugee-camp-446490

You can see from this picture that Kalandiya resembles a poor urban neighborhood and not a "camp." This fact raises one of a host of questions that beg to be considered with regard to this UNRWA refugee camp, which, it seems, is within the northernmost region of Jerusalem.
Credit: Miriam Alster

~~~~~~~~~~

Just a couple of weeks ago, Israeli security forces arrested Jamal Abu El Lail, who is head of the Fatah- affiliated Tanzim in Kalandiya. The Tanzim, founded originally by Arafat, is often classified as "militant." Associated with violence and terrorist actions, it is currently one of the groups that de facto runs Kalandiya in the absence of true law enforcement by any party.

~~~~~~~~~~

Roi Harel, an IDF reservist, was on his way out the door of his home on Wednesday, when he was attacked by two young Arabs brandishing axes, knives and guns. They pushed their way into the Harel home, which is in the community of Eli, in the Binyamin Regional Council of the Shomron, and made their way towards the bedrooms of the family's five children. Roi managed to repulse them, and shove them out of the door, which he then locked. The terrorists were ultimately shot and killed by security forces, who attempted to apprehend them as they fled.

This is a terrifying scenario that, in this instance, had a happy ending

http://www.jta.org/2016/03/02/news-opinion/israel-middle-east/israeli-father-of-5-attacked-outside-his-west-bank-home-saves-his-children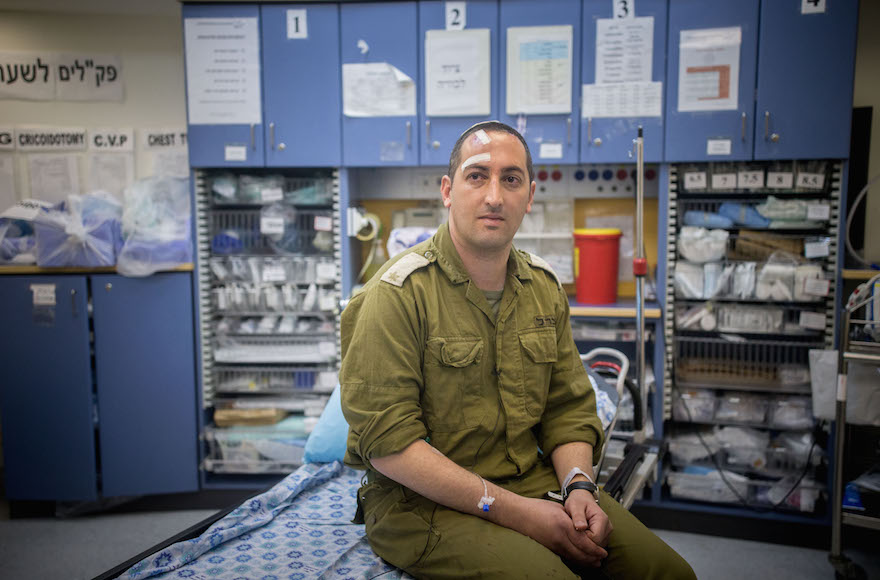 Credit: Yonatan Sindel/Flash90

~~~~~~~~~~

Most of you have probably never heard of Eli. I came across this short video, which provides the viewer with a sense of what this community is like – so different from the stereotypes about "settlements":

http://www.israelvideonetwork.com/learning-about-eli-in-the-shomron/

~~~~~~~~~~

The situation of several of the enemies at Israel's periphery is rapidly shifting in ways that require enormous diligence and preparedness. Here I touch on issues that will require follow-up and elaboration over time.

There is, first, the Palestinian Authority, which, certainly, I count as an enemy.

Immigration Minister Ze'ev Elkin (Likud) gave a talk on Monday at Bar Ilan University during which he warned that Israel has not yet internalized the fact that the PA is going to collapse.

Credit: Flash90

It's not a question of "if," he declared, but "when," and Israel had best prepare for the chaos and violence that may ensue, in part because Mahmoud Abbas has not prepared a successor. What he predicts is an internal fight for control of the PA and then anarchy. He is concerned about the vast number of weapons in the hands of the PA, both legally and illegally. (Many of those legal weapons were provided by the US, in a very misguided attempt to strengthen the PA on its way to becoming a state capable of fighting terrorism.)

http://www.israelnationalnews.com/News/News.aspx/208671#.VthuSptunIU

"I have not yet found anyone from (either) the political or military echelons who claim this is an outlandish scenario," he said.

~~~~~~~~~~

In subsequent comments on the topic, Elkins elaborated that Israel must "internalize the failure of the Oslo paradigm." This is a man who understands.

~~~~~~~~~~

At the same time, the IDF is preparing for the possibility of war with Hezbollah in Lebanon. This is even while there are no indications at present that Hezbollah, which is deeply immersed in the civil war in Syria, has an interest in attacking Israel now: there has been absolutely no redeployment of troops that would suggest readiness to do battle with Israel.

Nonetheless, Hezbollah has 100,000 rockets which they can launch in batteries, hidden in villages, of 1,200 per day. And there has been talk by Secretary General Hassan Nasrallah of taking over Israeli towns at the border.

And so the IDF is fortifying its ability to respond now, relying on:

[] Deep intelligence – with information on thousands of significant targets to be hit. The IDF says Hezbollah is going to be surprised at the depth of intelligence that has been acquired. This means we know where they are keeping their weapons.

[] Enhanced defensive capabilities – which include an "aerial defense system [that] has been upgraded with Iron Dome batteries, the David's Sling system that is soon to become operational, and the Arrow system," as well as dramatically improved firepower. "It's firepower that we never had before," declared an IAF officer, "and in such a conflict where the home front will be attacked, all restrictions will be lifted. We will not call houses before we attack." (Emphasis added)

[] A defensive line along the border to prevent the infiltration of Hezbollah forces – there are ten-foot high barriers being erected, and cliffs have been carved in the face of hillsides next to Israeli communities near the border.

http://www.ynetnews.com/articles/0,7340,L-4771607,00.html

(See more about Hezbollah below.)

~~~~~~~~~~

And then there is Syria, which in point of fact actually does not exist any longer as a single nation. No serious thinker believes all of its disparate parts can be reunited under one government – there are simply enclaves with variable borders now, controlled by one group or another, including, of course, Assad's Alawites. At present there is a temporary ceasefire of sorts – brokered by the US and Russian - that went into effect on February 27. It is not expected that it will be maintained, given the number of groups at play.

There are some 38 local ceasefire agreements. What is more, neither ISIS nor the Al Qaeda-affiliated Nusra Front – which maintains significant force in Syria – is included in the truce. Thus battles have continued, particularly in the north.

Russia has charged that there have been 31 violations of the ceasefire between different groups that are participants in the truce, in the course of three days.

https://www.rt.com/news/334303-31-ceasefire-violations-syria/

Minister of Defense Ya'alon charged earlier this week that Assad has used chlorine gas on civilians several times since the beginning of the ceasefire.

http://www.israelnationalnews.com/News/News.aspx/208754#.VtiwwZtunIU

~~~~~~~~~~

It goes without saying that the way in which things play out here will impact Israel and that it is all being watched very carefully. Prime Minister Netanyahu, at the Cabinet meeting last Sunday, said:

"We welcome the efforts to achieve a stable, long-term and genuine ceasefire in Syria. Anything that stops the terrible killing there is important especially from a humanitarian standpoint."

At the same time he warned that the quiet should not be used as a cover by Iran to build its military assets on the Golan Heights.
"It must be clear at the same time that any agreement in Syria must include a halt to Iran's aggression toward Israel from Syrian territory."
Netanyahu referred as well to recent movement of heavy weapons from Iran to Hezbollah via Syria.
"We will not agree to the supply of advanced weaponry to Hezbollah from Syria and Lebanon. We will not agree to the creation of a second terror front on the Golan Heights. These are the red lines we have set and they remain the red lines of the State of Israel." (emphasis added)

http://www.israelnationalnews.com/News/News.aspx/208617#.VtiycJtunIU

~~~~~~~~~~

You can take the prime minister at his word on this. In the middle of February, the Syrian Observatory for Human Rights reported an alleged strike by Israel near Damascus. This was presumably to stop sophisticated weaponry being passed to Hezbollah from Syria, or from Iran to Hezbollah via Syria. This was later obliquely confirmed by someone here in Israel.

http://www.ynetnews.com/articles/0,7340,L-4768013,00.html

This is certainly not the first time that Israel has done such a strike – which may be have been long distance, without entering Syrian air space – nor is it likely to be the last. The presence of Russia in the area as a major player might complicate matters, but at present has not been a problem. The interaction between Putin and Netanyahu appears to continue on a positive note, within a very complex mix of interactions.

~~~~~~~~~~

© Arlene Kushner. This material is produced by Arlene Kushner, functioning as an independent journalist. Permission is granted for it to be reproduced only with proper attribution.

If it is reproduced and emphasis is added, the fact that it has been added must be noted.
http://arlenefromisrael.squarespace.com/current-postings/2016/3/9/march-4-2016-who-we-are.html
Posted
on Wednesday, March 9, 2016 at 04:08AM
by
Arlene
|
Post a Comment
|
Email
|
Print
"Despite a perception by many in Israel of growing international isolation, Israel has many friends in Africa, Kenya's Foreign Minister Amina Mohammed said on Wednesday.

"Israel 'has more friends than not on the continent,' Mohammed, accompanying Kenyan President Uhuru Kenyatta on a three-day trip to Israel, told the Jerusalem Post. 'I was counting the countries, and maybe 40 out of 54 see Israel as a very close friend.'"

Courtesy

http://www.jpost.com/Israel-News/Politics-And-Diplomacy/Kenyan-FM-Israel-is-not-isolated-446017

Mohammed was then asked what it means that there is friendship, but African states generally vote against Israel in international forums. Her response was not quite satisfactory:

Gaging friendship just by voting patterns is "too one dimensional. There are a lot of things happening on the continent for Israel. Just look at the economic activities." In addition, she noted that "it is very difficult to break the African [voting] bloc.

But if 40 African countries think of Israel as "a very close friend," why is the bloc not pro-Israel?

~~~~~~~~~

Prime Minister Netanyahu has been speaking of late of how we need to ask (demand?) of countries that have quiet positive connections with us that they stand with Israel in public forums as well. And he is absolutely right. It's too easy, for these countries to accept our technological support, our advice on terrorism, whatever, and then stand against us publicly because it's the politically correct thing to do.

Mohammed acknowledged that Israel has helped Kenya in its fight against an al-Qaida affiliate. In addition: "We have been collaborating, we have been learning from you."

What I see is that we are going in the right direction – without question! – but that we're not yet where we need to be.

Mohammed did comment that changing the voting patterns in Africa requires engaging "as many Africans as possible...High level visits bring their own wind with them." Israel is doing that, she observed. In fact, Netanyahu hopes to visit Kenya and Uganda this summer, when he commemorates the 40th anniversary of the Entebbe raid (in which his brother Yonatan lost his life).

The last time a sitting Israeli prime minister visited Africa was Yitzhak Shamir in 1987. Years ago Israel had a very positive relationship with many African nations, and then Arab/Muslim politics intervened – which goes a long way to explaining why the African bloc does not vote pro-Israel. We are now in process of reversing the situation.

~~~~~~~~~~

A European country that is considered a friend is Bulgaria, which often stands for Israel in the EU. Bulgaria is an historic rival of Turkey, and has drawn closer yet to Israel since the breakdown of the relationship between Israel and Turkey. (This is a silver lining in the dark cloud of our tensions with Turkey, and follows the pattern of our enhanced relationship with Greece and Cyprus.)

Bulgarian Prime Minister Boyko Borissov was here for a visit on Wednesday and Thursday, and met with Prime Minister Netanyahu. Focus of the meeting reportedly was on regional security, energy and trade.

http://www.jpost.com/Israel-News/Bulgaria-PM-arrives-for-two-day-visit-446018
Credit: BGNES

~~~~~~~~~~

Egypt had not had a full ambassador here in Israel since 2012, but now one has arrived – this is the mark of warming relations between Egypt and Israel. On Thursday, Ambassador Hazem Ahdy Khairat presented his credentials to President Ruby Rivlin (on right, below).

Credit: mfa

While part of the ceremony involving a toast was held behind closed doors at Egypt's request, Rivlin did say:

"We live together in a difficult region. We have found a way to live together in peace and friendship. This is a message to the whole region, and the whole world."

http://www.israelnationalnews.com/News/News.aspx/208535#.VtAfWJtunIV

What is more, Rivlin reported that Ambassador Khairat said he was "very happy and proud" to be in Israel.

~~~~~~~~~~

And across the border...
"Israeli Ambassador to Egypt Haim Koren gave a rare interview to Egyptian journalists in his residence in Cairo on Tuesday, and surprisingly, the transcript of the interview was published, and what's more, the journalists were not afraid to expose the fact that they had spoken to the representative from Israel.
"On the Israeli Embassy in Egypt's Facebook page, the entire transcript was published next to a picture of Ambassador Koren with the flags of both Israel and Egypt.
"'We respect the President of Egypt, Abdel Fattah al-Sisi, because he is an open president who is interested in bringing stability to the region,'...Koren said to journalists."
http://www.ynetnews.com/articles/0,7340,L-4770604,00.html
Youtube
~~~~~~~~~~
With regard to our relationship with Egypt, then, as well, we are obviously making very solid progress, but not quite where we would some day hope to be.

Egyptian parliamentarian – and controversial TV host –Tawfik Okasha invited Ambassador Koren to his home for dinner during a public broadcast, and, indeed, the two met at Okasha's home on Tuesday; they reportedly discussed a variety of political issues.

Now according to various reports, Okasha (at right below) is being roundly criticized in social media and by some fellow parliamentarians.
http://www.timesofisrael.com/egyptians-outraged-by-mps-meeting-with-israeli-envoy/
Credit: Al-Ahram
We're seeing here some brave steps by specific leaders and journalists in Egypt, with many, who have been fed on hatred for Israel for a long time, lagging behind. Little by little.
~~~~~~~~~~
Over in Great Britain, the leadership, which professes great friendship for Israel, is disappointing:
On Wednesday evening, British Prime Minister David Cameron, while answering a question from a parliamentarian in the House of Commons, declared that the situation in Jerusalem was "genuinely shocking.": for on a visit he had seen the "effective encirclement of East Jerusalem, occupied East Jerusalem..."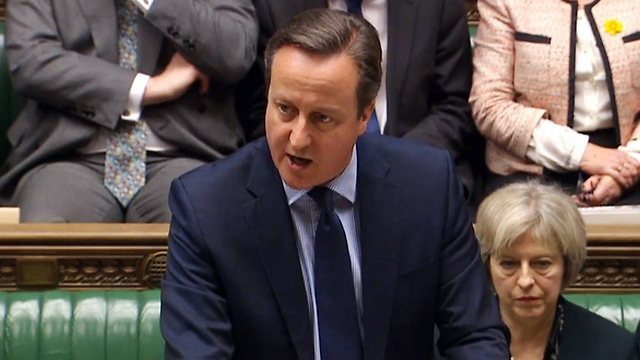 Credit: AP
Presumably, Cameron expects "East Jerusalem" to be the capital of a "Palestinian State" some day. But I have a big flash for the prime minister:
It does not matter what fabrications the Palestinian Arabs feed him, there is no "East" Jerusalem. There is only an eastern section of a united Jerusalem, which is the capital of Israel. On July 30, 1980, the Knesset passed into Basic Law: Jerusalem, complete and united, is the capital of Israel.
See: https://www.knesset.gov.il/laws/special/eng/basic10_eng.htm
From the time that David established Jerusalem as the capital of Israel, over 3,000 years ago, until this day, Jerusalem has never the capital of any nation other than Israel. And it never will be.
Jerusalem was divided only once, for 19 years, from the War of Independence in 1948 until the Six Day War of 1967. During that period, Jordan, which occupied the eastern part of the city illegally, rendered it Judenrein, in spite of the fact that the holiest Jewish sites were in that part of the city. Jordan had committed to allowing Jewish access to those sites – most notably the Kotel - but instead went about destroying synagogues and desecrating the cemetery.
Because Jews were banished from the eastern part of the city, when Israel liberated it in 1967, it contained only Arab neighborhoods. Thus did it become known as the "Arab" part of Jerusalem. But this is no longer the case. In some instances new neighborhoods have been constructed. In other instances, Jews have bought and moved into homes that had originally been Jewish but then taken over by Arabs in 1948. (The Silwan area is a case in point.)
People who are promoting that "two state solution" envision drawing a line down the middle of Jerusalem and separating it into Jewish and Arab sections. The reality is quite different, however, as Jews now also live in the eastern part of the city, as they have every right to do. There is no way to divide the city. Cameron's call of distress about a ring of Jewish neighborhoods surrounding "Arab" Jerusalem is simply misinformed nonsense.
Take a look at the map below and you will see that the Mount of Olives is in a predominantly Arab neighborhood. But on that Mount is the oldest Jewish cemetery in the world, containing over 150,000 graves – including graves of some people of astounding significance to Jewish history. When it was under Jordanian control, tombstones were lifted to use in constructing latrines. Should it be a part of a separate "Arab" Jerusalem? Should the Old City?
Credit: Elder of Ziyon
~~~~~~~~~~
Prime Minister Netanyahu, in response to Cameron's comments, pointed out that:
"Only Israeli sovereignty prevents Islamic State and Hamas from setting aflame the holy places in the city, as they are doing across the Middle East..."only Israeli sovereignty in Jerusalem ensures the rule of law for Arab residents and for all."
http://www.timesofisrael.com/netanyahu-to-cameron-if-not-for-israel-terrorists-would-destroy-jerusalems-holy-places/
~~~~~~~~~~
This discussion leads me to another, regarding our claim to the Golan Heights. On December 14, 1981, the Knesset passed the Golan Heights Law:
"The Law, jurisdiction and administration of the state shall apply to the Golan Heights." (The term annexation was never used.)
http://www.mfa.gov.il/mfa/foreignpolicy/peace/guide/pages/golan%20heights%20law.aspx
This is almost 35 years ago. In the interim, there have been several times when the notion of relinquishing the Heights to Syria as part of a peace treaty was advanced. Thank Heaven, that never went any where. But for the duration, most of the world has continued to consider the Israeli Golan as illegally occupied.
Now a new situation has developed, as Syria, which claims rights to the Golan, no longer exists as a sovereign nation. It is thoroughly, and painfully, and irrevocably disintegrated. Thus it is being suggested that it is time to declare the Golan Israeli according to international law. David Weinberg, writing in Friday's JPost, cites Prof. Peter Berkowitz (all emphasis following is added):
"The chaos in Syria has weighty legal and political ramifications that should impel the international community to revise its understanding of the Golan's status.
"...few informed observers think that a functioning nation-state can be reconstructed out of the warring Alawite, Shia, Sunni, Kurd and Druse factions into which Syria has collapsed. "
The question then is "what happens when the party with the claim favored by international law disintegrates?"
Says Berkowitz, "Syria's disintegration renders title over the Golan equivocal, while Israel can claim a right under the principle of effective occupation."
Weinberg observes that "territory can be acquired through the exercise of sovereign power on a peaceful and extended basis...Israel has exercised authority in a manner that suits all the residents of the territory.
"Moreover, public international law favors stability, order and peace; it aims to avoid resolutions that expose people to death or injury. Accordingly, it should prefer Israeli sovereignty over the Golan to the grim alternatives for the Golan Druse."
http://www.jpost.com/Opinion/KNOW-COMMENT-Humpty-Dumpty-is-down-The-Golan-is-Israeli-446156
~~~~~~~~~~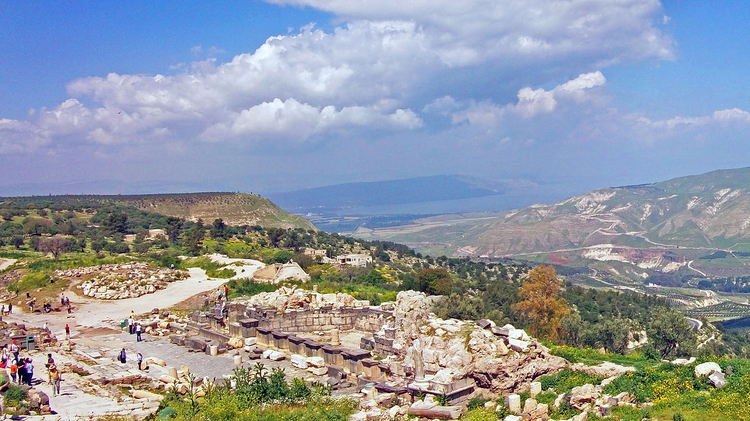 Credit: i24new.tv
~~~~~~~~~~
On Wednesday, Mahmoud al-Zahar, a senior Hamas leader met with members of the Foreign Press Association in Gaza and declared that:
"I think no one here in the region is looking for a war." The tunnels they are building, he explained, are defensive in nature: "We are not looking for any confrontation with Israel, but if they are going to launch an aggression we have to defend ourselves."
http://www.jpost.com/Arab-Israeli-Conflict/Hamas-not-seeking-a-war-with-Israel-says-top-official-446109
Possible translation: We know Israeli is fed up with us and thinking of a preemptive attack because of the tunnels we're building, so we want to make it clear to the world that we are innocent.
Second translation: We're preparing those tunnels for the day when we do want to attack Israel, but it will be at a time of our choosing and we're not interested now. In point of fact, I have read Israeli security assessments that Hamas is not ready for war now.
~~~~~~~~~~
On the very same day, that Al-Zahar made this statement, Netanyahu met with leadership from Jewish communities in the south near Gaza. He assured them that progress was being made on developing a system to locate those tunnels. We've been hearing this for some time now. Let it be a reality.
http://www.algemeiner.com/2016/02/26/netanyahu-promises-to-end-threat-of-hamas-terror-tunnels/
~~~~~~~~~~
Always and ever, painful:
Credit: Hagar Amibar/Israel Air Force
Eliav Gelman, 30, a reserve Israeli Air Force captain was killed Wednesday by errant IDF gunfire during a Palestinian stabbing attack at the Etzion Junction.
He was on his way home from his base when attacked. Waiting at a bus stop, he was knifed by an Arab terrorist; nearby soldiers shot at the terrorist, but one or more bullets struck him.
The father of two young boys, ages 2 and 5, he lived with his family in Karmei Tzur in the Etzion bloc. His wife is eight months pregnant.
He was buried Wednesday night at the Kfar Etzion cemetery, with thousands in attendance.
His brother described him as "loved and loving, he was connected to the people of Israel, the land of Israel, the Torah of Israel."
http://www.timesofisrael.com/eliav-gelman-30-named-as-israeli-killed-by-errant-idf-fire/
~~~~~~~~~~
A security guard who was attacked with an ax is in intensive care. The attack took place at the mall in Ma'ale Adumim, east of Jerusalem. As I write, the assailant is still at large.
http://www.timesofisrael.com/security-guard-remains-in-serious-condition-after-terror-attack/
~~~~~~~~~~
I will end today with a rendition of by IDF Chief Cantor Shai Abramson of Shir HaMa'alot (Song of Ascents), Psalm 126.
https://www.youtube.com/watch?v=qwK6cWEt9es
~~~~~~~~~~
© Arlene Kushner. This material is produced by Arlene Kushner, functioning as an independent journalist. Permission is granted for it to be reproduced only with proper attribution.

If it is reproduced and emphasis is added, the fact that it has been added must be noted.
http://arlenefromisrael.squarespace.com/current-postings/2016/2/27/february-27-2016-points-near-and-far.html
Posted
on Saturday, February 27, 2016 at 04:07PM
by
Arlene
|
Post a Comment
|
Email
|
Print
In other words, we keep going, and always will.
Let me start today with a light-hearted good news piece, which reflects on Israel's wonderful side. (Emphasis is added.)
Credit: MDA spokesman
"When Magen David Adom (MDA) paramedic Liat Mizrahi (pictured above) and her team were flagged down by a bystander to tend a wounded dog lying on the pavement near the train station in Binyamina in the Haifa region, they immediately called for another team to take their place on regular duty and rushed to save the dog, which had been hit by a car...

"Fortunately, Mizrahi has eight years of experience working in a veterinary clinic. With one glance she realized they had to act fast.
"'I knew I could not leave it untreated,' recalled Mizrahi. 'I asked permission from my superiors to take a one-hour break and an ambulance was sent to take our place so that MDA activities would continue as usual'...
"Mizrahi contacted local veterinarian Dr. Rafael Farag, who agreed to provide further treatment.
"Here, however, the team encountered another problem: how to safely transport the dog to Farag's clinic.
"Into the picture entered MDA Director General Eli Bin, who granted special permission to bring the dog there on the ambulance's gurney. Chupa arrived at the veterinary in stable condition.
"'MDA's mission of saving lives is the highest value and not just when it comes to humans,' said Bin later. 'I applaud the quick response of the team and I wish a speedy recovery to Chupa. I hope to see her walk on all fours soon.'
"He added that the gurney used to transport Chupa will be donated to a veterinary emergency service."
The dog's owner, who explained that they were not aware Chupa had gotten out of the yard, "was deeply moved to see the MDA team saving the life of a dog with indescribable devotion."
http://www.israel21c.org/israeli-paramedic-saves-dog-that-was-hit-by-car/#.VsV15GxmQVU.gmail
~~~~~~~~~~
"The next school year has been declared as the 'Year of Jerusalem Unity,' which will launch an extended curriculum, from elementary school to high school, as decided by the Minister of Education Naftali Bennett [Habayit Hayehudi].
"The program, marking the 50th anniversary of the liberation of Jerusalem, will focus on the city's history, heritage and sites. Schools will incorporate the content throughout the school year and ahead of special holidays, including Jerusalem Day...
"The program will incorporate themes from the existing curriculum and will further highlight language, geography, civics, literature, Bible and Israel studies. The program will officially launch during this year's Yom Yerushalayim [Jerusalem Day] celebration on June 5th, with several activities and events.
"The Ministry of Education stressed that the program will increase the number of students who visit the various sites in the capital of Israel, including the Old City, the Israeli Knesset, the Supreme Court and memorial sites."
http://www.israelnationalnews.com/News/News.aspx/208374#.Vsr6n5tunIV
Credit: Moti Milrad
~~~~~~~~~~
I share here a short video of the Flag Dance outside the walls of the Old City on a previous Yom Yerushalayim.
https://www.youtube.com/watch?v=1r2NrZH8kQk
~~~~~~~~~~
On February 18, 2016, the Greek Minister of Defense, Panos Kammenos, addressed an international conference at the Begin-Sadat Center for Strategic Studies on "Strategic Challenges in the Eastern Mediterranean."

Credit: ert
In the course of a long analysis he referred to Turkey, whose "policies and behavior towards these three [eastern Mediterranean] democracies [of Greece, Israel and Cyprus] are far from being friendly, far from being in accordance with international law, and far from being of a stabilizing nature."

And he concluded with these words (emphasis added):
"Greece, Israel and Cyprus do not aspire to create or participate in an axis of evil. We have seen and continue to see the consequences of confrontation, extremism and war.
"Our aim is to create, together with all those who share the same values and principles and without exclusions, an arc of stability, cooperation and prosperity extending from the broader East Mediterranean area to the Black Sea and beyond.
"Our adversaries are not states or peoples and religions, but extreme ideologies and inhuman practices which incite hatred and destruction.
"Our strategic priority is to create a better place for our peoples and future generations to live in peace, security and prosperity.
"An area of cooperation and progress.
"Our East Mediterranean, has been a cradle of great civilizations, of religious tolerance and coexistence and it can certainly become a springboard towards a better future mainly for our youth.
"We should not allow any more lost opportunities, no more lost generations."
http://besacenter.org/new-at-the-besa-center/greek-defense-minister-speaks-out-forcefully-in-alliance-with-israel/
~~~~~~~~~~
Hopefully, I've provided enough good news to sustain us for a bit. For now I must deal with the not-good news. And first I want to turn back briefly to matters that I wrote about in my last posting.
It turns out that terrorist victim Tuvia Yanai Weissman had dual citizenship and was also an American. The American government does not always clearly condemn terror attacks even when US citizens are involved, but in this instance it did.
News reports have it that a third suspect in the attack that killed Weissman has been arrested. Apparently there were three teenagers who attempted to enter the Rami Levy market, and one, from Ramallah, was turned away, while the other two – from Beituna near Ramallah - were permitted to enter (say some reports, without a search). Why, if one was turned away his companions were permitted to enter is something I cannot answer! At any rate, he may have been intending to participate in the attack, but as he wasn't present cannot be prosecuted as a direct participant – although his identification as an accomplice in the planning may be important.
http://www.timesofisrael.com/third-suspect-nabbed-in-deadly-supermarket-stabbing/
~~~~~~~~~~
Yesterday, at the Cabinet meeting, Prime Minister Netanyahu commented that the discussion about Chief of Staff Eizenkot's comments is "pointless," just a political exercise.
But I take issue with this. Saying that he wouldn't want an IDF soldier to empty a magazine into a 13-year old girl, even if she were doing something serious, suggests that an IDF soldier might do this. Which is not the case. And Ya'alon's saying that we must take care not to lose our "humanity," suggests that we are at risk of doing so. Which is most certainly not true.
What these military leaders have done is demean the image of the IDF at a time when it should be vigorously defended. What is more, they have provided an opportunity for our enemies to point fingers.
I would have expected something very different of them. My fury may abate, but great sadness remains.
~~~~~~~~~~
Secretary of State Kerry has been in the area for a variety of reasons. The single "good news" part of this is that he has no intention of visiting Israel.
He did visit with Mahmoud Abbas in Jordan on Sunday.
Credit: Reuters
According to State Department spokesman John Kirby, Kerry "urged calm, and a decrease in violence, incitement and inflammatory rhetoric."
Urged? This is laughable. Words won't move Abbas, although they might make good press. Certain kinds of threats regarding withdrawal of US support might have an effect.
Kerry also reaffirmed American commitment to a "two state solution."
And so we see, for all the statements suggesting that trying to negotiate that "solution" now is not possible, it's always in the background.
~~~~~~~~~~
According to PA spokesperson Nabil Abu Rudaineh, Abbas, for his part, told Kerry that the PA leadership intends to continue via the international route: They are seeking an "international conference for peace,"and a Security Council resolution calling for an immediate cessation of building by Israel in Judea and Samaria. It's the same old game: trying to get the international community to pressure Israel so that the PA need make no concessions.
http://www.jpost.com/Arab-Israeli-Conflict/Abbas-calls-on-Kerry-to-intervene-in-release-of-hunger-striker-Mohamed-Al-Qeeq-445618
Abbas also reported to Kerry on current efforts (yes, once again) to form a unity government, which would consist of the PA, Hamas and other Palestinian jihadi factions, thereby theoretically ending the division between elements in Gaza and the PA in Judea and Samaria (aka the West Bank). That unity is theoretically a positive, as all Palestinian Arabs would be represented in any "two state solution." But it's an ongoing farce. Hamas and Fatah are too much at odds to establish an enduring union. What is more, the notion that Hamas and related factions, which are overtly terrorist and opposed in principle to negotiations, could genuinely be part of an "solution" is nonsense. But, unfortunately, a nonsense that is paraded before the world now and again.
~~~~~~~~~~
See Khaled Abu Toameh's piece about the game of obfuscation that the PA is playing, with Kerry's cooperation. It contains significant historical information on the PLO's ultimate intentions that should be read and saved. (Emphasis added)
"This 'intifada' is simply a further phase in a larger plan to destroy Israel. When the plan began officially, with the establishment of the PLO in 1964, there were no 'settlements' – not 'until after the June 1967 War -- so what exactly were the Palestinians planning to 'liberate'?
"The plan continued in 1974, at the twelfth session of the Palestinian National Council in Cairo, with the 10-point 'Phased Plan' (see Appendix below for full text of the Phased Plan). Article 2 called for 'armed struggle' (terrorism) to establish 'an independent combatant national authority' that is 'liberated' from Israeli rule...
"Abbas also told Kerry that he intends to continue with his efforts to seek a UN Security Council resolution condemning Israel over 'settlement construction.'
"Never mind that on Palestinian maps, all of Israel is regarded as one big 'settlement.'"
http://www.gatestoneinstitute.org/7480/palestinians-john-kerry
The "Phased Plan" acknowledged that Israel could not be taken down all at once, and laid out plans for weakening Israel one step at a time. Negotiations for a state that did not encompass all of Israel were considered an acceptable temporary step along the way, as long as the negotiations indeed did weaken Israel.
~~~~~~~~~~
Buried into a shipment of toys that was meant to make its way into Gaza via the Keren Shalom Crossing from Israel were discovered a number of different helicopter drones, carrying high quality cameras. The drones earmarked for use by "terrorist elements in Gaza," were discovered by a task force consisting of members of Shin Bet, the Crossings Authority, COGAT, and the police. The items were intended for spying on the IDF. Ongoing vigilance is required of the task force, as the efforts to smuggle such items into Gaza persist.
http://www.jpost.com/Arab-Israeli-Conflict/Israel-thwarts-attempt-to-smuggle-drones-intended-for-terrorists-into-Gaza-445608
Credit: JPost
~~~~~~~~~~
"Details of a thwarted Hamas-hatched plan to assassinate Israeli Prime Minister Benjamin Netanyahu were revealed for the first time on Sunday, after a two-month interrogation of the suspects involved, the Hebrew news site Walla reported.
"According to the report, the plot was made public with the Attorney General's indictment last month of two of the terrorists, including the head of the cell, a 25-year-old from Kfar Yassuf in the West Bank who had rented an apartment in the Abu Dis neighborhood of east Jerusalem.
"Ahmed Azzam was in the advanced stages of establishing Hamas infrastructure in the West Bank and east Jerusalem, with funding and direction from Hamas in Gaza, the indictment said. To this end, he had purchased chemical materials and rented the apartment in east Jerusalem, where he set up an explosives lab. Also, according to the indictment, Azzam recruited the terrorist who was tasked with transporting the bombs beyond the Green Line.
"It was this terrorist, Hazam Sanduka — nicknamed 'the mechanic' for his intimate knowledge of cars — who had determined that Netanyahu would be the main target.
"The 22-year-old resident of east Jerusalem and a student of Arabic at Abu Dis University was recruited in November by Azzam, who was looking for a Jerusalem resident to aid in the preparation of terrorist attacks."
See further details in Ruth Blum's article:
http://www.algemeiner.com/2016/02/21/chilling-details-emerge-from-thwarted-east-jerusalem-hamas-plot-to-assassinate-netanyahu-in-public-terror-attack/
Understand this: Sanduka worked for a security company in Jerusalem. His job was to conduct security checks at the Great Synagogue and the Jerusalem sports Arena. When he began planning a terror attack, these were places he considered, undoubtedly because of his familiarity with them.
Blum calls the details "chilling," and that is precisely what they are.
~~~~~~~~~~
Also chilling is a video from the Internet that is shared, with translation, by MEMRI.
See here: http://www.memritv.org/ At the top are "MEMRI TV Highlights." Click on the item on the far left: "We are the men of the West Bank," or wait until clip #5322, "an animated music video celebrating terror attacks," appears and click on that. It's a celebration of terrorism that helps explain its appeal to Arab kids.
~~~~~~~~~~
These last items provide a clear picture of our "negotiating partner" as we strive for "peace" with them.
Please share this broadly. Many people do not know the realities, and they must learn them.
~~~~~~~~~~
A correction: Recently, I inadvertently described German Chancellor Angela Merkel as Andrea. With thanks to those who caught this.
~~~~~~~~~~
I wrote above about the Year of Jerusalem Unity to be instituted in Israel's schools. And so, even though it is not Yom Yerushalayim, I decided to end with a rendition of Im Eshkachech Yerushalayim" – "If I forget you, Oh Jerusalem," Psalm 137.
There are dozens of versions, but I picked this traditional one, sung by Ya'akov Shwekey, in part because of the text and pictures that accompany the singing. There is learning to be done from the text.
I only wish the Israeli establishment had truly recognized the miracle that came to us in 1967. Now we must deal with what is, and over time rectify that mistake.
https://www.youtube.com/watch?v=gTvoe2fkU2w
~~~~~~~~~~
© Arlene Kushner. This material is produced by Arlene Kushner, functioning as an independent journalist. Permission is granted for it to be reproduced only with proper attribution.

If it is reproduced and emphasis is added, the fact that it has been added must be noted.
http://arlenefromisrael.squarespace.com/current-postings/2016/2/23/february-23-2016-one-foot-in-front-of-the-other.html
Posted
on Tuesday, February 23, 2016 at 07:37AM
by
Arlene
|
Post a Comment
|
Email
|
Print
I will not begin with the good news today. Sometimes it is inappropriate.
Courtesy

The young man you see here - Tuvia Yanai Weissman - is dead. Murdered by terrorists late in the day on Thursday.

Twenty-one years old, he was a combat sergeant in the Nahal Brigade and lived in Ma'ale Mikhmas, north of Jerusalem, in the Binyamin region of Shomron.

Weissman was off duty on Thursday, and was not carrying a gun. He was in the Rami Levi supermarket in Sha'ar Binyamin with his wife, Yael, and their four-month old daughter, Netta, shopping. When heard the commotion in another aisle because a terrorist was attacking; he ran to help. And gave his life for it.
Credit: IDF Spokesperson

~~~~~~~~~~

An obscenity, that yet another precious and innocent Jewish life has been taken. And that other innocent Jews are now mourning. This time, what I felt, beyond all else, was fury.

At the funeral, held at the military cemetery at Har Herzl on Friday, Yael, in a tear-filled voice, stood by his fresh grave and addressed her husband:

"You were always full of endless giving, if you hadn't run there [to stop the terrorists] you wouldn't be the Yanai that I know and fell in love with....Yanai you are a true hero of all the nation of Israel, you knew that you had no weapon and nevertheless you ran. I want to thank you, I merited to learn from a talented and special man."

http://www.israelnationalnews.com/News/News.aspx/208282#.Vsiz7JtunIV

And so I am also in awe – of this young man who ran to help. And of the courage of his young wife.

Credit: Binyamin Regional Council Spokesman

~~~~~~~~~~

Another shopper, who was wounded by the terrorists, has been released from the hospital. The two stabbing terrorists were, once again, teenagers. They were shot by an armed bystander, and are now hospitalized.

~~~~~~~~~~

And there is another, related, reason for my fury. It is not called for, it is in fact highly inappropriate, for us to respond to international criticism about our handling of the on-going terrorist onslaught – much of which is promoted by the PA – by running to demonstrate how "kind" or "sensitive" we can be to terrorists. And those I fault for their positions on this matter are the very ones who are supposed to be our military leaders.

First it was Chief of Staff Gadi Eizenkot, who, in addressing high school students last Wednesday, spoke about how IDF soldiers should never use more force than necessary:

"When there is a 13-year-old girl holding scissors or a knife, and there is a barrier between her and the soldiers, I wouldn't want a soldier to open fire and empty a magazine into a girl like that, even if she commits a very serious act."

It was an angry Internal Security Minister Gilad Erdan who responded on Friday to Eizenkot's comment:

"One thing was missing in the storm over the Chief of Staff's comments about not needing to empty a magazine into a 13-year-old female youth with scissors: no one noted that it never happened." (emphasis added)

http://www.israelnationalnews.com/News/News.aspx/208293#.VsjQUZtunIV

Erdan was hardly the only one who was angry. Transportation Minister Yisrael Katz (Likud), for example, observed, "I hope that the Chief of Staff's statements condemning automatic fire were not mistakenly interpreted and caused hesitation and an endangerment of life." (emphasis added)

This is very much to the point here. The IDF is the most ethical army in the world, and the rules of engagement are stringent to avoid unnecessary loss of life. There has actually been criticism that we are too careful, thus putting our soldiers at unnecessary risk.

It obviously cannot have escaped General Eizenkot's notice that some of the Arab teenage terrorists our soldiers are dealing with are murderers. They have great potential to commit lethal acts, their tender age not withstanding. And here we are in the midst of a rash of attacks. These young terrorists must be responded to as necessary to protect Jewish life to the maximum.

~~~~~~~~~~

Eizenkot made one further, related, statement that sat badly with me: "We do not act according to slogans such as 'whoever comes to kill you, kill him first.'" Excuse me? That "slogan" is a Talmudic dictum - "Who ever comes to kill you, rise up and kill him first" Sanhedrin 72:1 – that should be considered seriously. With all of my heart I wish that Tuvia Yanai Weissman's Palestinian Arab attackers – young teenagers though they are – had been killed before they had a chance to kill him.

(Parenthetically, I would guess that this dictum applies to Hamas, which clearly has homicidal intent towards us.)

And then there is Defense Minister Ya'alon, who spoke out in defense of Eisenkot, in a manner that was equally distressing. He spoke about taking care that we not lose our "humanity." This seemed perverse to me, considering that Israel treats Syrian wounded with no questions asked, and even accords terrorists who are wounded the very same quality of care that their victims are accorded in the very same hospitals. The rest of the world should have our humanity.

~~~~~~~~~~

There is a serious problem here, that goes beyond these few statements. Ruthie Blum addresses it well in "Eizenkot's Shameful Implications":

http://www.algemeiner.com/2016/02/19/eizenkots-shameful-implications/
Credit: JPost

~~~~~~~~~~

Unfortunately, the murder of Weissman is not even an isolated incident: the knifings and attempted knifings are continuing on just about a daily basis. Everyone is very heart-weary. While there have been protests that – since most of these attacks represent spontaneous, isolated "lone wolf" incidents – it's impossible to stop them, there is a rising feeling that this is simply not the case.

The Yesha Council (the council of Judea and Samaria) is demanding that the government take further steps. While the attacks may be "individual," they say, they are highly motivated by the PA incitement. Thus they want to see the government "stop the broadcasts of the official media of the Palestinian Authority, block the transmission frequencies, confiscate transmitters and shut down the broadcasting stations." (emphasis added)

http://www.israelnationalnews.com/News/News.aspx/208271#.VsjfYZtunIV

~~~~~~~~~~

Then there is the NGO OneFamily, which serves victims of terror and their families. On Thursday morning, Chantal and Marc Belzberg, director and chairman of OneFamily respectively, hand delivered to the prime minister a confidential six-point plan for better fighting the terrorism. Chantal described it as containing "six legally defensible, actionable way to save Jewish lives," whose "time has come." Indeed it has!

The document was drafted by lawyers Alan Dershowitz and Avi Bell.

At a press conference following the meeting with Netanyahu, Marc Belzberg specifically mentioned the fact that the contents of Arab texts books and curricula used in Arab schools inside of Israel are not sufficiently monitored. "In many Israeli-Arab schools they're teaching poison to the kids...and that needs to be stopped immediately. We pay for those books, we pay for those schools, and someone should go in there and stop it immediately." (emphasis added)

http://www.jpost.com/Breaking-News/Bereaved-families-NGO-demands-Netanyahu-do-more-to-stop-terrorism-445447

It's not quite as easy as "someone going in there and stopping it immediately." But Belzberg is fingering an important problem that festers, while remaining largely under the radar. There are a good number of problems our nation must confront now, without fear of being politically incorrect. There is too much at stake to turn a blind eye.

~~~~~~~~~~

Having dealt at some length with terrorism-related issues, I'd like to devote the remainder of this post to good news. Qualified though some of it (regarding BDS, etc.) may be, it heads us in the right direction.

I begin with some very positive information about the IDF, which truly is the most sensitive and extraordinary military in the world (emphasis added):

"The IDF has shown an unusual attitude towards people with autistic tendencies in recent years, choosing to nurture and make use of their abilities rather than exclude them from service...

"Israel [had] for decades exempted people on the spectrum from joining the military, a compulsory duty for most Israeli Jews. But in recent years it is increasingly enlisting them, harnessing their special capabilities for certain meticulous tasks and including them in an Israeli rite of passage that can boost their independence and open professional doors.

"Until recently, people on the spectrum were largely sidelined from the military, allowed to volunteer but without a proper framework to ease them into the challenges of military life. Ro'im Rachok [A program called Seeing into the Future], and at least one other program that has sprouted up, is doing just that...
"The Israeli military serves as a great equalizer where youth from all walks intersect and those who do not enlist can find themselves at a handicap once they hit the job market. One's military career can often be a key determinant for employers and soldiers who served in intelligence units often land coveted jobs in Israel's booming tech sector."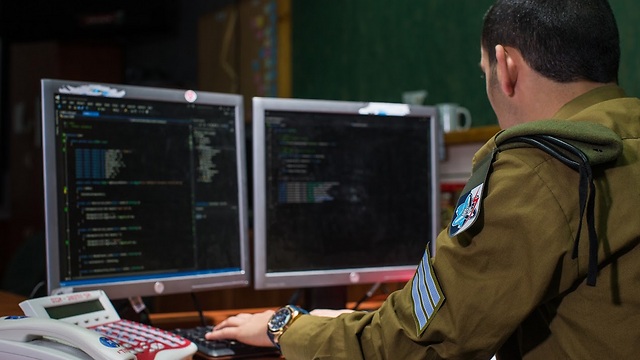 Credit: IDF Spokesman
http://www.ynetnews.com/articles/0,7340,L-4768429,00.html

~~~~~~~~~~

"With more than 300 employees at four sites throughout Israel, Merck KgaA, a multifaceted chemical and technology company, has quietly emerged as one of the major multinational firms with a significant presence in Israel.

"The company announced this week that it was furthering its stake in Israeli tech by signing a new framework agreement with the Weizmann Institute to research new solutions in the area of biotechnology and cancer research."

http://www.timesofisrael.com/merck-weizmann-institute-sign-strategic-deal-on-cancer-research/

~~~~~~~~~~

"With broad bipartisan support, Canada stands poised to reject the Boycott, Sanctions and Divestment (BDS) campaign against Israel.

"The Liberals, who comprise the majority of seats in the House of Commons, said the party will support an opposition motion introduced Thursday calling on the House to formally reject the goals of the BDS movement...

"Rejecting the BDS movement specifically, Foreign Affairs Minister Stéphane Dion said 'the world will win nothing for boycotting Israel but depriving itself of the talents of its inventiveness,' adding: 'We must fight anti-Semitism in all its forms.'" (emphasis added)

http://www.timesofisrael.com/with-bipartisan-backing-canada-to-reject-israel-boycott/

Right on, Minister Dion!
Credit: Wikipedia

~~~~~~~~~~

"The British government on Wednesday formally announced moves designed to discourage anti-Israel boycott activity. Under the proposed law, 'discrimination against Israeli suppliers' would be a breach...

"'Any public body found to be in breach of the regulations could be subject to severe penalties.'"

http://www.timesofisrael.com/britain-formally-unveils-proposal-to-discourage-anti-israel-boycotts/

~~~~~~~~~~

And speaking of Britain...

"'We, too, want to be a startup nation,'" says UK Cabinet Minister Matthew Hancock, who is leading a British trade delegation to Israel, so that the two countries may work more closely together on cyber-security.
"'There is a huge amount of opportunity to collaborate,' Hancock tells NoCamels..."
http://nocamels.com/2016/02/uk-israel-cyber-security-cooperation/
Credit: Telegraph (UK)
~~~~~~~~~~
A sentimental old song, "You'll Never Walk Alone," done here by the Three Tenors. It feels right for the day, filled as it is with difficulties:
https://www.youtube.com/watch?v=T5Obrj3IjBY
~~~~~~~~~~
© Arlene Kushner. This material is produced by Arlene Kushner, functioning as an independent journalist. Permission is granted for it to be reproduced only with proper attribution.

If it is reproduced and emphasis is added, the fact that it has been added must be noted.
http://arlenefromisrael.squarespace.com/current-postings/2016/2/21/february-21-2016-fury.html
Posted
on Sunday, February 21, 2016 at 02:20PM
by
Arlene
|
Post a Comment
|
Email
|
Print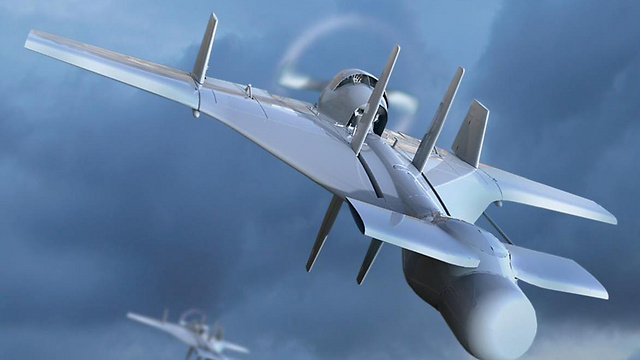 Credit: IAI
What you see above is the Harpy NG, displayed by Israel Aircraft Industries after over two years of development. Although it looks like a UAV (unmanned aerial vehicle), it is in fact a missile that is highly maneuverable and can stay in the air for nine hours, loitering until it zooms in on its target and collides with it to destroy it. Representing a new generation of "loitering attack systems," it has a superior ability to identify enemy radar prior to the arrival of planes.
http://www.ynetnews.com/articles/0,7340,L-4767278,00.html
Our enhanced ability to protect ourselves is always good news.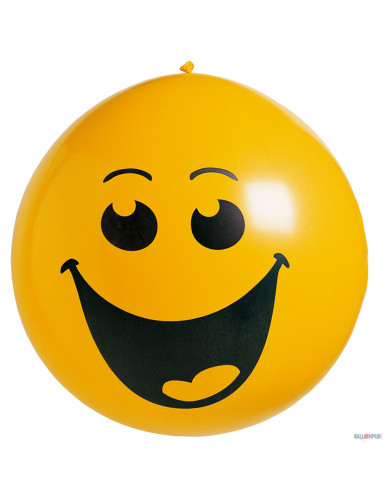 Credit: vegaooparty
~~~~~~~~~~
Another development (emphasis added):
"An Israeli company from Hod Hasharon has recently developed a device that will allow drones to identify moving objects through fog, thus allowing the IDF to prevent early morning terrorist attacks.

"Over the years, the IDF reinforced its positions in sensitive areas in the early morning hours, for fear that terrorist cells would take advantage of the fog. That is what happened in hundreds of attacks, from the security zone in Lebanon and the kidnapping of Gilad Shalit on the Gaza border. But now the IDF can benefit from a solution that will help troops dramatically."

http://www.ynetnews.com/articles/0,7340,L-4764597,00.html
~~~~~~~~~~
And last innovation for today, this medical advancement (emphasis added):
"Ultrasound imaging is one of the world's most common medical tests. It is non-invasive, relatively inexpensive, it doesn't involve exposure to ionizing radiation, and is considered risk-free.
"But an ultrasound scan is typically done at the doctor's office. So, what about patients in rural areas or disaster zones who can't get to a clinic?
"Israeli researchers are now developing a portable ultrasound system that transmits scans directly to physicians – immediately, from anywhere in the world. With such a system, ultrasound scans can be performed in developing countries with limited medical infrastructure, and the team at the site can be given medical instructions based on the findings.
"This innovative ultrasound kit, which can also be used at the scenes of car accidents, was developed by Professor Yonina Eldar's lab at the Technion – Israel Institute of Technology. The small, advanced probe eliminates the need for the large ultrasound devices that are used by clinics and hospitals."
http://nocamels.com/2016/02/israeli-portable-ultrasound-expedites-treatment/
Credit: nocamels
~~~~~~~~~~
The destructive obsession that I refer to above? The notion that a "two state solution" is somehow a moral imperative that is going to solve a host of problems and make the Middle East a happier and more peaceful place.
Of course, there's more than a dollop of anti-Semitism inherent in this position, which is why it never goes away. How many times over the years have I thought (naively), Ah, finally they're going to see how impossible and wrong this all is, and leave us alone. But always, that obsession rears its ugly head again, carrying with it implicit finger-pointing at Israel for not doing enough for "peace" and pressure on us to "make gestures."
~~~~~~~~~~
Today some do qualify their enthusiasm for "two states."
They may declare that – while it would have been the desired solution - it's over because Israel has been terribly destructive to the process, killing all possibility; this is how NYTimes columnist Tom Friedman reads it.
Or they might think in terms of a unilateral withdrawal from Judea and Samaria (which suggestion is a nightmare) in order to "separate" Israel from the Palestinian Arabs without negotiations. This is what Israeli opposition leader Buji Herzog (Zionist Union) maddeningly and unthinkingly suggests now, even when he is beyond Israel's borders.
Credit: Miriam Aster/Flash 90
But the IDEA of "two states" lingers in the atmosphere, always. We don't find world leaders conceding that the Palestinian Arabs have blown it by demonstrating a total lack of sincerity and capacity to establish a constructive state. They never seem to feel the need to justify why the PA is entitled to a state; that is simply a given. And most certainly there are no international leaders who concede that the land, indeed, belongs to Israel.
For most, "now" is the key word. Thus the best we get is the position of German Chancellor Andrea Merkel, who said on Tuesday, during a joint press conference with Prime Minister Netanyahu, that it was not the time for serious progress towards a Palestinian state. But this does not mean – perish the thought! – that she has given up on the notion of such a state. She explained (emphasis added):
"...Germany...is very concerned about seeing things realistically. We know the threat of terrorism that Israel has to endure. We believe, on the other hand, that we have to advance a process of peaceful coexistence, and this, according to our opinion, is ultimately built on a two-state solution."

http://www.timesofisrael.com/on-relevance-of-2-states-merkel-dovetails-with-netanyahu/
Sigh. And Netanyahu welcomes this as good news.
Credit: AFP/Odd Andersen
~~~~~~~~~~
Just a little over a week ago, he told the Knesset, during a debate on the issue, that "he was in favor of the idea, but in practice did not see it being possible unless the Palestinians recognize Israel as a Jewish state and agree to a demilitarized state."
http://www.timesofisrael.com/netanyahu-situation-not-ripe-for-two-state-solution/
Fervently do I wish it were different. I, and many others along with me, long to hear him say, I'm finished with this nonsense and ready to claim our rights to the land. There are MKS saying this today. But I do understand why he welcomes Merkel's position:
For starters, we've got France.
According to Dr. Guy Milliere, "France today is one of the main enemies of Israel -- maybe its main enemy -- in the Western world. France's disregard of the threats faced by Israel is more than simple willful blindness. It is complicity." (emphasis added)
http://www.gatestoneinstitute.org/7442/france-hostility-israel
As I wrote recently, France is pushing, perversely, for a "peace" conference this summer, with a unilateral recognition of a "Palestinian state" to follow if there is no meaningful progress in negotiations.
Netanyahu calls this proposal "bizarre":
"It says: We will hold an international conference but if you do not succeed we are already predetermining the result – we will recognize a Palestinian state...Of course this ensures that this conference will fail because if the Palestinians know that their demand will be met a priori, and they do not need to do anything, then there is certainly an internal contradiction."
French Ambassador to Israel Patrick Maisonnaive met in Jerusalem with Foreign Ministry political director Alon Ushpiz on Tuesday to present his country's plan.
Credit: atlasinfo
~~~~~~~~~~
And we've got the EU chief of foreign affairs, Federica Mogherini.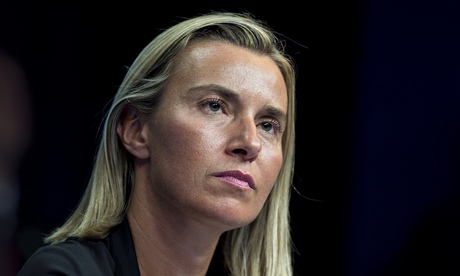 Credit: The Guardian
On Saturday, she wrote on her blog that she had discussed a plan that contained suggestions for "jump-starting the peace process" with Netanyahu and PA President Mahmoud Abbas, "who assured to me of their willingness to engage in this new process."
Netanyahu says she did not contact him about this. But he did have a conversation with her recently about other matters – primarily the new EU labeling rules - and he reports having said the following to her (emphasis added):
"The State of Israel has to be treated fairly. We are not the root cause of the problems of the Middle East. We are an important part of the solution. If Israel weren't there, the Middle East's entire western part would be flooded by the forces of Islamist fanaticism. Together with this flood, many millions more [refugees] would come to Europe. Israel is Western civilization's iron wall in the heart of the Middle East."
Great statement. But will the EU hear him? No way.
~~~~~~~~~~
Oh, and then there is US Ambassador to the UN Samantha Power – definitely no friend of Israel.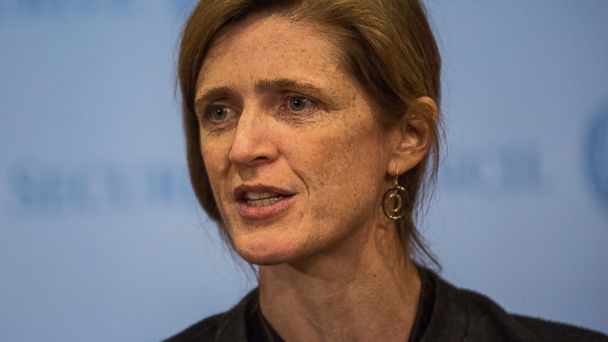 Credit: abcnews
She arrived on Saturday, and left on Tuesday. Her goal: to advance the "two-state solution." She came, she said in a tweet, "to discuss US commitment to two states side by side in security and peace."
http://www.timesofisrael.com/in-israel-un-envoy-power-reiterates-us-commitment-to-two-state-solution/
Does anyone REALLY believe this is possible?
She visited with both Israeli mothers from communities near the Gaza border and Palestinian Arab mothers from Gaza, listening to their stories of pain. Very nice. Makes great press. The US believes, she told the Israeli mothers, that security for them is linked to peace and it is linked to negotiations.
But she skirts right over the fact that Hamas does not want peace and cares not a bit about the suffering of innocent Arabs in Gaza. That Hamas is digging tunnels and preparing for the next war.
The US, she said, "will always stand with Israel. We will always stand for security and for your legitimacy in the UN."
http://www.jpost.com/Israel-News/Politics-And-Diplomacy/Power-tours-Gaza-border-provides-comfort-to-locals-445144
Yea, sure. How cheap words are.
~~~~~~~~~~
With all of this, we see the actions – both by the EU and the US – in terms of labeling of goods from Judea and Samaria, which smack of attempts to squeeze Israel, no matter the disclaimers to the contrary.
~~~~~~~~~~
Is Binyamin Netanyahu truly committed to a "two state solution," as he claims to be?
Debate about this is endless. (Please, do not write and tell me what you think!) My own sense of it is that in his gut he is not, but that he is lacking steel in his spine. It is his MO – to go with the flow, in a qualified fashion. He is, for example, on record – as I wrote above - for a Palestinian state, but a demilitarized one that recognizes Israel as the Jewish state; this sets the bar for negotiation success very high. The problem is that the world remembers his stated commitment but forgets the qualifiers.
He claims he is ready to negotiate. The impulse is to respond, You have to be kidding!
But he's engaged in a balancing act right now, taking into consideration all that is arrayed against us.
He is, it would seem, determined not to be identified as the "obstacle to peace," but, rather, to let Abbas play that role. The point here is that he knows Abbas will fulfill his expectations. Better (smoother?) that he should be able to say to France, You would give them a state when they wouldn't even attempt to negotiate??
Netanyahu says the only way forward to peace is via direct negotiations between the parties. He is definitely trying to forestall the meddling of others. Direct negotiations are called for in Resolution 242 (although not specifically with Palestinian Arabs), and in the Oslo Accords.
On Monday PA Secretary of State Riyad al-Malki declared that "We will never go back and sit again in direct Israeli-Palestinian negotiations."
http://www.israelnationalnews.com/News/News.aspx/208082#.VsTM05tunIU
A French recognition of a Palestinian state would not be the end of the world. There are vast legal questions as to how a state is formulated. But if multiple European nations jumped on the bandwagon? Or if there were a Security Council resolution demanding that we pull back? Of if BDS increased? Better, he surely believes, to forestall this.
~~~~~~~~~~
I make one last comment here: As everyone reading this surely knows, Israel's hasbara (PR) has been abysmal. There are those positioned against us simply because. But there are those who might take different positions if the fact of Israel's rights were part of the international, diplomatic dialogue.
This must start with Israel, and it is what the Legal Grounds Initiative is addressing: http://israelrights.com . The paradigm of thinking must change, and we are working to make it happen, one step at a time.
If you wish to know more, please contact me privately. I welcome queries.
~~~~~~~~~~
I began this post with good news and end the same way (emphasis added):
A history textbook to be used in Egyptian schools will discuss the country's 1979 peace treaty with Israel for the first time, Israel's Army Radio reports.
The Camp David agreement, and the treaty that resulted from it, will have a dedicated chapter in the book. The chapter, according to the report, is written in a simple, factual manner with phrases such as Egypt and Israel are "ending the state of war" and "each side respecting the sovereignty and independence of the other side."
http://www.algemeiner.com/2016/02/17/under-el-sissi-chapter-on-camp-david-added-to-egypt-schoolbook/
Changes do not occur over night, but no one can tell me there are not real and positive changes taking place, in the midst of the chaos and garbage:
~~~~~~~~~~
This is a heartening story – rich in lessons for us, in spite of its negative aspect (emphasis added):
Credit: The Tower
"Hany Baransi has been serving authentic hummus and falafel in his central Ohio eatery for 27 years, proudly giving diners a taste of his Israeli Christian Arab heritage between bites of rich Mediterranean fare.
"A sign bearing an Arabic greeting—'Ahlan Wa Sahalan' — hangs prominently near the glass doors of his Nazareth Restaurant & Deli in Columbus, through which passersby can also spot an Israeli flag. Baransi says he has always been outspoken about his Israeli identity, and so when his restaurant was attacked on Thursday evening by a machete-wielding man, he believed it was no coincidence.
"The assailant, identified by police as 30-year-old Mohamed Barry, 'came in and asked where I was from,' Baransi told The Tower. While Baransi was at home nursing a headache at the time, one of his employees– a young waitress– told Barry that the owner is from Israel. The man left after he determined that Baransi wasn't at the restaurant, only to return around 30 minutes later with a machete and start hacking people...
"[Restaurant] employees and patrons fought back and threw chairs at Barry, who fled the eatery after injuring four diners. He led cops on a five-mile chase before his vehicle spun off the road and, armed with his machete and another knife, he lunged at the officers.
"'He yelled "Allahu Akbar" and then he attacked them with the machete and that's when they shot him and killed him,' Baransi said...
"'I am a very outspoken Israeli, and I have an Israeli flag in my restaurant,' added Baransi, who moved to the United States from Haifa in 1983 and said he tries to visit Israel as often as he can. 'When people [from the Arab community] ask me where I am from, I tell them I am Israeli, I am an Israeli Christian Arab, it's not like I am Palestinian, and then they start arguing and fighting with me.'
"When asked whether he would consider removing the Israeli flag seen from his restaurant's entryway as a precaution, Baransi swiftly rejected the idea.
'Actually I have another flag, and I am going to get a bigger flag, and I am going to get a Star of David necklace and put it on my chest, and I am going to get a tattoo,' he declared. 'Honest to God, I am not kidding. They don't scare me. We are Israelis. We are Israelis. We are resilient, we fight back.
"'We are used to these bastards...We are used to these kinds of attacks, that they hate us just for what we are. They don't know us, they don't know anything about us, and they do that. You know, I don't care if I was an Arab or not, because I am an Israeli, and if you don't like Israelis you don't like me.'"
Credit: The Tower
http://www.thetower.org/2961-exclusive-owner-of-ohio-deli-targeted-by-machete-terrorist-we-are-israeli-we-fight-back/
Right on, Hany!
~~~~~~~~~~
And an unusual musical video:
"Mark Eliyahu combines the unique sounds of musical instruments like the Kamanche and Baglama with biblical themes like King Solomon's Song of Songs.
"Many Israelis are attuned to culture and appreciate music; Israel has a high number of musicians per-capita."
http://unitedwithisrael.org/watch-popular-israeli-musician-draws-on-ancient-tradition-for-inspiration/
~~~~~~~~~~
© Arlene Kushner. This material is produced by Arlene Kushner, functioning as an independent journalist. Permission is granted for it to be reproduced only with proper attribution.

If it is reproduced and emphasis is added, the fact that it has been added must be noted.
http://arlenefromisrael.squarespace.com/current-postings/2016/2/18/february-18-2016-destructive-obsession.html
Posted
on Thursday, February 18, 2016 at 01:50PM
by
Arlene
|
Post a Comment
|
Email
|
Print
One great thing Israel has going for her is the political cartoon work of Ya'akov Kirschen, who has been doing "Dry Bones" for over 40 years now. At present, he is developing an online Bones Academy to train an army of cartoonists in the art of Computer Based Messaging - using cartoons to bring the news to a public that is being misled by a biased anti Israel media.
With on-line training with the Academy, you will learn:

[] formats, tactics and strategies
[] how to turn issues into cartoons
[] how to create punchlines
Interested? Want to help? See: http://thedrybonesacademy.com
~~~~~~~~~~
A positive sign of changing times:
Last Thursday, Egyptian President Abdel Fattah el-Sissi hosted 36 American Jewish leaders, representing a delegation from the Conference of Presidents of Major American Jewish Organizations, in Cairo. A major focus of their two-hour discussion was Egypt's close security cooperation with Israel. The participants in the meeting are not talking about the content of the discussion, but have described Sissi's statements as "positive." (See following)
Courtesy
http://www.timesofisrael.com/egypts-sissi-meets-american-jewish-leaders/
~~~~~~~~~~
According to one report of the meeting, al-Sisi described Netanyahu as:
"a leader who possesses great powers, which assist him not only to lead his country, but can also advance the region and the entire world."
The amazing quote was provided Sunday by Zvika Klein, a reporter for Makor Rishon, on his Twitter feed.
Asked by a commenter if the quote is an authentic one, Klein replied in the positive.
http://www.israelnationalnews.com/News/News.aspx/208023#.VsGYKJtunIV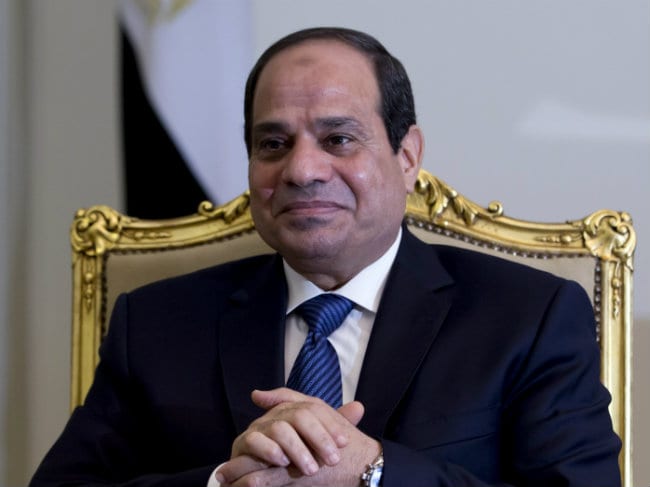 Credit: ndtv
~~~~~~~~~~
Addressing the same Conference of Presidents, Prime Minister Netanyahu, seeking more openness from Arab countries with regard to Israel, said:
"Major Arab countries are changing their view of Israel … they don't see Israel anymore as their enemy, but they see Israel as their ally, especially in the battle against militant Islam with its two fountainheads. Now, this is something that is forging new ties, many of them discreet, some of them open. And I think there too we can expect and should expect and should ask to see a change."
The prime minister then addressed changes in Israel's relationship with non-Arab countries as well (emphasis added):
"On the one hand, there was an ongoing multinational hostility toward Israel at the UN, ICC, and EU, together with what he termed an 'obsession' with Israel in international forums.

"On the other hand, he said, countries like China, India, Russia and Japan were warming their ties to Israel because of their concern with militant Islam and the terrorism it produces and to benefit from Israeli operational experience and intelligence in fighting terror as well as Israeli technologies, such as cyber security, improved water management and desalination, agriculture and biotechnology. 'We need these countries who are coming to us to change their votes in international forums,' he said."

http://www.timesofisrael.com/time-to-publicize-secret-ties-with-arab-states-netanyahu-says/
The message here is that, while things seem very grim sometimes, there is hope on the horizon as well, for the whole dynamic of international relations is changing. And Israel is at the forefront of so much that is positive.
~~~~~~~~~~
This is good news in my estimation, as well (emphasis added):
"Defense Minister Moshe Ya'alon (Likud) on Thursday during a visit to Switzerland told reporters that the rapprochement talks with Turkey are unlikely to succeed, because Ankara is refusing to address Israel's demand that it stop supporting the Hamas terrorist organization.
"Speaking even as a new round of normalization talks began in Geneva on Thursday, Ya'alon said, 'I'm not sure that we'll reach an agreement.'
"'The Turks need to agree to our conditions so that we can get over the obstacles and reach a political agreement,' he said. 'Turkey is hosting senior Hamas officials in Istanbul, and we are not ready to accept that. The Turks support Hamas generally through the Muslim Brotherhood and that must be discussed.'"
http://www.israelnationalnews.com/News/News.aspx/207901#.VrzJBptunIU
It's good news whenever we stand strong for ourselves. May it continue here. There are commentators who believe Turkey is very hungry for an agreement with Israel because so many of its other relationships have soured. We need to continue to watch this...
~~~~~~~~~~
And here's something to make all Israelis proud: A social experiment that showed Israeli kindness and integrity:
"A social experiment conducted in Israel recently showed Israelis unanimously helping a man who was posing as blind and appearing to have mistaken a large shekel bill for a small one.
"A video of the experiment, posted on Facebook by pro-Israel group StandWithUs, shows the man posing as a blind student asking strangers to break a 20-shekel bill, which was actually a 100 shekel note. In the footage, every single person he stopped on the street — including some who approached to ask if he needed help — pointed out that the bill he was holding was, in fact, a 100 shekel bill. One man even gave him an additional 20 shekels."
http://www.algemeiner.com/2016/02/07/social-experiment-reveals-israeli-kindness-integrity/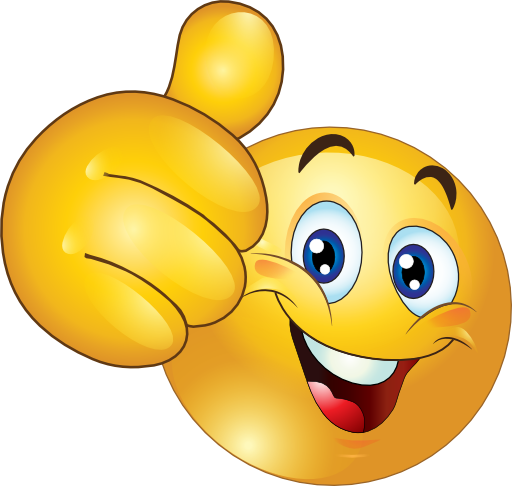 ~~~~~~~~~~
But oh, it's not all good news, folks. In many respects it's actually pretty dire. And yes, while there is an unending supply of confusion, there is also a great deal that is maliced, rather than confused.
There are two major bases I want to touch upon today – subjects that I believe you should be aware of.
The first deals with US Customs regulations. Recently, as many of you may be aware, US Customs ostensibly reissued guidelines that were said to have been in effect since 1995. The guidelines were with regard to "country of origin marking requirements for goods that are manufactured in the West Bank" (that is, Judea and Samaria):
"...goods produced in the West Bank...shall be marked as originating from 'West Bank'... It is not acceptable to mark the aforementioned goods with the words 'Israel,' 'Made in Israel,' 'Occupied Territories-Israel,' or any variation thereof.."
There was broad scale assurance that this was merely a reissuing of the same guidelines that were released in 1995; this was the claim of State Department spokesman Mark Toner on January 23. And there was an assessment by many that it was less destructive than the EU guidelines, as it did not distinguish between goods manufactured by Jews and Arabs in the "West Bank" (that is, in Judea and Samaria).
Even if this were the case, there were questions to be asked: Why would a re-issue of the guidelines be necessary, rather than simply a decision to enforce those guidelines that presumably had been frequently ignored. And how does this decision to re-issue dovetail with the political climate generated by the EU decision on labeling?
~~~~~~~~~~
As many of you may also be aware, Senator Tom Cotton (R-AR), pictured, has introduced S. 2474, the Fair Treatment for Israel in Product Labeling Act, which would rescind the Obama Administration's recent policy directive ​and permit the use of the terms "Israel," "Product of Israel," or "Made in Israel," as additional country-of-origin markings for products made in the Judea and Samaria.
Credit: thepoliticus

Both Senator Marco Rubio (R-FL) and Senator Ted Cruz (R-TX) have co-sponsored this bill, which seeks to set right an insidiously problematic directive from the Obama administration. And it should be supported!
~~~~~~~~~~
But this is not exactly the end of the story. My co-chair for Legal Grounds, Jeff Daube, and I, independently delving into the issue, have come to the conclusion that the original intent of the directive has been subverted.
When the text of the original directive and an earlier explanatory guideline, issued on April 6, and March 28, 1995 respectively, are examined, what appears to be the case is that there was a very specific intent at work that differs considerably from what is broadly understood today:
The 1995 directive was issued at the time of the Oslo Accords, which had created a new interim self-governing Palestinian Council. The Accords granted this Council the authority to independently conduct certain of its affairs, including financial matters such as import and export. Thus proper labeling of goods coming from the areas governed by the Palestinian Council was necessary. The decision was made to label these products as from the "West Bank" rather than utilizing a term such as "Palestine," which would have had political connotations.
Article II of the March 28 guideline stated that: it "applied only to goods produced in the areas for which arrangements are being established for Palestinian interim self-government."

Article IV of the same guidelines stated "Jurisdiction of the [Palestinian] Council will cover West Bank and Gaza strip territory except for issues that will be negotiated in the permanent status negotiations: Jerusalem, settlements, military locations, and Israelis." This article explicitly excluded Israeli controlled areas.

Call the current claims by the State Department a hijacking of the original guidelines, or subversion, as you like. But they are dishonest at their core, serving the purposes of the Obama administration.

You might want to see this article on the subject:

http://www.israelnationalnews.com/News/News.aspx/207323#.VsCkRJtunIU
~~~~~~~~~~

And then we have an horrendous situation regarding Israel's acquisition of F-35 aircraft. Procurement by Israel of these aircraft has been hailed as providing a significant military edge to Israel. And yet it turns out that there are enormous problems.

Aaron Lerner of IMRA first sounded the alarm last Wednesday (emphasis added):

"All F-35 aircraft operating across the world will have to update their mission data files and their Autonomic Logistic Information System (ALIS) profiles before and after every sortie.
"And they will do this by communicating with a computer located in the United States.
"The Americans are certainly smart enough to figure out ways to manipulate this arrangement in order to ground Israeli F-35s if the U.S. considers such action as serving vital American interests."

http://imra.org.il/story.php3?id=69905

~~~~~~~~~~
Credit: popularmechanics

Israel placed its first order of 19 F-35 Joint Strike Fighters in 2010. The first two of these stealth, supersonic multi-role planes built by Lockheed Martin are due to arrive later this year, and the rest of that order is scheduled for delivery within two years.

Caroline Glick, in her column on Friday, tells us (emphasis added):
"Last October, Defense Minister Moshe Ya'alon asked US Defense Secretary Ashton Carter to provide Israel with a new squadron of F-15s that Israel would outfit with its own electronics systems. Carter reportedly rejected that request as well as one for bunker buster bombs.
"Carter instead insisted that Israel use the supplemental aid to purchase more F-35 Joint Strike Fighters, US-made missile defense systems, and the Osprey V-22 helicopter, which Ya'alon didn't want.
"The fact that the administration wants Israel to buy more F-35s instead of F-15s is alarming both for what it tells us about America's commitment to maintaining Israel's qualitative edge against Iran and for what it tells us about the F-35, which is set to become the IAF's next generation combat fighter...
"By all accounts, the F-35 is an impressive next generation fighter. But at the same time, as Aaron Lerner from IMRA...noted this week, the F-35 suffers from one major weakness that arguably cancels out all of its advantages. That weakness is the F-35's operational dependence on software laboratories and logistics support computers located in the US.
"As Defense-Aerospace.com reported last November, 'All F-35 aircraft operating across the world will have to update their mission data files and their Autonomic Logistic Information System (ALIS) profiles before and after every sortie, to ensure that on-board systems are programmed with the latest available operational data and that ALIS is kept permanently informed of each aircraft's technical status and maintenance requirements.
"'ALIS can, and has, prevented aircraft taking off because of an incomplete data file,' the report revealed.
"This technical limitation on the F-35s constitutes a critical weakness from Israel's perspective for two reasons. First, as the Defense-Aerospace article points out, the need to constantly update the ALIS in the US means that the F-35 must be connected to the Internet in order to work. All Internet connections are maintained via fiber optic underwater cables.
"Defense-Aerospace cited an article published last October in Wired.com reporting that those cables are 'surprisingly vulnerable' to attack.
"According to Nicole Starosielski, a media expert from New York University, all Internet communications go through a mere 200 underwater cables that are 'concentrated in very few areas. The cables end up getting funneled through these narrow pressure points all around the globe,' she said.
~~~~~~~~~~
"...the fear is that an 'ultimate Russian hack on the United States could involve severing the fiber-optic cables at some of their hardest-to-access locations to halt the instant communications on which the West's governments, economies and citizens have grown dependent.'
"Given the F-35's dependence on the Internet, such an attack, while directed at the US itself, would also ground the IAF's main combat fighter.
"The second reason the F-35's continuous dependence on a US-based logistics system is a critical weakness is that it would be irresponsible of Israel to trust that the US will not abuse its power to undermine and block IAF operations.
"This brings us back to the Pentagon's insistence that Israel purchase only F-35s and missile defense systems. By giving Israel no option other than purchasing more F-35s, which the Americans control – to the point of being able to ground – even after they are deployed by the IAF, and defensive systems jointly developed with the US and built in the US, the Americans are hollowing out Israel's ability to operate independently."
~~~~~~~~~~
Glick notes that Israel is on the verge of finalizing $3 billion in arms deals with India. Her proposal – which seems from my perspective one worthy of serious consideration – is that Netanyahu should end Israel's military dependence on the US by offering Indian Prime Minister Narendra Modi an opportunity to jointly develop a next generation fighter plane based on the Lavi.
http://carolineglick.com/the-iafs-achilles-heel/
~~~~~~~~~~
A couple of explanatory notes:
Much of the military funding provided by the US to Israel must be funneled back to the US via the purchase of military equipment. This generates a bind for Israel.
I picked up the following from a back issue of The Washington Report on Middle Eastern Affairs:
"Matti Peled, former Israeli major general and Knesset member [deceased 1995], told Zunes that he and most Israeli generals believe this aid is 'little more than an American subsidy to U.S. arms manufacturers,' considering that the majority of military aid to Israel is used to buy weapons from the U.S. Moreover, arms to Israel create more demand for weaponry in Arab states. According to Zunes, 'the Israelis announced back in 1991 that they supported the idea of a freeze in Middle East arms transfers, yet it was the United States that rejected it.'
http://www.wrmea.org/congress-u.s.-aid-to-israel/u.s.-financial-aid-to-israel-figures-facts-and-impact.html
This background clarifies Glick's description of the US Secretary of Defense telling the Israeli Defense Minister what he should purchase with "supplemental funds."
~~~~~~~~~~
As to the Lavi, which Glick referred to: it was a fighter plane being developed by Israel Aircraft Industries in the 1980s that was to be the mainstay of the Israeli air force. There was much controversy surrounding it because of the enormous cost to Israel, and the pressure being brought to bear by the US to discontinue it, as it competed with American jets in the export market. It was discontinued in 1987, to the great dismay of many – most notably Moshe Arens. Two prototypes (one pictured below) were preserved. Following cancellation, Israel purchased 90 F-16s from the US.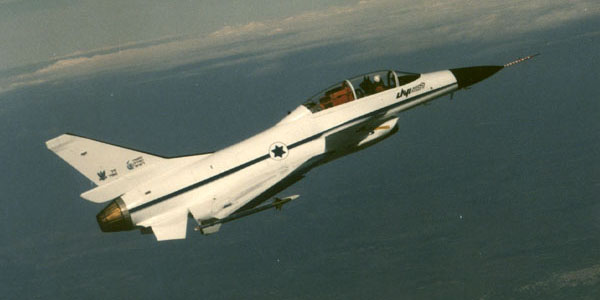 Credit: Israel-weapons.com
It is possible to see now, in retrospect, how important it is for Israel to maintain military independence. No one, back in 1987 could have anticipated the problems that would be generated by reliance on US military equipment.
~~~~~~~~~~

The US and Israel have been signing military aid packages for 10 year periods, with the current one expiring in 2018. Negotiations have been on-going for the arrangements that would go into effect after the expiration of the current package. There is word, however, that Netanyahu is thinking of waiting until Obama's predecessor comes in before finalizing the new deal. The package being offered is generous but has some significant draw-backs.

~~~~~~~~~~

So that you are up-to-date:

A post script from Aaron Lerner with regard to what he wrote the other day about the US computers controlling Israel's F-35s, which I cited above.

He said that there were those who were contacting him, "asserting that there is no problem as the IAF will be able to figure out a way to bypass the requirement of a USA interface before each take off.
"I checked with both a senior Israeli defense affairs reporter as well as one of the top Israeli experts on the IAF (who had written numerous books on the IAF and writes in both the popular press and in professional journals).
"They say that while in theory after investing many years in the effort it may be possible for a team to 'crack' the system that in the 'best' of circumstances any country that receives the F-35 will be subject to a USA 'veto' for years.
http://imra.org.il/story.php3?id=69950

~~~~~~~~~~

One final word on the issue here:

When Israel first considered purchase of F-35s in 2009, the IAF requested permission to install our own technology on the planes. The US refused.

The issues were not precisely the same as they are today – for example – Israel was concerned that the US would sell the F-35s with the same technology to enemy states. But yet...

http://israelmatzav.blogspot.co.il/2009/02/us-trying-to-get-israel-to-leave-joint.html

~~~~~~~~~~

I have not mentioned terrorist attacks for a bit, but do not imagine that this is because they have ceased (it should only be!). Consider:

Yesterday, at the Damascus Gate, two Palestinian Arab terrorists opened fire with guns on Border Police officers. One of the terrorists was a PA policeman. Both terrorists were killed; no Israelis were hurt.

http://www.timesofisrael.com/one-of-shooters-at-damascus-gate-was-palestinian-policeman/

Yesterday afternoon, a female terrorist attempted to stab a Border Police officer near the Machpela in Hevron; she was critically wounded before she could inflict damage.

http://www.israelnationalnews.com/News/News.aspx/208005#.VsGw65tunIU

Late on Shabbat, four Border Police were lightly wounded when terrorists rammed a car into them, at a junction near Ma'ale Adumim.

http://www.israelnationalnews.com/News/News.aspx/207955#.VsGxn5tunIV

There is more, but you get the idea.

~~~~~~~~~~

There is a feeling (I certainly feel it) that in certain quarters the usual culprits – US, EU, UN, etc. – seem to be coming at us with great vigor with regard to pushing us to negotiate for a "two-state solution." Nut cases, one and all, but dangerous nutcases. This subject requires a separate posting, with serious analysis, which will probably follow next.

~~~~~~~~~~

See here a video of Gazelle Valley, Jerusalem's new nature preserve in the heart of the city.

https://www.youtube.com/watch?v=R2Hvom4Tbio

Following this video is another short one explaining how local residents fought development of the property the park was situated on, and helped to preserve it as a natural treasure.

~~~~~~~~~~

And following this theme, I close with John Denver, singing ''"Sunshine on my shoulders."

https://www.youtube.com/watch?v=diwuu_r6GJE

~~~~~~~~~~

© Arlene Kushner. This material is produced by Arlene Kushner, functioning as an independent journalist. Permission is granted for it to be reproduced only with proper attribution.

If it is reproduced and emphasis is added, the fact that it has been added must be noted.
http://arlenefromisrael.squarespace.com/current-postings/2016/2/15/february-15-2016-confusion-and-far-worse.html
Posted
on Monday, February 15, 2016 at 10:36AM
by
Arlene
|
Post a Comment
|
Email
|
Print
And yet, the good stuff is with us as well.

It's been a winter here in Jerusalem that has brought some bitter cold (by Jerusalem standards), and periods of heavy rain, interspersed with warm and sunny days.

Every year at this time, I am pleasantly surprised when I am out and about and start to see blossoms open on the almond trees. Not a profusion – one tree here, another there. But the sight of these blossoms brings a lifting of the spirit: spring is on the way, and it's so very beautiful in Jerusalem.
Credit: Israelvision

~~~~~~~~~~

In line with our increasingly close ties with India, we have this:

India is close to concluding a number of bilateral military deals and joint projects with Israel, collectively worth some $3 billion – these are expected to be finalized ahead of the first visit to Israel later this year of Indian Prime Minister Narendra Modi's (pictured).

http://imra.org.il/story.php3?id=69904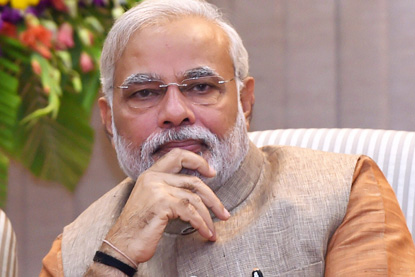 Credit: Ceasefire magazine

~~~~~~~~~~

This is potentially big news:

"Scientists at the Hebrew University of Jerusalem have destroyed the HIV virus using peptides containing multiple copies of the virus' DNA. Combined with existing HIV medications the peptides activate the cell's self-destruction mechanisms. After two weeks there was no sign of the virus. Human trials will commence in a few months."

http://www.ynetnews.com/articles/0,7340,L-4750903,00.html

~~~~~~~~~~

A court decision that moves in the right direction:

Seventy Jahalin Bedouin families who are living in temporary houses illegally on land that is part of Ma'aleh Adumim, east of Jerusalem, had petitioned the High Court for the right to remain were they were. As reported by Regavim, the Court has ruled against them, saying that no building will be done there. While the Bedouin claimed they were in Area B (controlled civilly by the PA), the Court ruled that they were in Israel-controlled Area C.

The State has provided the Bedouin with free plots of land in Abu Dis, where they could build permanent homes; infrastructure and roads are already in place for them. However, the Palestinian Authority has discouraged that move.

Said a representative of Regavim: "The Palestinian Authority is more concerned with its strategic hold on the area than with the welfare of the Bedouin."

http://www.jpost.com/Arab-Israeli-Conflict/Regavim-Court-rejected-Beduin-petition-to-remain-on-Maaleh-Adumim-land-444311

~~~~~~~~~~

The confusion I speak of today refers not only to the larger world, which is in utter chaos in many places, but also to what's going on here in Israel. There is a definite lack of clarity with regard to policy. Enough so to make one's head spin.

I want to go back to the issue of release of prisoners' bodies. As I tried to make sense of the policy presumably embraced by Israel with regard to release of those bodies, I found myself mired in that confusion. Until I sorted it out:

Bodies of terrorists who had lived in Israel proper – either with citizenship or Jerusalem residency papers – are under the jurisdiction of Public Security Minister Gilad Erdan, who has a stringent approach to the matter and believes that withholding bodies from the families has a deterrent effect. Bodies of terrorists who had lived in Judea and Samaria, in PA areas, are under the jurisdiction of the Civil Administration, which means Defense Minister Moshe Ya'alon, pictured, who has a more lenient policy on the matter.

Ya'alon's jurisdiction on the matter explains why the bodies of the three "Damascus Gate" terrorists who had been carrying concealed machine guns were released so quickly: they were from the Arab village of Kabatiya.
Credit: CBC

So, we've got two different policies, which seems to me a bit nuts. This is but one example of the confusion potentially created by the fact that Israeli law has not been applied to Judea and Samaria.

~~~~~~~~~~

But there is more, which was not very acceptable from my perspective. This week it was announced from Erdan's office that arrangements had been made for the release of the 10 bodies still being withheld of terrorists who had lived in eastern Jerusalem. These were the the terrorists whose families met the three Arab MKs.

What was distressing is that the MKs obviously petitioned Erdan's office on behalf of the families, and convinced Erdan that those families were ready to abide by his requirements: a small family funeral at night to avoid massive turnouts and inciteful rioting. Additionally, a monetary bond would have to be posted by the family, which would not be returned if the family did not abide by the rules.

Those rules set out by Erdan were good. The problem is that the three Arab MKs had been given credibility. That should not have happened when you consider their behavior when with the families - identifying with their Palestinian cause, standing in silence to honor those "martyrs" killed, etc. As Arutz 7 put it: "The MKs won."

At first, releases – which are to be staggered - were set to begin the very next day, but this was delayed because of protests planned by Jerusalem Arabs.

Erdan has said that if one family fails to abide by the rules, additional bodies will not be released.

~~~~~~~~~~

As to the three MKs, the Knesset Ethics Committee received a record 450 complaints about their behavior, including from Prime Minister Netanyahu, Knesset speaker Yuli Edelstein, and other members of the Knesset. The Committee ruled for suspension – which means they cannot participate in the Knesset except to vote. MKs Hanin Zoabi and Basel Ghattas were suspended for a period of four months, while MK Jamal Zahalka – whose record of similar previous actions is less problematic - was suspended for two months.

MK Avigdor Lieberman (head, Yisrael Beitenu), pictured below, who sits in the opposition, has made some "off the wall" comments over time, but is making sense to me of late. On this issue, he said:
"Rather than impose on them the maximum penalty, suspending them from the Knesset sessions for six months and garnishing their wages, and thus really discouraging such actions, the ethics committee has turned the case into a joke by deciding on a punishment that is not serious..."

http://www.i24news.tv/en/news/israel/politics/102134-160208-israel-s-governing-coalition-approves-law-to-suspend-members-of-knesset

Credit: aftonbladet

~~~~~~~~~~

There is still the issue of whether the three MKs broke the law, which is being investigated by the attorney-general.

And Netanyahu – with backing of the coalition - is promoting legislation that would be added to Basic Law, providing for the long term suspension or even expulsion of an MK, for "behavior inappropriate to their position as a member of the Knesset." Suspension or expulsion would require a vote of a super-majority of 90 members of the Knesset.

Those on the left are objecting to this, with Tzipi Livni, for example, saying that this will "crumble democracy." The fear is that this legislation would be used against the political opposition.

I see it precisely the other way around. It is a perversion of democracy, it seems to me, that Haneen Zoabi still sits in our Knesset. In 2014, she wrote in a Hamas- affiliated news site that:

"We must abandon our own deadly trinity – and instead of security coordination, declare popular resistance; instead of negotiating with 'Israel,' besiege it; and instead of splitting, unite [Fatah and Hamas]."

http://www.jpost.com/National-News/Zoabi-justifies-Hamas-rockets-as-fighting-soft-occupation-Gaza-363272

Note the "we." She identifies as Hamas. So did she identify with anti-Israeli radicals and terrorists when she rode on the Mavi Marmara.

And Basel Ghattas?

According to Palestinian Media Watch, he said:

"The day Arab MPs abstain from visiting Martyrs' (Shahids) families who have lost their precious sons in the turmoil of the struggle against the oppressive occupation - they did not go to kill or attempt to kill for criminal reasons or illegally - the day we abstain from visiting Martyrs' families, we will have to vacate our [parliamentary] chairs and leave the keys at home."

http://www.palwatch.org/main.aspx?fi=157&doc_id=17279

We make a laughing stock of ourselves when, in our desire to show our "inclusiveness," we balk at finding a way to remove Zoabi, and Ghattas, and others like them, from the Knesset.

~~~~~~~~~~

After chaos ensued yesterday at a Knesset session about this legislation, Nissan Slomiansky (Habayit Hayehudi), head of the Knesset Constitution, Law and Justice Committee, vowed that he would work to remove MKs who support terrorism from the Knesset, one by one.

http://www.israelnationalnews.com/News/News.aspx/207860#.VryFbZtunIU

A man who takes pride in fostering what we should be, without fear of international criticism of our being "anti-democratic or "anti-Arab."
Credit: Israelnationalnews

~~~~~~~~~~
Another issue that is looming large in public consciousness, and causing no small amount of confusion and angst, is that of Hamas tunnels:
In the last war with Hamas in Gaza, in 2014, we destroyed over 30 tunnels that had been dug under Israel, having crossed the line from Gaza. One of those tunnels is seen here:
Credit: Times of Israel/Mitch Ginsburg

Hamas also had an enormous network of tunnels inside of Gaza, used for storing weaponry, ready hiding from Israeli troops, ambushing those troops, and more. Some of these tunnels were damaged in battle, but by no stretch of the imagination was the network destroyed.

We knew that Hamas would get to work immediately after the war, repairing destroyed tunnels and constructing still more. Heavy equipment has been sighted doing excavation on the Gaza side of the border (where a new road has been built very close to the border).

There have been several "work accidents" of late, with 11 people now having died, apparently when tunnels being constructed by Hamas collapsed.

http://www.israelnationalnews.com/News/News.aspx/207797#.VryXKptunIU

"Last week, IDF Maj. Gen. Yoav Mordechai, the coordinator of government activities in the territories, refused to say whether Israel was involved in the tunnel collapses when asked about this by the Palestinian Ma'an news agency. 'God knows,' he answered. 'I would suggest to the residents of the Gaza Strip not to occupy themselves with the tunnels and to get away from them, especially after seeing the results in recent days."

~~~~~~~~~~

The big question has been whether the excavation and repair work is being done only inside of Gaza, albeit right to the border, or whether tunneling is again being done in Israeli soil.

Hamas has in recent days bragged that they have restored tunnels reaching into Israel.

Residents of communities in the south adjacent to the border have said they can hear the tunneling. In a recent response to concerns about the situation, Defense Minister Ya'alon said that all complaints are checked and no tunnels have been discovered dug under Israeli homes.

http://www.jpost.com/Arab-Israeli-Conflict/Defense-Minister-Yaalon-No-Gaza-attack-tunnels-under-Israeli-homes-443460

I don't know how residents near Gaza felt about this qualified reassurance, but it left me feeling very dubious. Does he mean to say that residents would only hear the tunneling if it were directly under their homes? Surely, this is not the case. And how about if tunnels are being dung 500 meters beyond homes? He didn't address this.

~~~~~~~~~~

Minister of Education Naftali Bennett (head, Habayit Hayehudi) came out in favor of a preemptive attack on Hamas.

Credit: Israel Sellem/JPost

This is an issue of major significance: How long do we sit still when we know the enemy is increasing its capabilities, and allow that enemy to choose the time of its next attack?

In other circumstances, I would agree with Bennett. But I am mindful of what we are facing to our north, where a larger concentration of our troops is now stationed. The lifting of sanctions against Iran is making it possible for the Iranian government to increase its funding of Hezbollah, which is considered a far larger threat to us than Hamas. To divert too much time and energy into attacking Hamas right now might not be the wisest option.

I do not feel equipped to second guess the government on this.

At any rate, both Netanyahu and Ya'alon criticized Bennett, with Ya'alon calling his suggestion "childish."

~~~~~~~~~~

But I was not happy with Netanyahu's response, which was an attempt at deterrence: If Hamas attacks us via tunnels, he warned, our response would be stronger than in 2014.

http://www.haaretz.com/israel-news/.premium-1.700647

The problem here is that the "stronger than in 2014" attack would come AFTER we had been attacked. So, perhaps it is the wrong time for a full attack on Hamas in Gaza, but this suggests that tunnels inside of Israel will remain because we don't even know where they are. Don't even know in spite of all we heard about different technologies for locating the tunnels, advanced after the last war.

~~~~~~~~~~

Then, two days ago, IDF Chief of Staff Gadi Eisenkot spoke out on the issue, and was somewhat more reassuring. Hinting that much of the effort against the tunnels cannot be spoken about publicly, he said that this is now the IDF's main priority, and that perhaps as many as 100 engineering vehicles were in the area involved in efforts to find and destroy tunnels.

"We have advanced capabilities...(Emphasis added)

"We will not allow the fact that there is quiet in the south to blind our eyes."

http://www.timesofisrael.com/army-chief-hints-at-hidden-efforts-to-counter-gazan-tunnels/

Credit: Yaron Brenner

~~~~~~~~~~

We have to pray for the success of those advanced capabilities, and for concentrated intent to take out the tunnels, for today's news is a shocker:

An IDF appraisal of current security threats issued yesterday morning speaks about one major tunnel being excavated way into Israeli territory by Hamas, with 1,000 workers lending efforts to the digging.

The decision was made by Hamas to utilize one major tunnel that would allow a large number of terrorists to launch a significant attack deep inside Israel. The tunnel, says the report, crossed into Israeli territory some time ago and is progressing some 50 meters per day.

http://www.israelnationalnews.com/News/News.aspx/207813#.VryVyJtunIU

WHAT?

What this means, if the report is accurate, is that the information was acquired by intelligence, but we still do not know where this major tunnel is. Reportedly, there are some 30 drills digging down at sites identified via intelligence but the tunnel has not yet been found.

This report possibly helps us understand both Netanyahu's threats and Bennett's desire for a preemptive attack.

~~~~~~~~~~

Enough confusion for one day.

We close with a prayer. Cantor Ya'akov Motzen, praying for the IDF:

https://www.youtube.com/watch?v=PfNo5OM9sUY&feature=em-share_video_user

~~~~~~~~~~

© Arlene Kushner. This material is produced by Arlene Kushner, functioning as an independent journalist. Permission is granted for it to be reproduced only with proper attribution.

If it is reproduced and emphasis is added, the fact that it has been added must be noted.
http://arlenefromisrael.squarespace.com/current-postings/2016/2/11/february-11-2016-confusion-abounds.html
Posted
on Thursday, February 11, 2016 at 04:20PM
by
Arlene
|
Post a Comment
|
Email
|
Print
First we note the death of a vigilant and brave security officer:
Last Wednesday, two young Border Policewomen outside the Damascus Gate were able to stop three terrorists who had concealed machine guns and other weaponry. Both policewomen were attacked, and the three terrorists were then quickly shot dead by other Border Police on the scene.
At the time I last wrote, one of those who had been attacked, Hadar Cohen, was in critical condition. But sadly, the doctors were not able to save her life. She was 19 years old and had been on the job only two months.
Israel Police
Hadar has been hailed as a hero. What quickly became clear is that the three terrorists, loaded as they were with weaponry, intended something big. She gave her life during the process of stopping them from a large scale massacre.

Ravit Mirilashvili, age 20 – Hadar's heroic companion in this action, shown below in the hospital during a visit by PM Netanyahu - is recovering from her wounds.
Credit: Amos Ben Bershom/GPO
Hadar's funeral was last Thursday. Her father, Ofir, at her graveside, saluted her, and said:
"My beloved Hadar, my dear daughter...who was more beloved to me than anything. How am I supposed to separate from you now, how?...I am proud of you...may your soul be entwined in life."
http://www.timesofisrael.com/at-her-funeral-slain-border-policewoman-hailed-as-a-hero/
Here you see her mourned by colleagues in the Board Police.
Credit: Yonatan Sindel/Flash 90

Too many times, I find myself writing about funerals!
~~~~~~~~~~
But then, to some good things, because especially now, they must not be ignored:
In the face of all we are coping with - including the efforts of the BDS campaign to weaken us economically - it's pretty amazing: Standard's and Poor's Rating Service has given Israel an A+ long term rating with stable outlook. According to the agency:
"The ratings are supported by Israel's prosperous and diverse economy, strong external balance sheet, and flexible monetary framework...
"We expect the Israeli economy to weather potential volatility in the global economy and international financial market, thanks to its diversified economy, strong external position, and flexible monetary framework.'
As to predicting a stable outlook, S&P said this "reflects our expectation that the government will maintain stable public finances and that the impact of security risks on the Israeli economy will be contained over the next two years."
http://www.israelnationalnews.com/News/News.aspx/207596#.VrZJZZtunIV
Credit: Globes
~~~~~~~~~~
"An innovative technology developed in Israel may soon be able to predict the spread of cancer from one organ to another, potentially saving the lives of millions of people around the world.
"The technology, developed at Israel's Technion – Israel Institute of Technology, has been proven in preliminary laboratory trials, and is now entering into advanced testing using cells from patients undergoing surgery."
http://nocamels.com/2015/10/israeli-researcher-predicts-spread-cancer/
~~~~~~~~~~
"Farmers face a major crisis today — a 'damned if you do, damned if you don't' crisis. Farmers need to keep their fields free of insects that eat crops and destroy their livelihood.
However, the pesticides that are effective against those insects are causing major environmental damage, killing off not only pests, but helpful insects such as bees...
Fortunately, an Israeli start-up has developed a middle way — a system that enables farmers to protect their crops, while avoiding the use of environment-destroying pesticides. And a new study conducted by that start-up, EdenShield, showed just how effective are the company's natural [non-toxic] pesticides, which have been developed from plants and herbs.
In the study, greenhouses in Italy where tomatoes are grown using EdenShield's GateKeeper prevented close to 100% penetration of pests and led to a reduction of over 80% in the use of pesticides. .
http://www.timesofisrael.com/israeli-start-up-keeps-bad-bugs-at-bay-no-poison-needed/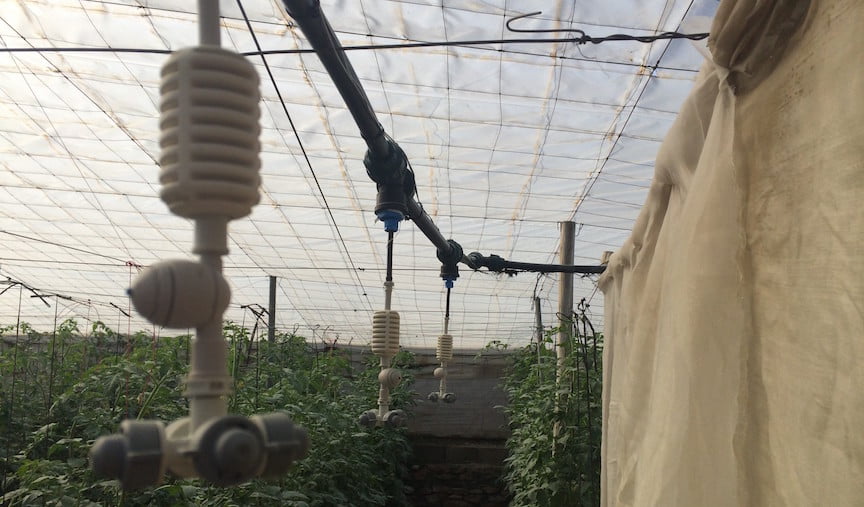 Credit: Edenshield
~~~~~~~~~~
As the above examples demonstrate so vividly, we are doing smashingly well in a number of spheres.
But when I ask, "Are we ready?" I am thinking about the strength Israel requires to take steps on her own behalf even if the world will not like it.
Whatever is being done to stop or greatly reduce the violence being visited upon innocent Israeli Jews by Arabs terrorists (both Palestinian Arabs and Israeli Arabs) is simply not sufficient to the task. By all means, all of those approaches that are in place – increased police force, etc. etc. – should be continued. But it is time to look at what more would do the trick.
Critical to the solution, I believe, is taking action that would make would-be terrorists think twice. And then a third time. That's the logic behind demolition of houses of the families of terrorists. If they know their families are going to be severely inconvenienced, would-be terrorists might hesitate, goes the thinking. Perhaps there are some who indeed have revised their plans because of this. But it sure hasn't served as a major deterrent.
~~~~~~~~~~
There are commentators who have suggested wrapping the bodies of terrorists in pig skin. Now we would be talking not about inconvenience to the families, but about generating major worry to the would-be terrorists themselves regarding whether they would be able to go to heaven - as promised in all of the jihadist hype – because they would be defiled.
I suspect this indeed might work. But we are not going to find out, because our officials would never do it. It would generate an enormous international furor with an outcry about human rights and all the rest. Human rights for terrorists.
~~~~~~~~~~
But there is something else that has been talked about, and tried from time to time: withholding the bodies of the terrorists. Refusing to return them to their families, who would give them a religious Muslim burial. Burying them, instead, in an anonymous grave, preferably without religious rites and certainly without family present.
This too might have an impact. Not just because the families would grieve at this situation. But also because the prospect of not being accorded what would be deemed as a proper burial might be genuinely worrisome to those would-be terrorists.
~~~~~~~~~~
We had been told, not so long ago, as my recollection serves me, that bodies of terrorists would no longer be returned to their families. And then, for whatever reasons, and due to whatever pressures, that stricture was modified. I know that Defense Minister Ya'alon was not in favor of that ruling, although the Cabinet had been.
Now, says Minister of Public Security Gilad Erdan (Likud), we will hold bodies until the families promise to have small, quiet funerals at night, which won't be used to generate rioting and incite further terrorism.
Credit: Namespedia
~~~~~~~~~
Erdan certainly has a point. There have been some horrendous funerals, with mob scenes and riots ensuing – shooting of guns and strident calls for murders of more Jews to "avenge" the Israeli "murder" of the "martyr." Incitement is reduced when these over-sized, over-heated, violence-inducing funerals are blocked. One such funeral pictured here:
Credit: AHMAD GHARABLI / AFP)

However, this is just half the story. For if someone already contemplating a terror attack knows that indeed his family would be able to recover his body and give him proper Muslim rites - even if the funeral would be small, then it is not likely that he would be deterred. Greater deterrence would be served if he knew his body would not be returned.
~~~~~~~~~~
In any event, I found it more than a little disconcerting that the bodies of the three terrorists Hadar Cohen had confronted outside the Damascus Gate were quickly turned over – to the Red Crescent - by Israeli authorities. This happened on Friday, reportedly after the families agreed not to use the funerals for a "political rally."
Is agreeing there would be no "political rally" the same as agreeing to a small funeral at night?
One of the terrorists was from Jenin, and two were from the Arab village of Kabatiya. The Red Crescent turned the bodies over to the families, and it was in Kabatiya that the funerals were held later that same day. In spite of the fact that Israel had maintained a closure on Kabatiya (and had made several security arrests), thousands came to the funeral.
http://www.jpost.com/Arab-Israeli-Conflict/Israel-hands-over-bodies-of-3-Palestinian-terrorists-from-Jerusalem-attack-444006
There is something wrong with this picture. See following for a complex and infuriating situation that just might have some connection.
~~~~~~~~~~
On Thursday evening, three Israeli Arab members of the Knesset of the Balad party, which is part of the Joint List, went to visit 10 families of terrorists, whose bodies have not been released to them. The three are – from the left in photo - Basal Ghattas, Haneen Zoabi (a nightmare), and Jamal Zahakla.
Credit: Noam Moskowitz
But it's worse than the fact that these MKs met with terrorists' families, ostensibly for a "humanitarian" purpose.
It's that they identified with them. According to the Maan news agency, the meeting in eastern Jerusalem began with a moment of silence [out of respect for those terrorists who had died]. Said Maan, the MKs emphasized their Palestinian identity, and saluted the families' strong stance and their endless struggle against aggression.
http://www.jpost.com/Arab-Israeli-Conflict/Arab-Israeli-MKs-have-warm-and-productive-meeting-with-terrorists-families-443876
I believe this also occurred at the meeting with the families, but it has been documented as well that the Balad party, on Facebook, referred to terrorists as "shahid," "martyr."
The question now is what will be done about this.
It is hardly a new story, that we have members of the Knesset who identify with our enemy. Their presence in the Knesset has been tolerated all too long. Now they have gone over the top.
~~~~~~~~~~
There has been a lot of noise from various quarters about this situation, and a great deal of anger (all emphasis added):
Said Knesset Speaker Yuli Edelstein:
"It cannot be that while innocent civilians are being slaughtered on the streets of Israel, MKs go to comfort [the terrorists' families] and, with incomparable audacity, even bring their requests to the government."
Most pertinently, MK Michael Oren (Kulanu), tweeted:
"Let me get this straight: Israeli MKs meet with terrorists' families and not the victims', and we're still paying their salaries?"
Prime Minister Netanyahu has said these people do not belong in the Knesset.
~~~~~~~~~~
Both Edelstein and Netanyahu will be filing complaints with the Knesset Ethics Committee, but that is not sufficient. The committee can levy penalties against the MKs but not banish them from the Knesset.
Carrying this further, Netanyahu has discussed this with the attorney-general.
We have a new attorney-general, Avichai Mandleblit (pictured), who may be more receptive than his predecessor, Yehuda Weinstein, who was far left, had been. (Weinstein, for example, was apparently opposed to the deportation of family members of a terrorist to Gaza.)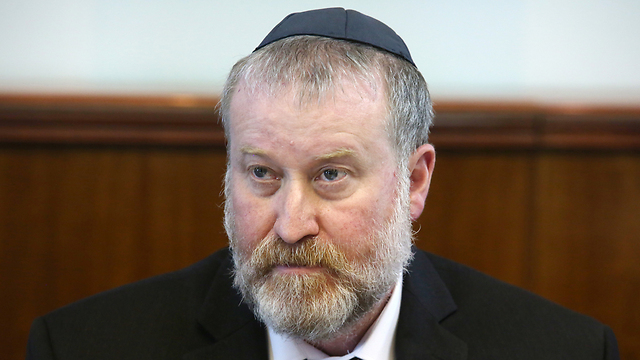 Credit: Marc Israel Sellem

Today's news is that Mandelblit is considering what legal action might be taken against the trio, but nothing is a certainty yet.
http://www.ynetnews.com/articles/0,7340,L-4762967,00.html
~~~~~~~~~~

Avigdor Lieberman, head of Yisrael Beitenu, in opposition, is particularly incensed by this situation, as he had tried to block certain members of Balad – notably Zoabi – from running in the last Knesset election but was prevented from doing so by the High Court.

Nissan Slomiansky (Habayit Hayehudi), who is on the Knesset Law and Constitution Committee, has suggested that legislation might need to be drafted to handle this situation. The point is that whatever needs to be done must be done.

There must be the will at this point.

This becomes a matter of who we are as a State.

~~~~~~~~~~

A couple of other pertinent points here:

On Thursday, Interior Minister Arye Deri (Shas) signed on order cancelling the residency permit of Riad Zwid, the father of one terrorist, Ala Zwid. This means he will lose medical and other benefits.

The circumstances here are worth noting. Riad Zwid, along with his son, Ala, had been residents of a Palestinian Arab village. But when Riad married an Israeli Arab, under Israel's Family Reunification law, he was granted residency in Israel. This law, more than once, has proved to generate a problematic situation.

~~~~~~~~~~

The question has been raised – which I will repeat here but cannot answer definitively – as to whether there was any connection between the appeal to the minister of public security by the three Arab MKs that terrorists' bodies be released and the alacrity with which the bodies of the three "Damascus Gate" terrorists were released. The timing lends itself to this question. As does the fact that – in spite of rules that were supposed to be in place - there were thousands in attendance at the funeral of those terrorists.

~~~~~~~~~~

Lastly for now on this issue, I want to make the point very clearly that the outcry against the MKs of Balad is NOT an outcry against the Arab population of Israel. Not at all. In fact, one MK after the other specifically made a point of saying that Israeli Arabs deserve better representation than what whey have had in the Knesset to date. The Arab MKs often promote their own radical agendas rather than tending to the genuine needs of their constituency.

Naftali Bennett (chair, Habayit Hayehudi), declared:

"I call on the Arab public: You are better than them. Reject them. Condemn them..."

Deputy Foreign Minister Tzipi Hotovely (Likud) said:

"Arab MKs are agents of terror instead of representing their voters."

~~~~~~~~~~

Today I am going to end with the late, great Ofra Haza sing "Hai." Includes English subtitles. An old song, a great message, with the poignancy of knowing her life ended too soon.

https://www.youtube.com/watch?v=e0lhtjyHIrE

~~~~~~~~~~

© Arlene Kushner. This material is produced by Arlene Kushner, functioning as an independent journalist. Permission is granted for it to be reproduced only with proper attribution.

If it is reproduced and emphasis is added, the fact that it has been added must be noted.
http://arlenefromisrael.squarespace.com/current-postings/2016/2/7/february-7-2016-are-we-ready.html
Posted
on Sunday, February 7, 2016 at 02:44PM
by
Arlene
|
Post a Comment
|
Email
|
Print