We've moved past the immediate trauma of the fires – which were at least 50% arson – and it would have been lovely to have had a respite, a time of ease, however short, in the nation. But that is not the case, although I believe we are headed towards better times. Sometimes the most positive changes come with struggle.

First, a good news item:

The Columbia University chapter of Students Supporting Israel is sponsoring an "Indigenous People Unite" event on campus on December 6, to combat the Palestinian Arab falsehood that the land was theirs and Jews took it from them. They want to make it clear that the Jews are the indigenous people of the land.


"According to [SSI president Rudy] Rochman, anti-Israel Columbia faculty and student groups — like Students for Justice in Palestine (SJP) and Jewish Voice for Peace (JVP) — 'target the average student on campus by playing up and riding on the shoulders of other minority struggles," while maintaining that the Jewish-Israel tie lies outside of that group...'

"By including an 'Israelite' on the program, alongside Assyrian, Yazidi, Native Canadian and Tibetan speakers, Rochman said his group aims to change that perception...'people today are not inspired by Israel's story, because we don't speak about it enough.'
"Rochman said he hopes the program will show that 'you can support Palestinian human rights while also supporting the story of Israel — the story of a people who have a right to exist like any native people.' He wants to encourage his peers to 'feel empowered by Israel...'" (emphasis added)
https://www.algemeiner.com/2016/12/04/columbia-university-students-reclaiming-israels-narrative-event-aimed-countering-false-palestinian-claims-jewish-rights-land/
~~~~~~~~~~
Right on! This is so very welcome.
Please note that he talks about supporting Palestinian [Arab] human rights, not national rights. There's a big difference, and that difference is often obscured.
Vastly important, as well, to help Jews on American campuses understand that they are standing for justice when they stand for Jewish rights in the land.
~~~~~~~~~~
And now I have a request of my readers. From time to time I speak of the Legal Grounds Campaign, which I co-chair with Jeff Daube, head of the Israel office of ZOA. I ask all of you to please go to our website – http://israelrights.com – and join the Campaign. A membership form pops up when you enter the site. There is no membership fee.
We need a large roster of names of those who support our efforts in order to have major impact as we move forward. Once you join you will receive Action Alerts sent out from time to time to inform our members about what is happening and advise them as to how they can help (by emailing a legislator, for example).
All names are valuable, but the names of Israelis are most important when it comes to lobbying MKs. Please, reach out to Israeli family and friends and ask them to join.
Thanks!
~~~~~~~~~~
Now as to the turmoil and hope. It touches upon a host of related issues. Among them:
[] The fate of the "illegal outpost" of Amona - adjacent to Ofra in the Binyamin Regional Council, Samaria- which is scheduled to be demolished per Court order on December 25. There had been several stays of the demolition order over the years, and one very partial demolition, but when the prime minister recently requested six more months, it was denied.
[] The fate of the 40+ families who live in Amona.
[] The principle of monetarily compensating owners of property if others have built on it in good faith, in lieu of banishing them.
[] The issue of who has the right to go to the High Court for a ruling.
[] The right of the Knesset to set policy regarding Jewish communities in Judea and Samaria.
[] The limits of the High Court with regard to overturning legislation.
[] The role and authority of the attorney general in determining legality of legislation.
~~~~~~~~~~
Exceedingly complex issues. I've tried mightily to wrap my head around the various legalities – and purported legalities – involved, not always with success. I had communication with a top flight lawyer, knowledgeable about these matters, who confessed that he could no longer track the logic of what was happening in terms of the legal issues. He did not say it, but I took this as confirmation of my long-held certainty that the legal arguments are shot through with politics.
Ari Briggs, an advisor to Regavim, has written article - - that describes precisely how complicated the subject of land ownership in Judea and Samaria is. Please see it (emphasis added):
http://www.jpost.com/Opinion/Private-land-state-land-or-something-else-altogether-474518
"the use of the term 'private Palestinian land' is an abuse of the facts and does huge damage to Israel's credibility and standing...
"It should be clear that its use, in most cases, is incorrect and politically motivated. The term immediately conjures thoughts of improper and most likely illegal behavior, thus nothing more has to be said.
"However, as is normally the case in Israel, the issue is much more complicated than that.
"For starters, there are more classifications of land than just private or public..."

~~~~~~~~~~
I have written about Amona before.
Credit: Hamodia
What has been happening is a heartache and an injustice. The Amona families were established with the assistance of Israeli ministries (e.g., Ministry of Housing) and they expected good faith on the part of the government. They did not sneak out and do something intended to be illegal. They have been in their homes for years.
But Arabs - instigated by Yesh Din - went to the High Court, claiming that they owned the land. The proof is dubious, to say the least. Documentation in many instances is insufficient, and where there is documentation it is based on Jordanian law. If nothing else, there is the problematic fact that the Jordanian occupation in Judea and Samaria, 1949-1967, was illegal, thus raising question as to how the Jordanians can be recognized as having had the right to deed the land.
In the end, only something like 5% of the land Amona is built on has been established with documentation as belonging to Arabs. It infuriates me that media reports constantly say, "Amona, which is illegally built on Arab land."
~~~~~~~~~~
And there are other issues here as well:
There is no principle in Judea and Samaria of monetarily awarding land owners, whose ownership has been legally documented, if others have built on that land in good faith. This is the principle within the Green Line. There is something perverse about chasing the Jews who built on the land out when the Arabs are never going to build there.
~~~~~~~~~~
And we are still not done:
Yesh Din has no standing in the case. Yet here in Israel, this NGO and others are permitted to approach the court, petitioning alongside Arabs. This results in political meddling. Yesh Din (and other NGOs such as Shalom Achshav) believe all the land over the 1949 armistice line belongs to the Arabs.
You can rest assured that the Arabs claiming ownership would not have come forward without the direct involvement (more accurately, recruitment!) of Yesh Din.
What makes the situation even more outrageous is that NGOs such as Yesh Din receive funds from foreign governments – governments that are promoting Arab Palestinian "rights." As they are essentially foreign agents, they should not be permitted to approach the court. The foreign governments should be required to utilize only diplomatic channels for pursuing their concerns.
~~~~~~~~~~
The residents of Amona are very angry and say they are not going anywhere. They have called for others who support them to come and stand against authorities on the day of the demolition. Thus has the specter of violence been looming large.
In 2006, there was a very partial demolition of homes in Amona, during which considerable violence ensued, in good measure because of the heavy hand of law enforcement authorities.
Credit: sefer-torah.com
To witness Jew against Jew is a heartbreak.
~~~~~~~~~~
I held off writing this posting because from day to day, even hour to hour, the situation kept changing and there was precious little clarity. We are not all the way there yet, but the shape of what is coming in now visible.
The issue is a lot bigger than Amona. It is about the nature of the Jewish presence in Judea and Samaria.
~~~~~~~~~~
See Caroline Glick's article – "Israel's constitutional identity crisis" - on the great significance of the legal battle (emphasis added):
"Israel's coalition crisis over the settlements regulation bill is not a normal power struggle between overweening politicians...
"It is also not about contenders for the helm challenging Prime Minister Benjamin Netanyahu's political primacy.

"The settlement regulation bill proposes to extend the authority of the Military Government in Judea and Samaria to seize privately owned land. That authority is now limited to seizure for military purposes. The bill would allow the Military Government to seize land for the purpose of private construction as well.
"The political fight over the bill is not merely a fight over the community of Amona...
"The fight over the law is a fight about the character of Israel.
"Opponents of the bill argue that the law undermines the power of the Supreme Court and endangers Israel's international standing. Proponents of the bill argue that Israel needs to ensure the primacy of the Knesset. They further argue that there is no point in bowing to the will of an international community that is constitutionally incapable of ever standing with Israel.
"In case you were wondering, proponents of the bill have it right.
"The settlement regulation bill is not a radical bill. It is a liberal reform of a legal regime that harms the civil rights of both Palestinians and Israelis."

http://www.jpost.com/Opinion/Column-one-Israels-constitutional-identity-crisis-474225

~~~~~~~~~~
Right wing, nationalist MKs and ministers have grown weary of the situation. Amona became a catalyst for their action. They are determined to make a difference in terms of how "illegal settlements" are handled that is pervasive: there should be no more Amonas.
~~~~~~~~~~
When last I wrote, I spoke about the Regulation Law. It passed its first reading in two versions – one that had a clause that applied specifically to Amona, and one that eliminated that clause.
~~~~~~~~~~
Netanyahu expressed cold feet about the more comprehensive version, saying that the International Court of Justice would come after us, and that it would provoke Obama to vindictively support an anti-Israel resolution in the Security Council before he left.
It was difficult not to have some sympathy for this unease – Defense Minister Lieberman also called for slow action until Trump was in the White House.
However, it also had to be considered that Netanyahu on occasion uses these concerns as a screen for what he would prefer to do in any event. In recent days, his arguments began to sound weak.
Last Thursday, Reuters reported (emphasis added):
"U.S. President Barack Obama, keen to preserve his legacy on domestic health care and the Iran nuclear deal, is not expected to make major moves on Israeli-Palestinian peace before leaving office, U.S. officials said...
"Obama's aides are wary of [his] being seen picking a fight with Donald Trump at a time when he hopes to persuade the Republican President-elect to preserve parts of his legacy, including the Iran nuclear deal, Obamacare and the opening to Cuba."
Credit: businessinsider
"While Obama has yet to present his final decision, several officials said he had given no sign that he intended to go against the consensus of his top advisers, who have mostly urged him not to take dramatic steps, a second official said."
http://www.reuters.com/article/us-israel-palestinians-usa-idUSKBN13Q5MD
~~~~~~~~~~
At the same time, Aviad Visoly, who is a political activist and a lawyer, has made the case that Netanyahu's concerns regarding the International Court of Justice are "groundless."
Read his thinking here:

http://www.israelnationalnews.com/News/News.aspx/221214

While Deputy Foreign Minister Tzipi Hotovely expressed the opinion that it was "extreme" to fear an International Court of Justice action on the law, which was "right and ethical."

She pointed out that: "the Palestinians are not a state and do not have the right to appear in the court."

http://www.israelnationalnews.com/News/Flash.aspx/375237
Credit: thezeppelin

~~~~~~~~~~

OK, then...

Pressure on the prime minister increased, accompanied by considerable turmoil within the Coalition. Several Knesset and government activists were at work here.

Of particular note, those who pushed forward the legislation:

MK Bezalel Smotrich (Habayit Hayehudi), who co-chairs the Land of Israel caucus in the Knesset. There is nothing shy and retiring about Bezalel.
Credit: bhol

And his co-chair, Yoav Kisch (Likud)

Credit: kikar

And Shuli-Moalem Refaeli (Habayit Hayehudi)
Credit: Jewish Agency

And most of all, Minister Naftali Bennett (Chair, Habayit Hayehudi) who said he refused to give up.

Credit: actuj

Bennett and Netanyahu held intensive meetings seeking a way forward that they could mutually agree upon. Two days ago, they reached agreement on a version of the law that would legalize Jewish communities in Judea and Samaria. As I understand it, it has a retroactive clause, in that it allows legalization retroactively of communities now considered illegal. Thus, there would be no more Amonas.

It, however, excluded Clause 7, which would have protected Amona by overriding the Court. (In the other retroactive instances, there were not yet Court rulings, and the intent was to preclude them.)

Explained Arutz Sheva: "a safety net was factored into the agreement, stipulating that if the High Court strikes down the Regulation Law the "Cypriot Outline" will remain in force, which would compensate the landowners via an international tribunal." This would preclude demolition of houses, as well. My understanding is that compensation would be at 125% of the value of the land.

~~~~~~~~~~

As to Amona, the prime minister has asked the High Court for 30 days extension on demolition, in order to prepare new homes for the residents. He spoke about application of the Absentee Property Law and the fact that residents would be able to remain permanently on that absentee property. (Previously this was said to be a temporary solution, with residents required to move again in eight months – a ridiculous situation.)

Subsequently Netanyahu explained:

"We intend to examine the possibility of the residents being able to remain on the mountain [where they are now], and even to stay as a community....It is true that they will have to move a few dozen meters, maybe even 100-180 meters, but they will be able to remain at the same location."

The residents of Amona still say they refuse to move.

~~~~~~~~~~

Yesterday, the bill passed a preliminary reading in the Knesset. Three formal readings follow, the first perhaps tomorrow. The compromise agreement that was reached, as I understand it, secures a majority for this legislation – that is, it should pass all three readings. We will see.

According to my best sources, the attorney-general has said he would not oppose this version of the law (his previous objection being to over-riding the Court). Some of the Knesset parties who voted for the law did so precisely with the understanding that the attorney-general was on board.

(I confess to a certain confusion as to the role and the power of the attorney-general. He cannot stop the progress of legislation in the Knesset, but he can refuse to argue for a law in the High Court, and his disapproval has a dampening effect on its advancement.)

~~~~~~~~~~

This, then, is a marvelous time of hope for all of us who care about the rights of Israel in Judea and Samaria. There were leading members of the Knesset who referred to this legislation as the most momentous thing that has happened to Judea and Samaria since 1967.

I enjoyed the comment of Justice Minister Ayelet Shaked (Habayit Hayehudi), who thanked left-wing activists for enabling the bill to move forward.
Credit: therealclearisrael

"I want to start by giving thanks - mainly thanks to Peace Now. You know, no one in the history of the Jewish people who wanted to curse us has been able to without actually blessing [us]. Without meaning to, Peace Now and other leftist organizations - I don't want to deny credit to anyone [who deserves it], have aided the settlement enterprise in Judea and Samaria." (Emphasis added)

This is true – outrageous actions against Israel energize those who care. If we listen carefully we may hear the sound of the leaders of the left wing organizations banging their heads against the well.

~~~~~~~~~~

It's not over yet. We still must see what evolves with Amona. And the legislation has to pass the three readings in the Knesset. If it passes it's a fairly sure bet that some left-wing NGO will bring it to the High Court.

What seems an absolute certainty to me is that we are not going back to where we were. The shift has begun. If one effort fails, nationalists will move forward with something else.

We know something significant must be happening because of the insane rant Kerry delivered the other day – a rant filled with anger and frustration that matters are not going his way (and of course he knows what's best for us). I will not sully this post by belaboring this further.

Rather, let me close with the words of former MK Orit Stock, "People don't see their own miracles" (emphasis added):

"There's no doubt that this law and its accomplishments have made history.

"It hurts to know that Amona's residents will merit to reap the fruits of their own labors, and will have to make do with an upgraded version of the absentee property solution. (The upgraded version, at least, is much better than the previous versions. But still, we all hoped Amona's residents would be able to remain in their homes.)

"This is a crossroads which reminds us of the founding of the State of Israel, within its tiny 1948 borders. It was a huge historical milestone on the one hand, but it hurt that not everything we set out to do was accomplished.

"In my opinion, we must not allow the hurt (which definitely exists and deserves to be recognized) to prevent us from being happy and grateful for the historical milestone we have merited achieving."
http://www.israelnationalnews.com/News/News.aspx/221253
~~~~~~~~~~
A most fitting song, the original "This Land Is My Land," done by Pat Boone:
https://www.youtube.com/watch?v=TdT_0teZW_c
~~~~~~~~~~~
© Arlene Kushner. This material is produced by Arlene Kushner, functioning as an independent journalist. Permission is granted for it to be reproduced only with proper attribution.
If it is reproduced and emphasis is added, the fact that it has been added must be noted.
http://arlenefromisrael.squarespace.com/current-postings/2016/12/7/december-6-2016-a-time-of-turmoil-and-hope.html
Posted
on Wednesday, December 7, 2016 at 10:11AM
by
Arlene
|
Post a Comment
|
Email
|
Print
Today I will focus on just one subject. For the fires that have raged here in Israel during the last several days have surely been uppermost in everyone's mind.
Credit: Isabelmo

It began on Tuesday with a major fire in Zichron Yaakov, a community near the Mediterranean, on the south edge of the Carmel Mountains. Spreading through the night, it was battled by several teams of firefighters.

From there it spread – a fire first here, and then a fire there, most in the north of the country. There were fires in the hills near Jerusalem, with the small community of Beit Meir suffering major destruction.

Courtesy: Israel Police

The worst happened on Thursday into Friday in Haifa, with pockets of flame flaring: some 70,000 people were evacuated from their homes.
It was not quite the case, but there were cries that "Israel is on fire." Surely it felt that way to those in the path of the flames. There were many dozens of fires – over a hundred according to at least one source. Some small and some major. Officials in Haifa spoke of a national emergency.

~~~~~~~~~~

Today it is quiet, with flames in the main doused. Many people who had to flee at the height of the emergency have been able to return home (if there was a home to return to). Here and there a small flame ignites – I am assuming, by design - and is extinguished.

~~~~~~~~~~

Precise information is difficult to acquire, as different sources provide different figures. Following is the best I have been able to acquire:

While – thank Heaven – no one has been killed, according to Magen David Adom, some 180 people have been injured, mostly from smoke inhalation.

Some 600-700 homes were damaged in the fires, with more than 400 reported as uninhabitable and 37 completely destroyed.

The Nature and Parks Authority reports that some 32,124 acres of natural forests and bushes have burned, much of it in Nature Preserve land in the Judean Hills. Reports are that it may take up to 30 years for some areas of forest to be restored. Wildlife – which is plentiful in these areas – has been hit hard. Certain animals – foxes, jackal, deer – managed to escape in some numbers; others such as snakes and turtles found it near impossible. It is difficult not to weep for this.

~~~~~~~~~~

The effort expended in combatting this emergency has been enormous. There were 2,000 firefighters and 450 Search and Rescue IDF soldiers marshaled in the effort, with 480 air missions, dumping water and flame retardant on the fires. Some 29 planes were involved, including the US Supertanker, the largest firefighting plane in the world.
Credit: fbexternal

~~~~~~~~~~

The SuperTanker, which Prime Minister Netanyahu explained is the only firefighting plane that can operate through the night, was not sent by Obama as a goodwill gesture to Israel. Netanyahu contacted the American company Global SuperTanker Services and arranged for the plane to be leased and brought here as quickly as possible. (Carl of the blog IsraelMatzav expressed the suspicion that Netanyahu did this for political reasons – to solidify the public view of US support for us during our crisis even as Obama remained silent.)

I believe the US did send a crew of firefighters.

~~~~~~~~~~

Requests went out to other nations seeking assistance, and a number responded: Egypt sent helicopters, and Jordan fire trucks. Greece, Cyprus, Azerbaijan, Croatia, Italy, Russia, France, and the Ukraine all sent planes, most accompanied by crews. I believe the UK, Bulgaria and Italy did, as well, and I may have missed yet others.

My understanding is that Turkey volunteered assistance without having been asked. A surprise, at least to me.

I read one statement by a Cyprian firefighter assuring us that they will always be here for us.

This support was very heartening. We are hardly alone.

~~~~~~~~~~

In point of fact, the PA also sent assistance: eight fire trucks and 40 firefighters. But forgive my cynicism – I read this as a PR move. It was essential for Abbas to do this so as to look good; it was not an act of solidarity. It's what do you do, when Arabs from the PA area are identified as arson suspects and you know the world is watching.

Netanyahu thanked Abbas for this assistance.

~~~~~~~~~~

The big question is how this situation came about. We were in a particularly vulnerable situation, because winter rains had not yet begun (still haven't, but are due to start soon) and everything was horrendously dry. What is more, during the period of the fires, there was heavy wind across Israel – a lethal situation for spreading fire.

And so, yes, some of it just "happened": a cigarette tossed carelessly that caused a flare-up and then a spread of fire because of the wind; a bonfire unwisely located that did the same. Sparks from flames, caught in the wind, can "jump" to new locations.

But it was acknowledged early on that these fires were not all "innocent" occurrences. Very quickly it was recognized that arson was at work – hardly for the first time, but on a new and frightening scale. First estimates were that at least 50% of the fires had been deliberately started, although I've now seen estimates as high as 60% and as low as 30%, It's still guesswork, as investigations are not complete. It has been determined that the Haifa fires, or a number of them, were arson. (Four fires ignited in Haifa at the same time – a clear indication of arson.)

Flammable materials have been discovered at the site of some fires, and in at least one case, in the possession of Palestinian Arabs driving in the area of Ramallah who had full canisters of gasoline, rags, gloves and lighters in their vehicle. Police also found smoldering tires at the site of a fire and caught Arabs throwing Molotov cocktails so as to spark fire.

IDF Spokesperson's Unit

~~~~~~~~~~

This arson has been identified by Israeli officials as terror.

In a Channel 2 interview, Minister of Public Security Gilad Erdan spoke of "a new kind of terror." In the past, he said, there was incitement on social media that "encouraged people to go out and stab and car-ram" Israelis, now this same media "encourages them to go out and burn people alive, burn communities alive."

http://www.timesofisrael.com/security-officials-arsonists-jumped-on-bandwagon-after-first-fires-but-this-is-no-new-intifada/

Prime Minister Netanyahu, for his part, declared that, "Every fire that was caused by arson, or incitement to arson, is terrorism by all accounts. And we will treat it as such."

Chief of Police Roni Alsheich concurred: "if the fire was an arson, it is absolutely a terror attack."
Credit: theJewishPress

http://www.israelnationalnews.com/News/News.aspx/220933

~~~~~~~~~~

The reference by Netanyahu to "incitement to arson" and by Erdan to social media is enormously relevant: there has been widespread communication via social media in the Arab world that openly celebrates and encourages the arson.

The hashtag is #IsraelIsBurning and the venom is chilling:

https://sethfrantzman.com/2016/11/27/revealed-arabic-social-media-support-for-arson-in-israel/

~~~~~~~~~~

What must be noted as well are the denials of the Arab members of the Knesset:

As swaths of Israel were in flames, the Arab Joint List was "pushing back on claims some or most of the fires were started by Arabs for nationalistic reasons.
"Speaking to Army Radio...Joint List chief MK Ayman Odeh expressed outrage at the suggestion that Arab arsonists were responsible for the fires in Haifa...
"'This reminds me of the anti-Semitism in Europe, like when they would blame Jews, saying they poisoned wells.'"
http://www.israelnationalnews.com/News/News.aspx/220797
Well, he can begin eating his words now.
~~~~~~~~~~
As I write, there are roughly 30 Arabs being held, either for suspicion of involvement in arson, or arrested because they were caught in the act. There are likely many more out there. The majority are from the PA areas of Judea and Samaria, but there is a substantial minority of Israeli Arabs. That Israeli Arabs were involved puts a lie to the claim by the Arab MKs that they would never do that because it is their land. We see how they love the land.

Chief Alscheich made this observation (emphasis added):
"It's obvious that in areas where the Palestinian Arabs have a lot of control, it's very easy to throw a Molotov cocktail at the neighboring Jewish town and be down with it. It's harder for a Palestinian Arab to cross over the Green Line, but it's not that hard. At the end of the day, there are innumerable illegals here, so you really have the whole spectrum...A significant number of those arrested, however, were Arabs with Israeli citizenship, but those fires were not set in Judea and Samaria.(i.e., the Israeli Arabs set fires inside of the Green Line, where they live)."
~~~~~~~~~~
While there was speedy recognition at official levels that arson was involved, many officials, at the same time, were quick to vociferously deny that we are facing a "fire intifada," that is, arson attacks that will be on-going – a "replacement" for or adjunct to the knifing intifada.
My own opinion is that any possibility that this might be brewing must be quelled by swift and strong action now. And so we are in a "wait and see" mode.
Investigations are still on-going. Various actions are under discussion. There is talk of destroying the homes of arsonists, and taking the citizenship away from Israeli Arabs who set fires. A law is being proposed that would define arson (and incitement to arson) as terrorism, with penalties imposed as would be for other forms of terrorism.
There should be no mollycoddling, no going soft.
~~~~~~~~~~
And so I end for today, hoping to revert to my usual format next time.
But we do have good news. First the Dry Bones cartoon on this subject, which so splendidly expresses our resilience and our courage in the face of difficulties. It is the heart of our story.
~~~~~~~~~~
And then the wise and inspiring words of a Holocaust survivor who lost her home in the fire and yet maintains positive perspective:
https://unitedwithisrael.org/watch-holocaust-survivor-remains-optimistic-after-home-burned-down/
This attitude is what Dry Bones is referring to. She represents the best of who we are.
~~~~~~~~~~
© Arlene Kushner. This material is produced by Arlene Kushner, functioning as an independent journalist. Permission is granted for it to be reproduced only with proper attribution.
If it is reproduced and emphasis is added, the fact that it has been added must be noted.
http://arlenefromisrael.squarespace.com/current-postings/2016/11/28/november-27-2016-after-the-flames-die-down.html
Posted
on Monday, November 28, 2016 at 01:59PM
by
Arlene
|
Post a Comment
|
Email
|
Print
Clipartpanda

No easy task, with all that's flying. But we need to try. It means telling it like it is.

Caroline Glick has written many excellent columns over the years, but in my opinion the one she released last Friday – "The Ellison Challenge" - was exceptional for its direct and incisive analysis. This is precisely what is needed in these times of great political turmoil.

~~~~~~~~~~

She wrote (emphasis added):
"The Democratic Party stands at a crossroads today. And so do the Jewish Democrats.
"Out of power in the White House and both houses of Congress, the Democrats must decide what sort of party they will be in the post-Obama world.
"They have two basic options.
"They can move to the center and try to rebuild their blue collar voter base that President-elect Donald Trump captivated with his populist message. To do so they will need to loosen the reins of the political correctness and weaken their racialism, their radical environmentalism and their support for open borders...
"The second option is to go still further along the leftist trajectory that President Barack Obama set the party off on eight years ago...It is being played out today on the ground by the anti-Trump protesters who refuse to come to terms with the Trump victory and insistently defame Trump as a Nazi or Hitler and his advisors as Goebbels.
"For the Democrats, such a populist course will require them to become more racialist, more authoritarian in their political correctness, angrier and more doctrinaire.
"It will also require them to become an anti-Semitic party...
"Jews, and particularly the Jewish state, along with evangelical Christians and cops are the only groups that you are allowed to hate, discriminate against and scapegoat in the authoritarian PC universe.
"From the party's initial post-election moves, it appears that the Democrats have decided to take the latter path.
"Congressman Keith Ellison from Minneapolis is now poised to be selected as the next leader of the Democratic National Committee. This position is a powerful one...When a party is out of power, the party chairman is treated like its formal leader, and most active spokesman.
"Ellison is the head of the Democrats' Progressive caucus. His candidacy is supported by incoming Senate minority leader Senator Chuck Schumer and outgoing Senate minority leader Harry Reid. Obama has indicated his support for Ellison. Senator Bernie Sanders is enthusiastically supporting him.
"Ellison made history in 2006 when he was elected to serve as the first Muslim member of Congress...
"As Scott Johnson, a prominent conservative writer who runs the popular Powerlineblog website reported extensively in 2006, Ellison is an anti-Semite. He also defends cop killers.
"As Johnson reported, Ellison was a long standing member of the anti-Semitic Nation of Islam. During his 2006 Congressional campaign, the local media gave next to no coverage to this association. But when it did come up, Ellison soothed concerns of Minneapolis's Jewish community by sending a letter to the local Jewish Community Relations Committee.
"In the letter Ellison claimed that he had only been briefly associated with Louis Farrakhan's outfit, that he was unfamiliar with its anti-Semitism, and that he had never personally expressed such views.
"The local media and the Jewish community were happy to take him at his word.
"But as Johnson documented, [he] was lying on all counts...
"Ellison's association with the Nation of Islam dated back at least since 1989 and stretched at least until 1998. During that period, he not only knew about the Nation of Islam's Jew hatred, he engaged in it himself...
"As a member of Congress, Ellison has been among the most hostile US lawmakers towards Israel. He has close relations with Muslim Brotherhood related groups like the Council on American-Islamic Relations and Islamic Society of North America. Both groups were unindicted co-conspirators in the Holy Land Foundation terror funding trial, implicated in funding Hamas and al Qaida...
http://carolineglick.com/the-ellison-challenge/
~~~~~~~~~~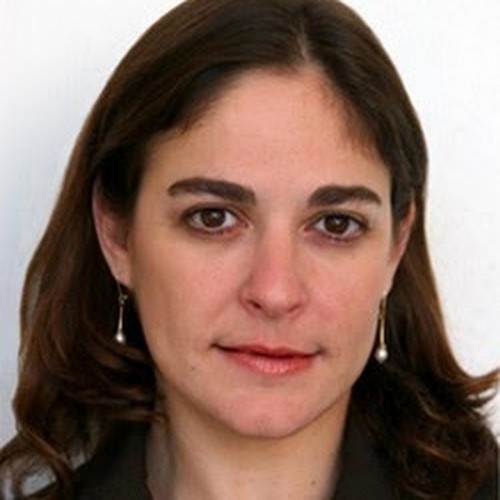 Credit: Chicagoboyz

Glick then gets to the heart of the matter when she discusses the difference between Trump's populism and Democratic populism. And it is here that I ask you to pay particularly close attention:

"Trump's populism stemmed from his willingness to say things that other politicians and authority figures more generally wouldn't dare to say. Trump's allegation that the political system is rigged, for instance, empowered Americans who feel threatened by the authoritarianism of the politically correct Left.
"Trump's opponents insist that his populism empowered white power bigots. But that was a bug in his ointment. It wasn't the ointment itself. Trump's willingness to seemingly say anything, and certainly to say things that were beyond the narrow confines of the politically correct discourse, empowered tens of millions of voters. It also empowered white bigots at the fringes of the Right.
"Whereas empowering white bigots was a side effect of Trump's populism, empowering bigots is a central feature of leftist populism."

~~~~~~~~~~

This situation, then, says Glick, brings us to the matter of the Jews, "who voted 3:1 for the Democrats, and to the American Jewish leadership whose support for Clinton was near unanimous.
"When anti-Semitic, populist voices...began taking over Britain's Labour Party, British Jews began heading for the exits. When push came to shove they preferred their individual rights and their communal rights as Jews above their partisan loyalties.
"So far, this doesn't appear to be the case among Jewish Democrats.
"Consider the Anti-Defamation League's unhinged onslaught against Trump's chief strategist, former Breitbart CEO Steve Bannon.
"While ignoring Ellison's record of anti-Semitism and support for Israel's enemies, as well as his ties to unindicted co-conspirators in funding Hamas, the ADL launched a scathing assault on Bannon accusing him of being an anti-Semite.
"The ADL's assault on Bannon follows its absurd claim in the final days of the campaign that Trump's ad criticizing George Soros was anti-Semitic...
"As many prominent US Jews on both sides of the partisan divide have made clear, the accusation that Bannon, whose Breitbart website is one of the most pro-Israel websites in the US, is anti-Semitic is appalling on its face. The allegation is simply unsubstantiated.
"So why do it? Why allege that a friend of the Jews is a Jew hater while ignoring the actual anti-Semitism of another man?...
"The ADL appears to be trying to give cover to the rising forces of anti-Semitism in the Democratic Party. By falsely accusing Bannon and through him Trump of anti-Semitism, the ADL defuses the real problem of Democratic anti-Semitism. And if the ADL doesn't think there is a problem with Ellison taking over the DNC, but alleges that Republicans hate them, then rank and file Jews will stay put...
"The ADL of course isn't alone in sending this message.
"Following the election, Conservative and Reform congregations in major cities throughout the US organized communal 'shivas,' to mourn Clinton's defeat as if it was a death in the family. Such actions, along with characterizations of Trump and his advisors as Nazis or Hitler or white supremacists, work to bind Jews to a party that is inhospitable to their communal interests while blinding them to the fact that Republicans do not hate Jews or the Jewish state.
"For decades, American Jews have been at the forefront of every major social movement on in the US. But the Democratic Party's move towards anti-Semitism, a move made apparent through Ellison's rise, is one movement the Jews mustn't lead."

~~~~~~~~~~
Unfortunately, it appears that there are Jews willing to lead this new Democratic party. Witness the shamefully self-serving support of Ellison by Senator Chuck Schumer.
I believe Glick's article is one that should be seen by every left wing Jew in America. I have had enough of hypocritical, intellectually dishonest, smugly arrogant Jews on the left who challenge right wing Jews to "deal with" the alleged anti-Semitism of Bannon while they blithely close their eyes to the reality of Ellison's radical Muslim affiliations.

~~~~~~~~~~

Before I move on to news about this part of the world, I want to share a brief CSpan video from 1995. This is President Bill Clinton speaking before Congress – clearly this was a State of the Union address - about illegal immigration and the need to stop it.
It shows us precisely how far left the US has moved in the last 21 years, how politically correct it has become. Clinton, a centrist president, is saying, to applause, much what Trump now says and is vilified for proposing.
https://www.c-span.org/video/?c4351026/clinton-1995-immigration-sotu
(I thank the reader who sent this to me. But since I've been inundated with emails, I hope he/she will forgive me, that I do not recall who it was.)
~~~~~~~~~~
While the political tone here in Israel is certain not nearly as turmoiled as it is in the US right now, matters are not exactly smooth. (Yes, I know, you might rightly ask, when do political matters go smoothly in Israel, and yet...)
At the heart of current concerns right now are issues of the legality of certain "settlements" – i.e., Jewish communities in Judea and Samaria. With a particular focus on Amona, which is scheduled for demolition by the end of this year.
Amona is a community of more than 40 families in the Binyamin region of Samaria. Founded in 1995, it is an offshoot of the larger nearby community of Ofra.
It was established with assistance from various government ministries, which is something the residents cannot forget. They didn't sneak on to the land in the dark of night. According to one report, the Ministry of Housing alone invested perhaps $500,000 into Amona. "They put us here," declared one Amona resident angrily. "If they made a mistake let them deal with it."
Credit: Amona PR division
But because the community did not have full government sanction, it is considered an "illegal outpost." And because of claims of Arab ownership, the High Court has ordered that it be taken down.
The story of Amona is in many ways a paradigm for what happens to certain Jewish communities in Judea and Samaria. The situation is far too complex for me to deal with it in all its particulars here, but I do want to make a few significant points.
The Arab ownership claims are dubious and complicated, with incomplete documentation, some reputed owners unknown, etc. There is no evidence that all of Amona is Arab-owned – not at all! - even though the media sometimes claim this. There are issues of financial compensation for the reputed Arab owners, but for a variety of reasons this has been unacceptable, until now.
The pattern we tend to see is a High Court decision to remove Jews from the land once there is claim of Arab ownership, sometimes even before the claim is adjudicated. And there is a certain irony – if that is the right word – in some of these rulings: situations in which Arabs claim ownership of land inside a Jewish community on which a block of Jewish homes stands, and the homes are ordered demolished even though there is no possibility that the Arabs would ever build there.

Keep in mind that players here are left-wing, pro-Arab NGOs in Israel (Peace Now, Yesh Din, etc.), that bring claims to the High Court ostensibly on behalf of Arabs. These are organizations that believe Jews have no business living beyond the Green line. As MK Shuli Mualem (Habayit Hayehudi) put it: "all the petitions to the court filed against Jewish communities in Judea and Samaria are a foolish means of circumventing the democratic process and advancing a political agenda by means of the court system."
Israel is very different from the US in this respect. Here, an organization or individual without standing in a case – that is, without vested interest – can bring an issue to the High Court. This is what Mualem is referring to.
For my readers who would like more information, I provide this link:
http://www.jewishpress.com/news/breaking-news/eight-crucial-things-you-must-know-about-the-amona-case/2016/11/20/
~~~~~~~~~~

The High Court order for demolition has been on-going for some years, with stays each time. Now it has reached the end. On the one hand there is the legitimate position that Israel is a nation of law, and so the order must be obeyed even if it unpalatable.
On the other hand, there is great distress at what is felt to be an injustice in this ruling – a manipulation of the system that works against Jewish residents. Thus have there been determined efforts to find an alternative solution – a solution that would change the status of Amona such that demolition would not be required. In fact, the prime minister had appealed to the Court for one more six-month delay in order to find another solution. That request was denied by the Court.
One response to this situation on the part of the right wing of the government – with MK Mualem, Education Minister Naftali Bennett (Habayit Hayehudi), Justice Minister Ayelet Shaked (Habayit Hayehudi) and others actively involved - has been promotion of what is being called the "Regulation Law." This would regulate building in Judea and Samaria as well as matters of forced evacuation. This would not apply specifically to Amona, but to a whole category of communities. None the less, the thought is that it would save Amona if it could be enacted quickly enough. My best understanding is that this involves the possibility of compensation to Arabs for land.
This action is an attempt to circumvent the meddling of the left-wing NGOs. It is intended to assert the final authority of legislation enacted by the Knesset over the rulings of the very activist High Court. There are issues of a profound importance with regard to how Israel operates at the core of this dispute. We are looking at a question of balance of powers, with it being the opinion of many that the Court dominates excessively.
At a bare minimum, my opinion and the opinion of, I believe, most on the right is that the rules should be changed so that organizations without standing on an issue would not be permitted to approach the Court to request a ruling on that issue.
~~~~~~~~~~

The legislation has passed its first reading in the Knesset, with two more readings required.
The Land of Israel Caucus in the Knesset is preparing three legal experts to defend the bill in deliberations as it moves forward in the Knesset. A special joint panel of the Law, Constitution and Justice, and Foreign Affairs and Defense Committees, and headed by MK Nissan Slomiansky (Habayit Hayehudi) will be working on the legislation.
I am not in a position to predict what will happen if it passes. That is, will it stand, or will some NGO challenge it in the Court, so that it ends up being nullified. The attorney-general has said he could not defend it in court.
Needless to say, the US government has expressed its displeasure at this move, supported by the ministers of the government.
~~~~~~~~~~
Another solution being discussed now, parallel to the Regulation Law, is what is being called the "Cyprus Solution." This involves arbitration on matters of land ownership, and would be modeled after what was done in Cyprus. Netanyahu – who is under huge pressure to find a way to save Amona - is leaning in favor of this solution. A committee to consider it has been formed, and American Professor Joe Willer, who is known for his expertise on this solution, will be consulted. Attorney General Avichai Mandelblit and Minister of Justice Ayelet Shaked are involved.

As I understand this, it involves absentee ownership issues. That is, cases in which the Arabs claiming ownership had not been using the land they are claiming. And it too, I believe, addresses the possibility of compensation.

I have only preliminary thoughts on this, and will hold them until I learn more. But what I clearly see is progress in fighting the good fight.

~~~~~~~~~~

Plans are being reactivated for building of 1,400 new housing units to be built in Ramat Shlomo, a mostly ultra-Orthodox neighborhood in northeastern Jerusalem. The plans had been put on hold because of objections by the Obama administration.

http://www.israelnationalnews.com/News/News.aspx/220565

I find it laughable when this neighborhood and other neighborhoods such as Gilo, all thoroughly part of Jerusalem, are referred to as "settlements," because they are (shock!) over the Green Line.
Credit: vosizneias
~~~~~~~~~~

"Deputy Foreign Minister Tzipi Hotovely (Likud) has big plans for next year, the 50th anniversary of the Six Day War. She seeks to alter what she terms 'the false paradigm' that has taken root in the international community, claiming that Israel is an illegal occupier...

"'The Foreign Ministry needs to lead the battle against the term "occupation,"' she said. 'It is my flagship project to try to break this myth.'

"The deputy minister lamented the persistent idea that 'everything starts and ends with "the occupation."

"'It's not correct legally and it doesn't make sense. We can't be occupiers in our own land.'"

http://www.jpost.com/Israel-News/Politics-And-Diplomacy/Deputy-FM-hopes-to-break-the-international-paradigm-on-the-West-Bank-473303
Credit: texasscribbler

~~~~~~~~~~

ALL RIGHT! This is an example of getting it straight.
Openclipart

I am proud to be working with Co-Chair Jeff Daube on the Legal Grounds Campaign, which has a close relationship with Tzipi Hotovely. We are actively promoting Israel's rights in Judea and Samaria. And we are seeing movement forward.

Anyone who would like a copy of the Legal Grounds Campaign annual report, just out, please contact me. And please visit our website, and join:

http://israelrights.com

~~~~~~~~~~

And last, just for fun:
http://www.israel21c.org/10-spectacular-rainbows-over-israel/
~~~~~~~~~~
I've run this before, but it fits here, and is a song of hope – which we have in considerable measure right now. Judy Garland singing "Somewhere Over the Rainbow." "Where dreams really do come true."
https://www.youtube.com/watch?v=PSZxmZmBfnU
Credit: Youtube
~~~~~~~~~~
© Arlene Kushner. This material is produced by Arlene Kushner, functioning as an independent journalist. Permission is granted for it to be reproduced only with proper attribution.
If it is reproduced and emphasis is added, the fact that it has been added must be noted.
http://arlenefromisrael.squarespace.com/current-postings/2016/11/22/november-22-2016-getting-it-straight.html
Posted
on Tuesday, November 22, 2016 at 03:16PM
by
Arlene
|
Post a Comment
|
Email
|
Print
The ugliness emerging from the American left, that is; nor do I expect it to be over any time soon.
The secretive Democracy Alliance donor club - closely associated with George Soros and his MoveOn.org – has reportedly just concluded its first meeting since the presidential election. The Alliance, known as DA, is supported by a cadre of liberal/left wing activists committed to giving major funds ($200,000 annually, each) to select political organizations in an effort to pull the nation (and the Democratic party) left.
According to POLITICO, the group is concerned with planning "full-on trench warfare against Trump from Day One." Some of their sessions looked at "thwarting President-elect Trump's 100-day plan."
http://www.politico.com/story/2016/11/democrats-soros-trump-231313
One of the speakers at this hush-hush gathering was Rep.Keith Ellison (D-MN). The first Muslim elected to Congress, he is now headed towards the chairmanship of the Democratic National Committee. While Ellison moves politically within the establishment, broadly defined, Denis MacEoin of Middle East Forum has charged that "he consorts with groups and individuals that represent a threat to democracy and America."
He has had connections with CAIR, and with the Muslim American Society, which is the American arm of the Muslim Brotherhood.
http://www.meforum.org/2756/keith-ellison-stealth-jihad
I will come back to Ellison.
~~~~~~~~~~
It is unfortunate that the left/liberals with power and influence in the US have not chosen to take the advice President Obama delivered the other day:
While he has considerable differences of opinion with president-elect Trump, said Obama, since meeting him, he is convinced that Trump sincerely wants to be president of all the people. He urged Americans to give Trump a chance.
http://www.israelnationalnews.com/News/News.aspx/220288
~~~~~~~~~~
One of the ways in which the left fails to give Trump and his emerging administration a chance is by leveling extreme charges that discredit those who will be working with the new president. By extension, of course, this is intended to discredit the president himself.
Thus it was that Steve Bannon of Breitbart News - who has been chosen by Trump to be Chief Strategist in the administration – was accused of being an anti-Semite.
Credit: dailywire
Last I wrote, when the charge had just emerged, I said that I had no indication that this was the case. But since then I've had the opportunity to do further research, and now feel compelled to come back to this to set the record straight with greater certainty.
At this point it is no longer a case of simply finding no evidence that he is an anti-Semite. I have discovered source after highly credible source that declares Steve Bannon a lover of Israel and a defender of the Jewish people. The charge of anti-Semitism is a calumny.
~~~~~~~~~~
Consider some examples (all emphasis within quotes added):
[] From David Horowitz, founder of the Freedom Center and editor of FrontPage Magazine:
"I have known Steve Bannon for many years. This is a good man. He does not have an Anti-Semitic bone in his body."

http://www.frontpagemag.com/fpm/264831/anti-bannon-hysteria-more-evidence-left-has-lost-david-horowitz

[] From David P. Goldman, pjmedia columnist and author:
"I know Steve Bannon, and have had several long discussions with him about politics. Steve is fervently pro-Israel, and it is utterly ridiculous to suggest that he is anti-Semitic. Other observant Jews who know Bannon, for example Joel Pollak, attest to his support for Israel and friendship for the Jewish people.
"The charges against Steve Bannon are a tissue of lies without a modicum of merit.
"Anyone can search the Breitbart Media archive for posts on Israel, Jews, and related topics, as I have, and determine that Steve Bannon's hugely successful media platform is 100% pro-Israel. Not only that: Breitbart consistently reports on the dangers of anti-Semitism around the world. Not a single article appeared in Breitbart.com during the past two years that could not have appeared in Israel Hayom, the leading Israeli daily."
https://pjmedia.com/spengler/2016/11/15/why-the-bie-lie-about-steve-bannon/
[] From Joel B. Pollak, Senior Editor Breitbart News:
"I have worked with Stephen K. Bannon, President-elect Donald Trump's new chief strategist and senior counselor, for nearly six years at Breitbart News. I can say, without hesitation, that Steve is a friend of the Jewish people and a defender of Israel, as well as being a passionate American patriot and a great leader.
"...I am an Orthodox Jew...I believe myself to be a qualified judge of what is, and is not, anti-Semitic.
"It defies logic that a man who was a close friend, confidant, and adviser to the late Andrew Breitbart — a proud Jew — could have any negative feelings towards Jews. As I can testify from years of work together with Steve in close quarters, the opposite is the case: Steve is outraged by anti-Semitism. If anything, he is overly sensitive about it, and often takes offense on Jews' behalf...
"Steve is a tireless, disciplined manager who demands excellence — and who seeks talent regardless of distinctions of race, gender, religion, sexuality, or any other kind...
"Andrew Breitbart anticipated the kind of attacks that Steve, and anyone else who is effective at opposing the left, would face...
"While being targeted is a badge of honor for Steve, lies are lies, and they deserved to be called what they are."
http://www.breitbart.com/big-government/2016/11/14/stephen-k-bannon-friend-jewish-people-defender-israel/
~~~~~~~~~~
From Bernie Marcus, co-founder of Home Depot and a board member of the Republican Jewish Coalition:
What is being done to Bannon is a "shonda" – a scandal: "nothing more than an attempt to undermine the incoming Trump administration.
"I have known Steve Bannon for many years. I have been shocked and saddened to see the recent personal attacks on Steve. Nothing could be further from the truth. The person that is being demonized in the media is not the person I know."

"Bannon is a passionate Zionist and supporter of Israel...he opened a Breitbart office in Israel to ensure that the true pro-Israel story would get out."
http://www.haaretz.com/world-news/u-s-election-2016/.premium-1.753416
~~~~~~~~~~.
[] From the Zionist Organization of America:
"ZOA's own experience and analysis of Breitbart articles confirms Mr. Bannon's and Breitbart's friendship and fair-mindedness towards Israel and the Jewish people. To accuse Mr. Bannon and Breitbart of anti-Semitism is Orwellian. In fact, Breitbart bravely fights against anti-Semitism...
"Stephen Bannon joined ZOA in fighting the anti-Semitic rallies at CUNY by requiring his Breitbart reporters to call CUNY officials and Gov. Cuomo aides urging them to do something about it."
http://zoa.org/2016/11/10342353-zoa-criticizes-adl-for-falsely-alleging-trump-advisor-bannon-is-anti-semitic/
I saved the ZOA endorsement for last, because I also want to note that ZOA is having its annual dinner next week, and Steve Bannon is scheduled to attend.
~~~~~~~~~~
This, then, brings us full circle to Congressman Ellison and an article by Robert Spencer, "Do the Democrats Really Care about Anti-Semitism?" (emphasis added):
"When is anti-Semitism not anti-Semitism? When it comes from the Left, of course.
"President-elect Trump has enraged the establishment media by choosing Steven K. Bannon as his chief strategist, because Bannon, they claim on the flimsiest of evidence, is a white supremacist and an anti-Semite. Meanwhile, that same media is hailing Rep. Keith Ellison (D-MN) for announcing his candidacy for Chairman of the Democratic National Committee – despite Ellison's very real links to Hamas and the Muslim Brotherhood, two groups that are outdone by no one in anti-Semitism...
"Hamas has declared: 'Killing Jews is worship that draws us close to Allah.' Ellison has spoken before several groups that have ties to Hamas. Does Keith Ellison also, then, think that 'killing Jews is worship that draws us close to Allah'? No establishment media 'journalist' would ever dream of asking him that question, but it's a fair one: Hamas repeatedly demonstrates genuine and murderous anti-Semitism, and Ellison has repeatedly shown himself willing and even eager to associate himself with Hamas-linked groups.
"That's the real story of anti-Semitism in American politics this week. But the media propagandists are most certainly not going to pause in their hysteria over Trump and Bannon to take any notice of it. Their hypocrisy is obvious, their dishonesty unrelenting, and their moral authority absolutely nil."
http://www.frontpagemag.com/fpm/264834/steve-bannon-and-keith-ellison-do-democrats-really-robert-spencer
~~~~~~~~~~
The flimsiest of evidence? That in a divorce proceeding some ten years ago, in the course of tension over child custody issues, Bannon's wife claimed that he didn't want their daughters going to the elite school under discussion because he didn't want them to be with Jews. Bannon has denied this.
~~~~~~~~~~
That leaves two other issues that are connected to what has been going on. The first involves the charge that, well, no, Bannon isn't anti-Semitic, but the Breitbart website he managed serves as the "platform for the alt-right."
There is just one problem with this charge. There is no evidence for it. For the site is consistently pro-Israel and critical of anti-Semitism. So certain is Breitbart of its position that, according to journalist Jeff Dunietz, citing The Hill, "Breitbart News is preparing a lawsuit against a 'major media company' over claims that it is a white nationalist website."
http://lidblog.com/breitbart-sue-major-media-company-charges-racism/
Stay tuned on this one.
~~~~~~~~~~
And the second involves one of the original sources of the charge that Bannon was an anti-Semite: ADL. The Anti-Defamation League is not what it once was.
The charge came from ADL's Jonathan Greenblatt, who previously worked for the Obama administration:
"ADL CEO Jonathan Greenblatt condemned Bannon's appointment and accused him of harboring anti-Semitic and white supremacist views. In a tweet, Greenblatt said that Bannon and 'his alt-right' are 'hostile to core American values.'"
Since assuming his new position, Greenblatt has opened the door to far left organizations like JStreet and has assured them that ADL "shares your commitment to change." He has also indicated himself ready to provide forums for anti-Israel groups.
https://www.frontpagemag.com/fpm/262937/adl-turns-anti-israel-daniel-greenfield
Commentator Jonathan Tobin recently wrote, in an article entitled "The ADL takes sides against Israel," that:
"From now on, ADL must be viewed as an ally of J Street and others on the left who make no secret of their partisanship..." (Emphasis added)
http://www.jewishpress.com/indepth/opinions/the-adl-takes-sides-against-israel/2016/09/15/
~~~~~~~~~~
The issues that are being fought over in the US are profound. I see a multi-cultural, anything goes left threatened by the return to traditional values that the Trump victory represents. There is so much unspoken in this current battle over Bannon. So much that I cannot touch upon, at least not here or now. Although I certainly express great hope with that Trump victory.
~~~~~~~~~~
It is time to switch gears.
Dear friends. Here in Israel we are in the midst of an anguished situation with regard to Jewish rights to Judea and Samaria, the imminent demolition of Amona, the power of the High Court, and a good deal more. All of which I have been hoping to address for days now. Please Heaven, I'll be able to turn to this next time I post.
But with this anguish, with the various troubles that Israel must contend with, she is a very special nation. A nation to celebrate (and celebrate, I do).
And so I will end with a classic song by Yehoram Gaon, "Shalom Lach, Eretz Nehederet" – Peace to you, lovely country.
https://www.youtube.com/watch?v=DgvmC-F5jsE
~~~~~~~~~~
© Arlene Kushner. This material is produced by Arlene Kushner, functioning as an independent journalist. Permission is granted for it to be reproduced only with proper attribution.
If it is reproduced and emphasis is added, the fact that it has been added must be noted.
http://arlenefromisrael.squarespace.com/current-postings/2016/11/17/november-17-2016-aint-over-yet.html
Posted
on Thursday, November 17, 2016 at 06:16AM
by
Arlene
|
Post a Comment
|
Email
|
Print
"Unsettled" is probably a major understatement with regard to what's going on, here and in the US. Doesn't mean all bad. Not at all – it's a mix with a great deal that is exceedingly promising.

But before I address that mix, just one great news item:

"The United Nation's World Health Organization recognized the Israeli army's field hospital, which is regularly sent abroad to provide aid at natural disaster sites, as 'the number one in the world' in a ceremony last week, classifying it as its first and only 'Type 3' field hospital, according to its commander, Lt. Col. (res.) Dr. Ofer Merin...

"The military's field hospital is 'not just some medics and doctors spread out in the field'; rather it is a 'national treasure' that has the capabilities of an advanced, permanent hospital but can be set up almost anywhere in under 12 hours, Merin told The Times of Israel last month.

"This Type 3 classification ensures that Israeli teams will continue to be the first allowed on the scene of future disasters and further cements Israel's position as a world leader in emergency medicine."

http://www.timesofisrael.com/un-ranks-idf-emergency-medical-team-as-no-1-in-the-world/
Credit: Israel21c

~~~~~~~~~~

I had promised, after focusing exclusively on the US election for some very tense days, that I would return to news about Israel. But in reality Israel is very focused on president-elect Trump, with regard to all of the implications for us with the coming change in administration. And, so, what I want to do here is consider some of those implications.

No one can state precisely what Trump's position vis-à-vis Israel will be after inauguration. I certainly would not be terribly surprised if some of the things spoken about during the campaign never came to be – that is always the case, I fear. Things look different in the White House from how they looked on the campaign trail. But, that said, we still have a good sense of how the Trump presidency is likely to impinge upon Israel. And it is so promising that we have to shake our heads to be certain this is real. It's a sea change coming.

JPost political commentator Gil Hoffman on Friday quoted Prime Minister Netanyahu, who had been heard to say several times over the years:

"I want to know what it's like for just one day to have a president who has my back."

Well, he's about to find out. And this president is going to have his back for a whole lot more than one day.

Credit: Middleeasteye

~~~~~~~~~~

An overview:

[] The day after Trump was elected he called Netanyahu and invited him to come to the White House at the "first opportunity."

[] Two days later, Trump delivered a message to Israel, calling our country a "ray of hope."

"I love and respect Israel and its citizens...I look forward to strengthening the unbreakable bond between our two great peoples."

http://www.israelnationalnews.com/News/News.aspx/220152

[] One day after this, Sara Netanyahu and first lady-elect Melania Trump had their own phone conversation. Melania told Sara that relations between the US and Israel, and between their two families, "will be wonderful."

~~~~~~~~~~

[] We still have to see it really happens, but many Trump aides – I'm aware of one exception - are insisting that while other presidents made the promise and didn't mean it, Trump fully intends to honor his promise to move the American Embassy to Jerusalem.

The PA is taking this seriously:

"If President-elect Donald Trump follows through on his promise to move the U.S. Embassy to Jerusalem, the Palestinian Arabs will 'make life miserable' for the United States at the United Nations, the Palestinian Authority's ambassador to the United Nations is threatening."

http://www.israelnationalnews.com/News/News.aspx/220191

My sense of the matter is that Trump is not the type to take kindly to threats.

~~~~~~~~~~

[] Pinchas Inbari, writing for JCPA, said that:

"Palestinian Foreign Minister Riyad al-Malki, the architect of the diplomatic blitz against Israel, was the first to comment on the meaning of Trump's election. In the first Palestinian public remark on the election, Malki said that he 'was concerned' because Trump represented an absolute supporter of Israel. With Trump's election, he warned, global stability is threatened." (Emphasis added)

http://jcpa.org/trumps-election-upsets-the-palestinian-authoritys-diplomatic-campaign-against-israel/

~~~~~~~~~~

[] Elder of Ziyon shared a picture taken in the Arab Souk (the open air market in Jerusalem) that shows T-shirts – manufactured before the election - for sale. Trump is represented as a Chasid. This is how the Arabs are seeing him:
Credit: ElderofZiyon

~~~~~~~~~~

[] According to Eric Trager of the Washington Institute, Trump adviser Walid Phares is saying that President Elect Donald Trump intends to designate Hamas's parent group, the Muslim Brotherhood, a terror organization.

http://israelmatzav.blogspot.co.il/

Talk about a sea change! Obama's first address as president was delivered in Cairo, and the Brotherhood was invited. But then, Obama's first phone call on becoming president was to Abbas.

~~~~~~~~~~

Key Trump advisor on Israel Jason Greenblatt says that the president-elect does not see settlements as an obstacle to peace.

"He thinks that Israel is in a very tough situation and needs to defend itself," he continued. "He is not going to impose any solution on Israel, he thinks that the peace has to come from the parties themselves."

http://www.timesofisrael.com/trump-adviser-he-doesnt-see-settlements-as-peace-obstacle/
Credit: inspireconversation

~~~~~~~~~~

According to a scoop by POLITICO, the Trump team has warned Obama not to make any major moves on foreign policy.

"On big, transformative issues where President Obama and President-elect Trump are not in alignment, I don't think it's in keeping with the spirit of the transition ... to try to push through agenda items that are contrary to the president-elect's positions," a Trump national security adviser told POLITICO on Thursday. "It's not going to be just counterproductive, but it will also send mixed messages."

http://www.politico.com/story/2016/11/donald-trump-obama-foreign-policy-231188

THE big transformative issue would be Obama allowing an anti-Israel vote in the Security Council to go through without vetoing it – recognizing a Palestinian state, or setting parameters for a deal. It remains something of considerable concern here.

~~~~~~~~~~

And then there are Trump's advisors, pro-Israel people who are likely to have roles in his government. Notably:

Newt Gingrich, historian, former Speaker of the House, who, as Caroline Glick reminds us, in the course of a debate in 2011, referred to the Palestinians as an "invented people." He never retracted this. I've long admired him as one of the sharpest minds in politics, someone who really gets it. He never shied from speaking about the dangers of radical Islam.
Credit: Wikimedia

John Bolton, lawyer, former ambassador to the UN. While at the State Department he led the fight to rescind the "Zionism is Racism" resolution at the UN. Tough, no nonsense.
Credit: Wikipedia

Rudy Guiliani, lawyer, former mayor of NYC, international security consultant. He's been my hero since he told off Saudi Arabia after 9/11. Another tough, clear-eyed thinker.
Credit:Wikipedia

~~~~~~~~~~

I had hoped to segue at this point into political news about Israel: there is some major stuff happening. But I will table that discussion for the next posting (which will come soon), because there is something pressing that cries out to be addressed.

I am referring to the rioting that is taking place in various cities across America in protest against the election of Donald Trump. It is beyond vile, it is obscene: un-American and undemocratic. Everyone knows about the fact of these riots, but it's important to place them in a broader context lest this be seen erroneously as a spontaneous "uprising."

Know this for certain: It is not spontaneous. It is of a piece with the radical agitation that took place with Black Lives Matter – a racist, anti-Semitic group – and it is funded by Soros, via his MoveOn.org (as he funded Black Lives Matter: http://www.infowars.com/leaked-list-shows-ferguson-protesters-paid-by-soros-front-group/).

"Billionaire globalist financier George Soros's MoveOn.org has been revealed to be a driving force behind the organizing of nationwide protests against the election of Donald Trump — exposing the protests to largely be an organized, top-down operation — and not an organic movement of concerned Americans taking to the streets as reported by the mainstream media." (Emphasis added)

http://thefreethoughtproject.com/soros-trump-protests-revolution

~~~~~~~~~~

On November 9, MoveOn.org put out a press release that included the following:

"Tonight thousands of Americans will come together at hundreds of peaceful gatherings...following the results of Tuesday's elections. The gatherings – organized by MoveOn.org and allies – will affirm a continued rejection of Donald Trump...and demonstrate our resolve to fight together for the America we believe in."

This then, is a call to fight to overturn the results of an election. Of course, in the end the gatherings have been anything but peaceful. They have become an obscenity and bring shame upon America.

American flags have been burned.
Credit: Tumblr

There are calls for the new first lady to be raped.
Credit: twitter

Trump supporters have been beaten up.

Sick. And sickening. The goal here, rest assured, is not making America strong.

~~~~~~~~~~

There is indication that paid "demonstrators" were bused into key regions. In a commentary on this situation, Bob Livingston talks about the "useful idiots" who are brought out by the agitators:

"vacuous individuals dumbed down to an almost nonfunctional state from years of programming by the American (non)education system and government propaganda. Many of them, if television interviews are any indication, did not even vote. They assumed what they heard from mainstream propaganda media and social media and from Hillary Clinton and Barack Obama that a Hillary win was assured...

"Among the complaints being voiced by the so-called #notmypresident mobsters is that Trump is not the legitimate president-elect because he did not receive the majority of the popular vote...

"But whether Trump ends up with the lead in the popular vote is irrelevant as he won the electoral vote. America is a republic, not a democracy, a fact lost on the empty heads wandering about chanting anti-Trump slogans into their phones to broadcast over social media and when the television cameras light up.
"The ignorance...and cognitive dissonance being demonstrated by these 'useful idiots' is profound, but should not be surprising given the recent news coming out of college campuses regarding millennial snowflakes and their quest for 'safe spaces' free of 'hate speech' and contrary opinion and their efforts to create a society where gender dysphoria [profound unease and dissatisfaction] is the norm. This is the direct result of decades of mollycoddling in schools and society.
"The public (non)education system, rather than teaching the three 'Rs' and allowing students to stand or fall on their own work, has long taught a 'value-based' curriculum in which students were constantly pampered and enabled...
"The result is those students are now physical adults but emotional toddlers..." (All emphasis here is in the original.)
http://personalliberty.com/anti-trump-crowd-clamors-slavery/
~~~~~~~~~~
Bill O'Reilly expresses a similar sentiment in this short video, in which he speaks about progressive, permissive government that does not take a stand when it should. Violent protestors who should be arrested will not be. (You perhaps need to see the behavior of the rioters in this video to understand what he is talking about.)
http://video.foxnews.com/v/5207075800001/?#sp=show-clips
~~~~~~~~~~
This needs to be a turning point for America, with a great deal of soul searching to be done.
And in this crisis, which represents a challenge to democratic process, I point a finger directly at Hillary Clinton, who has remained silent. Her silence is understood by the "demonstrators" as meaning she condones their actions. As she full well recognizes.
During one of the campaign debates, Trump was asked whether he would accept the results of the election. Speaking about the possibility of fraud, he answered that everyone would have to wait and see. Perhaps not the best answer, but this is what he said.
Hillary milked it for all it was worth. Here is what she said (my emphasis added):
"By doing this, he is threatening democracy. The peaceful transition of power is one of the things that sets us apart."
But thousands riot in the streets because they want her to be president instead of Trump, and she says not a word to them about peaceful transition, which sets the nation apart.
I would say that she should do soul searching on this matter, but it would be a waste of energy.
~~~~~~~~~~
I want to compare this to how Trump has behaved. He has been accused of being in bed with racists on the far right, including the Ku Klux Klan. But he disavowed them clearly and publicly:
"Donald Trump issued a crystal clear disavowal Thursday [March 3] of former Ku Klux Klan Grand Wizard David Duke after stumbling last weekend over a question about the hate group leader on CNN.
"'David Duke is a bad person, who I disavowed on numerous occasions over the years,' Trump said on MSNBC's 'Morning Joe.'
"'I disavowed him. I disavowed the KKK,' Trump added. 'Do you want me to do it again for the 12th time? I disavowed him in the past, I disavow him now.'"

http://edition.cnn.com/2016/03/03/politics/donald-trump-disavows-david-duke-kkk/

~~~~~~~~~~

"In his first post-election interview, President-elect Donald Trump told his supporters who have engaged in racist and bigoted attacks in the days following Tuesday's election to 'stop it,' saying that he wasn't aware of the incidents and claiming it was 'a very small amount.'
"'I am so saddened to hear that,' Trump said on CBS's '60 Minutes,' which aired Sunday. 'And I say, "Stop it." If it helps, I will say this, and I will say right to the camera: "Stop it."'"
http://www.huffingtonpost.com/entry/donald-trump-hate-crimes_us_5828f3f6e4b02d21bbc952be
"Do not do this in my name," Hillary should have told the rioters. "Stop it now. If you were to succeed in driving Trump out, I would not take the presidency. This is not how America works."
~~~~~~~~~~
Hillary Clinton has inadvertently given us a clear picture of who she is. And another reason to be very grateful she did not win the election.
~~~~~~~~~~
A final word, a post script of sorts: There are charges that Trump's people, or some of them, are anti-Semitic. This is something to always be alert to, but though I am watching and checking (I am not closing my eyes), I have not found anything that convinces me of this. At the moment the charges concern Steve Bannon, whom Trump has selected as an advisor.
With regard to Hillary, however, it has been easy to find anti-Semitic connections:
For example concerning the Blumenthals, with whom Hillary has had a close friendship:
http://observer.com/2016/02/hillarys-email-trail-of-troubling-anti-israel-conversations/
~~~~~~~~~~
Leonard Cohen, z"l, song writer and performer, has passed away. He was much loved in Israel and performed here multiple times, including for the troops during the Yom Kippur war. His songs were frequently based on Jewish themes, and so I end here with a link to five of these songs:
http://www.israelnationalnews.com/News/News.aspx/220209
Credit: myChordBook
~~~~~~~~~~
© Arlene Kushner. This material is produced by Arlene Kushner, functioning as an independent journalist. Permission is granted for it to be reproduced only with proper attribution.
If it is reproduced and emphasis is added, the fact that it has been added must be noted.
http://arlenefromisrael.squarespace.com/current-postings/2016/11/15/november-14-2016-unsettled.html
Posted
on Tuesday, November 15, 2016 at 04:27AM
by
Arlene
|
Post a Comment
|
Email
|
Print
Which means, "thank Heaven." I want to share my thoughts briefly on this day after election day. After this, promise, I will turn to what is happening here in Israel (along, undoubtedly, with further comments on America).
Credit; alternet

I am thankful on several counts. First, because I didn't expect this, and it comes as such a marvelous surprise.
Credit: cmrue.files

After the poll predictions, it was a stunning victory. The victory, I note, includes a fully Republican Congress.

~~~~~~~~~~

Then because of what has now been avoided – for America, and for the world (Israel very much included). I had been heartsick about the prospect of a Hillary victory. Deeply distressed about what she would bring to the White House: her embrace of open borders; her corruption – evidenced by the millions from the Clinton Foundation spent on her daughter's wedding, not to mention "pay and play"; her connection to nations such as Qatar, which supports the Muslim Brotherhood; her endorsement of the racist, far left Black Lives Matter, which damages race relations in the inner city; her readiness to continue Obama's horrendous policy on Iran – in fact, her intention to follow in the path of an arrogant Obama in several respects; and on and on and on.

It's strange, what kept running around in my head, with all the things that might have occupied my thoughts: It had been revealed that all the investigators and lawyers involved in the FBI investigation of her emails thought she should have her security clearance revoked, and then it turned out that she had given classified documents to a maid who didn't have clearance. How can she be president of the US? How could the possibility even exist? Are we about to witness the downfall of America?

~~~~~~~~~~

Now this anguish is after the fact. Because she is not going to be president. And, I might mention, Bill is not going to be back in the Oval Office, running things behind the scenes – a prospect that was unbearable for me.

~~~~~~~~~~

But I am not celebrating Trump's victory just because he is not Hillary. I want very much to make that clear.

I see promise in a Trump presidency, and hope for a much better day for America, and subsequently, the Western world (Israel included).

I believe he has grown considerably in the last two years of campaigning and he is not the same as he was in the beginning. He has seen America from a different angle – deeply moved by what he has learned, and caring about the common man. And humbled by those who have supported him.

Today I heard an interview with a Black woman involved in politics who has been a life time Democrat; she voted for Trump. He shows genuine concern for the inner city, she said, for the Black people and the Hispanics who suffer there. He will work to make it better. I believe it is true. Not long ago, I ran something about his plan to revamp inner city education. "The forgotten people will be forgotten no longer," he pledged.

~~~~~~~~~~

I was exceedingly pleased with his acceptance speech, which hit all the right notes. Commentator Chris Wallace called it "pitch perfect." There was no bombast in his behavior. Even the music that played as he walked on to the dais was easy-listening, not the loud stuff we usually hear. His demeanor was soft, projecting a humble, moderate tone. He didn't say "I" won, he said "we" did. He took the time to thank those behind the scenes who helped him. And he reached out to everyone: letting those who didn't support him know that he intends to be their president too, and would like to learn from them.

I particularly liked it that he gave credit to American veterans, who have been treated so badly under Obama.

~~~~~~~~~~

Will we like everything Trump does? Of course not. Like all of us, he is a flawed human being. But I believe he is a sincere one who means it when he says he loves America. He doesn't shy away from patriotism. And it behooves every one of us to give him a chance, and a boost when we can. He will be inheriting from Obama a country in horrendous shape. He will have his work cut out for him, and then some, as he undoes the Obama legacy.

So let us watch, with gratitude in our hearts for the possibilities, as he works to bring manufacturing that has left America's shores back into the country; and seeks to upgrade infrastructure; and takes stops to help the inner cities. Let us applaud as he bolsters the military, and guards America's borders, and gets tough with Iran, and declines to push Israel into a "two state solution." Let us be glad as he names the enemy that Obama has refused to name.

I believe that the Almighty has given America a new chance. And for this we should be thankful. It was almost too late.
Credit: mauganscorp

~~~~~~~~~~

© Arlene Kushner. This material is produced by Arlene Kushner, functioning as an independent journalist. Permission is granted for it to be reproduced only with proper attribution.
If it is reproduced and emphasis is added, the fact that it has been added must be noted.
http://arlenefromisrael.squarespace.com/current-postings/2016/11/9/november-9-2016-baruch-hashem.html
Posted
on Wednesday, November 9, 2016 at 01:55PM
by
Arlene
|
Post a Comment
|
Email
|
Print
OK, so I said yesterday that my posting was the last before the election. And now here I am again. With good reason.

Most importantly, I want to share the link to Trump's fantastic video finale for the campaign. I urge you to view it and then consider sending it far and wide. Today. Without delay. Put it on Facebook and share it with your lists.

https://www.youtube.com/shared?ci=Lf1psqyg0GE

~~~~~~~~~~

But then a comment about Comey's announcement yesterday that the FBI had completed its examination of the emails on the Weiner laptop. Nothing was found, he declared, that would warrant a change in his earlier recommendation that no charges should be brought against Clinton for mishandling of emails.

Precipitous conclusion, do you think? So timely before election day. Never mind that very shortly before this announcement it was being said by FBI personnel that it would take many days to complete the email examination. There were 650,000 emails found, some tens of thousands of which were said linked to the Clinton server.

I wonder if the very convenient timing of the announcement, the precipitousness with which the investigation was wrapped up, will end up convincing much of the electorate that it was all legit. I think Comey, who has handled things badly from the get-go, did what he had to do (or perceived that he had to do) under the circumstances. And there it sits.

I do not believe we have heard the last on this. Just as conscientious FBI investigators came forward before, I suspect they will again. Trump thinks so too. At a rally yesterday, he said:

"Hillary Clinton is guilty. She knows it, The FBI knows it. The people know it." Now it is up to "the American people to deliver justice at the ballot box on November 8."

http://www.israelnationalnews.com/News/News.aspx/219892

~~~~~~~~~~

There is still so much out there: The on-going investigation of the Clinton Foundation (with the latest news being that Foundation "charity" funds apparently paid for Chelsea Clinton's wedding); the Wikileaks. And how about this, which broke yesterday:

"As secretary of state, Hillary Clinton routinely asked her maid to print out sensitive government e-mails and documents — including ones containing classified information — from her house in Washington, DC, e-mails and FBI memos show. But the housekeeper lacked the security clearance to handle such material."

http://nypost.com/2016/11/06/clinton-directed-her-maid-to-print-out-classified-materials/

And so, please, do not interpret the Comey announcement yesterday as proof that Clinton is innocent of wrong-doing. Nothing could be further from the truth.

Tomorrow is election day. Get out and vote!

~~~~~~~~~~

© Arlene Kushner. This material is produced by Arlene Kushner, functioning as an independent journalist. Permission is granted for it to be reproduced only with proper attribution.
If it is reproduced and emphasis is added, the fact that it has been added must be noted.
http://arlenefromisrael.squarespace.com/current-postings/2016/11/7/november-7-2016-the-very-last-word-on-the-election.html
Posted
on Monday, November 7, 2016 at 09:45AM
by
Arlene
|
Post a Comment
|
Email
|
Print
"Since a new FBI probe was announced by FBI Director James Comey a week ago, concerning the discovery of possible additional emails connected to Hillary Clinton, she has stepped back in her campaigning. Instead, in some measure, she has been relying on others, including the president, to campaign for her.
At this point, Barack Obama is pleased to assist. At one campaign stop late last week, he declared that the fate of American democracy depended on this election.
Credit: rawstory
I happen to agree with him (perhaps a first). Except that I am convinced that he has the wrong end of the stick.
~~~~~~~~~~
This will be my last posting about American politics prior to the election. I am writing here as an American citizen, concerned with the future of America. I implore you to think carefully about what I say, and to share it as broadly as you can – especially in Florida and other swing states such as N. Carolina, Pennsylvania, Ohio, Colorado, and Virginia.
~~~~~~~~~~
Donald Trump also made a statement about American democracy the other day.
Credit: playbuzz
He said the nation might face a constitutional crisis if Clinton were elected while facing a probe on her emails. This is not fear-mongering. This touches the heart of the matter. I am aghast that in spite of the multiple shadows cast on the Clinton campaign by credible charges of her wrong doing, despite the overwhelming evidence of her lying, many Americans are still willing to put her in the White House.
A look at some basic facts is in order here.
~~~~~~~~~~
[] The original FBI investigation involved the fact that Clinton, while secretary of state, used a private email server system located in her home for government business. Issues were raised regarding the legality of her action and whether she compromised national security. She had received no clearance for this from government security, and broke government rules with this practice.
[] One of the issues here is the way in which Clinton consistently lied about the situation. This short video, juxtaposing statements by FBI head James Comey and Clinton, illustrates this vividly.
http://edition.cnn.com/videos/politics/2016/07/05/hillary-clinton-fbi-email-investigation-origwx-bw.cnn
What this means: Either the American electorate has not been paying attention to the evidence of Clinton lying, or knows and is ready to consider putting a chronic liar into the White House.
~~~~~~~~~~
[] Recently an anonymous individual at the center of the Clinton email investigation charged that Comey's announcement that he would not recommend to the Attorney General's office that the former secretary of state be charged "left members of the investigative team dismayed and disgusted. More then 100 FBI agents and analysts worked around the clock with six attorneys from the DOJ's National Security Division...
"No trial level attorney agreed, no agent working the case agreed, with the decision not to prosecute – it was a top-down decision,' said the source, whose identity and role in the case has been verified by FoxNews.com.
"A high-ranking FBI official told Fox News that while it might not have been a unanimous decision, 'It was unanimous that we all wanted her [Clinton's] security clearance yanked.
"'It is safe to say that the vast majority felt she should be prosecuted,' the senior FBI official told Fox News. 'We were floored while listening to the FBI briefing because Comey laid it out, and then said, "But we are doing nothing," which made no sense to us.'"
http://www.foxnews.com/politics/2016/10/13/fbi-doj-roiled-by-comey-lynch-decision-to-let-clinton-slide-by-on-emails-says-insider.html
What this means: The American people are willing to consider electing as president someone whom more than 100 FBI agents, analysts and attorneys believe should not even have security clearance.

An incredible situation that raises exceedingly serious issues about Clinton's core qualifications to be president.
~~~~~~~~~~
The case has been re-opened because Clinton-related emails were found on the computer of Anthony Weiner in the course of a separate investigation. Weiner, a former NY congressman, is the estranged husband of Huma Abadein, Clinton's closest aide.

It has been confirmed that an analysis of the metadata on Weiner's email has turned up "positive hits for state.gov and HRC emails." ("HCR" = Hillary Rodham Clinton.)
http://www.foxnews.com/politics/2016/10/30/comey-s-review-emails-related-to-clinton-server-triggered-by-ny-agents-source.html
~~~~~~~~~~
[] It has also been confirmed at this point that the emails in question are not simply duplicates of emails that had been examined earlier from Clinton's private server.
http://www.cbsnews.com/news/fbi-finds-emails-related-to-hillary-clintons-state-department-tenure/
[] The FBI has obtained a warrant to search the Weiner emails, which total a mind-boggling 650,00. All of these, of course, are not relevant to the Clinton case, but apparently some tens of thousands "could have been sent to or from the private server that Mrs. Clinton used while she was secretary of state."

http://www.wsj.com/articles/laptop-may-include-thousands-of-emails-linked-to-hillary-clintons-private-server-1477854957
~~~~~~~~~~
The new and intensive investigation now underway by the FBI – which will determine such matters as whether any of those emails directly linked to Clinton contain classified information – will set the stage for a decision on whether criminal charges should be brought against Clinton.
This obviously is NOT going to happen before election day. It will take weeks at a minimum.
This leads to the possibility of a mind-blowing and horrifying scenario in which the president-elect, if it is Clinton, is charged with criminal behavior that is directly related to security issues for the US.
THIS, my friends, is what Trump was speaking of. It is a genuine concern, as it would generate a crisis such as has never happened in the US before.
But I would carry this one step further. Even if there is no decision to level charges in the end (perhaps because an indictment would be too loaded politically), is the American electorate really convinced – given all of the evidence that is publicly available even now – that Clinton demonstrates the integrity and the concern for US security that would qualify her to be president of the US? Is there any reason to believe that Hillary is motivated to do what is in America's – rather than her own - best interests?
~~~~~~~~~~

Before moving on to Trump, I want to touch upon a couple of other issues involving Hillary Clinton:
The news has just broken that the Clinton Foundation received a gift of $1 million dollars from Qatar while she was serving as Secretary of State, and that she failed to notify the State Department of this, as she had committed to doing:
"The Clinton Foundation has confirmed it accepted a $1 million gift from Qatar while Hillary Clinton was U.S. secretary of state without informing the State Department, even though she had promised to let the agency review new or significantly increased support from foreign governments...

"Clinton signed an ethics agreement governing her family's globe-straddling foundation in order to become secretary of state in 2009. The agreement was designed to increase transparency to avoid appearances that U.S. foreign policy could be swayed by wealthy donors."
http://www.reuters.com/article/us-usa-election-foundation-idUSKBN12Z2SL
This, too, speaks to Clinton's integrity, her honesty, and whether she is concerned with doing what's best for America.
It also speaks to Clinton's connection to Arab states. Qatar is not a "moderate" Arab state, it supports the Muslim Brotherhood, and is a major patron of Hamas.
~~~~~~~~~~
In point of fact, this story about Qatar is only the tip of a very dirty iceberg. It's called "pay for play," and Clinton, while secretary of state, is believed to have indulged in this practice numerous times:
"The shady Lebanese-Nigerian businessman who got Hillary Clinton's State Department to arrange a high-level meeting was only one of a dizzying number of big ­donors to the Clinton Foundation to score government favors...

"The list includes high rollers whose relationships with the Clintons made them even richer; countries with dubious human rights records; and companies looking to grease the skids to get an edge on the competition...
"In one case, State approved a huge increase in arms shipments to Algeria, even though the department's own 2011 human rights report blasted the country for 'arbitrary killing,' 'widespread corruption' and a 'lack of judicial independence.'
"The Algerian government that same year donated $500,000 to the Clinton Foundation.
"A year later, State approved a 70 percent jump in military exports to the country, including 'chemical agents, biological agents and associated equipment.'"
http://nypost.com/2016/08/11/hillary-played-favorites-with-huge-number-of-clinton-foundation-donors/
~~~~~~~~~~
An FBI White Collar Crime Division probe of the alleged "pay for play" activities engaged in by Clinton, which has been in process for a year, is still being "actively and aggressively pursued," with an "avalanche of new information coming every day."

An indictment is considered likely.
http://thehill.com/blogs/ballot-box/presidential-races/fbi-investigation-clinton-foundation-hillary-indictment-likely
~~~~~~~~~~
Think very very carefully about whether it is prudent to put Hillary in the White House.
~~~~~~~~~~
I wanted to focus on Clinton here because the prospect of her winning is so distressing. But I will not end this post without consideration of Donald Trump.
The charges against him have been ones of indiscretion – of his shooting off his mouth inappropriately. I would be less than candid if I denied this, although I would argue that he has improved enormously in this regard. He displays a temperate public persona now.
But the point is, I think, that even when he was indiscreet, he was not being devious. Quite the contrary: he was saying what he thought.
I believe that he loves America, even as the case might be made that his judgment has sometimes been flawed.
I am impressed with his key advisors, and with policies that he has proposed. This is with regard to a tougher position on Iran, caution in bringing in refugees, a stronger law and order stance, shoring up the military that Obama has weakened, and more.
~~~~~~~~~~
In closing, I want to describe one policy initiative he has advanced. It's out-of-the-box, not politically correct, and offers the possibility of a truly positive change. I picked this to share because it's something many of you may not even have heard about and it provides a window into the positive potential of a Trump presidency:
Some weeks ago, Obama, addressing the Congressional Black Caucus Foundation, declared that he would take it as a "personal insult" if the American black community didn't vote for Hillary.
http://www.foxnews.com/politics/2016/09/18/obama-says-its-personal-insult-if-black-voters-dont-back-clinton.html

Personal?
The American black community does not owe him a thing. Despite his original promises, he has done absolutely nothing to genuinely further the wellbeing of that community, which is in deep trouble and struggling even more than it was eight years ago. Obama's policy has been one of increased entitlements, which weakens inner city blacks by deepening their dependency and robbing them of a sense of self-sufficiency and competency. While, by playing the race card whenever he can (including here), he has set back race relations in America by a couple of generations.
~~~~~~~~~~
What I note here as counter-point is a plan that Donald Trump advanced in Cleveland on September 8th that would revolutionize education for inner-city kids, blacks and others:
"The Democratic Party has trapped millions of African-American and Hispanic youth in failing government schools that deny them the opportunity to join the ladder of American success. It is time to break up that monopoly. I want every single inner city child in America who is today trapped in a failing school to have the freedom – the civil right – to attend the school of their choice. This includes private schools, traditional public schools, magnet schools and charter schools which must be included in any definition of school choice...
"Too many Americans living in our inner cities have not been included in the American Dream. We are one nation, and when any part of our country hurts – our whole country hurts. My goal as president will be to ensure that every child in this nation – African-American, Hispanic-American, all Americans – will be placed on the ladder of success: a great education, and a great job..."

http://www.frontpagemag.com/fpm/264225/trumps-marshall-plan-inner-city-kids-matthew-vadum
Including security in the package of what is needed for success, Trump calls this plan "the new civil rights agenda of our time."
He says this can be financed by putting students first, not the education bureaucracy: $20 billion of existing federal dollars to establish a block grant for the 11 million school age kids living in poverty.
If he were able to accomplish this, he would be doing more for black Americans than Obama has ever done, with all his heated rhetoric. By a lot. An island of lucidity, in a crazy world.
~~~~~~~~~~
Be sure, all her corruption and lying aside, that Hillary Clinton would for the most part continue Obama policies. She is certainly a fan of entitlements. Do not see her as an agent of change in a positive sense.
It is Donald Trump who promises to make America great again, via badly needed new policies.
~~~~~~~~~~
Next post I hope to return to news about Israel, and the world about us. Much to report.
Now I ask that you pray for America. And think carefully before casting your votes.
~~~~~~~~~~
I wasn't going to include a song here, but then I thought, Why not? When Kate Smith introduced Irving Berlin's "God Bless America," it was well before I was even born. And yet, it was still very much around as I was growing up. While its sound here is a bit dated, and the America of that time is no more, its sentiment is perhaps one we need badly today.
https://www.youtube.com/watch?v=b1rKQReqJZg
~~~~~~~~~~
© Arlene Kushner. This material is produced by Arlene Kushner, functioning as an independent journalist. Permission is granted for it to be reproduced only with proper attribution.
If it is reproduced and emphasis is added, the fact that it has been added must be noted.
http://arlenefromisrael.squarespace.com/current-postings/2016/11/6/november-6-2016-fate-of-america.html
Posted
on Sunday, November 6, 2016 at 11:44AM
by
Arlene
|
Post a Comment
|
Email
|
Print
Hope for a strengthening of the US, as Hillary may be headed for defeat. Hope that America may not implode.

I've had a suspicion for some time that the polls showing her ahead were not accurate, and that many more intended to vote for Trump than the numbers indicated. But now we're seeing in some polls that those numbers have shifted. Even before the FBI announcement regarding the possibility of more information on Hillary emails, her lead had shrunk.

Since that announcement, there is indication that roughly 1/3 of those who would have voted for Hillary are prepared to re-think their position.
http://www.israelnationalnews.com/News/News.aspx/219548

~~~~~~~~~~

I share this fine analytic Pat Condell video about the electoral choices. And I thank Martin Sherman, who promoted it.

https://www.youtube.com/watch?v=sHCul_DIM_4

~~~~~~~~~~

"A 1,000-year-old Muslim inscription provides yet more proof of Jewish ties to the Temple Mount and Jerusalem. On Thursday, archaeologists Assaf Avraham and Perez Reuven presented the inscription that was discovered at a recently excavated mosque in the village of Nuba near Hebron. It refers to the Dome of the Rock (pictured) on the Temple Mount as 'Bait al-Maqdess,' an Arabicized version of the Hebrew words for the Temple, Beit Hamikdash. Other sources from the early Muslim period also refer to the Dome of the Rock as 'al-Maqdess,' demonstrating how Jewish tradition influenced the religious worldview of nascent Islam in the seventh century.
"'At the start of the Muslim period, religious rites were held inside the Dome of the Rock compound that imitated the ceremonies conducted in the Jewish Temple,' Avraham said. 'These actions teach us that the Muslims saw the Dome of the Rock as the continuance of the Jewish Temple.

"'There is plenty of evidence that shows the Jewish influence on the Muslim world at the beginning [of Islam]. Among other things, we can take notice of Muslim coins minted in the Land of Israel in the eighth century by Muslim rulers, which feature the symbol of the menorah of the Temple,' Avraham said." (Emphasis added)

http://www.israelhayom.com/site/newsletter_article.php?id=37507
Credit: chicshake

~~~~~~~~~~

The Dome of the Rock is not a mosque, as many think, but a shrine, built on top of where the Temple, and likely the heart of the Temple at the Holy-of-holies stood. It houses the Foundation Stone of the World (Even Shetiya) that is at the pinnacle of Mount Moriah.
Credit: Temple Institute

This, our tradition tells us, is where Avraham was sent to sacrifice Isaac.

~~~~~~~~~~

The push to apply sovereignty to Ma'aleh Adumim, a Jewish community of 37,000 immediately to the east of Jerusalem, is hardly new.
Credit: Torah alive

But every time this idea has been advanced, there was so much noise from the Arabs and the international community that our government backed off.

Key to the discussion has been development of the area of E1, which would make Ma'aleh Adumim contiguous with Jerusalem.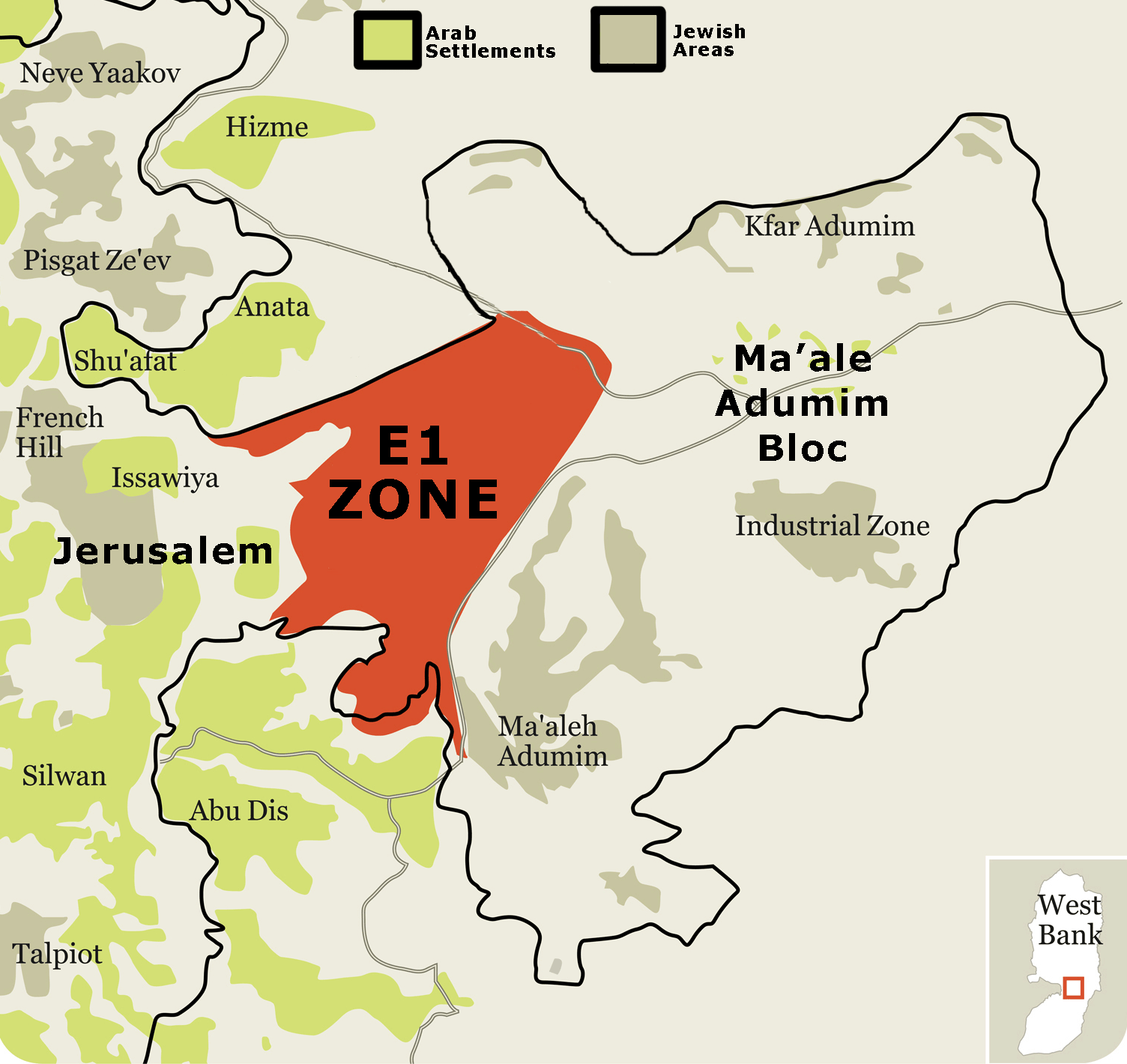 Credit: Jewish Virtual Library

But it has been precisely this that the Arabs most stringently resisted, claiming it would interfere with the contiguity of their "Palestinian state."

Now the issue is being raised here in Israel with greater urgency and fervor. As the Knesset began its winter session, after a summer-holiday recess, a demonstration was held in favor of applying sovereignty as a way of protecting the unity of Jerusalem. Were the Arabs to gain control of the E1 area, they would encroach into the eastern part of Jerusalem, and attempt to coopt it.

Several MKs and ministers spoke:

Deputy Minister of Foreign Affair Tzipi Hotovely declared that it was fitting for the Knesset to approve this action as we approach the 50th anniversary of the Six Day War, which liberated Judea and Samaria. "Judicial advisors and international pressure should not determine an issue that is so substantive for us."
Coalition Chairman David Bitan (Likud) assured those gathered, "We don't have to be afraid," he said.
MK Bezalel Smotrich (Bayit Yehudi), who co-chairs the Knesset's Land of Israel Caucus, said this was an initiative that would succeed. "The time has come to be normal."

And, indeed, as Ma'aleh Adumim Mayor pointed out, this is a consensus issues, as in an opinion poll done last spring, 78% of the respondents were in favoring of applying sovereignty to Ma'aleh Adumim.

http://www.jpost.com/Arab-Israeli-Conflict/Annexing-Maaleh-Adumim-preserves-a-united-Jerusalem-471298

~~~~~~~~~~

There's a shift in the air, folks, and it's good news.

There is even a recognition of that shift on the part of the leadership of mainstream American Jewish organizations. Until now a ludicrous politically correct situation has existed, in which representatives of these organizations were banned from going to Judea and Samaria on official visits.

But now the Jewish Federations of North America (JFNA), the umbrella organization that includes the Council of Jewish Federations, the United Jewish Appeal and the United Israel Appeal, has voted to permit its representatives to conduct official visits to Jewish communities in Judea and Samaria. Thus were they prevented from getting to know people in the Jewish communities in these regions.

As Mort Klein, National President of ZOA, said in a press release:
"The residents of these Jewish communities, living in the historical, biblical land of Israel, are every bit Israeli citizens as their fellow citizens within the Green Line. They serve in the army; they pay their taxes; they contribute to the national economy.
"Indeed, they suffer for living on Israel's front line, enabling Israel to guard defensible frontiers, which the 1949 armistice lines never were.
"Jews have a moral and legal right to live in Judea/Samaria, stemming from the 1920 San Remo [resolution] that earmarked this territory for Jewish settlement and which has never been superseded by an internationally-binding agreement.
"Indeed, there is something perverse in the idea that an entire segment of the Israeli Jewish population be off-limits to contacts with their North American Jewish brethren because of where they live, and it is long overdue that this sorry state of affairs has now come to an end...
"...We urge all Jewish groups like AIPAC and others to begin to visit the Jewish communities in Judea/Samaria, as well."
http://zoa.org/2016/10/10340750-zoa-praises-federations-for-lifting-ban-on-visiting-judeasamaria/
~~~~~~~~~~

As I had mentioned in an earlier posting, we are now approaching 100 years since the Balfour Declaration - which recognized Palestine as a homeland for the Jewish people and upon which the Mandate for Palestine, established in international law, was subsequently based.

As of November 2, Mahmoud Abbas will kick off his "year of the Balfour Declaration," during which time he will demand an apology from Britain, and publicize all the "crimes" committed against the "Palestinian people" in the name of this Declaration, which originated with Lord Balfour of Britain.

See an excellent piece by MK Benny Begin (Likud) on this:

http://www.israelhayom.com/site/newsletter_opinion.php?id=17507
Credit: lphinfo

~~~~~~~~~~

And speaking of Mahmoud Abbas, there is a great deal of press these days about what's going on with him and the PA. There seem to be a number of internal conflicts within the PA/Fatah, and a restructuring of alliances outside.

It is being said – not for the first time – that Mohammed Dahlan (pictured) is challenging Abbas for PA leadership, and is now supported by Egypt. Under Arafat, Dahlan was head of preventative security in Gaza, where he was born. He wielded, shall we say, a tough hand against Hamas (which had not yet taken over). Later he came out as anti-corruption.
Credit: Mediterraneangulforum

Meanwhile, Abbas is moving towards reconciliation with Hamas once again, and met with outgoing head of the Hamas politburo Khaled Masha'al (pictured) in Doha, the capital of Qatar, which supports the Muslim Brotherhood.
Credit: theyeshivaworld

While Fatah, the party of Abbas, is about to hold its first Congress since 2009 - probably in November - amid rumors of intentions to seek a successor to Abbas, who is 81.

~~~~~~~~~~

So how do we make sense of all of this? I'm not going to give you a summary of what most journalists and commentators are saying. Rather, I'm going to provide here a different perspective, acquired from a contact who has connections in the PA. Several times in the past he has provided me with information that has turned out to be absolutely on the mark. Let's watch this:

Abbas, says my contact, indeed does want to retire. But he's got several problems. The first is that he cannot allow Fatah to select his replacement: there is enormous resentment against him because of his massive corruption. He is afraid of being exposed, and hopes to protect his financial empire for the sake of his sons.

The second is that he does not have a place in which to retire. If he stays in the PA area, he will be killed. You need to wrap your head around this to understand the situation. His desire is to retire in Qatar, where he believes he would be safe.

Qatar is willing, but for a price. Qatari leadership wants Hamas involved in the PA. Thus Abbas's meeting with Masha'al in Qatar.

~~~~~~~~~~

This, says my contact, is Abbas's plan: He wants to bring in Jabil Rajoub (pictured) as his successor for an interim. Another tough guy – the entire cast of unsavory characters in this drama is incredible! - he was head of preventative security in the PA areas of Judea and Samaria. Today he heads the supreme council for sports and youth affairs in the PA, enjoys harassing Israel, and has publicly praised terror attacks.

Rajoub is on the Central Committee of Fatah, but – as he already has Hamas and Qatari connections - he is someone with whom Abbas can work. The avenue for these connections is politics-cum-sports. Qatar – with its interest in promoting Hamas - funds Rajoub's football league, which is directly tied to sports activities with Hamas (with the son of Ismail Haniyeh, who is scheduled to succeed Masha'al) in Gaza. It's convoluted and surreal. But it may well describe what is happening.
Credit: keyassets

Once installed, Rajoub would bring in Masha'al, who would work with him and slowly take over.

Can Abbas pull this off? No clue. But this inside report provides a clearer picture of Abbas's situation and where he sees himself headed. If this were to happen, with Fatah sidelined and Hamas – which is ever eager for this "opportunity" – taking the reins, there would be a significant shift in the dynamic here.

Egypt's support for Dahlan, I've been told, is only with regard to his ability to act in Gaza, not because the Egyptians are eager to see him heading the PA.

~~~~~~~~~~

Terror attacks and attempted attacks continue.

On Monday a PA police officer wielding an AK-47 assault rifle wounded three IDF soldiers, one seriously, at a checkpoint near Beit El. He was shot and killed.

While today Border Police grabbed a female terrorist toting two knives who was headed towards the Machpelah in Hevron.

~~~~~~~~~~

At the Cabinet meeting on Sunday, Prime Minister Netanyahu announced that in coming months he will be visiting three countries never before visited by a sitting Israeli prime minister - Australia, Singapore and Kazakhstan - with a visit as well to Azerbaijan, which he visited briefly once before. I continue to praise the prime minister for these efforts, which I see as one of the most successful elements of his administration. Solidifying ties to diverse nations, especially to the east, is an important move right now.

Both Azerbaijan – which sits strategically at the border of Iran – and Kazakhstan are majority Muslim countries. Most of the oil Israel purchases comes from these two countries.

Netanyahu's stop in Singapore will be reciprocal because of the visit here last April of Singapore's prime minister, Lee Hsien Loong.

The visit to Australia is planned to express appreciation for Australian support Israel has received.

http://www.jpost.com/Israel-News/Politics-And-Diplomacy/Netanyahu-to-visit-3-states-never-before-visited-by-sitting-Israeli-PM-471210

~~~~~~~~~~

And some "good news" briefs:

"Israel is the second most innovative nation in the world, according to the World Economic Forum's Global Competitiveness Report 2016-2017, which ranks countries' competitiveness based on 12 categories, including innovation, technological readiness, business sophistication and higher education."

http://nocamels.com/2016/10/israel-second-most-innovative-country/

~~~~~~~~~~

Right in line with this, see:

http://nocamels.com/2016/05/10-world-changing-israeli-technologies/

Amazing stuff.

~~~~~~~~~~

Something a bit different in closing:

Yonatan Razel's "Katonti" : https://www.youtube.com/watch?v=HZYivKwVmJc

'I am not worthy of all of the mercies and of all the truth which Thou has shown unto Thy servant...

"Deliver me, I pray Thee..."

~~~~~~~~~~

© Arlene Kushner. This material is produced by Arlene Kushner, functioning as an independent journalist. Permission is granted for it to be reproduced only with proper attribution.
If it is reproduced and emphasis is added, the fact that it has been added must be noted.
http://arlenefromisrael.squarespace.com/current-postings/2016/11/1/november-1-2016-hope-grows.html
Posted
on Tuesday, November 1, 2016 at 12:34PM
by
Arlene
|
Post a Comment
|
Email
|
Print
We are now past the holiday season and I would like to say that we're back to "normal," but I'm no longer sure what that means. Actually, I'm not quite sure there is such a thing these days.

But, having just come from the holidays, I can deliver good news of the most important sort. The world situation was horrendous as Sukkot began. The killings in Syria, the high tension between the US and Russia. And there we were, beginning the commandment to live in a sukkah for a week. Eat in the sukkah. If you are very observant, sleep in the sukkah. The sukkah is a fragile structure – a hut with decorations. And the lesson it teaches is that we put our trust in the Almighty.
Credit: jwmag

~~~~~~~~~~

And then, on Monday here in Israel, and Tuesday elsewhere, we celebrated Simchat Torah. This is a rejoicing in the Torah as we end the annual cycle of reading with the last section of Devarim (Deuteronomy) and begin again with the first section of Breishit (Genesis).

We dance with the Torah.
Credit: sdm

And we sing: She is a tree of life to those who hold fast to her. What other people reveres and treasures the sacred word as we do? This is our strength.

~~~~~~~~~~

The presidential election draws close, and so I want to continue to provide my readers with pertinent information on the candidates. I implore you to vote on the issues that matter to America. Here, a look at Hillary's position on illegal immigrants:

"Describing those who wish to enforce immigration law as 'obstructionists' whose 'backward-looking' mindset is 'fundamentally un-American,' Clinton vows to 'introduce comprehensive immigration reform with a pathway to full and equal citizenship' within her first 100 days in office. "My dream, she said in a 2013 speech to a Brazilian bank, 'is a hemispheric common market, with open trade and open borders.'
Stating that 'we have to go back to being a much less harsh and aggressive enforcer' of immigration laws, Clinton pledges to 'go even further' than the two executive orders by which President Obama protected millions of illegal aliens from deportation in 2012 and 2014—even though Obama himself had previously said, on more than 20 occasions, that such executive orders would cross the boundaries of legitimate presidential authority.
"Clinton supports the 'sanctuary' policies that bar police officers and other public-sector employees in some 340 U.S. cities from notifying the federal government about the presence of illegal aliens in their communities. Though sanctuary policies have turned many U.S. cities into very dangerous places, Clinton explains that without such arrangements, 'people from the immigrant community … may not talk' to police who are trying to solve crimes there because 'they think you're also going to be enforcing the immigration laws.'
"As Xochitl Hinojosa, a Clinton presidential campaign director, puts it: 'Hillary Clinton believes that sanctuary cities can help further public safety, and she has defended those policies going back years.'

http://www.frontpagemag.com/fpm/264605/where-clinton-and-trump-stand-%E2%80%93-every-major-issue-john-perazzo

Open borders? Sanctuary cities?

Trump is opposed to all that Clinton proposes, as described here. He promotes stringent immigration policies and vehemently rejects the notion of sanctuary cities for illegal aliens.

~~~~~~~~~~

What's going on with the battle for Mosul – the second largest city in Iraq and the last major ISIS stronghold in Iraq - is horrendous.
Credit: i.alalam

Innocent civilians are paying with their lives as many tens of thousands of troops from the Kurdish Peshmerga (the toughest fighters), the Iraqi army, and various Sunni tribal forces close in on the ISIS stronghold, according to some reports, more quickly than had been expected. They have been bolstered by coalition forces, including American special force "advisers," who are in some instances embedded with the Peshmerga troops. I've picked up varying reports as to whether any are actually involved in combat at this point.

But ISIS members will never surrender quietly. They are lashing out indiscriminately with incredible venom. Suicide squads have been sent from Syria to operate in Iraq, and there are reports of civilian suffocation because ISIS is using poison gas. Many residents of the area are fleeing for fear of being used as human shields.

~~~~~~~~~~

Mosul presumably will be taken in due course, in spite of the fight ISIS is putting up. Troops are moving in against them slowly now but steadily. This will be heralded as a victory for the West and forces of moderation, and in one sense it certainly will be. Not only will will the fighters of ISIS have lost a base of operations, they will have lost territory, which is essential to their ideology. They call themselves Islamic State, and their goal is to acquire more and more land for a caliphate.

However, there is a very serious qualification to be noted here:

The territory of ISIS in Iraq will have been reclaimed, but to some considerable degree its fighters will have fled, rather than being captured or taken out. What this means is an ISIS "diaspora," with these dedicated radical ideologues, these battle-hardened fighters, who are beneath moral concerns and respect for life, fleeing into a variety of other places, most notably but not exclusively in Europe. Things may soon be a bit better in Iraq, but they are about to get worse elsewhere.

We are looking at some who will flee as undocumented refugees and others who will travel with fake passports.
"Several former Islamic State militants have been arrested in Jordan over the last week yielding information indicating IS fighters fleeing Iraq and Syria may have traveled abroad on fake European passports, an Arab intelligence official told Breitbart Jerusalem...
"...the Syrian-Turkish border remains the jihadists' favorite escape route...a passport counterfeit industry is still underway in Turkey...

"...one of the detainees, an Egyptian, was caught carrying a large sum of money, which prompted the authorities to believe that the fugitives are planning to build terror infrastructure in other countries, and that many of them still hold on to their pledge of allegiance to IS." (Emphasis added)

http://www.breitbart.com/jerusalem/2016/10/24/exclusive-arab-intelligence-officer-islamic-state-militants-flee-iraq-syria-fake-european-passports/

~~~~~~~~~~

What exacerbates the situation is that roughly 2,500 of those fighting with ISIS are jihadists who were originally from Europe and some of whom will now return to their countries of origin. Presumably, they have documentation and I am seriously dubious as to the capacity of European security to track them effectively, never mind nab them.
"The EU has been urged to prepare for returning jihadists if the so-called Islamic State (IS) is driven out of its Iraqi stronghold, Mosul.
"Security Commissioner Sir Julian King said even a small number of militants would pose 'a serious threat that we must prepare ourselves for.'"
http://www.bbc.com/news/world-middle-east-37689210

It only takes one militant to unleash a "lone wolf" terror attack, and if they are planning infrastructure, there will be coordinated efforts. Hey! they may lose their base for a caliphate in Iraq, but that does not prevent them for hoping to one day take over France or Belgium and establish a caliphate there. (I joke not.)

~~~~~~~~~~

Sigh... UNESCO is at it again.

The World Heritage Committee of the United Nations Educational, Scientific and Cultural Organization passed a resolution on Wednesday that, in referring to holy sites in Jerusalem only by Arabic names, denied the historic Jewish connection to these places, including Har Habayit. It further called for the Old City to remain on UNESCO's list of world heritage sites that are in danger – charging Israel with destroying archeological artifacts. (A charge of bitter irony considering what the Arabs have done on the Mount.)

Said Israeli Ambassador to the UN Danny Danon, "The absurdity continues, and UNESCO has adopted yet another ridiculous decision that is completely disconnected from reality.
"UNESCO embarrassed itself by marching to the tune of the Palestinian pipers. All attempts to deny our heritage, distort history and disconnect the Jewish people from our capital and our homeland are doomed to fail."
This is true. And this vote carries no legal weight.

http://www.israelnationalnews.com/News/News.aspx/219373

~~~~~~~~~~

The victory for us here was in how narrowly the resolution passed.

The PA and Jordan had drafted and promoted the resolution, but as they are not members, it was brought before the Committee for a vote by Tunisia and Lebanon. The sponsors of the resolution had hoped for a consensus approval by the 21 members of the Committee, and, expecting this, submitted a softer version of the text. But in the end Tanzania and Croatia requested a secret ballot. When the votes were counted, ten had voted for the resolution, two – Tanzania and the Philippines - were opposed and eight sustained. Jamaica was not present. Only the Muslim states on the Committee plus Cuba and Vietnam voted for.

A bit of diplomatic fancy footwork by Israel brought about this result. Said Israel's Ambassador to UNESCO, Carmel Shama-HaCohen (pictured), "Credit for this is due the Foreign Ministry and the Prime Minister's Office." He also thanked Tanzania and Croatia for stepping forward.

http://www.jpost.com/Arab-Israeli-Conflict/Israel-races-to-thwart-consensus-approval-for-UNESCOs-Jerusalem-resolution-470883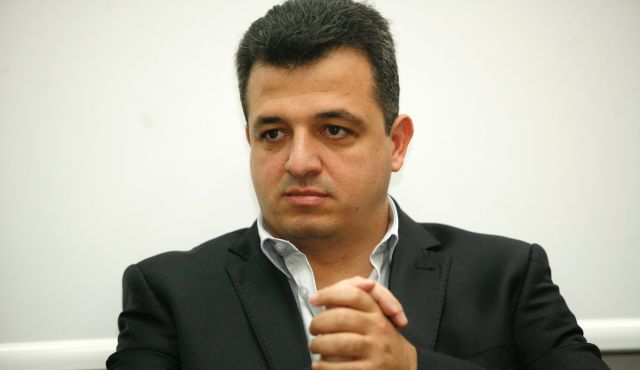 Credit: Israel-actualities

Shama-HaCohen has now been recalled by the prime minister for consultations on what steps to take next. Netanyahu called the resolution "theater of the absurd."

~~~~~~~~~~

A word here about abstentions in these votes. In this instance, the abstentions were valuable because they brought about a moral victory and prevented a consensus vote. In fact, according to the JPost today, UNESCO director general Irina Bokova (who is no fan of the resolution) said the decision would not be implemented unless it was unanimous.

In other instances, abstentions ("count me out here") are a very tepid way of allegedly supporting Israel – it's a case of "supporting" Israel by not voting against her. And yet sometimes there may be a kind of political victory inherent in these votes.

I have in mind most particularly Mexico, with regard to the earlier UNESCO Executive Committee vote on a similar resolution, which passed by 24-6. Mexico had voted for the resolution and then encountered fury from the Mexican Jewish population. At first the government said it would call for a re-vote so that it could cast a vote of abstention, but then was convinced not to do this because of political complications.

None-the-less, Mexico let it be known that it's "real" vote was the abstention. Mexico's foreign ministry posted a message on its website saying this new vote was in recognition of the undeniable Jewish heritage that existed in eastern Jerusalem.

Obviously, they were aware of the Jewish heritage even when they voted for the resolution. This demonstrates so perfectly how politicized this all is. Shama-HaCohen praised the fact that Mexico had taken a step away from its automatic support of the Palestinian Arab position.

http://www.jpost.com/Israel-News/Politics-And-Diplomacy/Mexico-to-withdraw-support-for-UNESCOs-Jerusalem-resolution-470325

So we're moving in the right direction and becoming less isolated diplomatically. Good news. One step at a time.

~~~~~~~~~~

What has been troublesome to many of us is the relative silence of Christian leaders, and notably the pope. The Arab position that denies a Jewish connection to the Temple Mount also challenges the Christian position. Christian history is founded on Jewish history, and, in fact, it is written in Christian scripture (the gospels of Matthew and John, I believe) that Jesus threw the money changers out of the Temple. The Temple referred to is the Jewish Temple. So where were the voices of Christian indignation?

Dry Bones, in "Replacement Theology," was absolutely on the mark with regard to this:
~~~~~~~~~~
Appeals had been made to Pope Francis to intervene in the situation. Knesset Speaker Yuli Edelstein wrote him a letter requesting that he use his "best offices to prevent the recurrence of developments such as this."
Yesterday, in the course of a speech on migration, the pope said, "God promised the Holy Land to the people of Israel."
Ayub Kara, Israeli Deputy Minister for Regional Cooperation, was at the Vatican for a meeting with the pope that had been scheduled on another matter. After the pope spoke, Kara thanked him for his words. He then told reporters that he believed the pontiff's words were sending a direct message to UNESCO.
http://www.jpost.com/Arab-Israeli-Conflict/Pope-Francis-God-promised-the-land-to-the-people-of-Israel-470918
But I am sorry, it does not cut it for me. This felt more like a papal abstention – saying something that would be pleasing to Israel, while avoiding overt critique of UNESCO (and its anti-Israel majority). There was no direct statement on the long Jewish presence in the land – he actually spoke only about the Jews leaving Egypt and getting to the land –or about the fact that two Jewish Temples had been built on the Mount.
~~~~~~~~~~
Another sigh...
Next year, 2017, marks the 100th anniversary of the Balfour Declaration: the letter that British Foreign Secretary Lord Arthur James Balfour of Britain sent to Lord Rothschild stating that:
"His Majesty's Government view with favour the establishment in Palestine of a national home for the Jewish people, and will use their best endeavors to facilitate the achievement of this object."
This Declaration formed the basis for subsequent resolutions on the Mandate for Palestine that are founded in international law, established at Sam Remo in 1920 and and then unanimously at the League of Nations, in 1922.
The PLO, led by Mahmoud Abbas, has now announced intention to make much of this for a year – beginning this November 2, and culminating November 2, 2017. They want to have activities worldwide to bring attention to the "crime" Britain committed "against the Palestinian people," and force Britain to atone. I am certain they will endear themselves greatly to Theresa Kay, Prime Minister of the UK.
~~~~~~~~~~
Enough said for now. I mention it because of the PLO announcement. In due course I will have a great deal to say.
Here, I hasten to clarify that references to "Palestine" in the Balfour Declaration and the Mandate are to a geographic area with ancient Jewish ties, and have nothing whatsoever to do with Palestinian Arabs. In fact, before the founding of modern Israel, Jews in this area were called Palestinians.
~~~~~~~~~~
And the great irony of the PLO marking 2017 as an anniversary year, is that it also marks 50 years since the reunification of Jerusalem and the liberation of Judea and Samaria. Will have a great deal to say about this, as well!!
~~~~~~~~~~
Let's end with this unusual good news piece with a decidedly different tone - "Israeli Cows Are Taking Over the World," from The Tower Magazine:
Credit: exithub

In brief (emphasis added):

"Israel's high-tech expertise is being applied to milk and cheese. Dairy farmers from India to Italy are learning how to increase their yields by traveling to kibbutzim [Israeli agricultural cooperatives]...

"Israeli milk cows...are a growing attraction for visitors as Israel's dairy industry has emerged as one of the most efficient and productive in the world. Despite limited rainfall and high summer temperatures, Israel has the highest national average of milk production per cow. And amid the fast-growing global demand for dairy products, especially in the developing world, there is increasing interest in how Israel gets so much milk out of each cow and the technology it uses to do so.
"'Happy cows give a lot of milk. People from around the world are coming here, and they see that it's terribly hot, but that the cows are happy,' said Ofier Langer, a former executive at several Israeli high-tech companies who established the Israeli Dairy School six years ago. The school organizes seminars and tours of farms and other facilities. 'We have a lot of ways to teach the world's farmers how to make their cows happy,' he says."
http://www.thetower.org/article/israeli-cows-are-taking-over-the-world/
What have got here is yet another example of Israeli technological skill combined with Israel as a light unto the nations, as we teach others and help to feed the world.
I sort of like the idea of happy cows, as well.
~~~~~~~~~~
Reflecting on my introductory good news item: Tov Lehodot Lashem – It's good to give thanks to the Almighty. The opening words of Psalm 92. With Rabbi Lazer Brody and Shlomo Katz.
https://www.youtube.com/watch?v=9PA-RNhEk_0
~~~~~~~~~~

© Arlene Kushner. This material is produced by Arlene Kushner, functioning as an independent journalist. Permission is granted for it to be reproduced only with proper attribution.
If it is reproduced and emphasis is added, the fact that it has been added must be noted.
http://arlenefromisrael.squarespace.com/current-postings/2016/10/27/october-27-2016-normal.html
Posted
on Thursday, October 27, 2016 at 12:43PM
by
Arlene
|
Post a Comment
|
Email
|
Print