Chaya Zissel Braun the three-month old baby girl killed by a terrorist using his car as a weapon, was laid to rest at midnight last night. Her death came about after the terrorist's car slammed into her stroller, sending her flying some ten meters into the air. She landed on her head, and fractured her skull; doctors could not save her because of internal hemorrhaging.

President Ruby Rivlin, who attended the funeral said (emphasis added):

"We are standing before a tiny, silent body, before a small grave, standing against haters and murderers who hands slaughter without distinction, without mercy. An innocent baby was butchered by burning hatred and darkness."

http://www.timesofisrael.com/funeral-begins-for-baby-killed-in-suspected-terror-attack/

~~~~~~~~~~

Her parents - who had waited years to have a child, and had just returned from bringing her to the Kotel (the Western Wall) for the first time – are traumatized and in shock. This picture – courtesy of the family - was taken at the Kotel, shortly before she was killed.




At the funeral, her weeping father said, "You made us happy from the moment you [arrived]... You were pure. I want you to look down at me and smile. Tomorrow is your three-month birthday. It's all now in God's hands."

Her maternal grandfather, Rabbi Shimshon Halpern, spoke of her holy soul.

http://www.israelnationalnews.com/News/News.aspx/186515#.VEkJjZtxnIU

~~~~~~~~~~

The Arab terrorist Abdel Rahman Al-Shaludi (Al Shaludi is an alternate spelling of his name) died at the hospital last night of wounds inflicted upon him by Israeli security at the site of the attack.

He possessed a Jerusalem residency card, and was a staunch Hamas supporter. These two factors should, in the best of circumstances, be mutually exclusive; but of course this is not the case. We've got a whole lot of Hamas-associated Arabs with Jerusalem residency cards running around the city. Not only did he support Hamas, his uncle - who was assassinated 14 years ago, reportedly in the course of inter-militia tensions - was a master bomb-maker for Hamas. Hamas allegiance is very often a family affair.

Al-Shaludi was also into social media communication. Less than two weeks ago, he posted on his Facebook page a picture of Al Aksa mosque on the Temple Mount, with a caption "Al Aksa is in danger." Just two days ago, he posted: "now is the time to defend your home, Muslims – go out on a crusade to protect the Al-Aksa mosque."

http://www.israelnationalnews.com/News/News.aspx/186492#.VEj4xZtxnIV

Yesterday I reported that he had been in Israeli prison. I do not believe he was released in the course of a prisoner trade; rather, he was released after he completed a 16-month sentence.

~~~~~~~~~~

That Hamas would praise this despicable attack is a given. But what we are seeing is the same from Fatah, the party of our "peace partner" Abbas:

As described and translated by the Palestinian Media Watch, Fatah posted on its official Facebook page an obituary for Al-Shaludi that used the words "heroic Martyr." His death was portrayed as "'his wedding' - a reference to the Islamic belief that Martyrs for Allah are wedded to 72 virgins in Paradise."

"Rest in peace! We are loyal to you," it said. (Emphasis added)

http://www.palwatch.org/main.aspx?fi=157&doc_id=12911

According to The Elder of Ziyon, the poster of Al-Shaludi that went up on the Fatah FB page is even more explicit (emphasis added):

"The martyr hero Abd al-Rahman al-Shaludi performs a sacred act of running over the settlers in occupied Jerusalem."

http://elderofziyon.blogspot.co.il/2014/10/fatah-praises-murder-of-baby.html#.VEj702dxnIV

Sultan Abu Al-Einein, Abbas advisor and a member of Fatah's Central Committee, also posted praise for the terrorist on his FB page.

~~~~~~~~~~

Prime Minister Netanyahu pointed a finger directly at Abbas with regard to this terror attack. And he is absolutely correct. Just days ago Abbas called upon Arabs to protect the Temple Mount from Jews.

What is more, he expressed anger at the international community for its failure to criticize Abbas in this regard. At a security briefing at police headquarters, he said:

"[Abbas] glorifies the murderers and also embraces the organization to which the terrorists belong, Hamas. And faced with these actions of the Authority chairman, we find only a flaccid [response] internationally. [World leaders] are unwilling to say two words, even one word of criticism of him [Abbas]. We do not share this weakness. We will stand firmly for our rights and obligations to defend our capitol."

http://www.timesofisrael.com/netanyahu-decries-worlds-flaccid-response-to-abbas/

~~~~~~~~~~

Highly relevant to this issue is a piece by Michael Freund, "Mahmoud Abbas, enemy of Israel":

"For the past decade, ever since Mahmoud Abbas took the reins of the Palestinian Authority in January 2005, the international community has gone out of its way to portray him as a moderate.
"Ignoring his long record of anti-Israel incitement and Holocaust denial, American presidents, European prime ministers and even various Israeli leaders often spoke of Abbas in glowing terms, describing him as a man of peace and a visionary.
"Indeed, earlier this year, when Abbas visited the White House on March 17, US President Barack Obama told reporters, 'I have to commend President Abbas. He has been somebody who has consistently renounced violence, has consistently sought a diplomatic and peaceful solution that allows for two states, side by side, in peace and security.'

"...Calling him a moderate is simply dishonest and deceptive. Abbas is not a friend of peace, he is an enemy of Israel, one who has refused to end the conflict and has incited to violence against the Jewish state.
"He may not don the keffiyeh that was worn by Yasser Arafat, nor wave a gun in the halls of the United Nations. But even if the packaging is slightly different, the contents remain the same.
"Abbas, like his predecessor, stands in the way of peace and aims to do Israel harm.
"The time has come to treat him accordingly."

http://www.jpost.com/Opinion/Fundamentally-Freund-Mahmoud-Abbas-enemy-of-Israel-379545

~~~~~~~~~~

Today Jerusalem Mayor Nir Barakat called for a tightening of security in order to quell the violence Jerusalem is experiencing.

After the police security meeting, the Prime Minister's Office issued a statement indicating that Netanyahu had "instructed that sovereignty be enforced in all parts of the city by positioning additional forces throughout the capital...united Jerusalem was, and will remain, the capital of Israel forever ... Every attempt to harm its residents will be met with the harshest of responses – we will restore quiet and security to Jerusalem." (Emphasis added)

A good and appropriate statement. Particularly with regard to sovereignty being enforced. There has been a horrifying tendency for police to let sovereignty slip in certain eastern areas of Jerusalem. It is my distinct impression that our prime minister means it when he speaks about a united Jerusalem, Israel's capital forever.

But...but...

I want to tell him, enough words. We've heard them before. Don't tell us. Show us. I want to learn about arrests being made, with prosecutions following. No more policy of containment. I want to know about the police out on the street in large numbers and a major reduction in the amount of Arab violence the city is enduring. I want these Arab bums who are seeking to terrorize innocent Jews in Jerusalem to be genuinely afraid of the police.

~~~~~~~~~~

"A Border Patrol officer serving in eastern Jerusalem has for the first time revealed the police helplessness in dealing with the 'silent intifada' that has been gripping the capital in recent months...

"Speaking on Channel 2...TV Thursday...the officer admitted the Border Patrol warriors are forced to 'stand like dolls' against the Arab terror.

"We feel like our hands are tied,' the combat officer revealed, placing the blame squarely on the shoulders of Interior Security Minister Yitzhak Aharonovich for the collapse of security.

"According to the officer, senior captains as well as Aharonovich are trying to calm things down and hush up the 'silent intifada' rather than fight Arab terror to the end."

http://www.israelnationalnews.com/News/News.aspx/186525#.VElesptxnIU

~~~~~~~~~~

In the last day or so, the terror attack that killed the baby girl, while the worst of the violence by far, has not been the only incident of violence. We're seeing incidents of Arab harassment and violence in the neighborhoods of Armon Hanatziv, Har Homa, and Gilo in southern Jerusalem, through the Mount of Olives area, Issawiya and Silwan, northward to Shuafat and Beit Hanina.

In the Mount of Olives area, there is the small Jewish community of Ma'aleh HaZeitim. This morning, not for the first time, the nursery building was stoned. Masked Arab men, pelting rocks, with the children huddled in one area of the building for safety. What sort of scum are they, throwing stones at a nursery?

http://www.ynetnews.com/articles/0,7340,L-4583337,00.html

~~~~~~~~~~

Minister Naftali Bennett had severe words for the current situation. The anger he expressed was appropriate. As was his called for an "iron fist."

http://www.jpost.com/Arab-Israeli-Conflict/Bennetts-proposed-response-to-Jerusalem-terror-attack-more-construction-and-an-iron-fist-379594

Then he called for additional construction in Jerusalem as a response to terror, to show that we are here to stay when they are trying to drive us out. But linking terrorism and building always unsettles me. It gives the wrong message.

Jewish building in Jerusalem isn't a response to violence or some sort of revenge. It is our right. The world must know that we build because we claim that right. Period.

~~~~~~~~~~

What really enraged me was this statement by Jen Psaki, spokeswoman for the State Department:
"The United States condemns in the strongest possible terms today's terrorist attack in Jerusalem. We express our deepest condolences to the family of the baby, reportedly an American citizen, who was killed in this despicable attack, and extend our prayers for a full recovery to those injured. We urge all sides to maintain calm and avoid escalating tensions in the wake of this incident." (Emphasis added)
http://www.state.gov/r/pa/prs/ps/2014/10/233279.htm

How morally obtuse can they be? They sound like parents, speaking to two squabbling boys, "Now, now, play nice."

This was a terror attack, as I made quite clear above, the worst incident of terror amidst a rash of terror incidents. Escalation of Israeli police response is precisely what is needed. If it makes Palestinian Arabs in eastern Jerusalem tense, that's quite fine.

The US has no vision of justice or Israeli right in this matter at all. American officials, by design, are morally blind.

~~~~~~~~~~

© Arlene Kushner. This material is produced by Arlene Kushner, functioning as an independent journalist. Permission is granted for it to be reproduced only with proper attribution.

If it is reproduced and emphasis is added, the fact that it has been added must be noted.
http://arlenefromisrael.squarespace.com/current-postings/2014/10/24/october-23-2014-burning-hatred-and-darkness.html?SSScrollPosition=0
Posted
on Friday, October 24, 2014 at 07:05AM
by
Arlene
in Jerusalem Arabs, Jerusalem violence, terror attack
|
Post a Comment
|
Email
|
Print
Late this afternoon, there was a terror attack in Jerusalem. An Arab from eastern Jerusalem ran his car into a group of people who were waiting at the Ammunition Hill station of the light rail. Eight people were injured.


Credit: Flash 90

A three-month old baby girl, badly hurt at the scene, died shortly thereafter in the hospital.

A heartbreaker: Apparently the parents had been trying for years to have a baby. They were on the way from praying at the Kotel (Western Wall) when they were attacked. The baby's grandparents had just come in from the US to meet their new grandchild. They had only hours with her before she was taken from them.

Is there no end??

~~~~~~~~~~

The terrorist tried to flee the scene on foot and was shot; he was badly wounded but is not dead. Identified as Abdur Rahman Slodi of Silwan, he had previously served in Israeli prison for terrorist activities - according to press reports.

Frankly, I hope he is in a lot of pain.

~~~~~~~~~~

It is news past due: Public Security Minister Yitzhak Aharonovitch has announced the formation of a new police unit dedicated to dealing with the "unrest" in Jerusalem.

Today we saw a full-blown terrorist attack, but for the most part the "unrest" refers to Arabs throwing stones and Molotov Cocktails, and firecrackers and even, on at least one occasion that I am aware of, fireworks. They function at a level that tends to be less than lethal, but feels unsafe (IS unsafe) and vastly uncomfortable. This is the "silent intifada" designed to drive out Jews from certain areas of Jerusalem.

Along with the new police unit are plans for adjustment in the law that makes it easier to cope with minors, who are major participants of that "silent intifada."

~~~~~~~~~~

Meanwhile, in Berlin, Kerry, in a joint press conference with German Foreign Minister Frank-Walter Steinmeier, declared current relations between Israel and the Palestinian Arabs "unsustainable."
Saying that United States was aware of the urgency of the situation, he indicated that it was necessary to find a way to negotiate.
http://www.reuters.com/article/2014/10/22/us-mideast-israel-kerry-idUSKCN0IB11X20141022?feedType=RSS&feedName=worldNews
I would call him a clown. but nothing seems very funny right now.
Actually, I rather agree that the current situation is "unsustainable." But what I have in mind is not precisely what he is referring to.
~~~~~~~~~~
Hamas spokesman Hossam Badran, in a statement for official Hamas television, declared: "This is a natural response to the crimes of the occupation and invasion of our land by the Jews, particularly on the [Temple Mount]."

http://www.israelnationalnews.com/News/News.aspx/186472#.VEgOyptxnIU

~~~~~~~~~~

There a connection between the attitude reflected by this Hamas statement and Kerry's assessment that the current situation cannot be sustained. He is caught up in the distorted vision of Israel as "occupier." Poor suffering "Palestinians," whose situation must be remedied. No matter the cost to Israel.

~~~~~~~~~~

© Arlene Kushner. This material is produced by Arlene Kushner, functioning as an independent journalist. Permission is granted for it to be reproduced only with proper attribution.

If it is reproduced and emphasis is added, the fact that it has been added must be noted.
http://arlenefromisrael.squarespace.com/current-postings/2014/10/24/october-22-2014-is-there-no-end.html
Posted
on Friday, October 24, 2014 at 07:00AM
by
Arlene
in Arab terror, Jerusalem
|
Post a Comment
|
Email
|
Print
Last night I went to the premiere showing, here in Jerusalem at the Begin Center, of a very special new film by Gloria Greenfield: "Body and Soul – the State of the Jewish Nation."
The showing was sponsored by Doc Emet Productions (Greenfield's company), The Menachem Begin Heritage Center, the Vidal Sasson International Center for the Study of Anti-Semitism, and the Zionist Organization of America.
As its website explains, the film:
"presents a comprehensive examination of the broad and deep connections between the Jewish People and the Land of Israel. World-renowned historians, archaeologists, political scientists, religious leaders, and international law and media experts trace the evocative evolution of the relationship between the Jewish People and their homeland that is over 3,000 years old.

"'Jewish identity is born in a journey to the Land of Israel', declares Rabbi Lord Jonathan Sacks of the United Kingdom. That journey moves through the First and Second Temple periods and the Middle Ages, then to modernity, where the development of political Zionism catalyzed the blossoming of a new Jewish spirit. That renewal of Jewish spirit resulted in the rebirth of Jewish sovereignty in the Land, an event that Harvard University Professor Ruth Wisse declares 'a miracle of truly Biblical proportions.'"

I urge you to visit the website: http://www.bodyandsoulthemovie.com/.
View the trailer, which will give you a good sense of what it is all about.
See the impressive list of commentators featured in the film: http://www.bodyandsoulthemovie.com/about-us/featured-commentators.html

Then, if you are in N. America, search the list of screenings that are already scheduled: http://www.bodyandsoulthemovie.com/screenings-and-media/index.html . If the film is scheduled to show near you, then please go and see it, and – most important – encourage others to do the same.
If it is not scheduled to show near you, you might get in touch with Gloria Greenfield directly - ggreenfield@docemetproductions.com – regarding arrangements for a showing in your area. Or order the DVD, see the video yourself and then arrange private showings so others can see it.
~~~~~~~~~~
Many of my readers in N. America lament the ignorance about Israel exhibited by many people. They have a lack of understanding of the ancient and intrinsic Jewish connection to the Land, and are unaware of the extent of Jewish legal rights to the Land.
Gloria has done a magnificent job in presenting this case.
Here is an opportunity for you to pick up on this and run with it, to further understanding about Israel.
~~~~~~~~~~
After the premiere showing last night, there was a marvelous panel discussion. Participants were:
Yoram Hazony, an Israeli philosopher and political theorist, and currently president of The Herzl Institute in Jerusalem.
Credit: YoramHazoni

Robert Wistrich, Professor of European and Jewish history at the Hebrew University of Jerusalem, and the head of the University's Vidal Sassoon International Center for the Study of Anti-Semitism
Credit: Manhattan College

Eugene Kontorovich, professor at Northwestern University School of Law, and an expert in constitutional and international law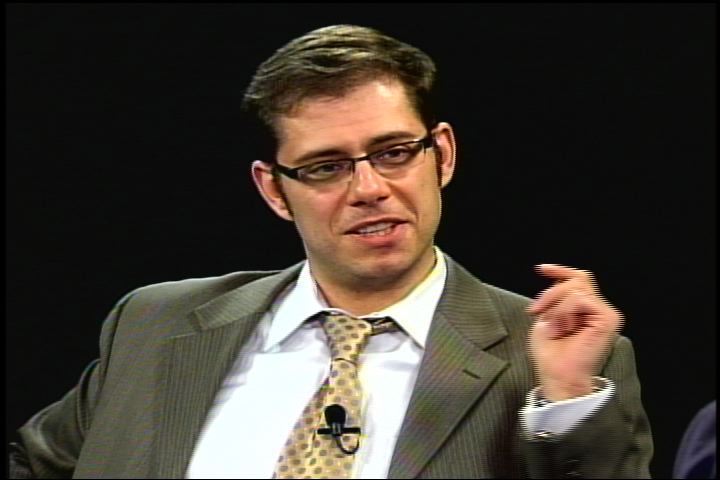 Credit: TribuneJuive

~~~~~~~~~~
The primary message of this session was that we must pull back to basics and be sure of who we are as Jews. Jewish self respect is the cornerstone of Zionism.

There was a time when the Bible (the Tanach – Torah, Prophets and Writings) was seen as a major pillar of Western civilization. It is a national, historical and philosophical document.
Unfortunately, it has been delegitimized. With the enlightenment came intellectual attacks on the Bible, which was reduced to the status of mythical nonsense. German academics, way before Hitler, founded their universities on the basis of eliminating the Bible as a document to be respected and studied. Post-modern ideology has the same approach.
Thus Jews are hesitant to refer to the Bible when making the case for Jewish connection to the Land. This is true of such organizations as AIPAC, Birthright and a host of others. Yet the Bible is absolutely intrinsic to this connection. There is a triad of the People, the Bible and the Land that cannot be divided. Ben Gurion understood this when he said that "The Bible is our Mandate."
Traditionally observant Jews see the Torah as having come from God. But this perspective is not essential to making the broader case that it has moral and historical significance that speaks to the world. Once this position is promoted with pride by Jews, the historical case for the Jewish connection to the Land becomes obvious.
~~~~~~~~~~
Yoram Hazony explained that there is one strand of Christianity that has stayed connected to the Jewish Bible - believes Christianity is founded on the Hebrew Bible. Adherents of this position are eager to learn its lessons. This is not true of progressive denominations of Christianity, which tend to embrace replacement theology and focus on New Testament. He suggests that Jews may have a role to play in working with Christians who have a deep interest in the Jewish Bible.
~~~~~~~~~~
Among the many points made by Kantorovich is that it is more effective to focus on other parallel situations, rather than on Israel, when making a case regarding international law.
When it comes to Israel, people tend to lose perspective that they often retain when considering less volatile situations. Last night he used as example the fact that the Crimea, which has been seized by Russia, remains part of the Ukraine according to international law. This illustrates a principle known as "the persistence of borders" – a principle that applies as well to Judea and Samaria, which were encompassed within the Mandate borders. Recently he had written about this:
http://www.commentarymagazine.com/article/crimea-international-law-and-the-west-bank/
~~~~~~~~~~
© Arlene Kushner. This material is produced by Arlene Kushner, functioning as an independent journalist. Permission is granted for it to be reproduced only with proper attribution.

If it is reproduced and emphasis is added, the fact that it has been added must be noted.
http://arlenefromisrael.squarespace.com/current-postings/2014/10/21/october-21-2014-body-and-soul.html
Posted
on Tuesday, October 21, 2014 at 03:49PM
by
Arlene
in Bible, Hazony, Israel, Kontorovich, Wishtrich
|
Post a Comment
|
Email
|
Print
I've written several times about the growing problems on Har Habayit – the Temple Mount.


Credit: Wiki Commons

Again now I report on the situation, which is grave and most be considered with utmost seriousness.

Over the week of the Sukkot holiday, there was a rash of Arab violence that was clearly premeditated. It began on Wednesday, the 8th of October: that evening began Sukkot and many Jewish worshippers came to ascend to the Mount (emphasis added):
"The fighting began when masked youths threw stones, iron bars, cinder blocks and Molotov cocktails at police officers as the Mughrabi Gate opened to non-Muslim visitors earlier in the day.
"Police chased the demonstrators toward the Al-Aqsa mosque, where they barricaded themselves inside and continued hurling objects in the direction of the police, said police spokeswoman Luba Samri.
"Samri said the Palestinians had prepared for the confrontation ahead of time, and had set up obstacles at the holy site to slow down police. She said the Palestinians threw firebombs and rocks at police from within the mosque.
Police responded with 'nonlethal riot control means,' Samri said.
"A radical Islamic cleric in Israel, Raed Salah, had called on Muslims to be present at the mosque Wednesday morning. About 30 young Palestinians slept the night before at the mosque in preparation for the confrontation, according to Palestinian eyewitnesses."
http://www.timesofisrael.com/three-police-hurt-in-holiday-eve-melee-on-temple-mount/
~~~~~~~~~~
Credit: TheJerusalemConnection

The violence continued intermittently over the course of the week of Sukkot. But finally, it seems, Israeli authorities, confronting the serious of the Arab threat, are responding with greater determination. This is to be celebrated. For many years, Arabs knew that all they had to do was riot or even threaten to riot, and Israeli police, citing security concerns, blocked entrance to the Mount for Jews. The wrong people were being deprived of the opportunity to be on the Mount. But now (emphasis added):

"In a policy change since the beginning of the Jewish New Year, instead of closing the Temple Mount to [Jewish] visitors after Muslim rioting, the Israel Police push the rioters back inside the Al-Aqsa mosque and leave the Temple Mount compound open. But the policy may change again if the current situation persists, Aharonovitch said.
"'If the Jews cannot go up to the Mount, the Muslims will not go up to the Mount,' he said."
http://www.algemeiner.com/2014/10/19/temple-mount-tensions-reach-a-boiling-point-during-sukkot/

~~~~~~~~~~

What we are dealing with is a battle for control of the Mount.

Jordan, which controls the Muslim Wakf (trust, or authority) on the Mount, charged Israeli police with fomenting the problem.

"The forces of the occupation ... prevented religious officials entering (the compound) and cleared it of all Muslims, while at the same time enabling Jewish extremists to storm it, and pray with security forces protection," complained Jordanian government spokesman Mohammed Momeni.

http://www.israelnationalnews.com/News/News.aspx/185983#.VEQdM5txnIU

Note: "forces of the occupation" implies Israel has no right to be there.

~~~~~~~~~~

And now it has come to this (emphasis added):

"Palestinian Authority President (sic) Mahmoud Abbas called on Palestinians on Friday to prevent Jewish 'settlers' from entering the Temple Mount.
"Addressing Fatah activists from east[ern] Jerusalem in Ramallah, Abbas also called on Palestinians to be present at the Temple Mount at all times to confront the 'fierce onslaught on Al-Aksa Mosque, Jerusalem and the Holy Sepulchre Church.'
He said Fatah should spearhead the effort to stop 'settlers' from entering the Temple Mount.

"We must prevent them from entering the Noble Sanctuary in any way. This is our Al-Aksa and our church. They have no right to enter and desecrate them. We must confront them and defend our holy sites."

http://www.jpost.com/Arab-Israeli-Conflict/Abbas-calls-on-activists-to-prevent-Jewish-settlers-from-entering-Temple-Mount-379153

These statements by Abbas are always calculated. Note the term "settlers," which is pejorative, referring to Jews who are presumably where they do not belong.

And a "fierce onslaught" on the Holy Sepulchre Church? (Which, by the way, is not on the Mount at all.) This is a ludicrous attempt to make it seem as if Muslims protect Christians from Israeli attack. The reality is that Muslims are massacring Christians, who are in fact safe no where in the Middle East except Israel. Christians pray freely at the Church of the Holy Sepulchre, which is in eastern Jerusalem. But Abbas says what he pleases, with impunity and with no regard for the truth.

Abbas's statement, which represents a new low, is incitement clear and simple. This is the man with whom Israel should negotiate? Let's see how long it takes for Kerry to call him on this.

Just one day after this outrage, Abbas went even further:

In a speech yesterday to to the Revolutionary Council of his Fatah party, he referred to Jews entering the Mount as a "herd of cattle."

http://www.israelnationalnews.com/News/News.aspx/186265#.VEQjYptxnIU

~~~~~~~~~~

"Foreign Minister Avigdor Lieberman blasted Palestinian Authority President Mahmoud Abbas on Saturday night after Abbas said that Jews should be prevented from visiting the Temple Mount and that Palestinians should defend the site from them.
"Lieberman said Abbas' remarks reveal his attempt to ignite the conflict by using the most sensitive place, the Temple Mount. In a statement released on Saturday night, Lieberman accused Abbas and the PA of being behind the disturbances of the residents of east Jerusalem.
"The foreign minister said that the remarks also reveal Abbas' 'true face' as a 'Holocaust denier who speaks about a Palestinian state free of Jews.' He said Abbas was and remains an anti-Semite.
"'Behind his [Abbas'] suit and the pleasantries aimed at the international community, he ramps up incitement against Israel and the Jews and calls for a religious war,' he said."

http://www.jpost.com/Arab-Israeli-Conflict/Liberman-calls-Abbas-anti-Semite-compares-him-to-ISIS-after-Temple-Mount-remarks-379154

True, all true.
Credit: jmpoint.hu

~~~~~~~~~~

I noted with particular interest a quote Martin Sherman provided in his most recent JPost column (and for which I thank him):
'With the two-state solution... Israel will collapse, because if they get out of Jerusalem, what will become of all the talk about the Promised Land and the chosen people? What will become of all the sacrifices they made – just to be told to leave? They consider Jerusalem to have a spiritual status. The Jews consider Judea and Samaria to be their historic dream. If the Jews leave those places, the Zionist idea will begin to collapse.... Then we will move forward."
– Abbas Zaki, senior PLO official. (ANB TV, Lebanon, May 7, 2009)
www.jpost.com/Opinion/Into-the-fray-The-two-stage-solution-379041
~~~~~~~~~~
Where Zaki refers to Jerusalem, with its spiritual status, read "Temple Mount," which is at the very core of that spiritual status. It must not be relinquished. Our presence on the Mount must be constant, and our security forces and authorities must be ever strong in defending our rights there.
~~~~~~~~~~
And the good news today? We had rain. A period of torrential rain that turned the streets to rivers. I got caught in it, and I called it a blessing. We began praying for rain on Simchat Torah, Thursday. The beginning of the winter season. May it be a very wet one.
Credit: Marc Israel Sellem
~~~~~~~~~~

© Arlene Kushner. This material is produced by Arlene Kushner, functioning as an independent journalist. Permission is granted for it to be reproduced only with proper attribution.

If it is reproduced and emphasis is added, the fact that it has been added must be noted.
http://arlenefromisrael.squarespace.com/current-postings/2014/10/20/october-19-2014-the-temple-mount.html
Posted
on Monday, October 20, 2014 at 02:37AM
by
Arlene
in Abbas, Avigdor Lieberman, Palestinian riots, Temple Mount
|
Post a Comment
|
Email
|
Print
Motzei Shabbat (After Shabbat)
We have just completed the holiday of Sukkot, during which time we live in sukkahs. While conforming to certain specifications, a sukkah is in its essence a temporary and thus fragile structure.
Credit: Mishpacha

This comes to remind us that what protects us is not the walls of the sukkah, but the embrace of the Almighty. And I believe that now, especially, this is a lesson we need to carry with us: As is obvious from my postings, I believe we are commanded to act as decisively as we can. Never do I suggest that we should leave it to Heaven and stop exerting our own effort to protect Israel – on the contrary!
But in the end, we indeed must rely upon the embrace of the Almighty. The world grows less comprehensible day by day.
~~~~~~~~~~
John Kerry's statements serve as a perfect example of the incomprehensible nature of current events. This past Thursday, he linked the lack of a "two-state solution" to rising Islamic radicalism:
"there wasn't a leader I met with in the region who didn't raise with me spontaneously the need to try to get peace between Israel and the Palestinians, because it was a cause of recruitment and of street anger and agitation...

"People need to understand the connection of that. And it has something to do with humiliation and denial and absence of dignity."
http://www.israelnationalnews.com/News/News.aspx/186236#.VEK2DptxnIU
~~~~~~~~~~
This position is not only daft and outrageous, it is dead wrong and dangerous.
The vast majority of the Arabs across the region care very little about the "Palestinians" and their call for a state.
ISIS is about an Islamic caliphate established on the basis of sharia law. Were there (Heaven forbid) no Israel, the Islamic radicals would still be seeking a caliphate.
More to the point with regard to the rise of ISIS is the withdrawal of US forces from Iraq at a premature time.
~~~~~~~~~~
UN Secretary-General Ban Ki Moon, who was in Gaza this past week, echoed a refrain similar to that of Kerry:
"The Gaza situation is a symptom of a larger problem: the stalemate in the Middle East peace process."
http://www.jpost.com/Arab-Israeli-Conflict/UN-Chief-questions-proportionality-of-Gaza-war-379039
It doesn't end.
One must ask what it is that Ban doesn't get: Hamas in Gaza was not part of negotiations for "peace" and has declared it never will be. The goal of this terror organization is the elimination of Israel and it would not be pacified by a "two-state solution." It would merely utilize the presence of a "Palestinian state" in Judea and Samaria to advance its opportunities for attacking Israel.
How has it come to pass that successful peace negotiations are touted as the panacea for everything that ails this part of the world?
From where I sit, it looks like a serious epidemic of "blame it on the Jews."
~~~~~~~~~~
But here we are, with Kerry declaring:
"It is imperative that we find a way to get back to the negotiations.[We need] to find a way to create two states that can live together side by side, two peoples, with both of their aspirations being respected."
http://www.abc.net.au/news/2014-10-17/imperative-to-resume-israel-palestinian-talks-kerry/5822102
~~~~~~~~~~
I confess, my friends, that I was naïve. I believed that when Abbas signed with Hamas for a unity government it was the kiss of death for negotiations, at least for some interim of time. I was convinced that it would be clear that Israel could not negotiate with an entity that encompassed a terrorist organization and that Abbas's credentials as a "partner for peace" had been severely tarnished.
But, alas...I was wrong. We are expected to negotiate anyway.
We will not.

~~~~~~~~~~
From a purely pragmatic perspective I also saw Kerry as having too much on his plate to focus on the Israeli-Palestinian Arab conflict right now. Go know...
~~~~~~~~~~
This past Sunday, a donor conference was held in Cairo to raise money for the rebuilding of Gaza. A staggering $5.4 billion dollars was pledged, the largest pledge of $1 billion coming from the Hamas-supporting nation of Qatar.
Israel, the PA and the UN have ostensibly worked out a mechanism for ensuring that materials brought in will not be utilized by Hamas. I have not quite figured out yet how this can be the case, when the PA encompasses Hamas. Please, do not hold your collective breath expecting success on this score. My understanding is that it will be impossible to effectively monitor dual-use items (that can be used for civilian building or for military purposes) once they are in Gaza. This past Tuesday, cement and steel entered Gaza for the first time in a year.
Yuli Edelstein, speaker of the Knesset, expressed double concern about a lack of proper supervision of the funds donated: It will not reach the population that needs it, and it will embolden Hamas to more violence
Edelstein regretted that Israel had not been invited by Cairo to the conference.
~~~~~~~~~~
I call your attention in particular to a piece on this issue by Michael Freund, "Is rebuilding Gaza more important than halting Ebola?" (emphasis added):
"...despite the Islamic terrorist group's [Hamas's] cynical use of the area as a launching pad for thousands of rocket attacks against Israel, Western powers and others have rushed to open their checkbooks to help with reconstruction.
"This is morally obtuse, politically obscene and strategically oblivious behavior...
"...At the Gaza donor conference, which was held in Cairo, a whopping $5.4 billion was pledged, half of which will go towards rebuilding efforts, while the rest will be used to sustain the budget of the Palestinian Authority, which now includes Hamas through 2017.
"In other words, even though the Palestinians siphoned off previous aid and used it to prepare for war with Israel, they are once again becoming recipients of Western largesse.
"Needless to say, the funds pledged are not contingent on Hamas disarmament, nor will any demands be made of the terrorist group to cease building tunnels to try and burrow into Israel and murder innocent Israelis...
"The inanity at work here is even more pronounced when one considers that the United Nations has been having difficulty raising just $1 billion to fight Ebola.
"Although the disease has killed more than 4,000 people and spread to at least seven countries, UN Deputy Secretary-General Jan Eliasson said on Friday that just $250 million...has been raised thus far...
"And so, even though the number of Ebola cases is reportedly doubling every three to four weeks, billions of dollars will be lavished on Gaza rather than on the jeopardized populations of Liberia and Sierra Leone.
"Similarly, a recent donor conference in Washington aimed at combatting cholera in Haiti, which has killed more than 8,000 and infected 700,000 others, raised just $52.5 million out of the $400 million needed for the program's first two years.
"And just last month, Ertharin Cousin, the head of the World Food Program, said that because of funding shortages, the organization has had to reduce food rations and distributions.
"'We're going to need to cut rations to those people we're supporting inside Syria, and to cut the size of the vouchers to those Syrians who are refugees outside Syria...'"
http://www.jpost.com/Opinion/Fundamentally-Freund-Is-rebuilding-Gaza-more-important-than-halting-Ebola-378797
Concludes Freund, "no reasonable moral calculus can justify prioritizing the reconstruction of Gaza apartment buildings over preventing an Ebola epidemic that threatens millions of people."
~~~~~~~~~~
All this makes me long for the peace of the sukkah. But I'll be here, with a great deal more to write about.
As I had recently written about Hezbollah, and increasing concerns about its intentions, I end with this article by Jonathan Spyer, who has considerable expertise on the issue:
The Nusra Front – a Sunni Jihadist group in Syria – "is demonstrating its ability to hit at [Shi'ite] Hezbollah across the border [from Syria into Lebanon] with increasing impunity." In the past, Hezbollah has tangled with weak Sunni elements inside of Lebanon, or with Syrian refugees located in Lebanon, but this is different. Nusra is attacking Hezbollah positions; there are indications that the Syrian civil war is moving "irrevocably" into Lebanon.
http://www.jpost.com/landedpages/printarticle.aspx?id=379024
All of this must be followed closely because of the complex implications for Hezbollah's motivation to hit Israel in the near future. Hezbollah is facing new challenges. On the one hand, it is distracted and under pressure. But it is eager to justify itself to the Lebanese population, which has not been pleased with Hezbollah's involvement in the Syrian civil war.
~~~~~~~~~~
© Arlene Kushner. This material is produced by Arlene Kushner, functioning as an independent journalist. Permission is granted for it to be reproduced only with proper attribution.

If it is reproduced and emphasis is added, the fact that it has been added must be noted.
http://arlenefromisrael.squarespace.com/current-postings/2014/10/18/october-18-2014-what-is-he-talking-about.html
Posted
on Saturday, October 18, 2014 at 06:52PM
by
Arlene
in Abbas, Ban Ki-Moon, Cairo, Gaza reconstruction, Hamas, Kerry, peace negotiations
|
Post a Comment
|
Email
|
Print
"v'samachta bechagecha": and you shall rejoice in your festival. This is it, Sukkot, our season of rejoicing. My very favorite holiday. The spirit is in the air, here in Jerusalem. I look forward to meals in the Sukkah (much larger than the illustration here!), and sleeping in the Sukkah with my grandchildren.


And blessings over the lulav and etrog.
Sukkot starts tomorrow night, and I will post only very erratically, if at all, during the coming eight-day period. The older I get, and the worse the world seems, the more I understand how important are these moments of joy. To all celebrating, I wish a Chag Sameach.
~~~~~~~~~~
The Legal Grounds Campaign, which I co-chair with Jeff Daube, had to slow down during the recent war with Hamas. But we are ready to gear up again after the holiday and we believe there is now a window of opportunity for effect work.
Our ultimate goal of getting the government of Israel to speak in one voice, providing consistent messages to the Israeli public and the international community about our legal grounds – and then adjusting policies so that they reflect these rights – has not changed. We believe this is critical to Israel's future.
Until how we've been working in the Knesset. We are convinced there is still more work to be done there – bringing MKs on board to speak out about Israel's rights - before we to the next stage.
It is important to emphasize: There are no magic bullets. We are engaged in a process to turn the situation around. Little by little.
I have already been in touch with some of you directly. If you would like to know more about this campaign – what we've accomplished to date and where we are headed – or if you are interested in helping, financially or otherwise, please write to me (and put "Legal Grounds Campaign" in the subject line).
~~~~~~~~~~
There is, as always, an unending number of subjects to be discussed. I will touch here upon just a few of the most critical.
The other day, the new government of Sweden declared intention of recognizing the Palestinian Authority as a "state." From the perspective of customary international law, this does not work. For an entity to be defined as a state, it must:
* exercise effective and independent governmental control
* possess a defined territory over which it exercises such control
* have the capacity to freely engage in foreign relations
* have a permanent population

Clearly, the Palestinian Authority has multiple problems fulfilling these criteria. The whole matter of government control is very complex in this situation. One Palestinian Authority as a unity government? Or two authorities, one in Judea and Samaria and the other in Gaza, no matter how it is papered over? Because of this complexity, there is confusion over what population it has.
But most significant is the issue of a defined territory over which it exercises control. Were Abbas seeking to declare a state on the area that the PA now administers in Judea and Samaria, that would be one thing. But he is defining his state as encompassing everything over the Green Line (the 1949 armistice line, sometimes called the 1967 "border"), which enfolds all of eastern Jerusalem as well a host of Jewish communities. He is not in control of this area and never will be.
~~~~~~~~~~
Then, there is yet another problem. The PLO is obligated to a final status for the PA via the Oslo Accords, which call for negotiations. European nations profess support for Oslo, but unilateral recognition of a state sabotages the process.
I will note here that Oslo does not specifically define a sovereign Palestinian state as the end goal of negotiations.
What is more, the General Assembly resolution that accorded the PA the status of a non-voting member of that body did not legally confer statehood upon the PA either. The UN cannot confer statehood.
~~~~~~~~~~
Yet Sweden, for purely political reasons, declared itself prepared to "recognize" this "state" that does not exist. The danger is that it could motivate other nations to do the same. While this "state" still would not fulfill all of the traditional criteria, by some measures, a state is defined in part by the recognition of other nations. Thus is it imperative to nip this in the bud. Sweden hasn't actually taken the step yet.
~~~~~~~~~~
Foreign Minister Avigdor Lieberman was furious about Sweden's announced intentions, and the Swedish ambassador to Israel was summoned for a reprimand.
http://www.ynetnews.com/articles/0,7340,L-4578329,00.html
Swedish prime minister Stephen Lofven was apparently startled by the reaction his announcement (during his inauguration speech, yet) elicited, and has backtracked a bit. Now he has explained that he is friends with both parties and was not trying to attack Israel. He was trying to help, because if the PA is recognized as a state it will advance the peace process. Unmitigated nonsense. Hopefully in the end this will not happen.
~~~~~~~~~~
Sweden's announcement stimulated similar talk in London. But in England this was not expected to have legs. If a vote were to be held in the parliament, it would be purely "symbolic."
~~~~~~~~~~
Now our eyes are on the north, where the situation is enormously unstable. (Actually, the situation is unstable everywhere, but this area is considered most worrisome.)
On Sunday, a small group of Lebanese soldiers moved across the border from Lebanon into Israel. The IDF shot at them and one soldier was lightly wounded; they all turned back into Lebanon.
At that point UNIFIL – the "peace keeping" UN troops in Lebanon – got involved, and had some harsh words for the shooting of the Lebanese soldier. This struck me as ironic but not terribly surprising: For us they have reprimands. But this force that was supposed to keep Hezbollah from being re-armed after the 2006 Lebanon war totally failed in its mandated mission, as Hezbollah now has some 100,000 rockets.
~~~~~~~~~~
The concern being voiced here is that there has been a shift in the situation, with the Lebanese army and Hezbollah cooperating. In theory this was not supposed to happen. As far as I know, it has not happened overtly until now. Although I will note that UNIFIL works under the direction of the Lebanese army. The thinking is that this group of Lebanese soldiers was actually a cell intent on a terrorist attack.
http://www.jpost.com/Arab-Israeli-Conflict/Report-Concerns-mount-that-Hezbollah-Lebanese-army-could-cooperate-against-Israel-378138
~~~~~~~~~~
Repeatedly over the last several months, I have read reports that Hezbollah, which is headquartered in Lebanon, was not likely to turn its sights on Israel, as it was mired down in the Syrian civil war, where it had been depleted by the loss of hundreds of troops. This is what I have been reporting.
But now there is a new assessment: Hezbollah has actually gained strength as the result of experience fighting in Syria: It has greater confidence and has new offensive capabilities.
The IDF has thus made "dramatic changes" in its plans to defend the north of Israel in all eventualities.
While no war with Hezbollah is expected in the immediate future, it is expected that such a war will come and it will be two-pronged. There will be aerial attack by rockets and missiles that are far more sophisticated than anything Hamas has. And there will infiltration into the north of Israel, in the Galil, with an attempt to seize areas or communities.
There is confidence in the IDF that Hezbollah forces that entered Israel's north could be repelled in short order. The far greater concern is those rockets and missiles.
I've heard it said many times by our military commanders and defense personnel that a war with Hezbollah would not be like a war with Hamas, and I can only pray that from the perspective of our defense they mean it. We would have to preempt. Hezbollah follows exactly the same pattern of hiding rockets in civilian areas. But in Lebanon, there would be no time to warn civilians to move out of the way. Attacks on sites where the key weaponry is stored would have to be swift and massive to prevent launching of those destructive rockets. In order to defend ourselves we would have to concentrate on speedily eliminating the threat, rather than worrying about accusations from the world community or a count of how many civilians got in the way.
~~~~~~~~~~
And while we are talking about the north, there is also the presence of radical jihadists on the other side of the Golan, in Syria, who at some point in the future may decide to move down into Israel. Different groups are represented there, none nearly as strong as Hezbollah or armed with rockets as Hezbollah is, but requiring extreme vigilance all the same.
~~~~~~~~~~
All of this, I must add, provides strong rationale for not having gone into Gaza to totally take down Hamas. This would have drawn on too much of our resources, occupied too many of our soldiers – all of which may, on short notice, be needed elsewhere.
~~~~~~~~~~
On Sunday, a powerful blast tore into Iran's military facility at Parchin. At least two people were killed. It is not yet known if this explosion was the result of sabotage or a work accident. But such news is always welcome. I will not know anything more before Sukkot begins. But after the holiday, there is a great deal to write about concerning Iran.

~~~~~~~~~~
Tensions remain high between Netanyahu and Obama, over the issue (which is a non-issue!) of our plans to build in eastern Jerusalem.
What is pleasing from the perspective here is that Netanyahu has about had it – he's standing strong, unapologetically.
~~~~~~~~~~
An interview of Prime Minister Netanyahu by Dovid Efune appears in the Algemeiner. In it he explains that his determination not to transfer any territory to the PA without extensive security arrangements (read: the continuing presence of the IDF inside this territory) has "only become firmer," in light of current situations.
"We don't just hand over territory, close our eyes and hope for the best."
http://www.algemeiner.com/2014/10/06/netanyahu-says-stance-on-security-requirements-has-become-%e2%80%98firmer%e2%80%99-%e2%80%98we-don%e2%80%99t-just-hand-over-territory-close-our-eyes-and-hope-for-the-best%e2%80%99-interview/
~~~~~~~~~~
This non-appeasing stance by our prime minster is most welcome. He is couching his position in security terms, and indeed the concerns in this regard are very real:
"'[Some] have said Hamas wants to create an Islamic emirate in Gaza,' says senior Hamas official Mahmoud al-Zahar... 'We won't do that, but we will build an Islamic state in Palestine, all of Palestine.'

"If Hamas manages to establish a foothold in the West Bank, it would be able to wipe out Israel and establish an Islamic state in its stead, senior Hamas official Mahmoud al-Zahar told Palestinian news outlet Al-Ayyam on Wednesday." (Emphasis added)

http://www.israelhayom.com/site/newsletter_article.php?id=20609
What this indicates is not only that giving a state to Abbas would be incredibly dangerous and foolish, but that the notion of a unity government is a farce, a pretense: If Hamas and Fatah were truly united, Hamas would not be talking this way.
~~~~~~~~~~
But in the end, Netanyahu's concerns translate to: No two-state solution, folks. Elsewhere I read that Netanyahu says the definition of "sovereignty" would have to change with regard to what was meant by a "sovereign" Palestinian state.
Abbas will not have this. But there it stands. The world is going to be angry at us and we had better learn to live with it. To give the world what it wants of us would be suicide.
A very good time for making our case about our rights in the land with full vigor.

~~~~~~~~~~
© Arlene Kushner. This material is produced by Arlene Kushner, functioning as an independent journalist. Permission is granted for it to be reproduced only with proper attribution.

If it is reproduced and emphasis is added, the fact that it has been added must be noted.
http://arlenefromisrael.squarespace.com/current-postings/2014/10/7/october-7-2014-sukkot.html
A piece of particular importance that I wrote has just gone up on Front Page Magazine. Rather than just provide the link to it, I provide here the entire article. The link follows. Please, share this very widely – if not this post, then the Front Page URL.

~~~~~~~~~~

The perpetrators in the main are male Arabs, mostly young, with Jerusalem residency cards. They have the right to live in Jerusalem, and receive the perks of citizens, but – tellingly – for political reasons have declined to become full citizens.
With increasing frequency in recent weeks, they are out on the streets of eastern Jerusalem and at key eastern Jerusalem locations, actively participating in violent and destructive behaviors. Sometimes they wrap scarves around their faces so they cannot be identified.
Some Arab "unrest" occurs from time to time in the city. Perhaps a demonstration protesting a perceived grievance suddenly turns into a riot. Molotov cocktails might be thrown, or rocks large enough to kill. Municipal infrastructure might incur some damage.
None of this is acceptable, but for the most part, these have been intermittent and localized occurrences. What is happening now is something else: a form of behavior that is more persistently violent and more pervasive.
It comes as a shock to learn, for example, that at least 30% of the cars of the Jerusalem Light Rail are out of commission because of vandalism that takes place at the Light Rail station located in Shu'afat, an Arab neighborhood. This is not a matter of delinquent kids with time on their hands. This is focused behavior intended to undermine the authority of the municipality.
This past week, on the second night of Rosh Hashana, Chanan Kupietzky, 25, and two others were walking towards the Kotel (the Western Wall) when they were accosted by some four Arabs, who began by calling, "Dirty Jews!" At a signal from yet another Arab, they approached Kupietzky and his companions and launched a physical attack. Other Arabs in the area began throwing rocks at the three, and at other Jews who were nearby, wounding one man in the chest.
"It was like an ambush," Kupietzy said. One Arab came at him with a two-by-four that had nails protruding from it, which was used to strike him repeatedly; ultimately his hand was so badly fractured that he required surgery.
One of the locations that has been most problematic is Har Hazeitim – the Mount of Olives. This is the site of Judaism's most ancient cemetery, with 150,000 graves. This past week, on one night alone, 40 graves were vandalized.
Nearby is Ma'aleh Hazeitim, a Jewish neighborhood that has been the site of stonings. Arabs – likely from the nearby Arab neighborhood of Ras al-Amud – target cars on the road that have Jewish drivers.
This past week, however, a new low was reached when Arab stone-throwers made a nursery school the target of an attack. As rocks pelted the outside of the nursery building, the teacher quickly brought the children into an air-raid shelter for safety and summoned the police.
These stories and many more like them have been insufficiently publicized.
Multiple observers have noticed that the attacks seem organized rather than random, and that there is never one person acting alone. There are groups operating, under instruction.
According to one very reliable individual with direct connections to the Israeli government, what we are seeing is a limited intifada. The Palestinian Authority has decided that a wide scale intifada in Judea and Samaria would not be a good idea now: they have opted for one focused exclusively on Jerusalem instead.
It makes perfect sense. In the struggle between Israel and the PA, Jerusalem is the heart of the matter.
In July 1980, the Knesset passed a bill in Basic Law that reads: "Jerusalem, complete and united, is the capital of Israel." There is no such place as "East Jerusalem;" there is one, undivided city. Nonetheless, the Palestinian Authority continues to promote the fiction of "East Jerusalem" as a separate place that is destined to become its capital. In the end, the sovereignty of Jerusalem – as the sovereignty of any place – is directly connected to control on the ground. The PA goal is to make eastern Jerusalem so difficult for Jews to live in that they will withdraw.
Were this to happen, it would be an unmitigated disaster, particularly as the very core of Jewish tradition in the city – including the Temple Mount – is in its more ancient eastern part. It would mean relinquishing that core, with all the implications that would follow.
The over­rid­ing question now is what is being done to guarantee that this does not happen.
There are many fine police officers at work in Jerusalem, and, in fact, their numbers have been augmented recently. But there remains a persistent unease that what may be happening when the police act is more in the way of containment than enforcement of the law to the fullest extent possible. Sometimes violent groups are scattered and chased away rather than arrested. At other times arrests are made but prosecutions do not follow.
While these instances have been observed, what is not clear is whether they are just that – separate instances, or whether they are the result of orders from above, from Minister of Internal Security, Yitzhak Aharonovitch, or police officials.
It is not difficult to understand the inclination to fall back on containment, no matter how ill-advised it is in the long run: The world watches Israel as it watches no other nation. One false arrest, one injury or death of an Arab during attempts to make arrests, will result in headlines and international protests. It feels safer to go easy.
But it is exceedingly important for Jews to make their presence known in all parts of Israel's capital; and they must be able to do so free of harassment or physical risk. Protecting its citizens is a primary responsibility of the government.
In this instance, when the government of Israel acts to protect its citizens, it is also protecting its rights as a sovereign nation and its future in the land.
http://www.frontpagemag.com/2014/arlene-kushner/the-silent-intifada/

~~~~~~~~~~

© Arlene Kushner. This material is produced by Arlene Kushner, functioning as an independent journalist. Permission is granted for it to be reproduced only with proper attribution.

If it is reproduced and emphasis is added, the fact that it has been added must be noted.
http://arlenefromisrael.squarespace.com/current-postings/2014/10/6/october-6-2014-silent-intifada.html
Posted
on Monday, October 6, 2014 at 07:57AM
by
Arlene
in Israel, Jerusalem, Mount of Olives, Palestinian Arabs, Palestinian Authority, violence
|
Post a Comment
|
Email
|
Print
This will be an exceedingly short post. We go into Yom Kippur late afternoon Friday, and I will have no chance to write tomorrow. And so I do it now.
Wishing all those observing Yom Kippur a G'mar Chatima Tova. Maybe we be sealed for a good year, and may the Almighty watch over us.

~~~~~~~~~~
Yesterday I expressed considerable unease about Prime Minister Netanyahu's statements voicing his on-going support for a "two state solution."
Today I am happy to offer praise for a forthright stand he has taken on behalf of Israel. It all happened later in the day yesterday, after the two leaders met. But with the time difference (seven hours later here), I didn't pick up full information until this morning.
~~~~~~~~~~
The story:
In December 2012, the Jerusalem District Planning and Building Committee had formally announced that it was going to launch a construction project at Givat Hamtos in eastern Jerusalem. (It encompasses an area of 170 dunams; bordered by Talpiot in the north, Gilo in the south, and Beit Safafa in the west.)

Last week, before Rosh Hashana, final announcement of plans to build came from the municipality – this was largely a technicality, as the formal decision to do this was already in place. Roughly 2,500 units are planned, half for Jews, and – please note – half for Arabs.

Yesterday, Peace Now, ever seeking to stir up matters, announced on its Facebook page that this building was going to take place. The timing of the announcement made it seem as if Netanyahu had suddenly approved a project that would undercut his declared intentions regarding that "two state solution."
http://www.timesofisrael.com/israel-okays-2610-homes-for-jews-and-arabs-in-e-jerusalem/
~~~~~~~~~~
The White House, shall we say, was a tad distressed. The action that Israel is planning was "condemned." White House press secretary Josh Earnest said:
"This step is contrary to Israel's stated goal of negotiating a permanent status agreement with the Palestinians.
"This development will only draw condemnation from the international community, distance Israel from even its closest allies, poison the atmosphere, not only with the Palestinians but also with the very Arab governments with which Prime Minister Netanyahu said he wanted to build relations."

http://www.jpost.com/Arab-Israeli-Conflict/Netanyahu-strongly-rejects-US-censure-of-Israeli-housing-moves-in-Jerusalem-377842
But Netanyahu did not back down one iota, nor was his tone remotely apologetic.
He told reporters he didn't understand why there was criticism: "Arabs in Jerusalem freely buy apartments, and nobody says that is forbidden. I will also not say that Jews cannot buy property in Jerusalem. There cannot be discrimination between Jews and Arabs."
No one "stole" the houses in Jerusalem or took them over by force, he said. "This is a normal process, and I see no reason to discriminate."
He minced no words about Peace Now, either. Without mentioning the group by name, he said it was exhibiting a "lack of national responsibility" by publicizing this in order to "harm the meeting." It was not a "coincidence" that they published this information on the morning he was to meet with the president – the intention was to sabotage the meeting. The action taken last week, he indicated, was merely a "technical step" predicated on a decision that had been made much earlier, and there was no need to publicize it.
http://www.jpost.com/Arab-Israeli-Conflict/Netanyahu-strongly-rejects-US-censure-of-Israeli-housing-moves-in-Jerusalem-377842
Netanyahu was absolutely on the mark, and seemed to me more forthright and candid than usual – projecting a strong sense of the rightness of Israel's actions.
~~~~~~~~~~
Interviewed on NBC by Andrea Mitchell, he was asked about the new settlements to be built in Jerusalem. His response:
"I think they [the Obama administration] should be acquainted with the facts first. You know? First of all, these are not settlements. These are neighborhoods of Jerusalem. We have Arab neighborhoods and we have Jewish neighborhoods."
http://www.nbcnews.com/news/world/netanyahu-u-s-needs-facts-about-new-housing-units-n216316
Yea, we know.

Credit: Reuters
~~~~~~~~~~
© Arlene Kushner. This material is produced by Arlene Kushner, functioning as an independent journalist. Permission is granted for it to be reproduced only with proper attribution.

If it is reproduced and emphasis is added, the fact that it has been added must be noted.
http://arlenefromisrael.squarespace.com/current-postings/2014/10/2/october-2-2014-right-on.html
My critique of Prime Minister Netanyahu's speech at the UN stands.
Credit: webtvun.org
In particular, I was distressed that he spoke about a readiness to make territorial concessions for an agreement with "rock solid security."
This seems to me a very poor time to talk about such a thing – when Abbas is in bed with Hamas and the world is upside down. It feels like a sort of super-eagerness to demonstrate readiness for concessions. And it primes the world, not least the Arab world, to demand such concessions.
Yes, there are those who have pointed out to me that he almost certainly said it knowing it will never happen. That may be true, but I confess to a distinct weariness with this sort of diplomatic game-playing. I am looking for a bit more candor: we cannot negotiate with a unity government that enfolds a terrorist organization. Nor do we consider Abbas a legitimate partner for peace when he can libel Israel as he has just done, throwing all truth to the wind. But then, this expectation may be why I am a writer/analyst and not a politician.
~~~~~~~~~~
What is being said is that his talk about a new template for peace that involves Arab states - who today see Israel differently - effectively threw out the "two-state solution," as he had espoused it in his 2009 Bar Ilan talk.
It would be nice to think so, but it seems to me a bit of stretch. There are many in the international community who could well have interpreted his words as simply meaning that he needs Arab help in crafting a "two-state solution" that works. Precisely because Netanyahu spoke in free-wheeling and amorphous terms that lacked specificity, they may still believe that in the end the "two-state" paradigm is the solution.
In point of fact, this may be precisely what Netanyahu did mean in his UN speech. For in preliminary remarks for the press today in Washington, before he met with President Obama, Netanyahu said,
"I remain committed to the vision of peace of two states for two peoples, based on mutual recognition and rock solid security arrangements." So there it is and too much should not be read into what he said at the UN. His clarification is that the path to two states might be different from what has been tried until now: "we should make use of the new opportunities [in the Middle East], think outside of the box, and see how we can include the Arab countries to advance this very hopeful agenda."
http://www.jpost.com/Israel-News/Politics-And-Diplomacy/Netanyahu-arrives-at-White-House-for-meeting-with-Obama-377795
"Very hopeful agenda." Let us hope he means the new relationship with Arab states, and not the "two state solution."
~~~~~~~~~~
One thing he was clear about at the UN – and is to be applauded for – is saying that ISIS and Hamas, in their ideology and their intentions, are one and the same. This is not going over well with the Obama administration.
Yesterday, I had cited Ben Shapiro, whose remarks on Obama's UN speech I had hoped to run, but which I passed on because of the size of my posting. Today I will return to just one thing he discussed (all emphasis was his in the original):
Referring to ISIS, Obama said: "No God condones this terror. No grievance justifies these actions. There can be no reasoning – no negotiation – with this brand of evil. The only language understood by killers like this is the language of force…"

Then, speaking of Hamas, the president said: "the violence engulfing the region today has made too many Israelis ready to abandon the hard work of peace. But let's be clear: the status quo in the West Bank and Gaza is not sustainable."

Observed Shapiro: "Self-defense for America, but not for the Jews, according to the President. The Jews must continue to pursue the 'hard work of peace,' even if they're experiencing rocket fire every day; America, however, can bomb the hell out of ISIS even if ISIS is located thousands of miles away and largely threatens other Muslims. The hypocrisy is rank, and [the] moral equivocation repulsive." (Here it is my emphasis.)
~~~~~~~~~~~
This position was put forth by Obama before Netanyahu spoke, and what the prime minister subsequently said directly countered the president's stand on the matter. Needless to say, this is not being well received at the White House or the State Department. Because Obama is bombing ISIS. And Obama also wants Israel to negotiate with the unity government that includes Hamas.
What we are seeing here is a serious difference of opinion between the two governments. It was reflected in comments made by Jen Psaki, State Department spokesperson, yesterday: "Certainly we see differences. We would not agree with that characterization."
http://www.jpost.com/Israel-News/Politics-And-Diplomacy/US-disagrees-with-Netanyahu-on-Iran-ISIS-and-Hamas-376648
~~~~~~~~~~
And indeed, we see this echoed by Obama today as well, in his statement prior to his meeting with Netanyahu. Referring to Gaza, he said:
...ways have to be found to "change the status quo" so that Israelis are safe in their homes and schools and "also so you don't have the tragedy of Palestinian children being killed as well."
He indicated that he wants to extensively discuss the situation in Gaza, and finding a more sustainable peace between Israelis and Palestinian Arabs.
This is exceedingly bothersome. No, infuriating. There is a moral equivalency reflected in the president's statement - between Israelis being threatened by rockets flying while they are in their schools and homes, and Palestinian Arab children being killed. He choses not to perceive, or acknowledge, that if Israelis aren't threatened with rockets flying, Palestinian Arab children, used as human shields by Hamas, will not be inadvertently killed as Israel takes on a necessary self-defense. That is, he does not acknowledge that Hamas behavior generates this entire situation.
What is more, in speaking about a "sustainable peace," Obama is making assumptions that are untenable and unreasonable. How does Israel forge a "sustainable peace" with an entity that is sworn to destroy it? Why should anyone assume that such a "peace" would bring the end of genocidal intentions Hamas has towards Jews? And what right does the president have to ask us to try to reach such a "peace," which would clearly entail suicidal concessions on our part?
~~~~~~~~~~
Ben Shapiro had it exactly right: Obama's "There can be no reasoning – no negotiation – with this brand of evil. The only language understood by killers like this is the language of force…" does not apply to Israel's confrontation with Hamas.
~~~~~~~~~~
But the really big bone of contention here – the one with the heaviest implications - is with regard to Iran and ISIS. There have various suggestions, various rumors, about the US going easier on Iran in return for help in taking on ISIS.
Said Netanyahu, going into his meeting with the president:
"Iran seeks a deal that would lift the tough sanctions that you worked so hard to put in place and leave it as a threshold nuclear power. And I firmly hope under your leadership that would not happen."

http://www.algemeiner.com/2014/10/01/at-white-house-netanyahu-warns-obama-not-to-ease-up-on-iran/
Yet there are signs that this may be happening. In coming days, I will be tracking this. Netanyahu is correct that concern about the threat of a nuclear Iran trumps the other concerns in this area, as considerable as they are.
~~~~~~~~~~
The Netanyahu – Obama meeting has not ended, as I prepare to put this out. When it does, I doubt there will be much of import announced that hasn't already been touched upon here. If there is, I will, of course, pick up on it in future postings.
What is interesting here is that reports indicate that the body language of the two leaders reflects a more relaxed atmosphere than has been the case before.
Credit: AFP/Jim Watson

~~~~~~~~~~
© Arlene Kushner. This material is produced by Arlene Kushner, functioning as an independent journalist. Permission is granted for it to be reproduced only with proper attribution.

If it is reproduced and emphasis is added, the fact that it has been added must be noted.
You will find that during this High Holiday season – and extending through Sukkot – my postings will be less frequent. I hope that all who celebrated Rosh Hashana found it meaningful and joyful.

~~~~~~~~~~

Besides being the High Holiday season, this is also the time of year when a new session of the UN General Assembly starts (hardly to be compared in one breath!). This means – aren't we lucky? – that various heads of state and assorted other persons address the GA.

Last Wednesday (which was the eve of Rosh Hashana), President Obama spoke. Ben Shapiro, a skilled and perceptive analyst – as well as a Harvard-trained lawyer – has written a piece on that speech that summarizes the important points neatly.

Shapiro says Obama's speech was "chock-full of moronic platitudes, internal contradictions, and morally disgusting sentiments." He then proceeds to demonstrate this with considerable effectiveness. I had hoped to cite extensively from this critique, but realize I must focus on other matters here. And so I will simply call this to your attention, and suggest you read it:

http://www.frontpagemag.com/2014/ben-shapiro/obamas-15-worst-moments-at-the-un/

His opening paragraph is not quite my style, but he is on the mark.

~~~~~~~~~~

And then, sigh, there was the horrendous, and long-winded speech of Mahmoud Abbas before the General Assembly on Friday. It was fraught with lies and accusations against Israel:

Most reprehensibly, he accuses Israel of having conducted a "war of genocide" against the Palestinian people in Gaza.

First speaking about the fact that three wars have been "waged by the racist occupying State in five years against Gaza...," he then declares that (emphasis is mine):

"The difference today is that the scale of this genocidal crime is larger, and that the list of martyrs, especially children, is longer...

"And, the difference today is that the devastation caused by this recent aggression is unmatched in modern times...

"This last war against Gaza was a series of absolute war crimes carried out before the eyes and ears of the entire world, moment by moment, in a manner that makes it inconceivable that anyone today can claim that they did not realize the magnitude and horror of the crime."

You can see the entire speech (if you have the stomach for it) plus commentary by IMRA director Dr. Aaron Lerner, here:

http://imra.org.il/story.php3?id=64980

~~~~~~~~~~

Abbas uses buzz words – genocide, martyrs, war crimes, occupation – without the remotest attention to factual reality.

Of course there is no mention of Hamas – either Hamas's aggression against Israel or its use of human shields - for he is thoroughly in bed with Hamas (about which more below).

And his exaggeration is stupendous – e.g., "recent aggression unmatched in modern times," when modern times are witness to Syria, the genuine genocide of Christians, and more.

Declaring that Israel "did not miss an opportunity to undermine the chance for peace," Abbas says, "The occupation's campaign specifically targeted the City of Jerusalem and its inhabitants, attempting to artificially alter the spirit, identity and character of the Holy City, focusing on Al-Aqsa Mosque."
This is of particular note because it is of a piece with the on-going theme I've been writing about - the attempt by the Palestinian Arabs to undermine and delegitimize Israeli sovereignty, most especially in Jerusalem. (About this exceedingly worrisome situation, too, I will have more to say soon.)

When he refers to the Al-Aqsa Mosque, he means the Temple Mount, which in Arabic is actually Haram al Sharif (often translated as Noble Sanctuary, which has a more generic meaning). What he has done is attempt to conflate the Mosque with the entire Mount, as if it has no other history or significance.

~~~~~~~~~~

Of particular note is this comment by Abbas (emphasis added):

"I affirm in front of you that the Palestinian people hold steadfast to their legitimate right to defend themselves against the Israeli war machine and to their legitimate right to resist this colonial, racist Israeli occupation."

He is claiming the right to be violent. "Resistance" is a code word for jihad and terrorism.

~~~~~~~~~~

Threats of violence aside, with this speech, Abbas has begun the game of attempting to secure international backing – via the UN - for a Palestinian state, while delegitimizing Israel. He says (emphasis added):

"And now, where do we go from here?
"...It is impossible, and I repeat - it is impossible - to return to the cycle of negotiations that failed to deal with the substance of the matter and the fundamental question...

"There is no meaning or value in negotiations for which the agreed objective is not ending the Israeli occupation and achieving the independence of the State of Palestine with East Jerusalem as its capital on the entire Palestinian Territory occupied in the 1967 war. And, there is no value in negotiations which are not linked to a firm timetable for the implementation of this goal.
"The time has come to end this settlement occupation...

"During the past two weeks, Palestine and the Arab Group undertook intensive contacts with the various regional groups in the United Nations to prepare for the introduction of a draft resolution to be adopted by the United Nations Security Council on the Israeli-Palestinian conflict and to push forward the efforts to achieve peace...
"This endeavor aspires to correct the deficiency of the previous efforts to achieve peace by affirming the goal of ending the Israeli occupation and achieving the two-State solution, of the State of Palestine, with East Jerusalem as its capital, over the entire territory occupied in 1967, alongside the State of Israel and reaching a just and agreed upon solution to the plight of the Palestine refugees on the basis of resolution 194, with a specific timeframe for the implementation of these objectives as stipulated in the Arab Peace Initiative. This will be linked to the immediate resumption of negotiations between Palestine and Israel to demarcate the borders, reach a detailed and comprehensive agreement and draft a peace treaty between them."

~~~~~~~~~~

Well...

This venture is pie-in-the sky. And I will enumerate here the most basic reasons why:

[] The United States has already called Abbas's speech "unconstructive," "provocative," and "disappointing." The American position is that final borders must be resolved via negotiations. The US almost certainly will veto what Abbas proposes.

[] The United Nations, including the Security Council, cannot create states. It is not in the hands of the SC to declare a Palestinian State.

[] There is no "1967 border" (it was a temporary armistice line) and no legal justification for the claim that everything to the east of that line "belongs" to a Palestinian state. In point of fact, SC Resolution 242 does NOT require Israel to return to that line, as it would not provide a secure border; it instead calls for the final border to be determined via negotiations. What is more, SC Resolution 242 does not MENTION a Palestinian state or a Palestinian people at all.

[] Resolution 194, to which Abbas refers, does NOT, as the Palestinian Arabs claim ad infinitum, mandate a "right of return." It was a resolution of the General Assembly, which can only make non-binding recommendations, and, in fact, put forth a variety of possible ways to resolve the situation, including settlement in a third country.

[] Abbas made no mention of this, but the PLO is in theory committed to the terms of the Oslo Accords, signed with Israel. The Palestinian Authority, which was supposed to be a temporary administrative entity only, was actually created by the Accords. Those Accords call for a final status agreement to be achieved VIA NEGOTIATIONS. Abbas, by this action, is abrogating the Oslo Accords. Nowhere in the Accords is there any statement that defines all of the land beyond the armistice line as "belonging" to the Palestinian Arabs. That is clear on the face of the matter, as Area C was assigned to Israel fully with regard to civil and military control. It does not spell out a "state" as the necessary conclusion of a final status agreement and it does not preclude building by Israel in area C.

~~~~~~~~~~

The entire matter of Israel not being an "occupier" is at the core of the Legal Grounds Campaign. I will come back to this again and again, but here simply note that there is significant legal backing for this position. Judea and Samaria, at most, are unclaimed Mandate land. Israel cannot be termed an occupier of this land, which was given to her under international law in the first place.

~~~~~~~~~~

I note here that Abbas ends by saying that after the UN forces terms on Israel, the Palestinian State and Israel will immediately go to negotiations to settle final matters. What he is doing here is obvious: he knows the PA is supposed to negotiate terms, and, wary of being called on this, has proposed these "negotiations" after the fact.

~~~~~~~~~~

Abbas spoke at the UN on Friday. The very day before - after two days of negotiations in Cairo - Fatah and Hamas had announced that they had come to terms for a final agreement on a unity government, under Prime Minister Rami Hamdallah. That unity government will be taking charge in Gaza.

http://www.jpost.com/Arab-Israeli-Conflict/Report-Fatah-Hamas-agree-to-cede-control-of-Gaza-to-unity-government-376331

There are serious questions as to how long this will last, but right now this deal serves them both – it makes Abbas a "player" in what goes on in Gaza, and it allows reconstruction materials and funds to come into Gaza, which suits Hamas and which would not happen in the same way were Hamas alone in charge. But this might be more realistically viewed as a temporary fiction, destined to ultimately fall apart.

Right now it is of no comfort that PA security forces will join with Hamas forces in Gaza to oversee the Gaza crossings.

http://imra.org.il/story.php3?id=64981

There is no question in my mind about the fact that the tone Abbas assumed at the UN reflects this brand new unity reconciliation: he played down negotiations, defended the right to "resist," focused heavily on Israeli "crimes" in Gaza, etc. Not only is he factoring in Hamas positions, he certainly knows that there will be no negotiations with Israel as long as Hamas is a participant in the unity government.

~~~~~~~~~~

Prime Minister Netanyahu is in New York. He had a very positive meeting with of Indian Prime Minister Indian Prime Minister Narendra Modi last night, to discuss Iran and strengthening of bilateral ties. Earlier yesterday, he lunched with Sec. of State Kerry, at which time. according to news reports, he lashed out regarding Abbas. And he has yet to meet with Obama.

But his primary purpose in coming was to address the UN General Assembly and, presumably, to counter the slanders of Abbas. This he did early afternoon NY time ( evening Israeli time) – just a short while ago as I write. He had promoted this talk as one that would be a "razor sharp" retort. And so I held off sending out this post until after he spoke. But for me the razor was more than a bit dull.

~~~~~~~~~~

I would not say that Netanyahu's speech was without good points. They were there, and they make Israel's case. But they are points we've heard from him before:

The possibility of peace is at risk because of militant Islam, whose goal is to dominate the world. This cancer must be eradicated in all its forms. But it seems that countries that support hitting ISIS oppose Israel's attacks on Hamas – even though at bottom Hamas and ISIS are one and the same in their radical Islamic vision.

One place where the militant Islamic dream may be realized is Iran, which will be enormously more dangerous if it has nuclear weapons. If you wouldn't let ISIS have such weapons, you cannot let Iran have them either. Iran's nuclear capability must be fully dismantled. To defeat ISIS and leave Iran as a threshold nuclear power is to win the battle and lose the war.

Every time militant Islam succeeds, militants everywhere are emboldened. Israel's fight against Hamas is not just for Israel, it is the world's fight.

~~~~~~~~~~

Netanyahu then described the propaganda war that Israel had to fight as it was battling Hamas rockets. In the course of doing this, clearly he was answering the charges of Abbas, but unfortunately was not explicit in saying so. What he did say:

The reality is that Gazan citizens were inadvertently and regrettably being killed because of Hamas's use of human shields. Israel sought to minimize the deaths – warning civilians with notices, etc.

"No other country has ever gone to greater lengths to protect civilians of its enemy. The IDF upheld the highest moral standards of any army in the world. It deserves admiration, not condemnation."

What Hamas did was a war crime. And Abbas, as the head of the unity government, bears responsibility.

~~~~~~~~~~

He turned then to accusations leveled at the UN Human Rights Council, which – in deciding to investigate Israel and give Hamas a free pass – has things upside down. The Council has given a clear message to terrorist regimes – use human shields, it works.

What the Council is doing is a manifestation of the return of anti-Semitism that we are now seeing.

Abbas at the podium accused Israel although he himself called for a Judenrein Palestine. "In what moral universe is warning civilians to get out of the way considered genocide?"

~~~~~~~~~~

So far, OK, if unexceptional. Some good lines, some good points.

But then... then he began to talk about "historic opportunity." We've heard this before as well: the new recognition of leading Arab states that they have concerns in common with Israel. This has the potential for partnership. These Arab states may help facilitate an Israel-Palestinian peace.

An Israeli-Palestinian peace? The old template for peace must be updated to allow for Arab participation.

He is willing to make an historic compromise for peace. Some territorial concession would be necessary. But what is important are "rock solid security arrangements." Withdrawal from Lebanon and from Gaza led to terrorist entities in these places. We cannot allow ISIS into Judea and Samaria.

In any peace agreement, Israel has to be able to defend itself by itself.

This, I would presume, is Netanyahu's way of countering Abbas's proposal regarding "Palestine" to the 1967 line. Such a formulation would not provide the strategic depth that is necessary for Israeli self-defense. But he does not actually say this.

For me, this is insufficient, a cop-out.

What I had hoped to hear was a crystal clear statement that a Fatah that is joined with Hamas cannot be considered a partner for peace. That there can be no talk of negotiations, as fervently as Israel hopes for peace, until Fatah's leaders renounce violence. As it is, just days ago, Abbas, right on the UN dais, defended Fatah's right to violent resistance. Before there can be peace, Fatah must demonstrate a genuine desire for it. And this is something we've yet to see.

Did Netanyahu – always eager to please – feel the need to mention a willingness to compromise for peace because Abbas had accused Israel of undermining peace? Truly do I hope that is not the case.

You can see his entire speech here:

http://www.jpost.com/Arab-Israeli-Conflict/Full-text-of-Prime-Minister-Netanyahus-UN-speech-376626

~~~~~~~~~~

© Arlene Kushner. This material is produced by Arlene Kushner, functioning as an independent journalist. Permission is granted for it to be reproduced only with proper attribution.

If it is reproduced and emphasis is added, the fact that it has been added must be noted.
http://arlenefromisrael.squarespace.com/current-postings/2014/9/29/september-29-2014-un-season.html